Giants hold LGBT Night on historic day
Team marks 13th annual event as gay marriage legalized nationwide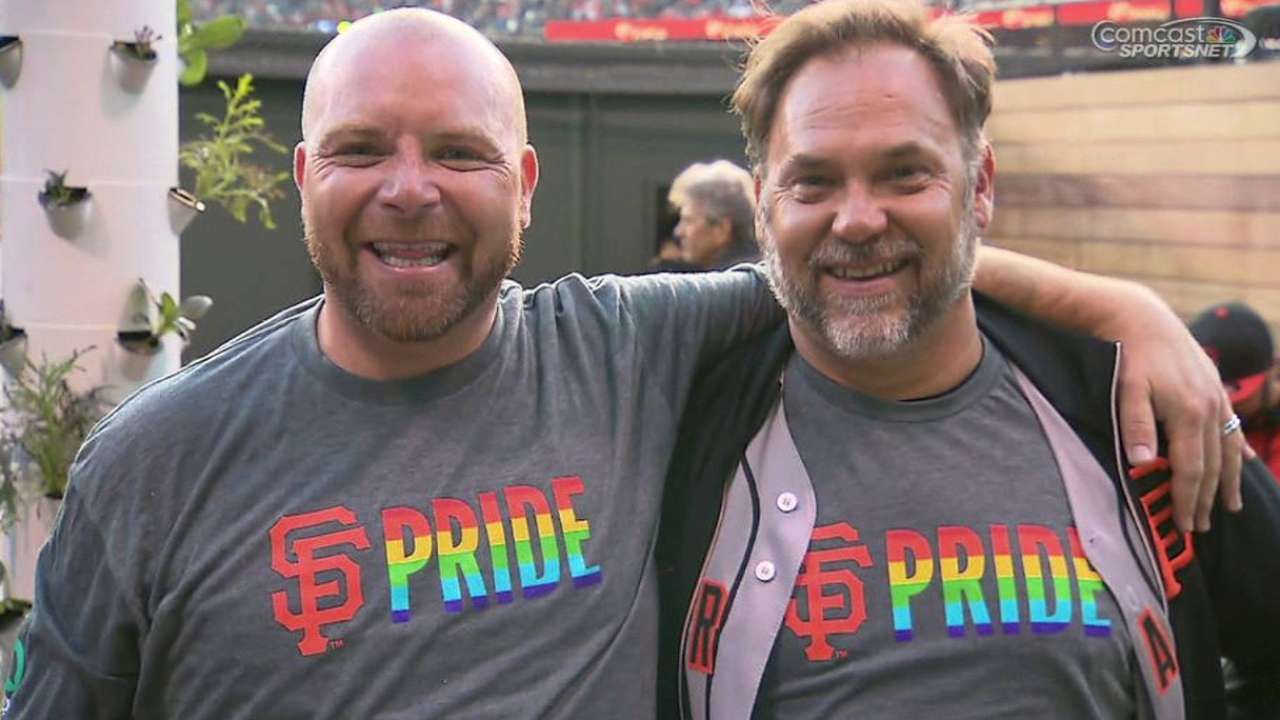 SAN FRANCISCO -- On the same day the United States Supreme Court ruled to legalize gay marriage in all 50 states, the San Francisco Giants celebrated their 13th annual LGBT Night on Friday at AT&T Park.
The Giants sold out a special-event package to Friday's contest that included a ticket to the game, admission to a pregame LGBT Night party in Seals Plaza and an LGBT-themed T-shirt.
The rainbow LGBT flag flew high above the right-center-field wall, right next to the American flag, on a historic day for the lesbian, gay, bisexual and transgender community.
The San Francisco Lesbian Gay Freedom Band performed the national anthem before the game and "Take Me Out to the Ball Game" during the seventh-inning stretch. The strikeout board on the right-field wall glistened with rainbow K's and gay and lesbian couples spread the love throughout the ballpark.
Listen to the FREEDOM BAND, performing in Seals Plaza #LGBTNight #LoveWins #SFGiants pic.twitter.com/maq9nKTAdn

— San Francisco Giants (@SFGiants) June 27, 2015
"Tonight's #LGBTNight is that much more special after today's historic Supreme Court ruling making same-sex marriage legal nationwide," the team posted on its official Twitter account. "We salute the LGBT community and are proud to know that today's ruling speaks directly to our core values of equality and social justice for all."
The Giants' annual celebration of LGBT Night is just one example of a franchise that has been a pioneer in the sports world in accepting people for who they are.
In 2011, the Giants joined the "It Gets Better" project, a nonprofit organization whose mission is to "create and inspire the changes" needed to make the world a better place for LGBT youth, according to the group's official website.
The Giants have paved the way for inclusiveness in sports just as the state of California has for politics in the United States; California became the second U.S. state, behind Massachusetts, to legalize gay marriage on June 16, 2008, though that was later reversed by the passage of Proposition 8.
The Giants also became the first professional sports team to create an anti-bullying public service announcement with an emphasis on ending the harassment of lesbians and gays.
San Francisco's recognition of the LGBT community spreads beyond the walls of AT&T Park; the city will host the 45th annual San Francisco Pride Celebration and Parade on Saturday and Sunday.
Oliver Macklin is an associate reporter for MLB.com. This story was not subject to the approval of Major League Baseball or its clubs.