Lohse joins select pitching fraternity
Beats Twins to become 14th pitcher to defeat all 30 current franchises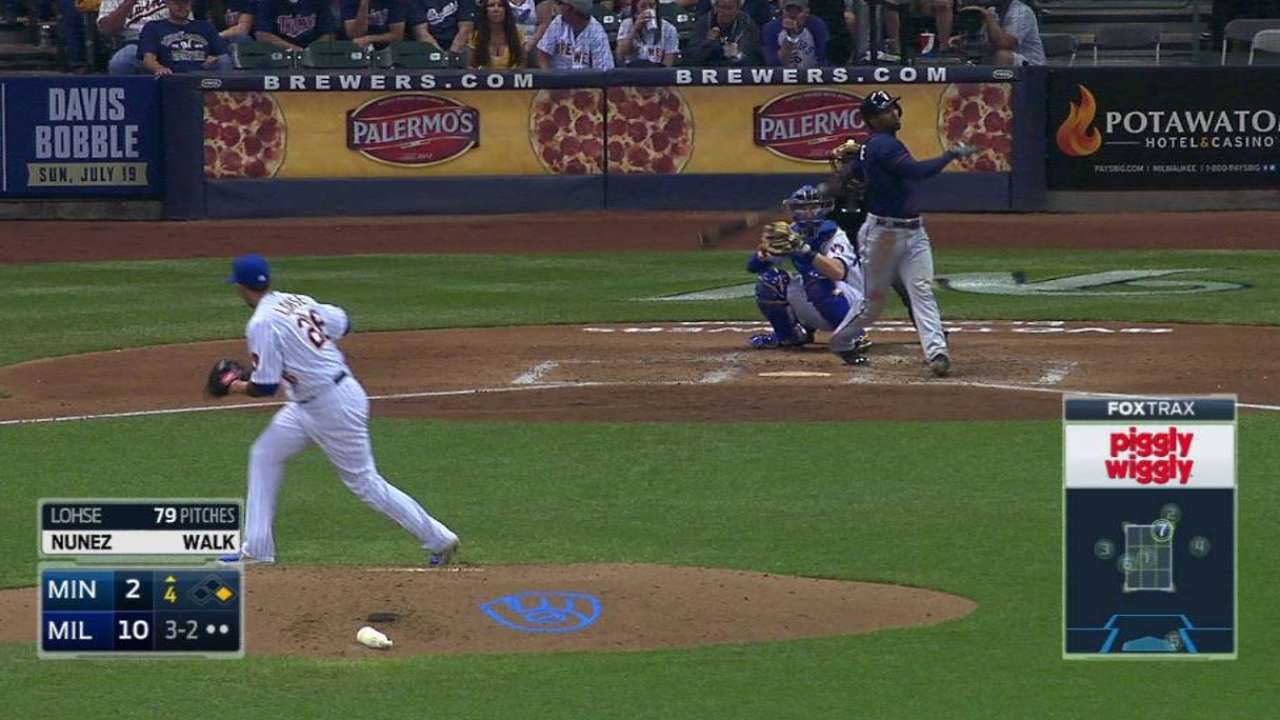 MILWAUKEE -- You can save your old-man jokes. Kyle Lohse heard every one of them from his teammates after making a bit of baseball history on Friday.
Thanks to a barrage of early run support, Lohse's six so-so innings in a 10-4 win over the Twins were enough to make him the 14th pitcher to log victories against each of the 30 current Major League franchises. Lohse had been stuck at 29 since losing his first crack at the Twins in 2013, and also took a no-decision at Target Field earlier this season.
Lohse, 36, is one of three active pitchers (with the Pirates' A.J.Burnett and the Marlins' Dan Haren) in a fraternity that began with Al Leiter in 2002.
"It's pretty cool," Lohse said. "These guys tell me that I'm old and I've been around, but that's only the third time I've faced [the Twins], so it's not like I've faced them a whole bunch of times and haven't beaten them. It's an accomplishment I'm proud of. I've been around and that proves I've had some longevity and done some things in this game. So I'll go home happy about that."
Leiter started the club when he beat the D-backs on April 30, 2002. The full list of pitchers to beat all 30 teams also includes Randy Johnson, Barry Zito, Kevin Brown, Terry Mulholland, Curt Schilling, Woody Williams, Jamie Moyer, Javier Vazquez, Vicente Padilla and Derek Lowe.
Lohse credited Brewers hitters, who scored 10 runs in the first two innings, for carrying him through another night on which he lacked his best stuff. Lohse surrendered six hits including two more home runs, running to 19 his total of home runs allowed this season, second-most in the Majors. Lohse has allowed at least one home run in seven straight starts and 14 of his 16 starts this season.
"He got through his six innings," Brewers manager Craig Counsell said. "There have been times he's pitched better but got worse results. He got through it. But when you're pitching with a lead like that, the game is a little different. You have a lead like that, it's just get outs, and he did his job there."
Said Lohse: "It was more of a grinding kind of an outing -- I kept getting ahead of guys, then going deep in counts. It's just not being quite as sharp as I want to be. Bottom line, we won the game, so you go home happy with that."
Adam McCalvy is a reporter for MLB.com. Follow him on Twitter @AdamMcCalvy, like him on Facebook and listen to his podcast. This story was not subject to the approval of Major League Baseball or its clubs.