MLB.com Columnist
Paul Hagen
Losing takes hefty toll on old-school Sandberg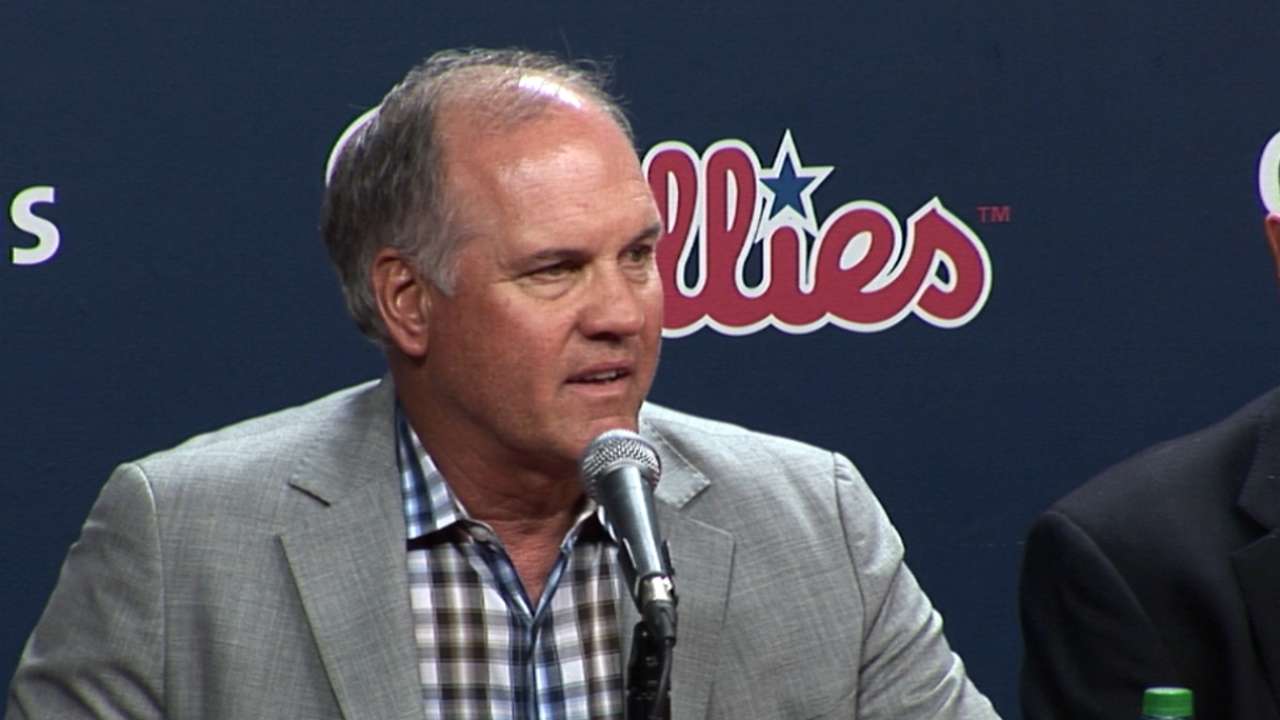 PHILADELPHIA -- For six seasons, nearly 1,000 games, Ryne Sandberg knocked around the Minor Leagues. He rode the buses and paid his dues. When he had a setback, he brushed himself off and continued to chase his big league dream.
What distinguished Sandberg from all the prospects and suspects trying to climb that most difficult ladder is that he was already an unqualified success. In his playing career, he won a National League Most Valuable Player Award. He was inducted into the Hall of Fame in 2005. Still, he was driven to become a Major League manager.
So Sandberg's decision to step down as Phillies manager on Friday, less than two years after taking over the team late in the 2013 season, was stunning. That he resigned after pouring so much of himself into the quest says more than words ever could about how the drip-drip-drip of losing must have gnawed at him inwardly even as he outwardly displayed little emotion.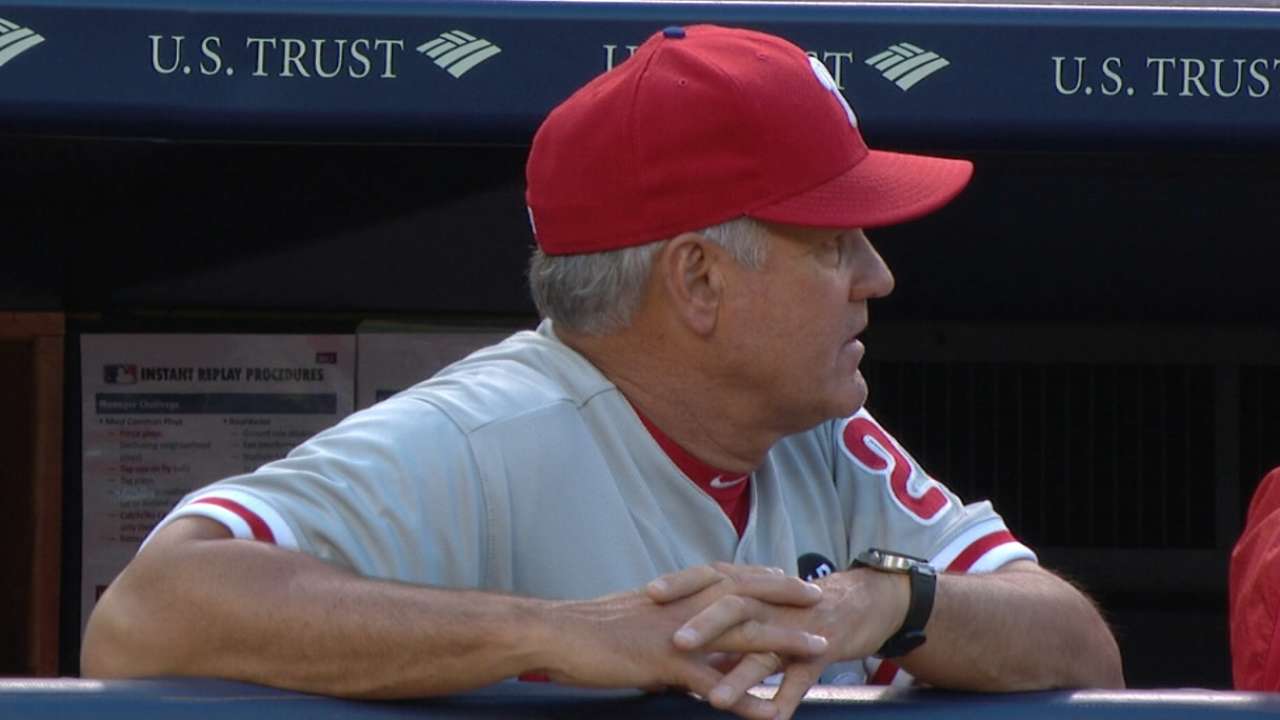 Sandberg alone made the decision. There's no doubt about that. Sitting to his left on the podium in the conference room at Citizens Bank Park were club president Pat Gillick, who looked stricken, and general manager Ruben Amaro Jr., who appeared grim and sad at the same time.
• Sandberg steps down as Phillies manager
It's hard to believe that Sandberg and the organization arrived at this point so quickly. When he replaced Charlie Manuel on Aug. 16, 2013, his managerial resume was impeccable. Named Minor League Manager of the Year by Baseball America in 2011 after leading the team to its first winning record in Triple-A Lehigh Valley history. Manager of the Year in the Pacific Coast League with the Iowa Cubs in 2010. A Double-A Southern League championship with Tennessee in 2009.
Still, managing in the big leagues is a whole new ballgame and Sandberg may have provided a clue to what went wrong with the fourth sentence of his announcement. "In a lot of ways, I'm old school," he said.
Look, everybody understood that this was supposed to be a rebuilding year for a team that won 102 games as recently as 2011. There are a lot of young players with potential who haven't reached their peak and several veterans who are past their prime. The Phillies have the worst record in baseball and probably would no matter who was putting on the hit-and-run.
Sandberg admitted the losing got to him. Ya gotta believe the criticism that accompanied it wasn't pleasant, either. Nobody likes to be ripped and it's not something that he's had to deal with that much in his professional life.
Sandberg also conceded that the uncertainty in the front office left him feeling vulnerable, even though he has a year-and-a-half remaining on his contract.
• 'Somber day' for Phillies as Ryno resigns
"I do not like to lose. I hate to lose. That was the biggest thing that weighed on me. And with some changes at the top looming, I did not want to be in the way of the progress going forward," he said, a reference to rampant speculation that former Twins, Orioles and Cubs general manager Andy McPhail will soon be named president of the team and that sweeping changes could follow.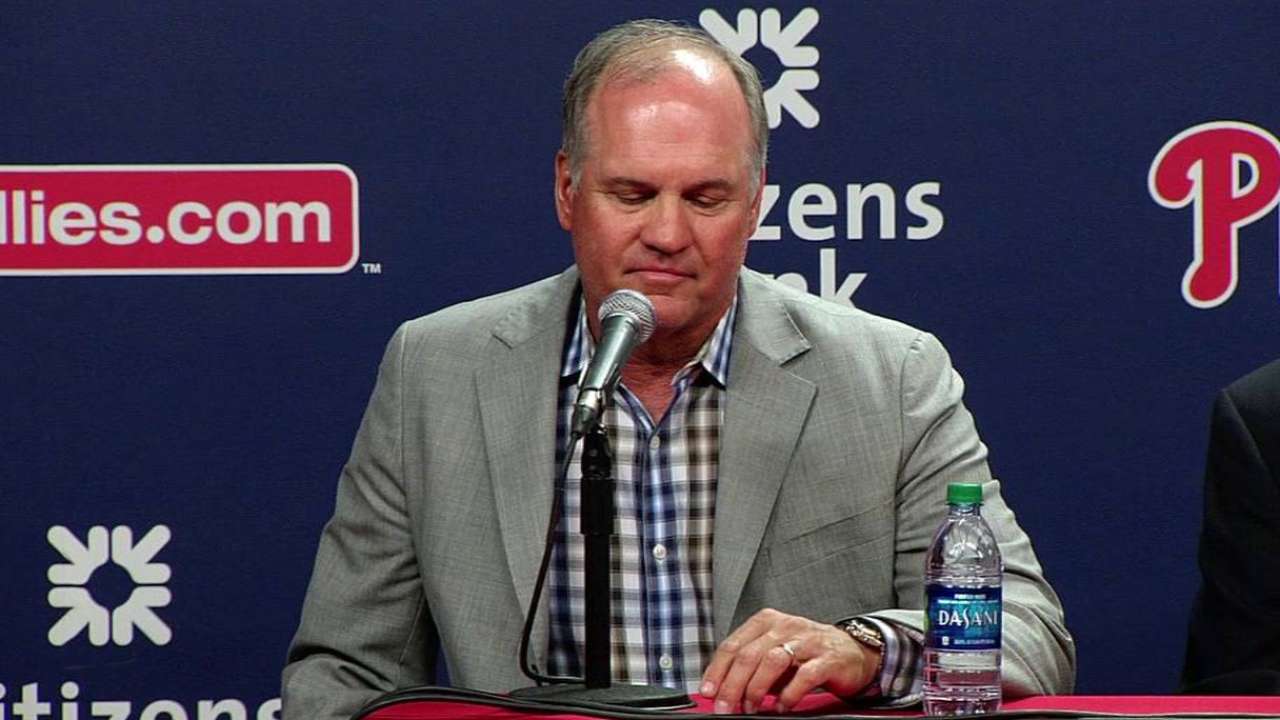 That's all there was to it, Sandberg said again and again. But he also took the position with firm ideas about how the game should be played. And while he wouldn't confirm it, he certainly left the impression that he was frustrated by his inability to get the team performing up to those standards.
As a Minor League manager, if Sandberg was displeased with what he had seen during a game, he was known to wait for the stands to clear, order the grounds crew to leave the lights on and then bring the team back out onto the field for more work.
After a particularly sloppy Grapefruit League loss this spring, he called for extended fundamentals instead of hitting the following morning. A few of the veteran big leaguers did little to hide their displeasure.
Sandberg openly talked last year about how he planned to examine various options at first base after the break. That lasted three games. It was widely reported at the time that he was overruled and told to continue to play Ryan Howard nearly every day.
There were a spate of incidents involving pitchers late last season. Cole Hamels and Kyle Kendrick showed their displeasure at being taken out of games by stalking off the mound almost before the manager arrived. David Buchanan complained to the media after he thought he had come out of a game too early. A.J. Burnett mouthed an obscenity that was captured by the television cameras after a mound visit by pitching coach Bob McClure.
During Spring Training in 2014, Jimmy Rollins, the longest-tenured Phillies player at the time, said Sandberg never gave him an explanation before benching him for three straight days.
Earlier this year, second baseman Chase Utley could clearly be seen questioning McClure when he visited the mound for leaving right fielder Jeff Francoeur in to pitch a second inning even though he was clearly tiring. It turned out that nobody was warming up because the bullpen phone was off the hook. Sandberg and McClure jumped all over reliever Ken Giles for showing his unhappiness at being told to issue an intentional walk. Each of these incidents was captured on video for posterity.
Not all of that is Sandberg's fault. But for a self-admitted old school manager who is such a stickler for doing things the right way, being helpless to make meaningful changes finally became too much to take.
Paul Hagen is a reporter for MLB.com. This story was not subject to the approval of Major League Baseball or its clubs.