Easy as 1-2-3: Giants triple their fun against Padres
Belt hits two of team's four triples to pace Thursday's offensive breakout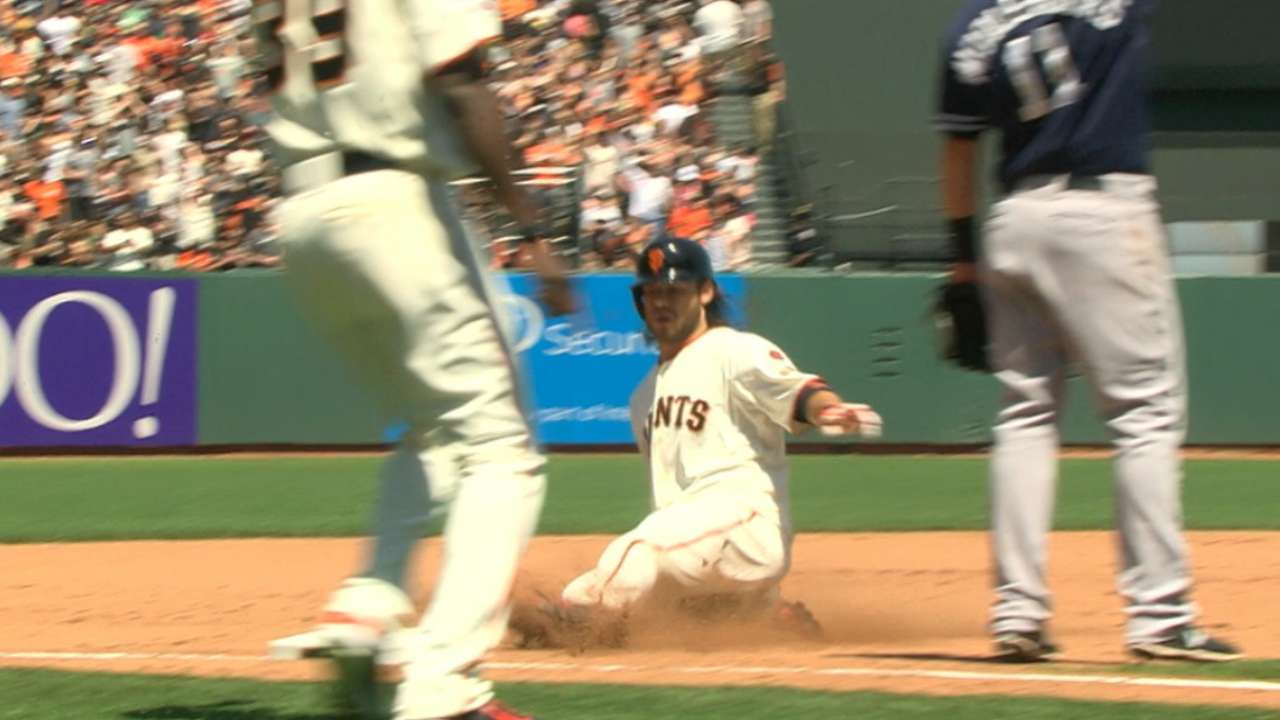 SAN FRANCISCO -- Brandon Belt became the first Giants player to hit two triples in a game since Brett Pill on September 17, 2011, and Matt Duffy and Brandon Crawford each added a triple, as the club did something it had not done in 55 years.
The Giants matched a single-game franchise high for triples in the San Francisco era (since 1958), which they previously reached on Sept. 15, 1960. However, it took more than just the four three-baggers to take the series finale, as the Padres battled back with a six-run eighth inning to cut the Giants' seven-run lead to one before they held on for a 13-8 victory on Thursday.
The Giants' hitters retaliated in the bottom-half of the inning, after Duffy ripped an RBI single, Buster Posey smacked a two-run double and Crawford followed with an RBI double of his own.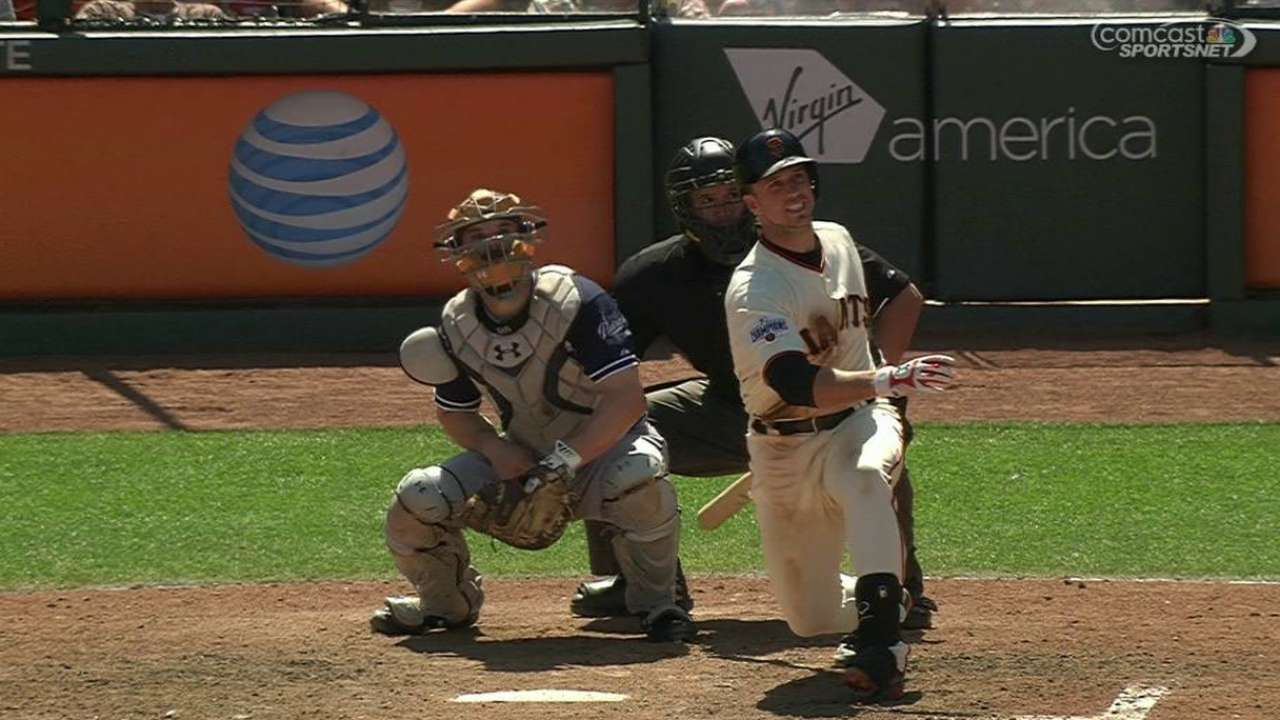 "The good thing today is when they scored, we answered back," Giants manager Bruce Bochy said. "The eighth inning was huge."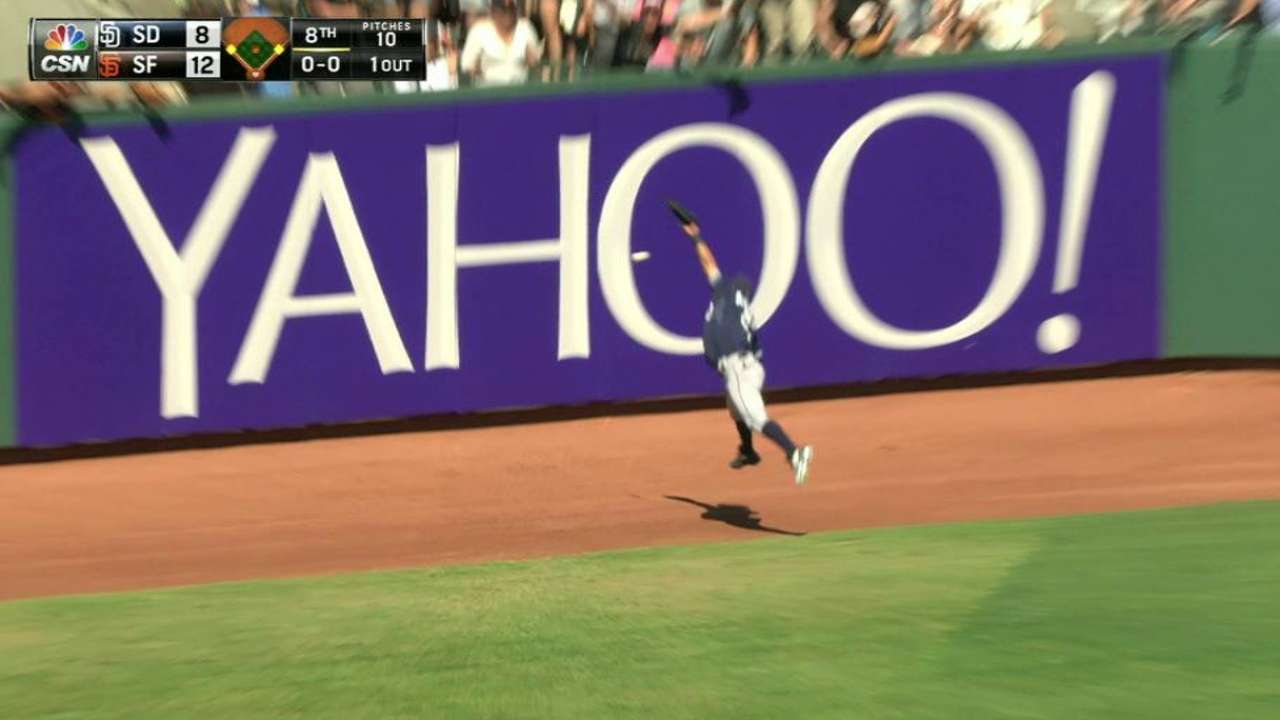 Each of the first seven batters in the Giants' lineup recorded a multi-hit game, and Belt, Posey and Joe Panik all collected three hits. The Giants' 13 runs marked a season-high and the most they have scored at AT&T Park since tallying 15 on August 31, 2014, against the Brewers.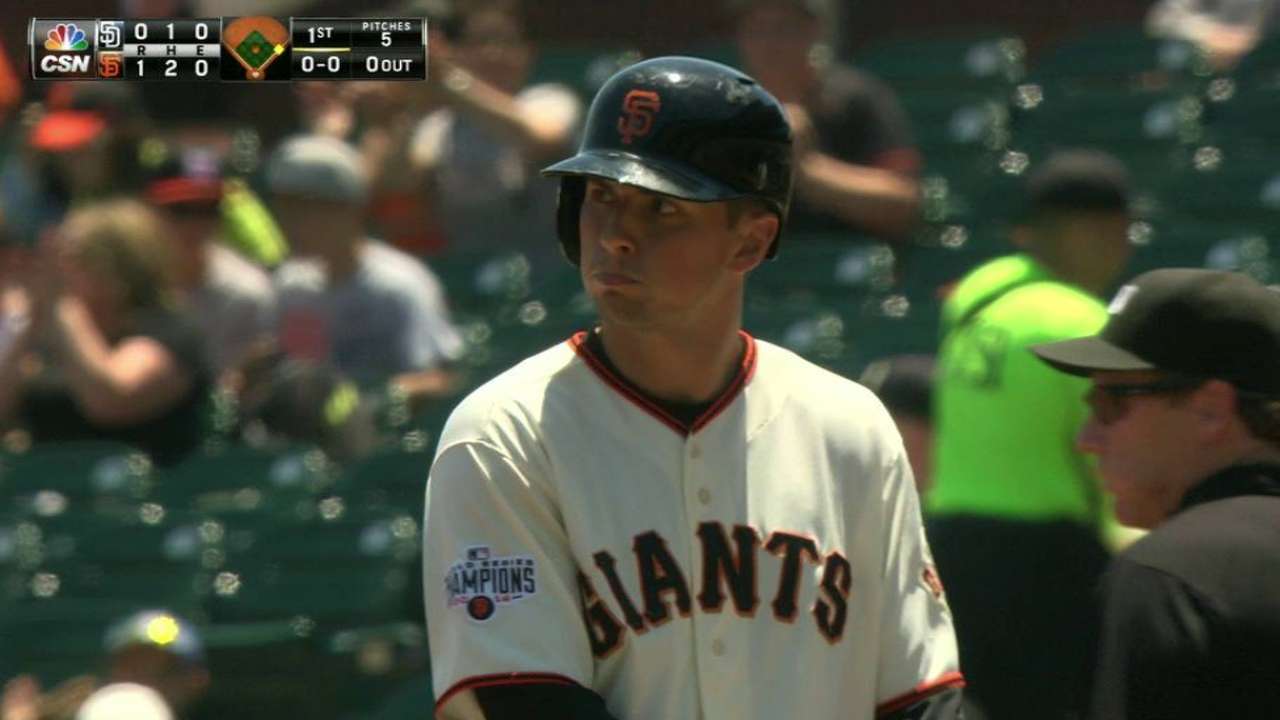 "Everybody put together good at-bats," Panik said. "We were finally able to break out a little bit."
Angel Pagan got his first extra-base hit since June 7, with a double to right field to lead off the bottom of the first inning. Starting pitcher Chris Heston even got in on the action, notching a two-out RBI single to left field in the fourth.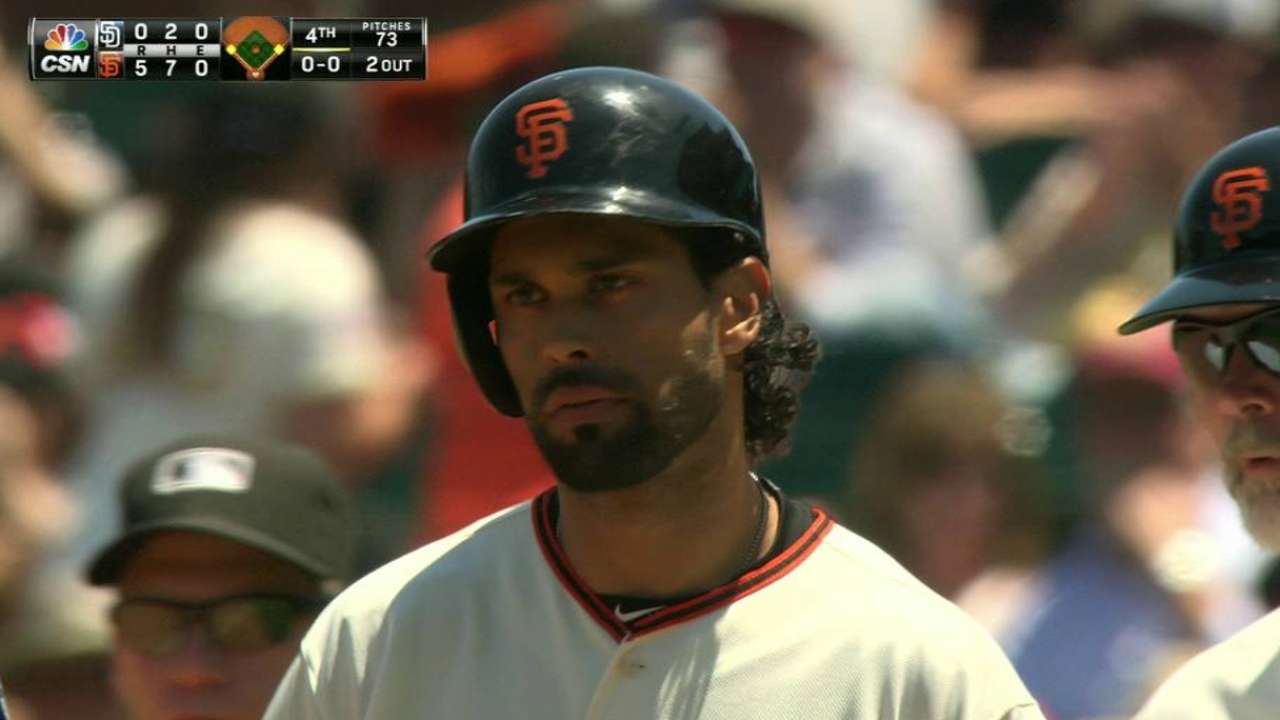 "When I'm out there, they're swinging the bats really well for me," Heston said. "Any time you can go out there and get a hit and turn the lineup over, it helps out."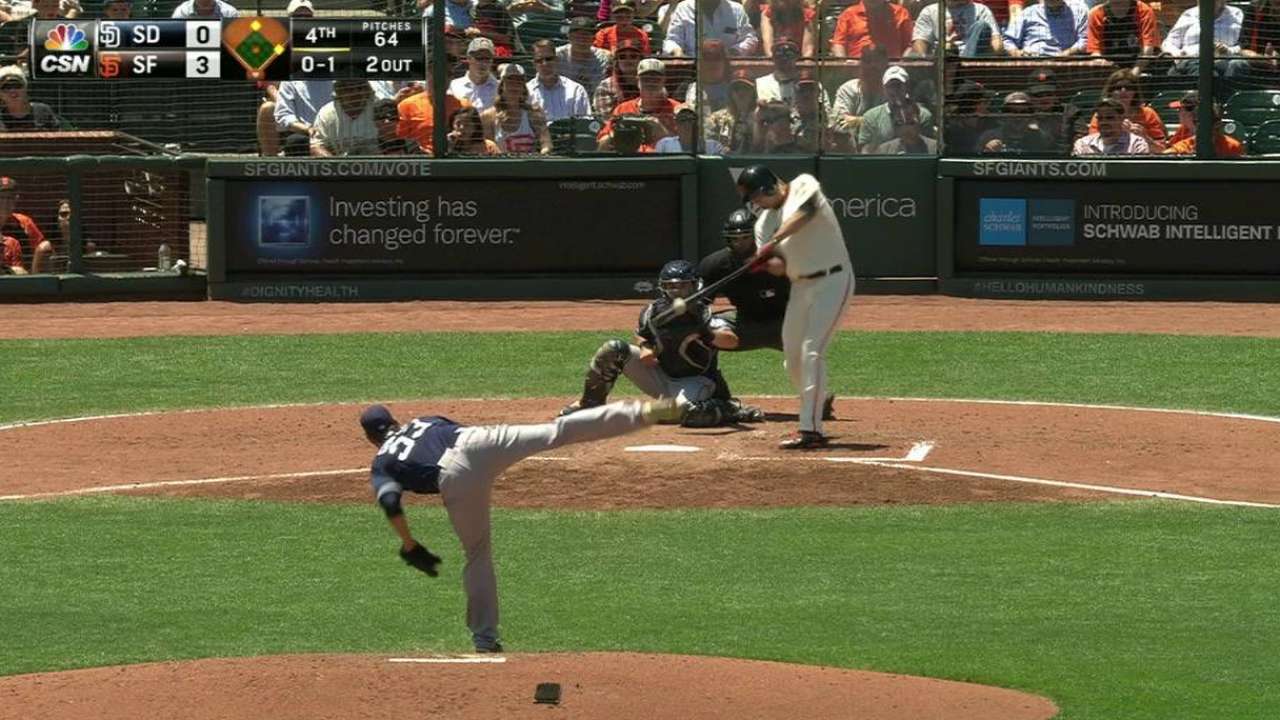 Heston's single helped keep the inning alive and allowed Pagan to bring home Gregor Blanco, who had three RBIs and his first multi-RBI game of the year. San Francisco also recorded a season-high with 19 hits.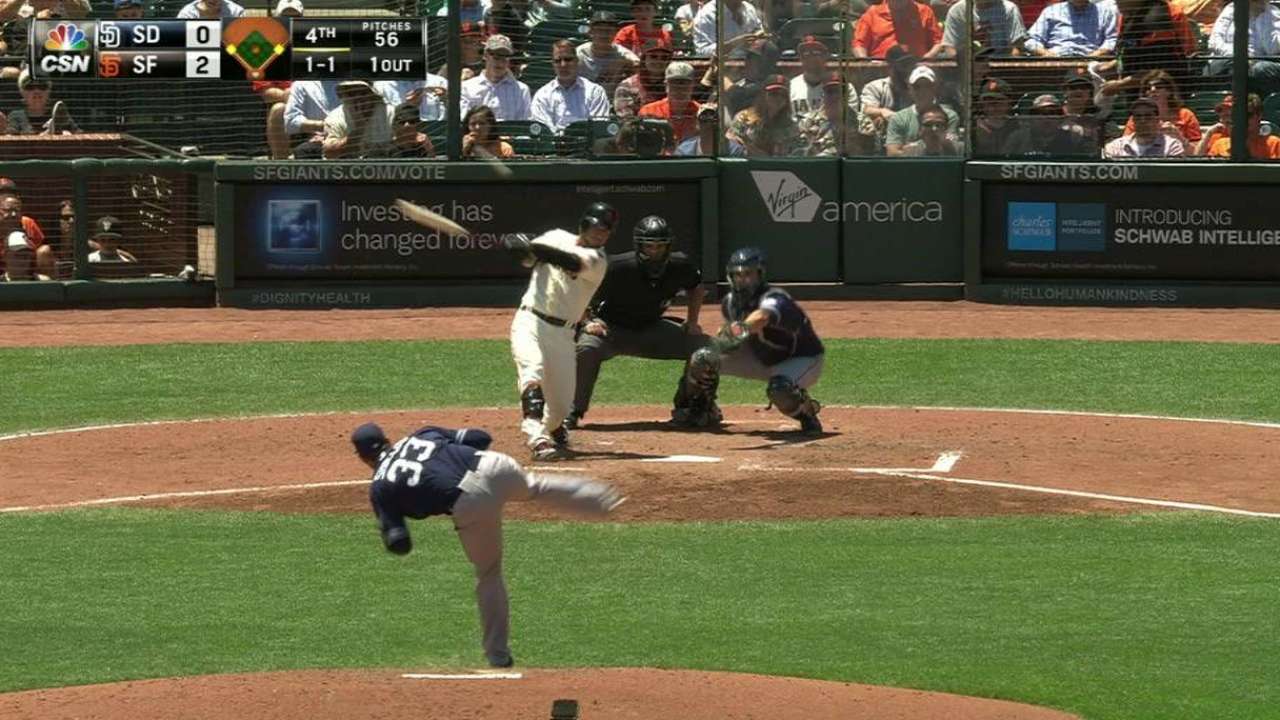 "We're missing [Nori] Aoki and [Hunter] Pence and, I said, we're going to have to have the other guys come through and start swinging the bats a little better," Bochy said. "We did today off a tough pitcher. … We haven't had a game like this in a while."
Oliver Macklin is an associate reporter for MLB.com. This story was not subject to the approval of Major League Baseball or its clubs.