Nats starters set franchise scoreless streak
Double play to end fifth inning surpasses 1981 Expos' 39 innings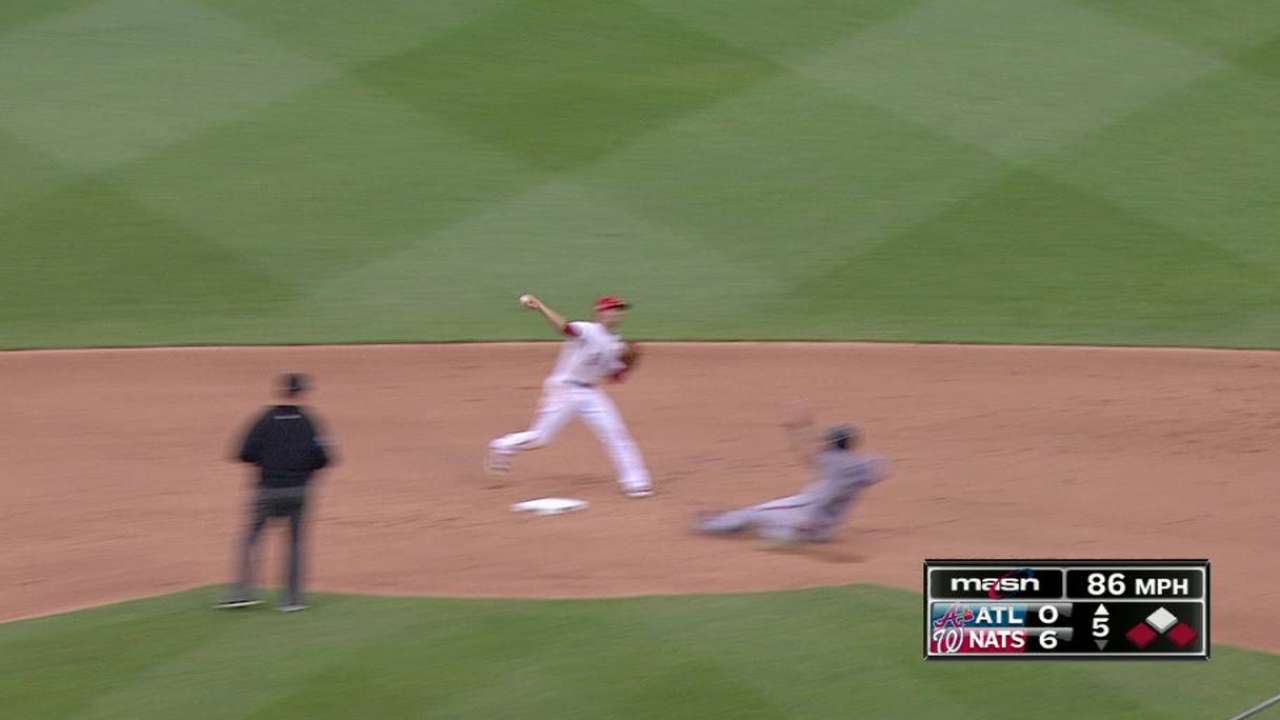 WASHINGTON -- It started with Joe Ross' coming-out party Friday night. It grew with Max Scherzer's no-hitter and Gio Gonzalez's seven clean innings. After Stephen Strasburg's return from the disabled list, Jordan Zimmermann's eight-inning no-decision and finally Doug Fister's blanking of the Braves on Thursday, Nationals starting pitchers set a franchise record with 41 1/3 consecutive scoreless innings.
"It's been as good as it gets," said Clint Robinson after Thursday's 7-0 win against the Braves. "They're just throwing up zero after zero, night after night and taking the pressure off the offense so we can go out there and put up some runs for them. When they don't, they can't win."
With runners on the corners and one out in the fifth inning, middle infielders Ian Desmond and Danny Espinosa expedited the double-play process to end the potential threat. The end of the fifth inning marked 39 1/3 consecutive scoreless frames from Nationals starters, eclipsing the franchise record set in 1981 by the Montreal Expos.
The Nationals are 6-0 since the streak began and are outscoring opponents, 31-5, during that span.
"They work hard and they're prepared," manager Matt Williams said. "They go out there and have willingness and game plan to win. They've been doing well."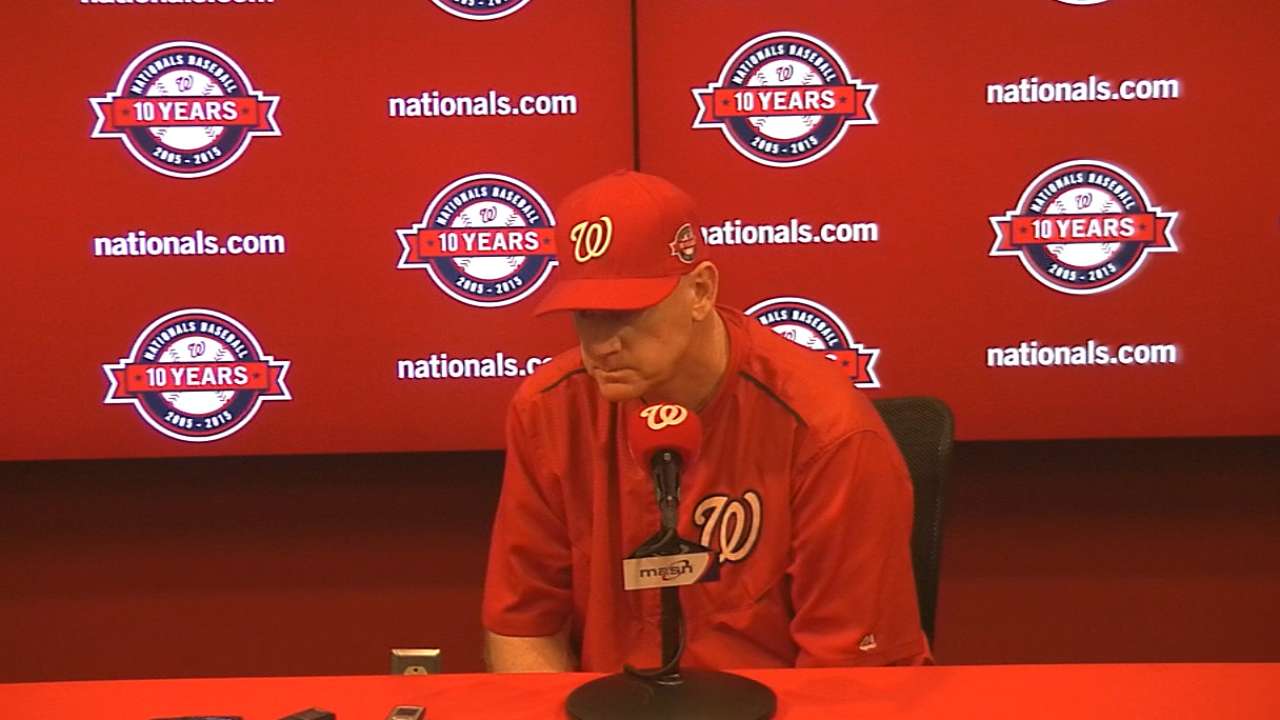 Fister, strong in his second game back from the disabled list, added zeros in the sixth and seventh frames, increasing the total.
"I think I've still got some building I need to do," Fister said. "I wanted to push myself today, and [Williams] let me go back out there in the seventh. That's huge for me, is being able to go back out there and prove to teammates and prove to myself that I can go out there and finish an inning. I hadn't done that this year, so that was a positive note for me personally."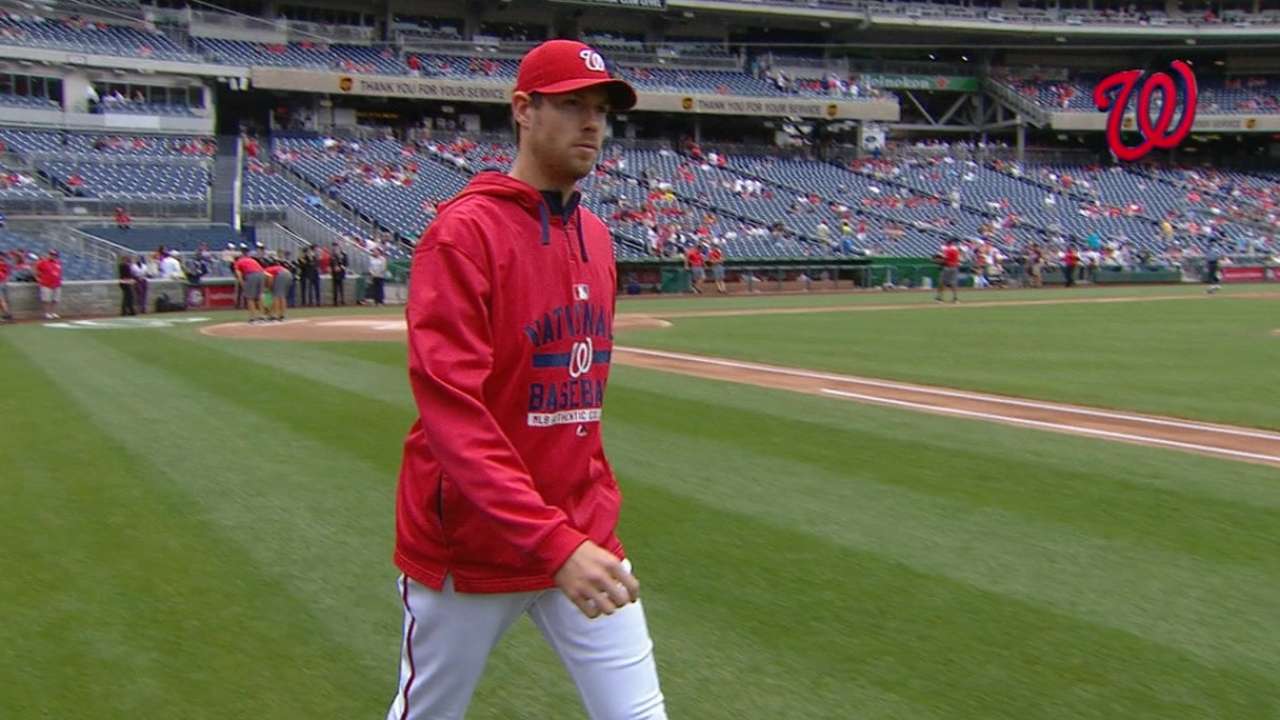 If Scherzer can start Friday night's game against Philadelphia with four scoreless innings, the Nationals will eclipse the 2008 Indians (44 1/3 innings) and have the second-longest scoreless streak in the expansion era. Orioles starters threw 54 consecutive scoreless innings in 1974.
In his last two starts, Scherzer has allowed one hit over 18 scoreless frames.
"I'd expect the same thing he did last time," Robinson said, referring to Scherzer's no-hitter that was one out away from being a perfect game. "Any time Max has the ball in his hands, we expect to win."
Jacob Emert is an associate reporter for MLB.com. This story was not subject to the approval of Major League Baseball or its clubs.