Ausmus being patient with Castellanos
Manager says Tigers are prioritizing helping third baseman amid plate struggles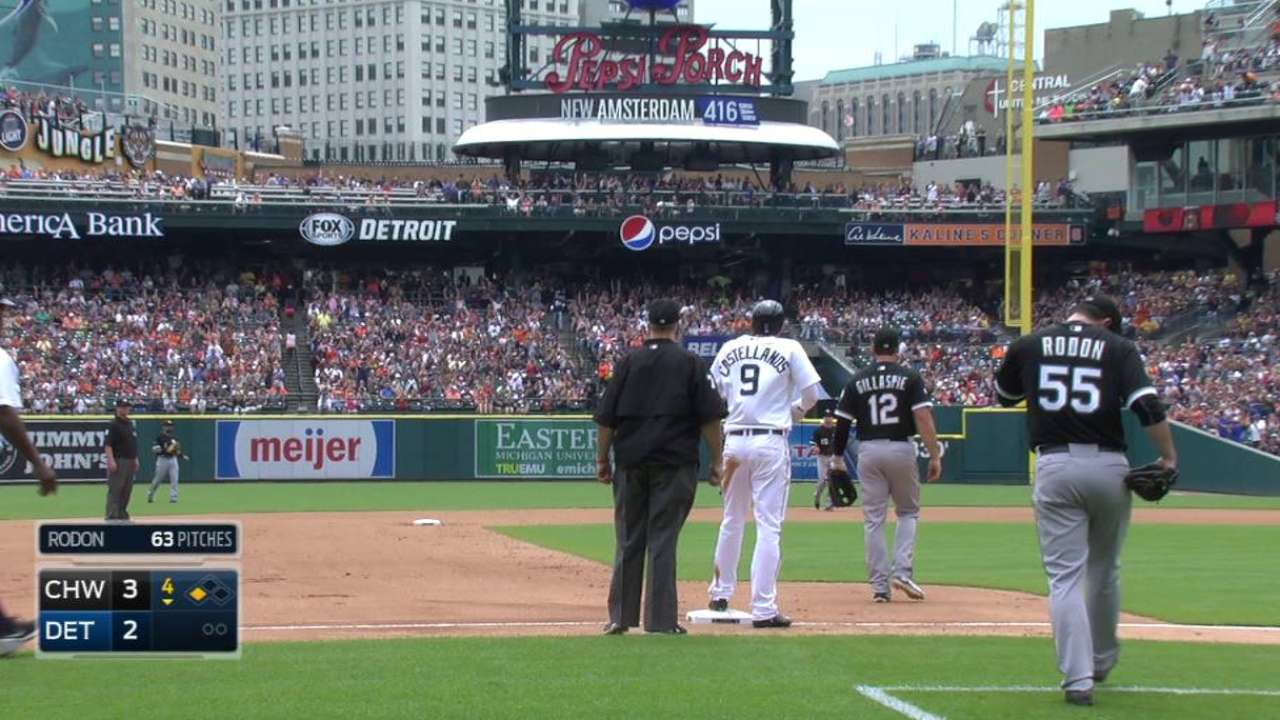 DETROIT -- When asked on Thursday morning about Nick Castellanos, Tigers manager Brad Ausmus' response followed three themes. First, Ausmus said he expects Castellanos will rebound from his uncharacteristically low batting average -- .219 heading into the game. Next, Detroit will prioritize helping its third baseman produce at the plate. And finally, don't expect a turnaround overnight.
Castellanos showed signs that he may be heating up in Thursday's 10-inning 8-7 loss to the White Sox. He went 2-for-3 with a double, a triple and a walk to raise his average to .224.
"There's so much analysis, video, scrutiny nowadays," Ausmus said pregame. "I think some players tie themselves in a knot. I know I've been guilty of it as a player at times. You try and do too much instead of simplifying it and just saying, 'Hey, get in the box, see it and hit it.'"
After going hitless on Friday against the Yankees, Castellanos didn't start Saturday or Sunday, and he didn't play on Monday. He started the last two games of the series against the Indians -- reaching base safely in both -- but has batted at just a .190 clip this month heading into play Thursday.
"He was so busy trying to fix the physical, I think it became mental," Ausmus said.
In 2014, the third baseman posted a .259/.306/.394 slash line, driving in 66 runs and recording 46 extra-base hits. This season, he has seen a significant dip in production.
Ausmus said he spoke briefly with Castellanos during the club's flight to Cleveland from New York earlier this week in an attempt to help the third baseman relax during his plate appearances.
"Sometimes, you get paralyzed when you try to fix everything," Ausmus said. "You try to fix your hands, you fix your feet. You get paralyzed, because you're thinking about everything except the one thing you should be thinking about, and that's the ball.
"[Castellanos has] always hit. This is a guy that has always hit. I tried to tell him, 'You've always hit, let's just get back to where you were. When you were in high school, you never stepped in the box and said, "All right, where are my hands? Where are my feet?"' He just hit. And sometime you have to get back to that."
Andrew Romine wasn't in Thursday's lineup after starting five consecutive games in which the utility infielder tallied six hits -- including three doubles and two home runs. Still, Ausmus said that though Romine has been "hugely valuable" in filling spot roles, Castellanos improving is a necessity.
"Nick hit some balls pretty hard the last couple games," Ausmus said. "The truth is, we need Nick to hit like he did last year."
Alejandro Zúñiga is an associate reporter for MLB.com. Follow him on Twitter @ByAZuniga. This story was not subject to the approval of Major League Baseball or its clubs.