MLB.com Columnist
Barry M. Bloom
Bowa lends Sandberg full support in tough season
Phillies bench coach believes manager, GM Amaro are bearing brunt of too much criticism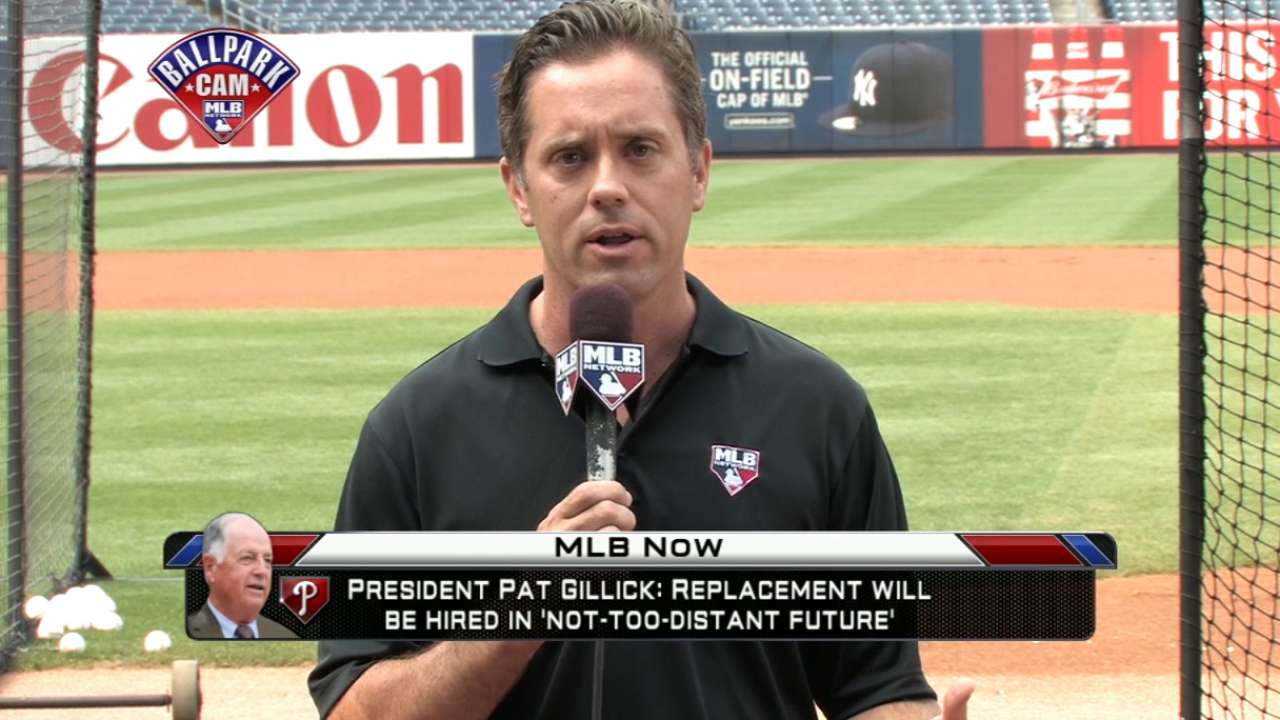 NEW YORK -- Larry Bowa knows the Phillies and their fans better than anybody. After all, this is his fourth tour through the organization as a player, third-base coach, manager and now bench coach under his buddy, Ryne Sandberg.
The Phillies, at 25-47, have the worst record in Major League Baseball, and the fans are howling in disapproval. Right now, Bowa doesn't know whether Sandberg will be back next year to serve out the final season on a three-year contract or whether even Bowa will be asked to return. This is the back end of his own two-year deal.
Bowa has been dismissed twice in his career as a manager in San Diego and Philadelphia, and the one thing he does know is that too much heat for this lost season is being placed on Sandberg and general manager Ruben Amaro Jr.
"Yeah, I do, and that's just my opinion," Bowa said during a wide-ranging interview in the Phils' dugout at Yankee Stadium on Tuesday night before they played the Yankees. "You just don't become stupid after winning a World Series and winning division titles. Sandberg knows how to play the game, and he knows the strategy of it. If you don't have the horses, it doesn't matter how good a manager you are."
The Phillies, as you might imagine, place a high premium on loyalty to those who have made a commitment to the organization. Amaro was named general manager in 2008 just after the Phils defeated the Rays to win the second World Series in club history. Before that, Amaro had spent a decade as an assistant to Pat Gillick and Ed Wade.
Sandberg replaced Charlie Manuel as manager on Aug. 16, 2013. The Hall of Fame second baseman was a 20th-round Draft pick of the Phillies in 1978, played 13 games for them in 1981, and was traded with Bowa to the Cubs prior to the '82 season.
With Bowa at shortstop and Sandberg at second base, the Cubs won a division title in 1984, the year Sandberg won the National League MVP Award. Bowa and Sandberg have been tied at the hip ever since.
History. Loyalty. This is the main thing everyone needs to understand about the Phils. They're all trying to weather a very difficult storm, particularly Sandberg.
"Ryno's doing good. He's been patient as heck. I told him the other day, 'I don't know how you do it,'" Bowa said. "He's never complained about the hand he's been dealt. He just keeps moving along. We do all the extra work at home. We take infield every day, bunting, PFP [pitchers' fielding practice]. Nobody does that.
"He's just trying to get these young guys to improve. He's never once said, 'This is bad!' He just goes about his business, and he's getting a lot of heat for it."
Bowa, the shortstop on Philadelphia's first World Series-winning team of 1980, has no compunction about speaking his mind. He never has.
"This team is bad, at least as far as wins and losses are concerned," Bowa said. "It doesn't take a genius when you look at the pitching we run out there. You don't win if you don't have pitching. It's as simple as that. It's going to take a while."
And the reaction of the local Phillies fans to all that?
"They're not very happy," Bowa said. "When you've played there long enough and coach and manage, you get a feel for the pulse of the city. I go into a grocery store and people ask me, 'What's going on?' They're disgruntled. They don't like the product we're putting out there. They take it as a slap in the face."
It wasn't supposed to be this way. Amaro thought he had built a starting rotation to last, adding Cliff Lee and Roy Halladay at considerable cost behind Cole Hamels, the MVP of both the NL Championship Series and World Series in 2008. The trio was intact for only the 2011-12 seasons. In 2011, they combined to win 50 games, and in Game 1 of their NL Division Series against the Reds, Halladay pitched only the second no-hitter in postseason history.
Less than two years later, Halladay had right shoulder surgery, and by the end of the 2013 season, he was gone for good. Retired at the age of 36.
Lee has made only 13 starts the past two seasons, hasn't pitched at all this year and is currently on the disabled list with a left forearm strain. At 36, he also appears to be done.
• Contenders' interest in Hamels heating up
That leaves a makeshift rotation behind Hamels, whom Amaro has reportedly shopped all year, thus far to no avail. Bowa said he's wary of that move and obtaining a new host of prospects instead of having a proven starter.
"If we don't trade [Hamels], we won't get anything, and we'll have to continue to build through the Draft. And that's no lead-pipe cinch," Bowa said. "Say you did trade Hamels and you get three guys. You could miss on all three. It's a tenuous situation. Nobody knows if this is a short- or long-term fix."
Regardless, the Phillies are on their fourth .500-or-lower season in a row and haven't made the playoffs since their last run of five straight ended in 2011. It's not the type of scenario anybody envisioned.
Still, if Bowa remains healthy and vibrant, even at 69, he wants to remain involved.
Barry M. Bloom is a national reporter for MLB.com and writes an MLBlog, Boomskie on Baseball. Follow @boomskie on Twitter. This story was not subject to the approval of Major League Baseball or its clubs.