d'Arnaud placed on DL with left elbow sprain
Catcher missed seven weeks earlier with fractured right pinkie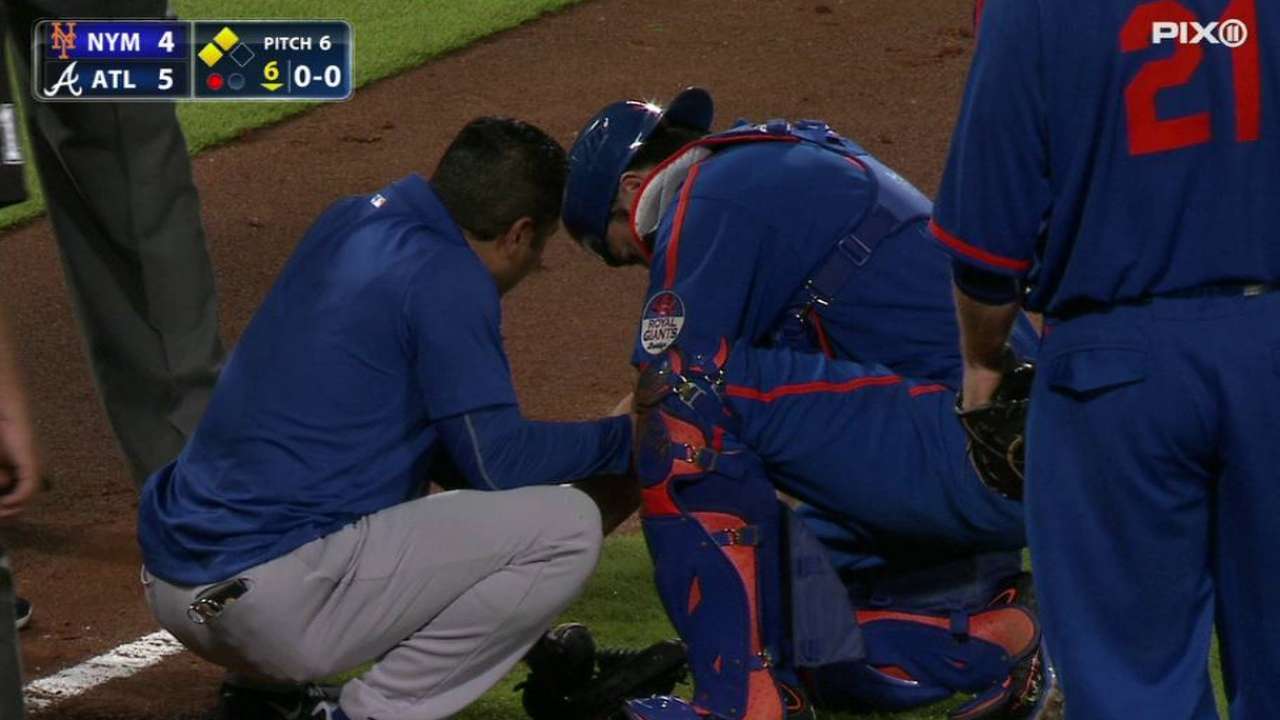 MILWAUKEE -- Less than two weeks after returning from the disabled list, Mets catcher Travis d'Arnaud is back on it.
The Mets on Tuesday placed d'Arnaud on the 15-day DL with a sprained left elbow, which he suffered during a play at the plate on Saturday in Atlanta. The team recalled Johnny Monell from Triple-A Las Vegas to replace d'Arnaud on the roster, though rookie Kevin Plawecki -- who started Tuesday night in Milwaukee -- should assume much of his playing time.
"We're getting numb, I think," manager Terry Collins said of his injury-battered club. d'Arnaud makes it 10 Mets currently on the DL.
"We're pretty much numb to the whole situation that every time we turn around, something happens. We've just got to regroup. It doesn't matter who's in there, we've got to start getting some production out of guys."
D'Arnaud, 26, missed over seven weeks earlier this season with a fractured right pinkie. He returned on June 10, appearing in eight games before injuring his elbow in Atlanta. The catcher's lengthy injury history now includes a herniated disc in his lower back, a ligament tear in his left elbow, a fractured left foot, a fractured right pinkie and multiple concussions. Last year, in what was supposed to be his first full big league season, d'Arnaud appeared in only 108 games.
His manager suggested that there is no obvious way to keep him healthy.
"I've got a tough time going to a player and telling him, 'Quit playing hard,'" Collins said. "That's really hard for me to do, to go to Travis d'Arnaud and say, 'OK, don't foul anymore balls off the top of your foot,' or, 'Get off the plate so you don't get hit in the arm anymore,' or, 'When there's a play at home plate and the game's on the line, get out of the way.' That's really hard for me to say. It's part of the game and I get it, and you know what? He gets hurt. And when he gets hurt, it's legit. It's not like this guy's got a bump, and won't take two aspirin to come back the next day."
Overall this year, d'Arnaud is batting .296 with four home runs and 17 RBIs in 19 games.
Monell, 29, joins the Mets for the second time this season. He went 1-for-17 during his first stint in the big leagues, mostly as a pinch-hitter. At Triple-A Las Vegas, Monell was batting .374 with five home runs in 41 games. Collins suggested that while Plawecki will receive significant playing time in d'Arnaud's absence, the Mets may turn to Monell frequently due to his offensive potential.
The Mets could have recalled backup Anthony Recker from Las Vegas instead of Monell, but summoned the latter due to their initial uncertainty over whether d'Arnaud would land on the DL. Because Recker was optioned to Triple-A less than 10 days ago, the Mets would not have been able to recall him without placing a player on the DL.
Anthony DiComo is a reporter for MLB.com. Follow him on Twitter @AnthonyDiComo and Facebook, and listen to his podcast. This story was not subject to the approval of Major League Baseball or its clubs.