Hideo Nomo: Tornado Season
Twenty years ago, an unstoppable force took the Majors, and the All-Star Game, by storm
It came to town with plenty of warning, from Japan by way of Los Angeles, but the Tornado still turned the league on its head in the summer of 1995. That rotating vortex took the form of Dodgers rookie Hideo Nomo, who whirled into the MLB All-Star Game in Arlington, on the heels of an overpowering first half. Baseball was mesmerized by his performance, which had included six wins and an 11.9 K/9 to that point, as well as his delivery, which was defined by some funky twists of his hips and arms (hence the tornado reference).
Nomo enraptured fans and media alike.
"We were watching people follow him around for two days," the late Tony Gwynn told the LA Times. "It got to a point where he couldn't even go to the bathroom without people following him. I mean, a camera crew literally followed him through the door. Then they realized it was a bathroom and turned around. You should have seen their faces."
For two decades now, that story and others recounting the hype that enveloped Nomo throughout his first big league summer have been told and retold. It's the proud tale of the only Japanese pitcher in history, and the last rookie, to start the MLB All-Star Game.
Ever self-conscious of its ability to match Western power, Japan got its wish that night when the 6-foot-2 Nomo took the mound against 6-foot-10 future Hall of Famer Randy Johnson. After the Seattle fireballer wowed fans by striking out Barry Bonds to cap a 1-2-3 first inning, Nomo one-upped him by fanning two of the three batters he faced in the bottom half. Johnson matched him in the second, but then came a moment they still remember fondly in Japan.
Two-time reigning AL MVP Frank Thomas, a symbol of the American power game at the time, led off the home half of the second. Heightening the drama was the White Sox slugger's triumph a night earlier in the Home Run Derby. After falling behind in the count, Nomo challenged Thomas with a fastball. Thomas launched the pitch a mile -- straight up into the sky -- before it dropped into the catcher's mitt. Nomo would add another K before handing the ball over, bringing his total to three while allowing just one hit in two innings.
The Japanese phenom would go on to pitch 11 more seasons, winning 123 games in his career, but he never appeared in another Midsummer Classic. Nevertheless, his 1995 story is timeless.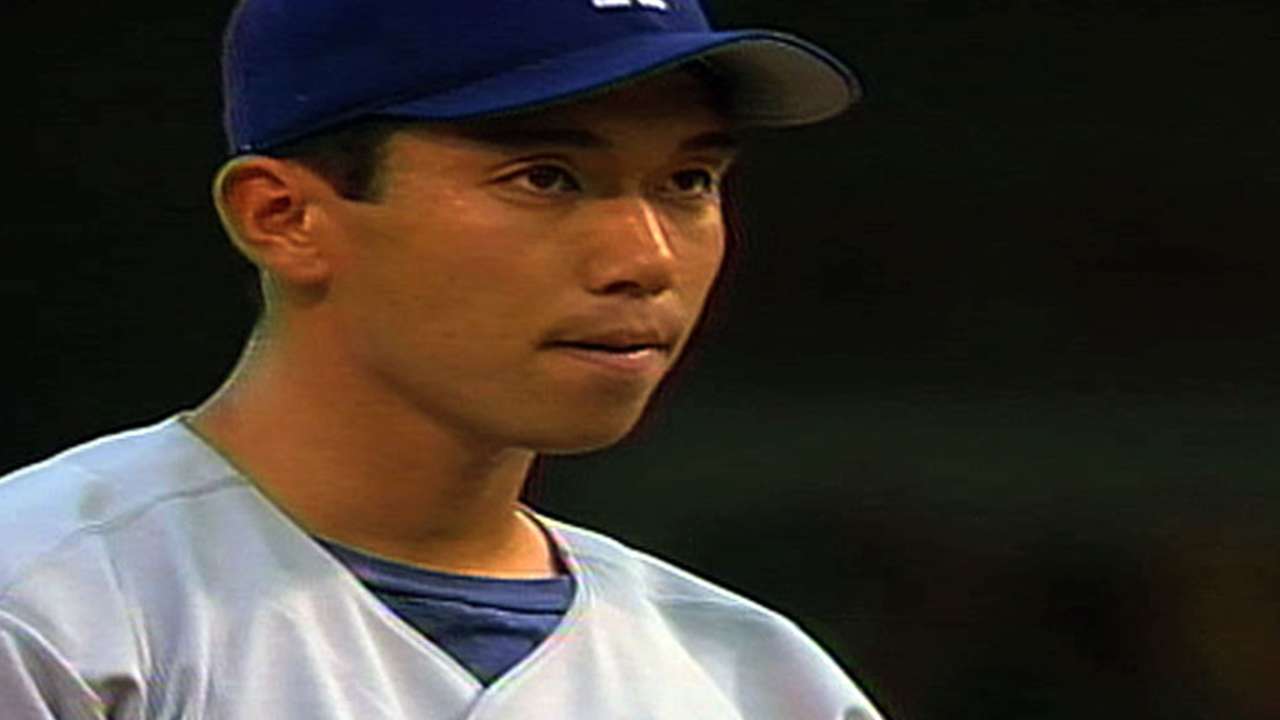 Not only does 2015 mark the 20th anniversary of Nomo's epic season, but it's also just a year removed from the gold anniversary of the first Japanese big leaguer, Masanori Murakami, coming to America. The young left-hander had been sent to the Minors as part of a player development exchange in 1964, with no expectation of being called up. But when he got the call from the Giants in September, the Nankai Hawks summoned him back to Japan. The Hawks and Giants eventually came to a compromise, allowing Murakami to remain in San Francisco for the 1965 season. Since Nomo, on the other hand, fought for his right to come to the Majors, he's considered a pioneer by the 51 Japan-born players who have since followed.
"I bought a Nomo Dodgers T-shirt," said Giants outfielder Nori Aoki, who grew up in rural southern Japan and was just 13 years old when Nomo signed with L.A. "I watched his games on TV and saw that All-Star Game. It opened my mind. It was the first time I really thought about America as a place for baseball. That's not the only reason I'm playing here today, but it definitely contributed to the process that eventually brought me over."
A 21-year-old Nomo burst onto the professional scene with the Kintetsu Buffaloes in 1990, leading the Pacific League with 18 wins, 287 K's and a 2.91 ERA. He also established himself as a workhorse by completing more games (21) and throwing more innings (235) than any other pitcher. Such dominance earned him Rookie of the Year honors, the Pacific League MVP Award and the Sawamura Award for the best pitcher. His value was cemented by consistency, as Nomo ranked as the league leader in wins, strikeouts and innings pitched for four consecutive seasons.
Then came a troubling 1994, when Keiishi Suzuki took over as the Buffaloes' manager. Suzuki had a decidedly old-school philosophy. In his day, starting pitchers took the ball on two days' rest and pitched in relief whenever they were asked.
On Opening Day 1994, Nomo took a no-hitter into the ninth, only to see it broken up and the bullpen relinquish the lead. Afterward, Suzuki suggested that Nomo could have shown greater tenacity in finishing what he started. In another game, Nomo labored with control, issuing 16 walks, but Suzuki left him in for all nine innings as he racked up 191 pitches. When Nomo later developed shoulder pain and had to be shut down, overuse couldn't be ignored.
Nomo secretly desired to pitch in America, but free agency in Japan was granted only after 10 seasons. That winter, Nomo, like all Japanese players under club control, met with Buffaloes management to discuss his salary for the next season. Citing his limited number of starts and declining statistics, the Buffaloes proposed a pay cut. Nomo boldly countered with an unheard-of demand for a multiyear contract, and then revealed his trump card: a loophole in the Japanese Uniform Players Contract. By voluntarily retiring, he would be free to sign overseas. Kintetsu protested, and the two sides haggled for nearly a month. But in the end, the hurler was free to pursue an MLB career.
In February 1995, Nomo signed with the Dodgers for the league-minimum $109,000 and a $2 million signing bonus, a pittance compared to today's deals. But for the first Japanese pitcher to test the waters, there was too much uncertainty about how his talents would translate. He quickly proved his worth by starting that summer's All-Star Game and taking home the NL Rookie of the Year Award.
While Nomo is often hailed as a pioneer, his decision has also had a profound impact on Japan's game.
"You can't count the ways that Nomo's success changed baseball in Japan," said Masato Yoshii, the seventh Japanese pitcher to appear in the Majors and the current bullpen coach for the Fukuoka SoftBank Hawks. "People became more interested in American training ways. That's the area of biggest change, I'd say: how pitchers condition.
"There's been an explosion of acceptance in using science to understand training and performance. As a result, Japanese players have gotten bigger and stronger, and their stamina is better. I think you can see the results in Japan's success in the World Baseball Classic. These things would have eventually happened without Nomo, but his success sped up the process, and we should all be grateful."
Masao Kida signed with Detroit a year after Yoshii. He too pitched for five seasons, and his MLB experience was considered an asset when the Hokkaido Nippon-Ham Fighters hired him as an assistant to the GM this past offseason.
"People say that Japanese baseball is in grave danger because it keeps losing its biggest stars, like Ichiro [Suzuki], [Hideki] Matsui and [Yu] Darvish, to America, but I have a different take," Kida said. "If Nomo hadn't gone and those guys just continued playing here, how popular would the domestic game be? I guarantee it would be way down.
"I played with Ichiro when he won seven straight batting titles in Japan, and even at that time, our attendance was declining. When Ichiro, Matsui or Darvish shine on an international stage, I don't think there could be a more positive effect on the domestic game. Look at all the kids who want to be like them and play baseball."
Considering the outrage over his departure, Nomo received a surprising honor last year: He was elected to the Japanese Baseball Hall of Fame. His 201 wins over 17 pro seasons certainly warranted induction, but it was a rousing sign of acceptance for his contributions to the game.
"He had the courage to take on a challenge and performed with success," said So Taguchi, who owns two World Series rings and is now a TV analyst for MLB broadcasts in Japan. "It's not just that he went [to MLB], but that he achieved undeniable results. He changed the baseball world as we know it."

Brad Lefton is a bilingual journalist based in St. Louis. He interviewed his subjects in Japanese for this article. This story was not subject to the approval of Major League Baseball or its clubs.