Defense steps up to save Scherzer's no-no
Pair of close plays in eighth helped preserve right-hander's historic day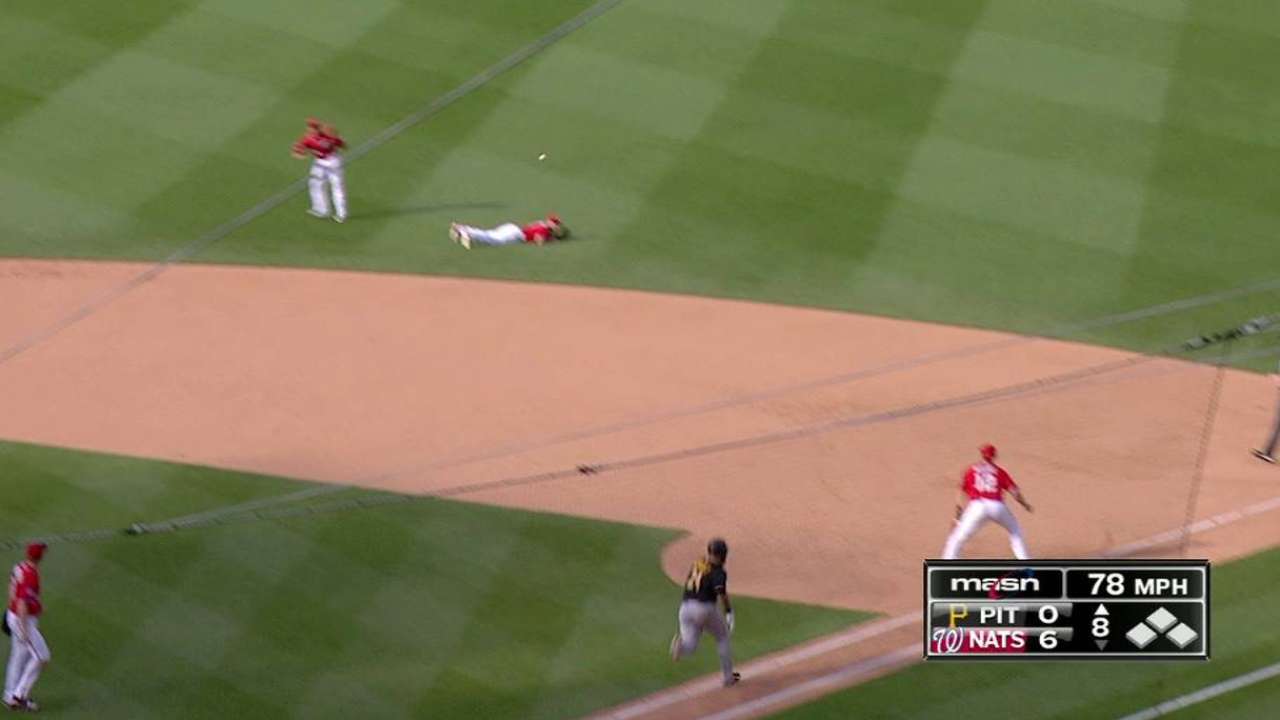 WASHINGTON -- Any ball in play has the ability to thrust a no-hitter into grave danger. Max Scherzer found that out last Sunday in Milwaukee, when a Carlos Gomez blooper dropped just over the head of second baseman Anthony Rendon in shallow right field.
As the Nationals right-hander took aim at history again in Saturday's 6-0 win against the Pirates, more soft contact threatened to derail him. Fortunately for Scherzer, his teammates came through in the eighth with a pair of nice plays. While there was nothing on the level of Steven Souza Jr.'s diving grab for the final out of Jordan Zimmermann's no-no last September, both left fielder Michael Taylor and second baseman Danny Espinosa did their parts.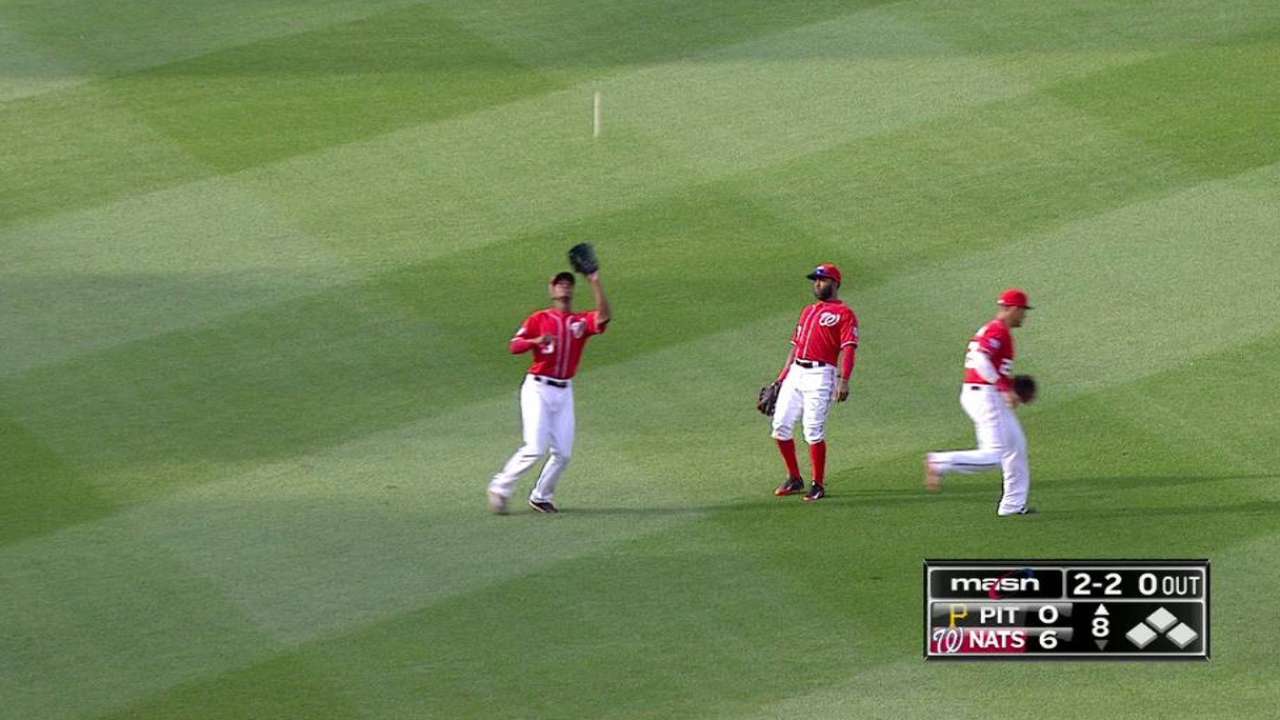 When Pittsburgh's Jung Ho Kang led off the eighth with a pop-up into shallow left-center, it seemed as though the ball might find a Bermuda Triangle between Taylor, center fielder Denard Span and shortstop Ian Desmond. But Taylor, who also made a leaping catch at the wall in the third inning to rob Jordy Mercer, took charge at the last moment and made the catch.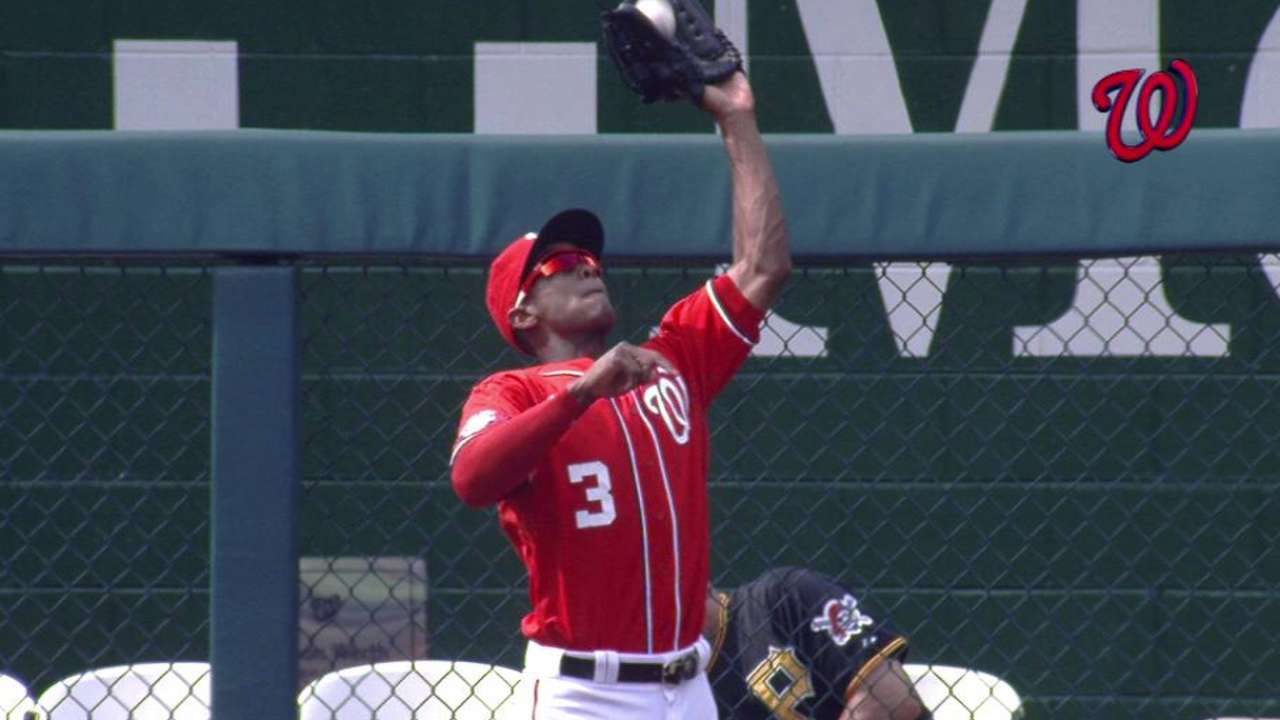 • Cast your Esurance All-Star ballot for #ASGWorthy players
"I'm going to go for it until [Taylor] calls me off," Desmond said. "We were all three right there, and he, with a loud voice with authority, made it sound like, 'I want the ball, I got it.' It probably goes unnoticed, but that's why we practice, exactly for that situation -- loud stadium, everyone's kind of like wanting to catch the ball, big situation in a game, and we ran it perfectly. It was awesome."
Two batters later, Washington stacked the right side of its infield against left-handed slugger Pedro Alvarez, moving Rendon behind second base and Espinosa way out into right field. Sure enough, Alvarez hit a ground ball to the right side.
The problem was that it was too far to the left of Rendon. That left it up to Espinosa, who had to race in and a bit to his right, circling around the ball slightly, before grabbing it and throwing on the run.
"You typically don't work on a play at second to your right where you get around the ball and throw it," Espinosa said. "At short, that's a play you make a lot, but at second it's not typically a play you make, so getting around the ball, the throw is a different angle right there."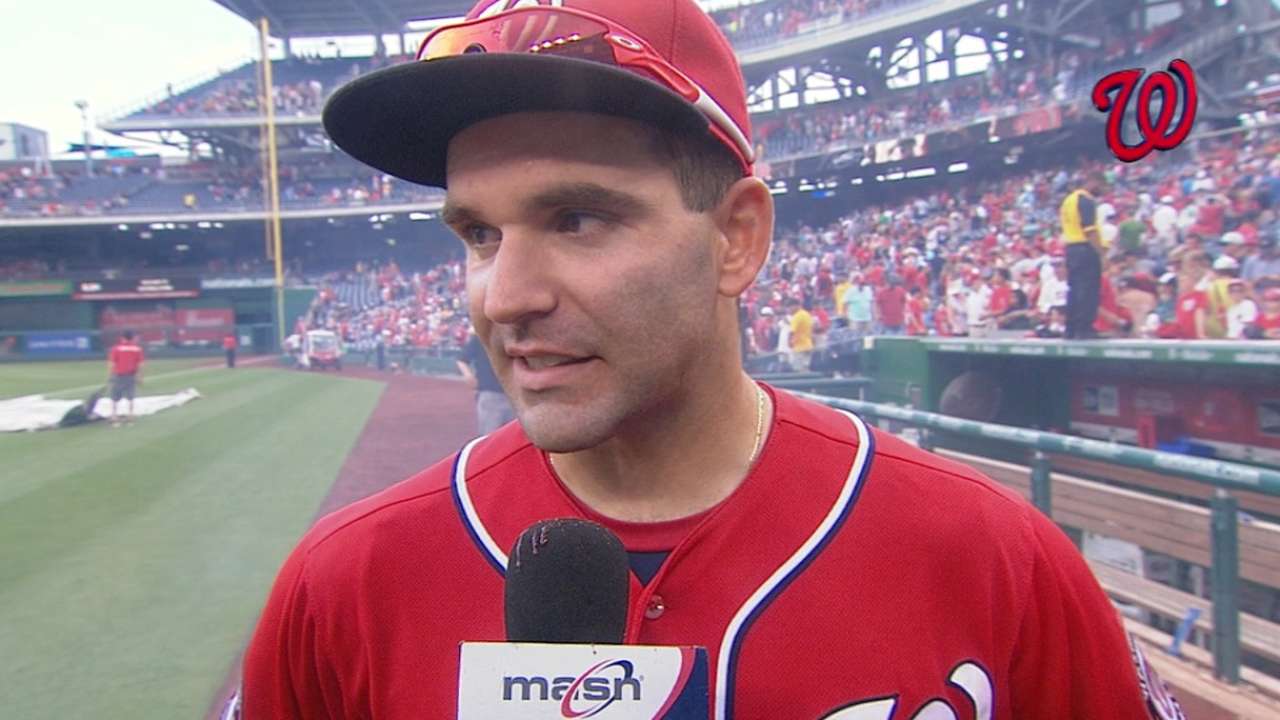 "Well, they're in the shift on him there," Pirates manager Clint Hurdle said. "And the guy made a good play, he laid out on the ball, and the guy kept his focus on receiving the ball, then made a good throw."
First baseman Tyler Moore stretched to the outfield side of the bag, and Espinosa's throw smacked into his glove just in time. It was a big moment for Espinosa, who has stepped up as a valuable utility man this year.
"That goes to the early work," Scherzer said. "That goes to Espi working hard. You've got to realize what he's being asked to do right now. He's being asked to play left, first, short, second, and for him to be able to make that play, it shows how much hard work he's putting into the game."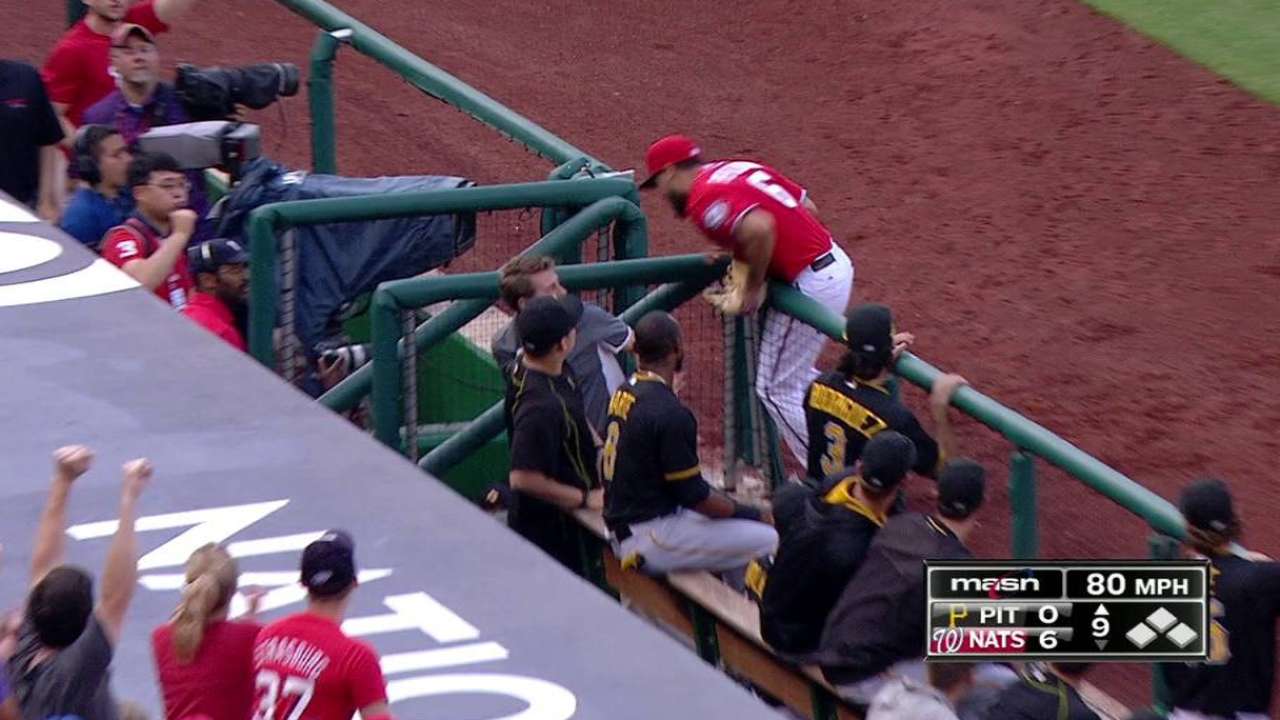 In the ninth, Rendon made a nice running catch on a Gregory Polanco popup that sent him into the railing of the Pirates' dugout. After Rendon's nice play, Scherzer forced Mercer to line out to center and Harrison flied out to Taylor for the game's final out.
Andrew Simon is a reporter for MLB.com. Follow him on Twitter @AndrewSimonMLB. This story was not subject to the approval of Major League Baseball or its clubs.