Baker has winning recipe to 'play right way'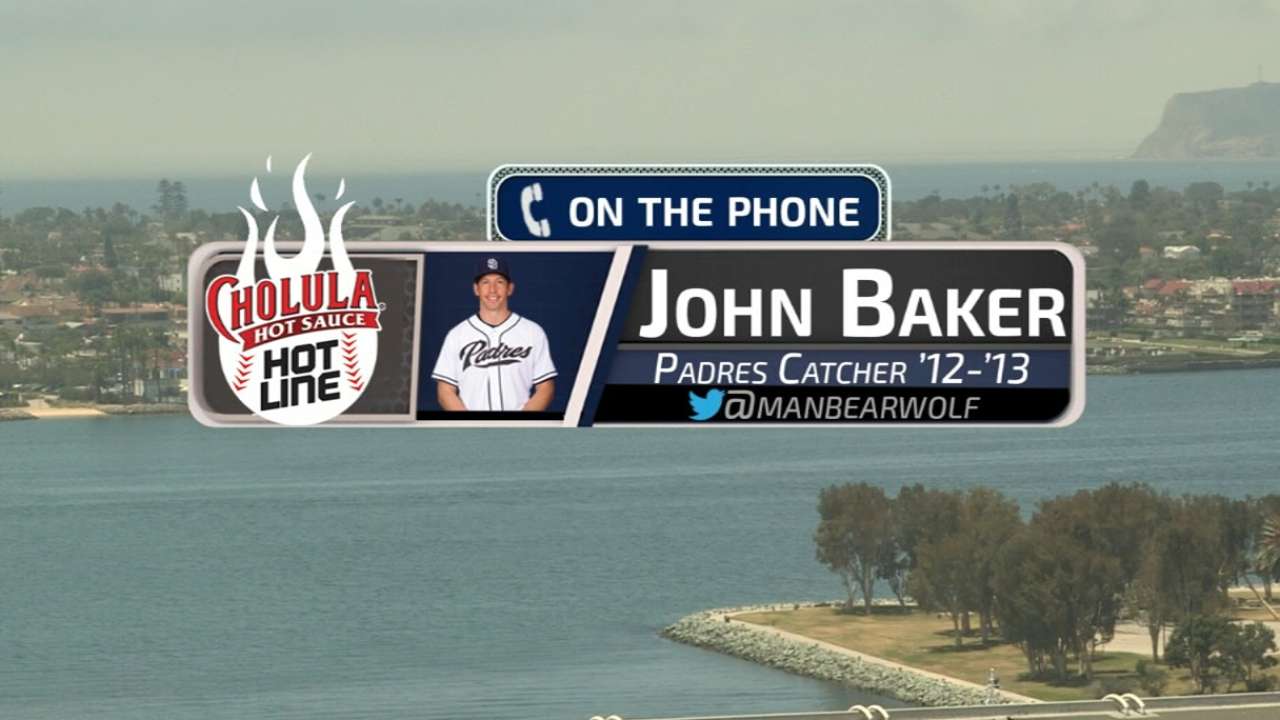 Former Padres catcher John Baker called in to Padres Social Hour on the Cholula Hot Line on Thursday to discuss his experiences in baseball and what he called "playing the game the right way." Baker's thoughts were drawn upon for this short interview and intrigued host Jesse Agler, who wanted to know what inspired Baker to write a piece about the fundamentals of good baseball. "Two things inspired me to put this together," said Baker. "The first one was the home run that Junior Lake hit off of Dan Haren in Miami and the reaction that it warranted when he flipped his bat. Then, the second one was me watching my nephew's high school baseball game. There's a lot of celebration that wasn't there before."
Baker, who played in parts of two seasons for the Padres between 2012 and 2013, had a lot to say about the game's state of affairs and how players were approaching the game. "I started to notice all of this behavior on the field that wasn't happening when I played baseball in high school… celebrating doubles, deer antlers, clapping, etc. It's clearly celebrated on the highlight shows we watched and it got me thinking about what 'playing the game the right way' really is."
Baker went on to discuss the 'home run trot' and the other ways of celebrating in the sport and his own personal approach to the game. "I always ran hard when I hit home runs, I didn't even know if I hit it over the fence so I kept running… that's just how my dad taught me." Player's reactions, clearly, are a big factor for Baker as well. "That's part of the mystery of baseball… the Angel Pagan and Derek Norris 'gum' incident were great examples. It's intriguing to me."
To hear more about Baker's philosophy and approach to the game of baseball, the celebrations of walk-off wins and other player's particular feelings when it comes to on-field behavior, then be sure to watch Baker's interview with Jesse Agler and Bill Center in the video above.
And for more interviews, highlights and Padres content just like this, be sure to check out padres.com/socialhour.