Draftees Bader, Martin propel Florida in CWS
OMAHA, Neb. -- Florida put on a power display never before seen in the College World Series at cavernous TD Ameritrade Park on Wednesday night.
The No. 4-ranked Gators launched a stadium-record four home runs with the wind blowing out to beat No. 5 Miami, 10-2, and end their in-state rival's season.
Florida advances to face Virginia on Friday and needs to beat the Cavaliers -- who edged the Gators, 1-0, on Monday -- in back-to-back games to reach the Finals.
"We always have a game plan," Florida center fielder Buddy Reed said. "In baseball, you have to be confident. It's a game of inches, like any sport, really. We're just going to come in with the same game plan, keep our minds right and just keep playing."
Florida left fielder Harrison Bader (leadoff homer), Reed (two-run homer, first inning), shortstop Richie Martin (solo, sixth) and third baseman Peter Alonso (two-run, seventh) all went yard for the Gators.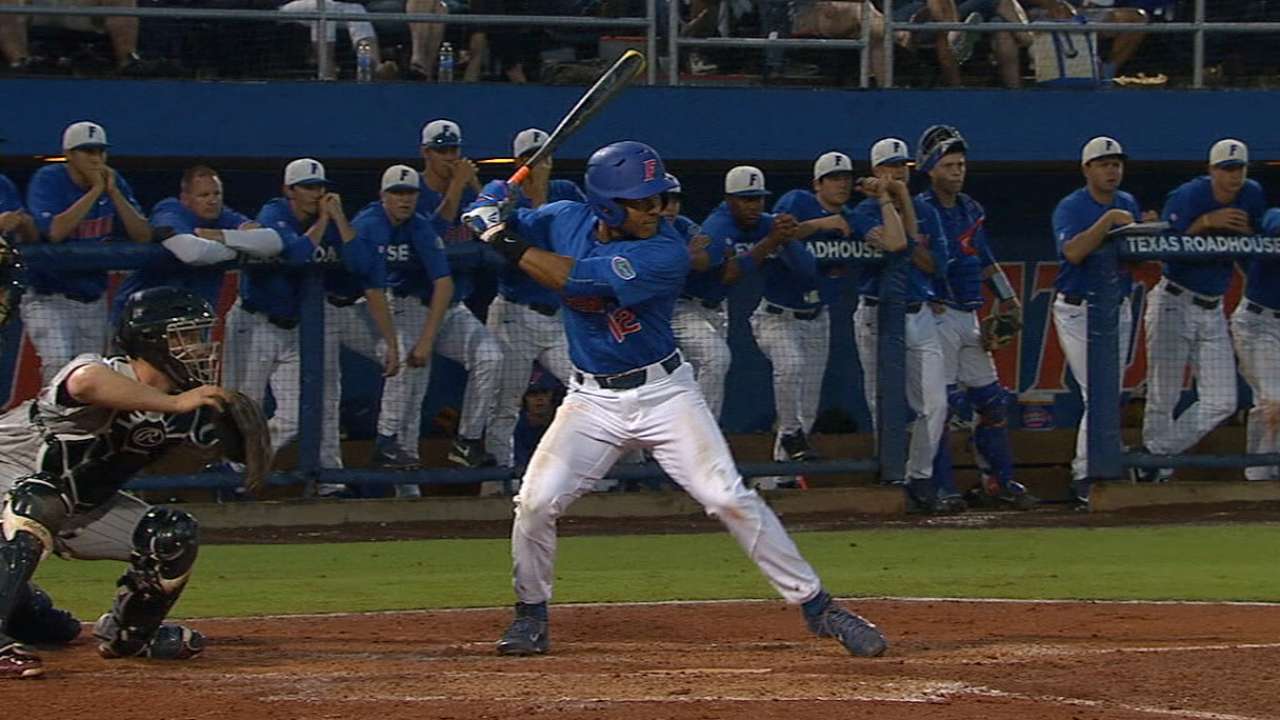 "I thought we elevated the ball on a day where the wind was blowing out," Florida coach Kevin O'Sullivan said. "It's just one of those days where the wind was blowing out -- but I do think they got them."
Aside from the home run barrage, Martin and Bader also turned in solid all-around games at the plate. Martin -- the No.20 overall pick by the A's in the 2015 Draft -- went 3-for-5, while Bader (third round, Cardinals) was 2-for-4.
That was plenty of support for freshman right-hander Alex Faedo, who surrendered only one hit until the sixth inning, when consecutive Miami singles knocked him from the game. He allowed two runs on three hits while walking four striking out seven.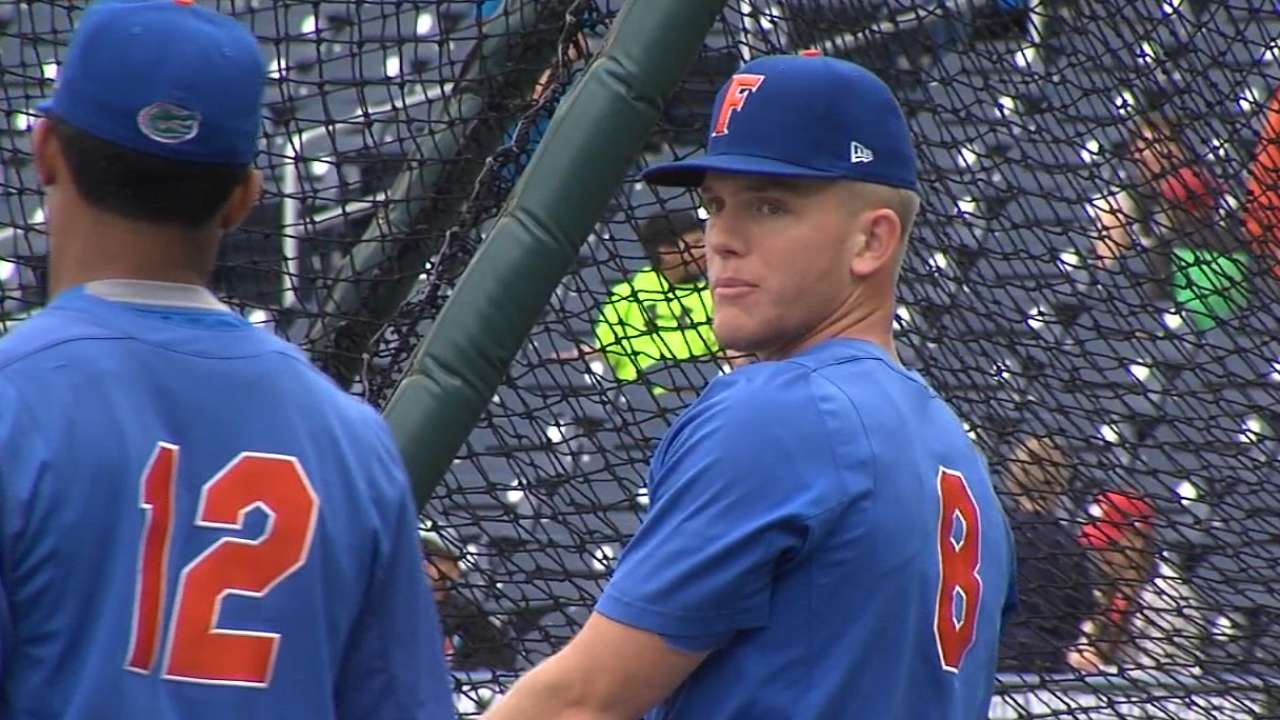 Sophomore lefty Kirby Sneed -- despite allowing both inherited runners to score -- threw three no-hit innings of relief.
Miami starter Enrique Sosa was removed after the first inning and replaced by left-hander Andrew Suarez (second round, Giants). Suarez, who threw 3 1/3 innings on Saturday, threw three scoreless frames before getting roughed up in the four-run fifth.
"They played very well and beat us in every area," Miami coach Jim Morris said. "They out-pitched us, out-hit us, out-played us as a team. Played very well. Disappointed in the ending, no question."
Wednesday's game
Florida 10, Miami 2
Thursday's game
No. 7 Texas Christian vs. No. 7 Louisiana State, 8 p.m. ET
Cash Kruth is a reporter for MLB.com. Follow him on Twitter at @cashkruth. This story was not subject to the approval of Major League Baseball or its clubs.