Asche visits school that's shown plenty of grit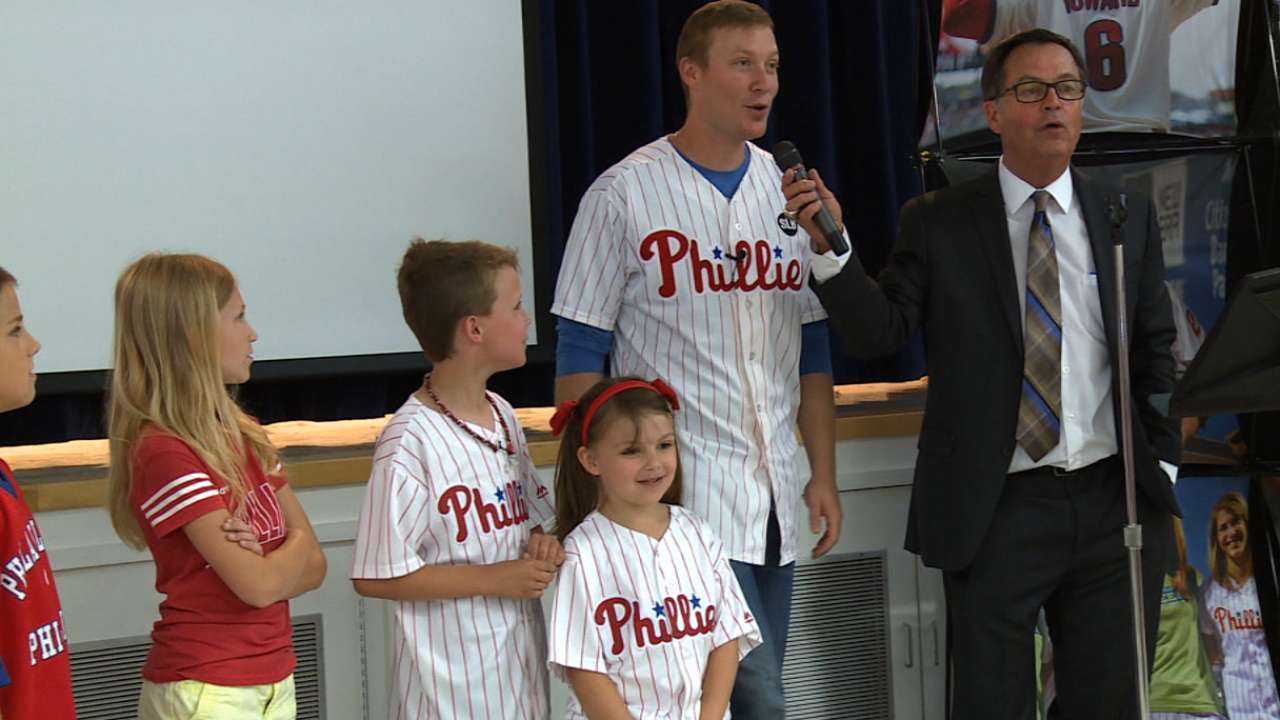 PHILADELPHIA -- "G" stands for "Giving up is not an option." "R" means "Ready for giving 100 percent." You get to "I" when you can say "I've reached my goal." And finally, "T" symbolizes taking on a challenge.
At John Barclay Elementary School in Warrington, Pa., this acronym embodies the meaning of the word it spells out: Grit. It is the word the school teaches its students to live by and, with the school year coming to a close this week, the school's entire student body was rewarded for a year's worth of grit and determination.
Two of the school's students, Liam and Katie Petersen, won a contest their parents entered on Mother's Day to be driven to school Wednesday in a limousine. But that perk wasn't the last of the prizes for winning the contest; they also helped escort in the school's surprise guest of honor, Phillies left fielder Cody Asche.
After the teachers and student body of the school formed a chorus to sing the Barclay Elementary fight song and recite the meaning of G.R.I.T., Asche was introduced to an auditorium filled with kindergartners through fifth graders donning red Phillies jerseys and waving towels with the words "Fightin' Phils" emblazoned across them.
Impressed by the school's commitment to hard work and dedication, Asche spoke about what the words meant to him as a professional athlete.
"I think grit and determination is a real important lesson to learn, especially at a young age," Asche said. "Things might not always go the way you want them. But I think if you stick to who you are, you have high character and you do the right things, then things can work out for you in the end."
Asche went on to answer questions about life as a professional ballplayer, ranging from how hard it is to hit a baseball to what it's like to take a pie in the face after a walk-off win. He and the rest of the auditorium then partook in singing a rendition of "Take Me Out to the Ballgame" and enthusiastically dancing to "YMCA" before the kids had to return to their respective classrooms.
With the echo in the air, the applause and cheers the kids had directed at Asche seemed to mimic the one he hears at the park each day. Aside from a select few, nearly every student in attendance was either wearing Phillies gear or at the very least something red, including Liam and Katie Petersen, who both donned No. 25 Asche jerseys.
When asked why he supported Asche and the Phillies, Liam Petersen gave an unsurprising answer.
"They show a lot of grit," he said. "They don't give up."
Nick Suss is an associate reporter for MLB.com. This story was not subject to the approval of Major League Baseball or its clubs.