Lumber party: Batters have super Tuesday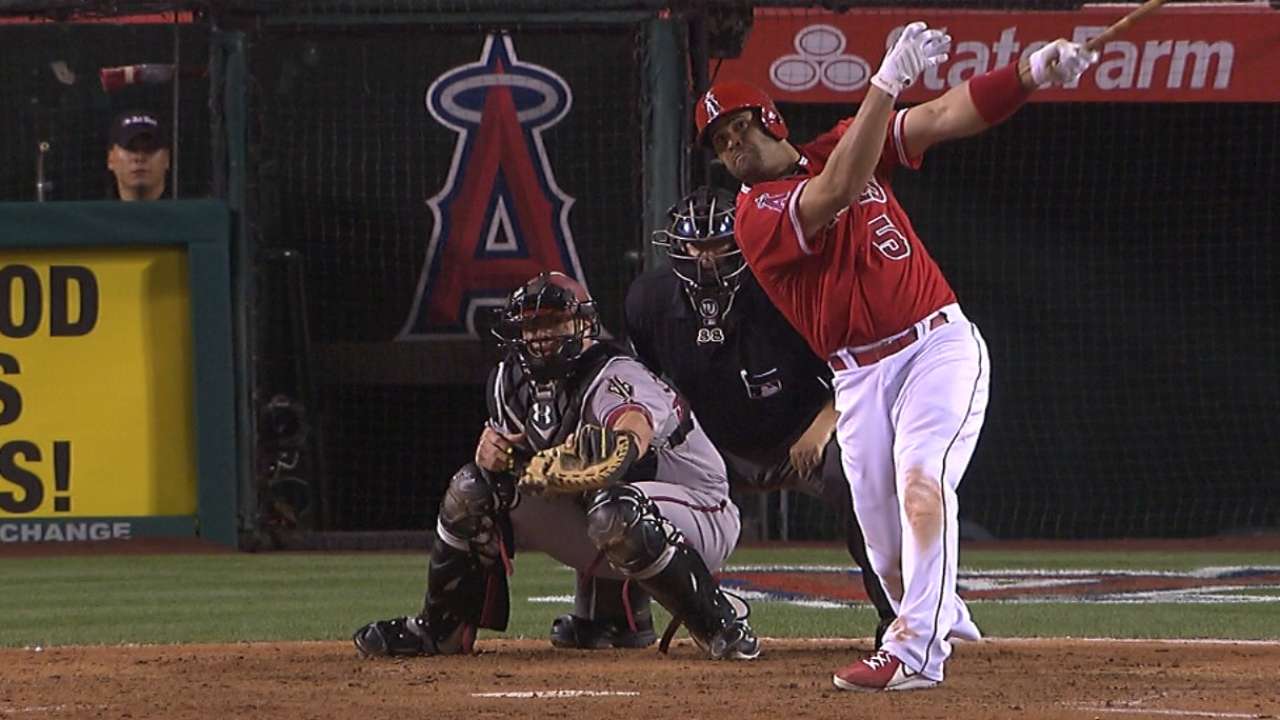 Major League Baseball is, by nature, prone to statistical anomalies and unpredictable outcomes.
There are, after all, 30 teams playing on a near-daily basis over a six-month span, resulting in 2,430 games -- and that's just during the regular season. Yet, even after learning to expect the unexpected, a day comes along every once in a while that seemingly defies all logic.
Yesterday was certainly one of those days.
The madness began with some breaking news off the field well before the day's first pitch was even thrown. Then, the full slate of Interleague games offered a little bit of everything, from teams setting franchise records with offensive outbursts to another making history for its ability to stifle opposing offenses, to one of the league's biggest stars reaching a career-high for homers -- on June 16. Oh, and in another game, a player accomplished one of the rarest offensive feats by hitting for the cycle.
And for icing on the cake -- or on the donut -- 146 runs were scored, triggering a chance at some great MLB prizes if you enter by noon ET today. Each Tuesday, all season long, Dunkin' Donuts is counting every run throughout the league. When the total runs scored reaches 140 -- like last night -- you could win.
In an attempt to capture all of the wackiness, here are a dozen items that made June 16, 2015, a day to remember in Major League Baseball:
• Perhaps it should have been considered a sign of things to come when news broke early yesterday morning that the FBI was investigating the Cardinals, one of the most storied franchises in Major League Baseball, for allegedly obtaining unauthorized access to the Astros' computer system, which includes proprietary information regarding player personnel and evaluation. Though that situation figures to take a while to play out, it set the tone for the entire day across the league. More >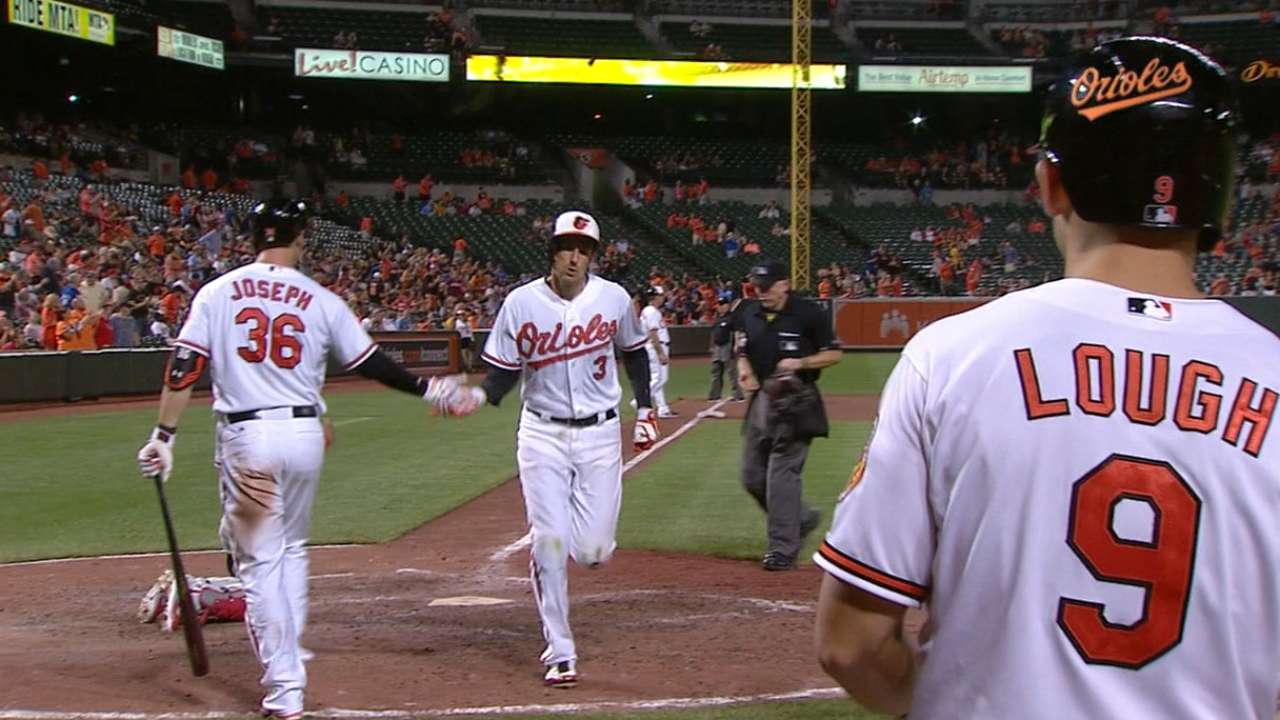 • The Orioles hit a franchise-record eight home runs against the Phillies, marking just the 22nd time since 1914 -- and the first since the Red Sox on Sept. 4, 2013 -- that a team hit at least eight homers in a game. The record for homers in a single game is 10, set by the Blue Jays on Sept. 14, 1987, against, strangely enough, the Orioles.
"Anytime you're scoring runs like that and hitting home runs, it's a fun night," said O's second baseman Ryan Flaherty, who went 2-for-4 and chipped in one of the eight dingers. "Obviously, it's not going to happen all the time, but you don't take it for granted." More >
• The home run onslaught played a big part in the Orioles scoring a season-high 19 runs. Baltimore is the only team in the Majors to score at least 18 runs in a game this year, and it's now done so twice. The Orioles also racked up that many runs in an 18-7 victory over the Red Sox on April 26. More >
• Five of those eight home runs were served up by Dustin McGowan, who took over for starter Jerome Williams in the first inning. In giving up a handful of homers, McGowan became just the fifth pitcher all-time -- and first since Milwaukee's Andrew Lorraine in 2002 -- to allow at least five homers in a relief appearance. The record for most homers allowed by a reliever is six, set by Philadelphia Athletics pitcher George Caster on Sept. 24, 1940, against the Red Sox.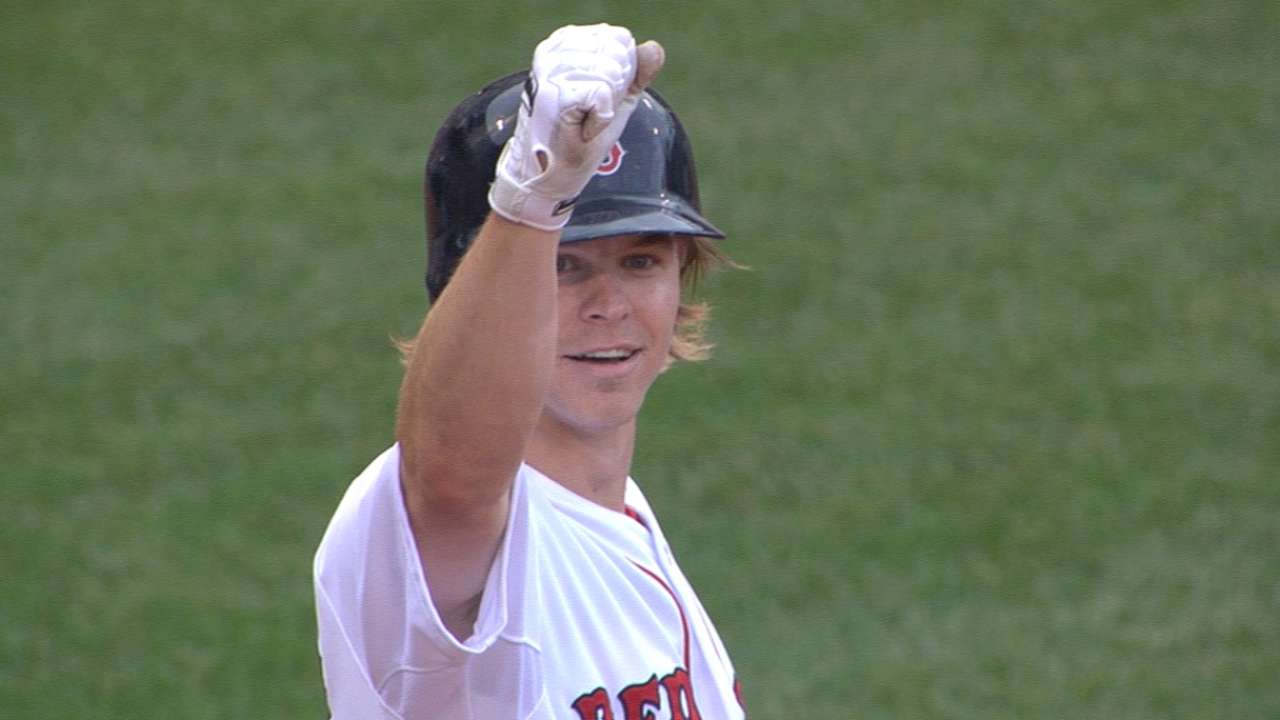 • Speaking of the Red Sox, Boston second baseman Brock Holt accomplished a rare feat of his own earlier in the day when he hit for the cycle against the Braves. It marked the first cycle by a Red Sox hitter since John Valentin in 1996 and only the second by a leadoff hitter in franchise history, joining Leon Culberson, who did so all the way back in 1943. More >
• Holt's cycle was also the first against the Braves since Mets first baseman Keith Hernandez turned the trick in a 19-inning victory on July 4, 1985. The almost 30-year stretch without allowing a cycle was by far the longest by any team in the Majors. The A's now have the longest streak, having not allowed a cycle since 1995.
• Circling back to the home run ball, Nationals phenom Bryce Harper crushed his 22nd of the season, already tying his career-high. Harper hit his 22nd homer, a solo shot off Rays reliever C.J. Riefenhauser, in just his 63rd game this season. His previous career-best season came in 2012, when he hit 22 over 139 games as a rookie. More >
• Harper also added a single and a double, accounting for three of the Nationals' 23 hits, the most in a single game since the franchise relocated from Montreal to Washington. The 23 hits are also the most by any team in a single game this season and the most in an Interleague game since June 27, 2011, when the Dodgers knocked out 25 hits in a 15-0 win over the Twins.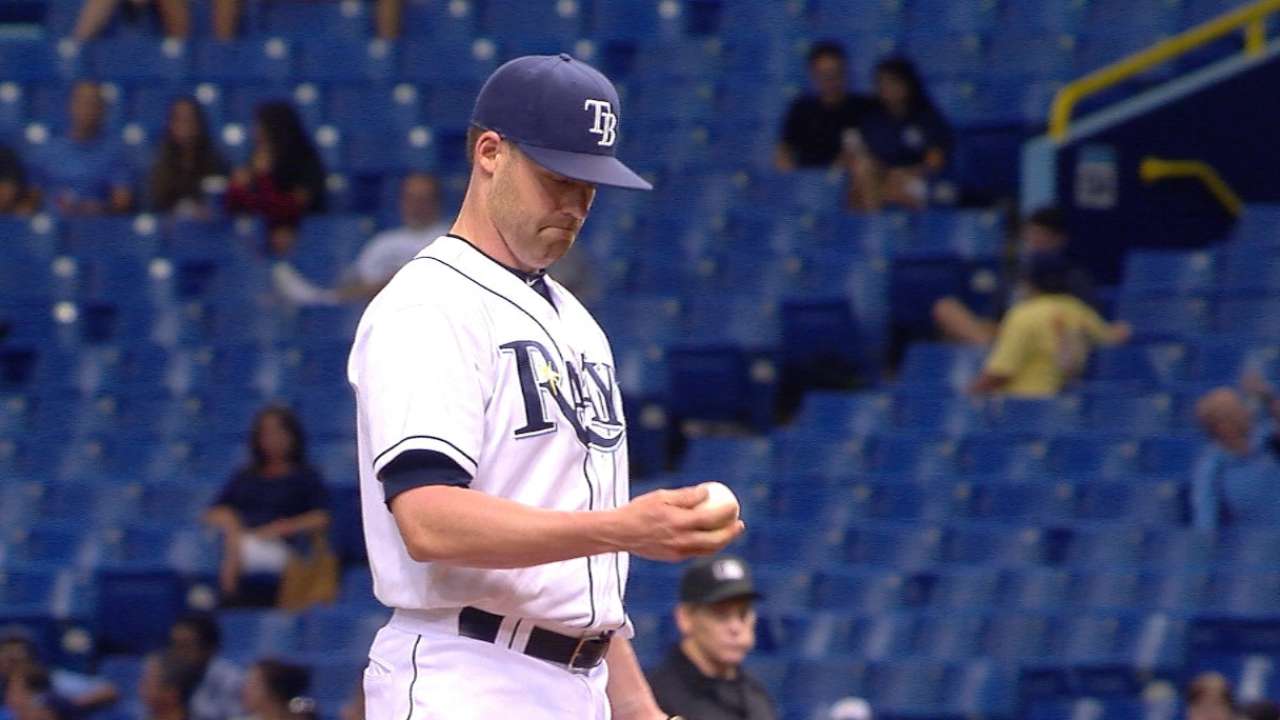 • All those Nationals hits contributed to a 16-4 rout over Tampa Bay that led to the Rays using not one, but two position players on the mound in the later innings, Jake Elmore and Nick Franklin. More >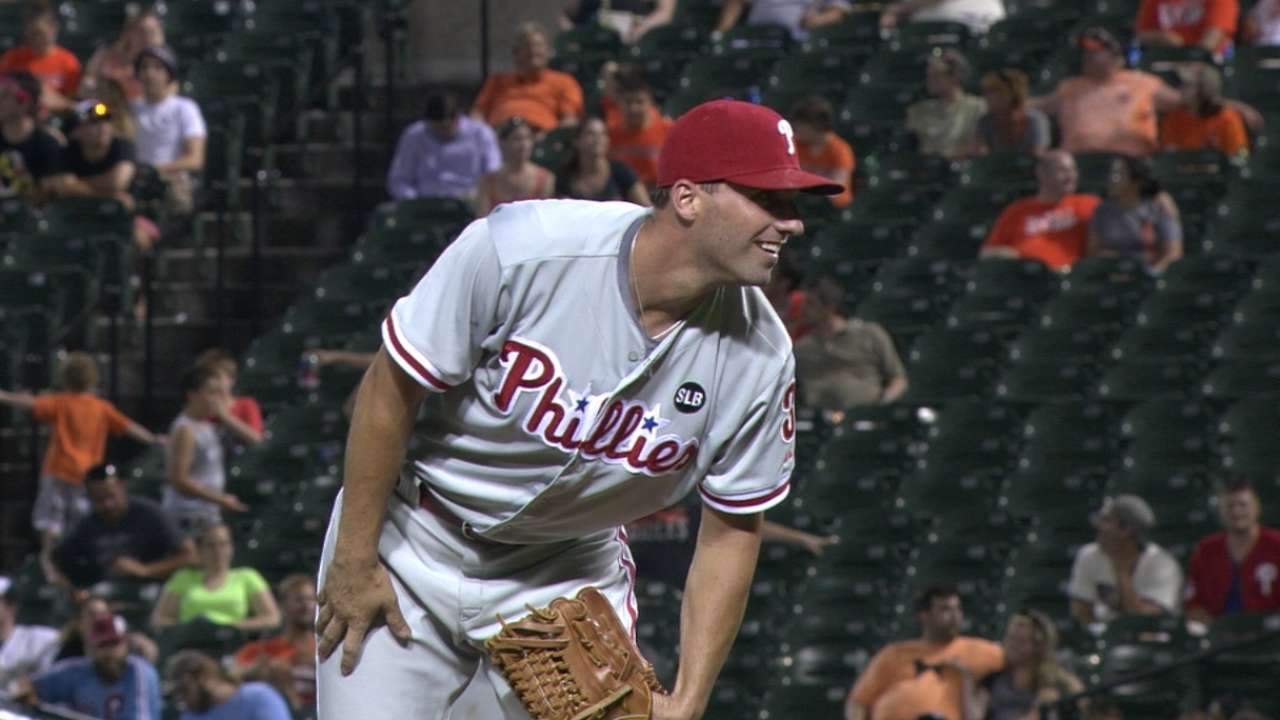 As if that wasn't enough, the Phillies also used a position player in Jeff Francouer to finish out their loss against the Orioles, marking the first time since Aug. 29, 1979, that three position players pitched on the same day. On that day, the Brewers handed the ball to All-Star third baseman Sal Bando, infielder Jim Gantner and catcher Buck Martinez to pitch the final five innings of an 18-8 loss to the Royals. It was the only career pitching appearance for all three players.
"It was fun, man, getting a punchout, doing some PFP, breaking a bat, giving up a home run, hitting a guy, walking a guy," Francoeur said. "I kind of got to experience everything that a pitcher probably experiences over a year in two innings." More >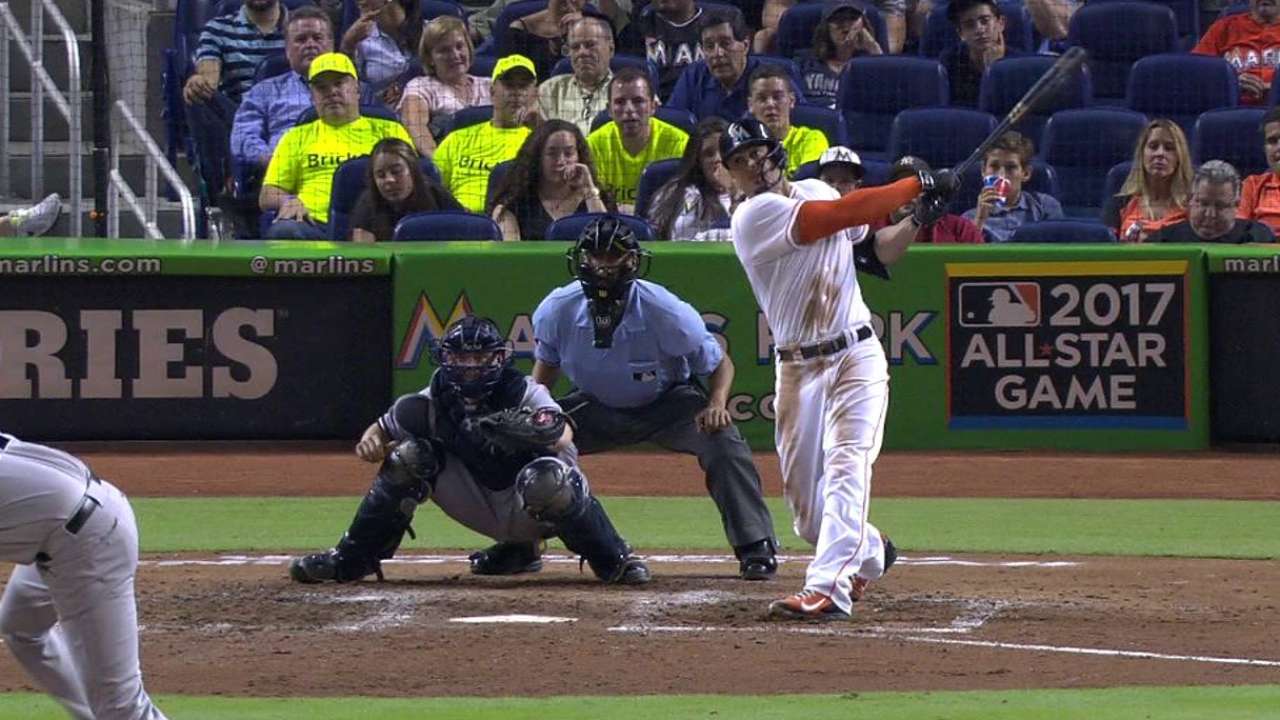 • Runs weren't very hard to come by in Miami either, Giancarlo Stanton hit his MLB-leading 24th homer in the fifth and the Marlins racked up a franchise-record eight first-inning runs in a 12-3 win over the Yankees. Making this game all the more quirky was the fact that the starting pitchers, Miami's David Phelps and New York's Nathan Eovaldi, were traded for one another this past offseason. It marked the first time since Mat Latos and Edinson Volquez squared off in 2012 that two pitchers traded for one another faced off within a year of the transaction. Eovaldi conceded eight runs while recording only two outs, while Phelps cruised through seven solid innings for the victory. More >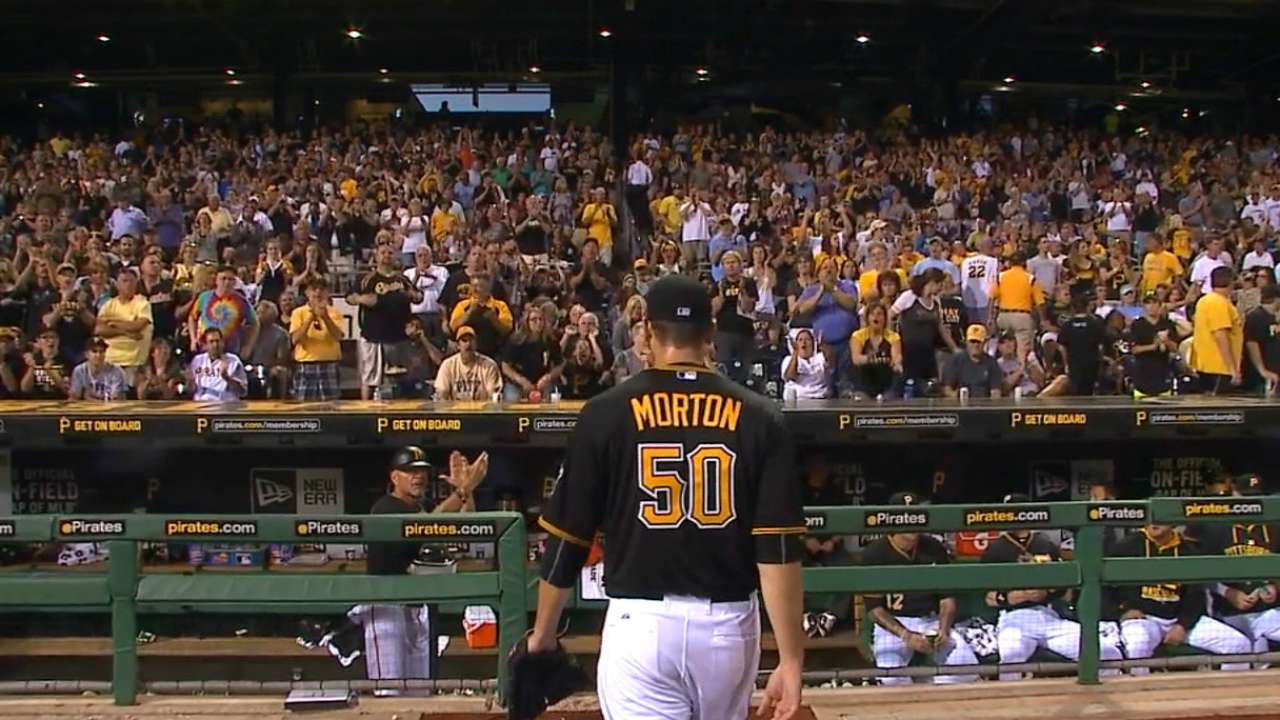 • While many teams were racking up an exorbitant number of runs, however, the Pirates were busy tossing their fifth shutout in their last six games. In blanking the White Sox, 3-0, behind Charlie Morton, the Pirates joined the 1995 Orioles, '86 Astros, '74 Orioles and 2003 Pirates as the only teams to record five shutouts in a six-game span, according to the Elias Sports Bureau.
"In all my years of managing," Pirates skipper Clint Hurdle said, "I haven't seen anything like this, a run like this out of a starting rotation." More >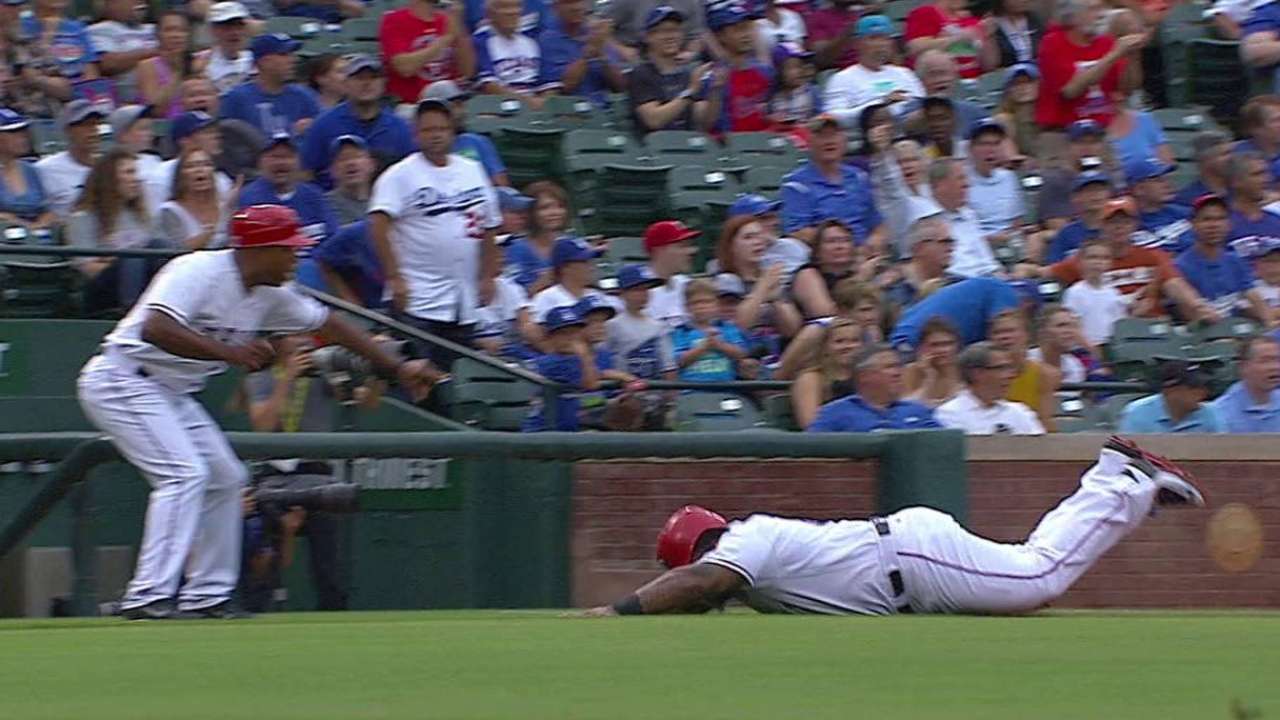 • There was both excitement and levity in Arlington. Throughout his career, Prince Fielder has punished all those foolish enough to pitch a baseball in his general direction. But while trying to score from second during the Dodgers-Rangers game, he met the one obstacle he could not overcome: third base. More >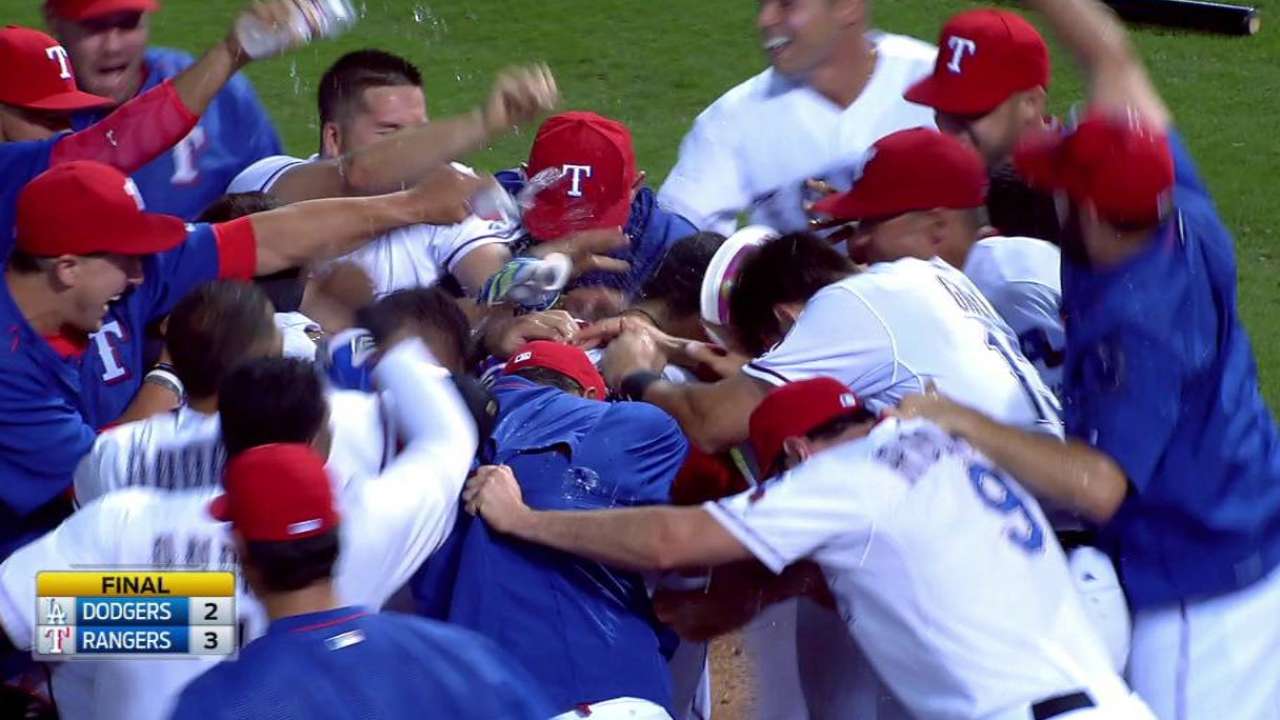 And what kind of wacky baseball day would be complete without a walk-off? The Rangers provided that final element, with catcher Robinson Chirinos delivering his first career walk-off homer in a 3-2 victory over the Dodgers, all while the grounds crew carefully monitored nearby Tropical Storm Bill. More >
Even with the walk-off, however, it probably wasn't all that terrible of a day for partial Dodgers owner Peter Guber. After all, Guber is also a part-owner of the NBA's Golden State Warriors, who just so happened to clinch their first title in 40 years on last night. More >
Paul Casella is a reporter for MLB.com. This story was not subject to the approval of Major League Baseball or its clubs.