Correa already among AL's best shortstops
Rookie tied for second in MLB with 11 batted balls over 100 mph since debut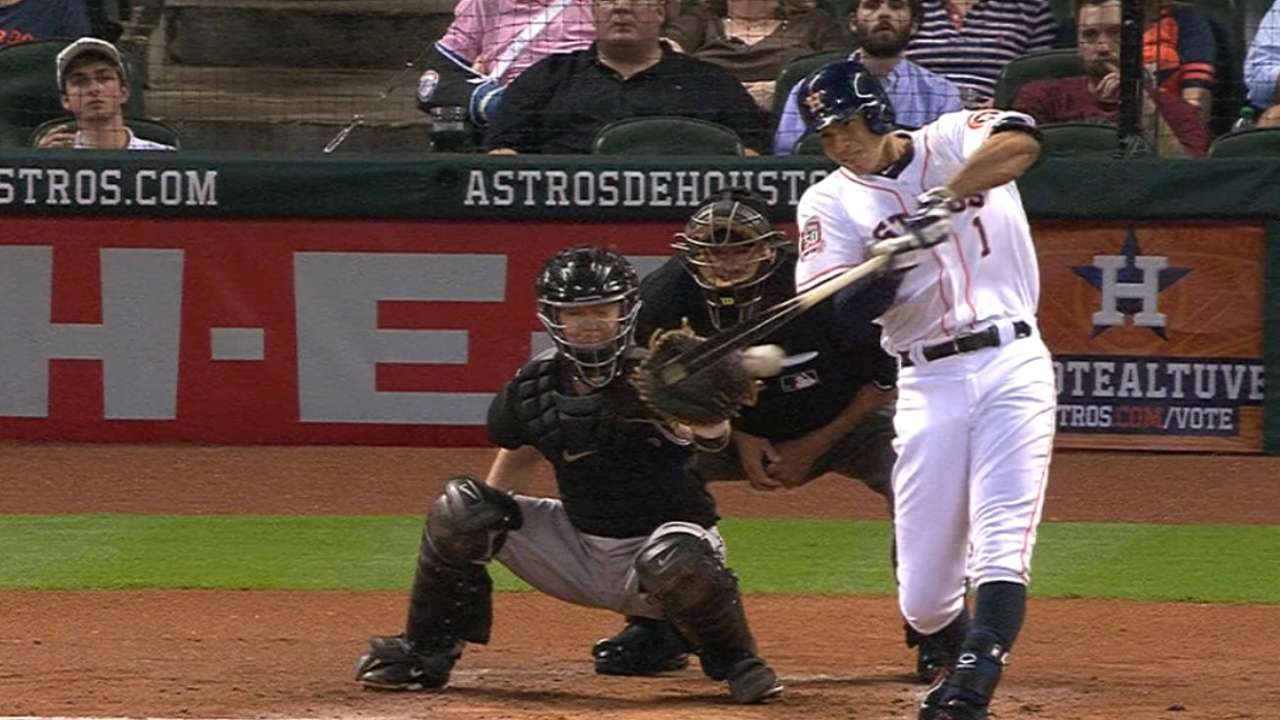 Eight games into his big league career, Carlos Correa is already one of the best shortstops in the American League. We know, we know: He's only 20, and six weeks ago he was playing Double-A games in places like Frisco, Texas, and Springfield, Mo. It's a lot to put on a young player. Too much, probably.
We can say that partially because Correa's first week-plus in the majors has been nothing short of a smashing success, as he's put up a .324/.343/.529 line with two homers. Statcast™ helps back that up with some tremendously impressive numbers as well, like the fact his 11 batted balls that Statcast™ has tracked of more than 100 mph since his June 8 debut are tied with Miguel Cabrera, Giancarlo Stanton, Todd Frazier, and Yoenis Cespedes for the second-most in baseball behind Manny Machado. Or that those 11 scorchers account for 45.8 percent of the 24 balls he's put into play, which is outstanding.
Still, it's only been eight games, eventually that .409 BABIP is going to come down, and at some point he's going to have to deal with the fact that he's striking out 10 times as often as he's walked. So how are we justifying putting "one of the best shortstops in the league" on him already?
It's mostly because Correa has shown exactly what we expected when he was called up earlier this month, but it's also because shortstop in the American League, at least on offense, is in a down cycle like we haven't seen in decades. Gone are the heady days of Jeter, Garciaparra, and Rodriguez. Beset by age, injury, or simple poor performance, American League shortstops as a group are putting up a dismal offensive performance not seen since 1979.
We can back that up, too, using Weighted Runs Created Plus (wRC+, for short). It's an all-inclusive offense stat that is weighted for the offensive environment the sport puts up each year, so it can be used across eras without worrying about whether we're talking about the pitcher-friendly 1960s or the pinball-style 1990s. Since it's weighted so that 100 is average, it can be read as "120 is 20 percent above average," for example.
That out of the way, let's get to the numbers:
Lowest wRC+, American League SS, since 1980
1. 2015 - 75
2. 1995 - 78
3t. 1980/1982 -- 79
As a group, American League shortstops are hitting 25 percent below league average, even accounting for the fact that offense is down everywhere. Only three qualified AL shortstops -- Jose Iglesias, Xander Bogaerts, and Marcus Semien -- are hitting within 20 percent of league average, and Semien's given back much of that production with below-average defense.
Why the change? In part because it's a down cycle that's not unexpected in a cyclical sport, and in part it's because injuries have slowed reliable performers like Jose Reyes, J.J. Hardy, and Jed Lowrie. Toss in down seasons from veterans like Alexei Ramirez and Elvis Andrus along with young players struggling to acclimate like Jose Ramirez and Didi Gregorius, and you have a group that is, as a whole, just adding little at the plate.
With run-scoring down considerably from what it was just a decade ago, teams are also focusing more on defense from the position. As Correa showed on Tuesday when he dove for a Ben Paulsen grounder and threw an 80.3 mph strike to first, that's not something he'll have a problem with: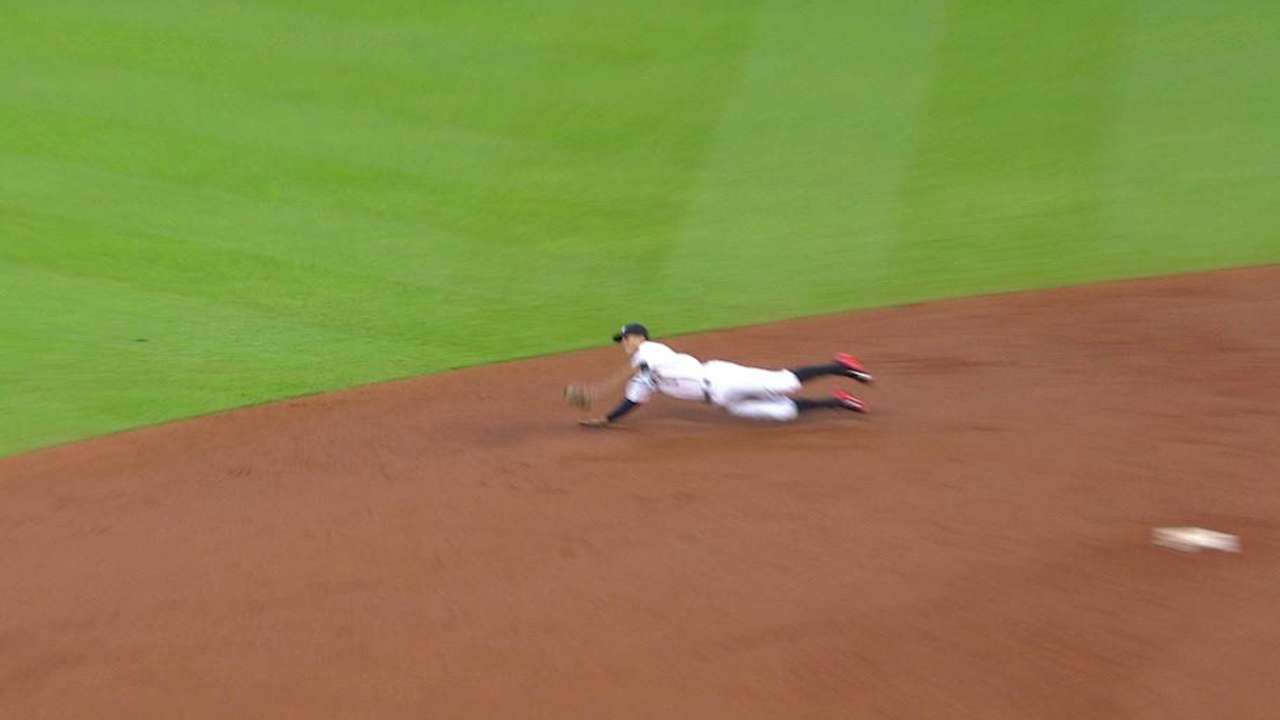 Since he arrives with two-way skill at a position that offers little like him in the league right now, the conditions are perfect for Correa to become an above-average player for the position immediately. The respected Steamer projection system, for example, pegs him to be tied with Erick Aybar as the fifth-most valuable shortstop for the remainder of the season, behind three National Leaguers and Bogaerts. The three previous Houston shortstops (Lowrie, Marwin Gonzalez, and Jonathan Villar) had combined to be barely above replacement-level, and most of that was from Lowrie's hot first few weeks before he injured his thumb in April. The bar isn't particularly high for Correa to clear, though fellow newcomer Francisco Lindor should help change that as well.
Correa will struggle as pitchers adapt to him and he's forced to adapt back, because all 20-year-old big leaguers who aren't Mike Trout run into rough patches. But in his brief time in the bigs, he's more than shown the talent that made the Astros grab him No. 1 overall in the 2012 draft and helped him rocket up through the minors. Both because of what he's done and the state of the shortstop position in baseball right now, Correa is immediately a plus. Just what the first-place Astros need, right? More young talent.
Mike Petriello (@mike_petriello) is an analyst for MLB.com. This story was not subject to the approval of Major League Baseball or its clubs.