MLB comments on Astros' computer breach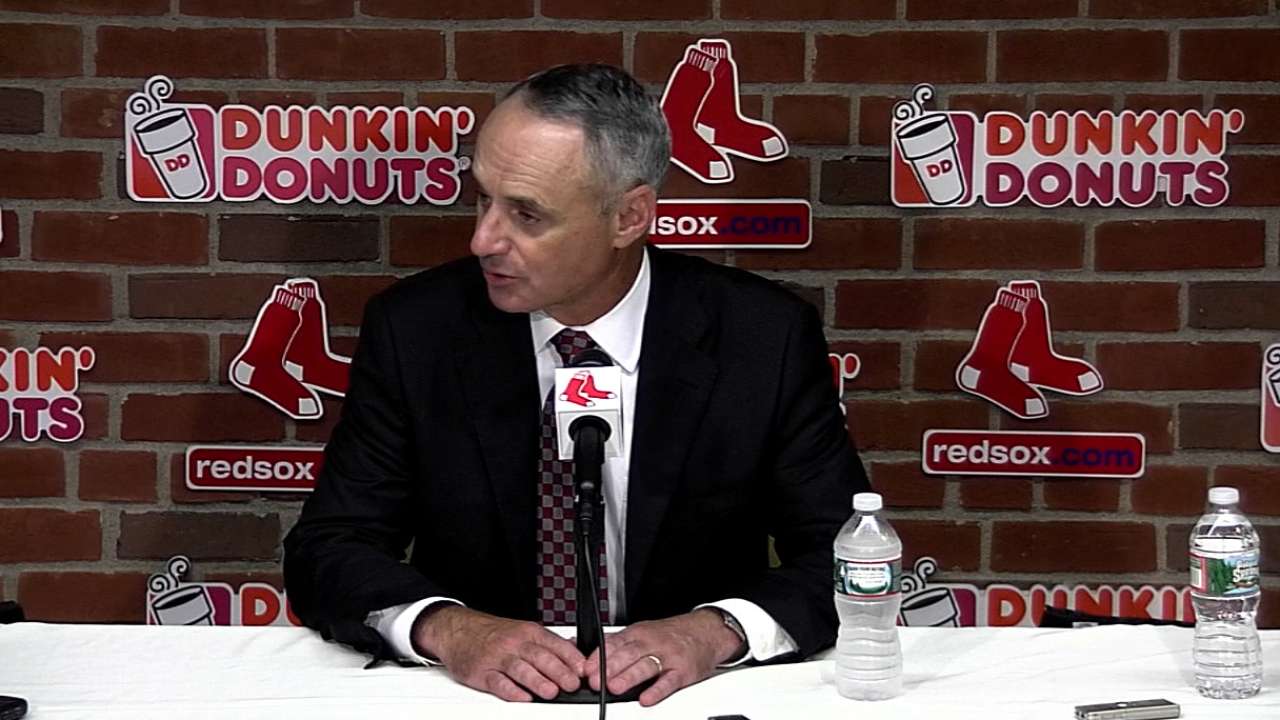 ST. LOUIS -- The FBI and Justice Department are investigating the St. Louis Cardinals for allegedly obtaining unauthorized access to the Houston Astros' computer system, which includes proprietary information regarding player personnel and evaluation.
"We knew about it, well in advance of the report," said Commissioner Rob Manfred, speaking Tuesday at Fenway Park as part of his tour of Major League ballparks. "There is an ongoing investigation with respect to an unauthorized entry into Houston's system. To assume that that investigation is going to produce a particular result with respect to the Cardinals -- let alone to jump to the use of the word like cyber-attack -- I just think that we don't know that those are the facts yet.
"There is an ongoing investigation; we've been fully cooperative. Obviously, any allegation like this, no matter how serious it turns out to be, is of great concern to us. But it's just too early to speculate on what the facts are going to turn out to be and what action, if any, is necessary."
The bureau, according to a report in The New York Times, has discovered evidence that Cardinals employees improperly entered an Astros network that contained databases, internal discussions of trades, and scouting reports. Cardinals officials, according to law enforcement sources cited in the report, were believed to have done so by trying passwords that Luhnow and other Houston front-office members had used while with the Cardinals organization.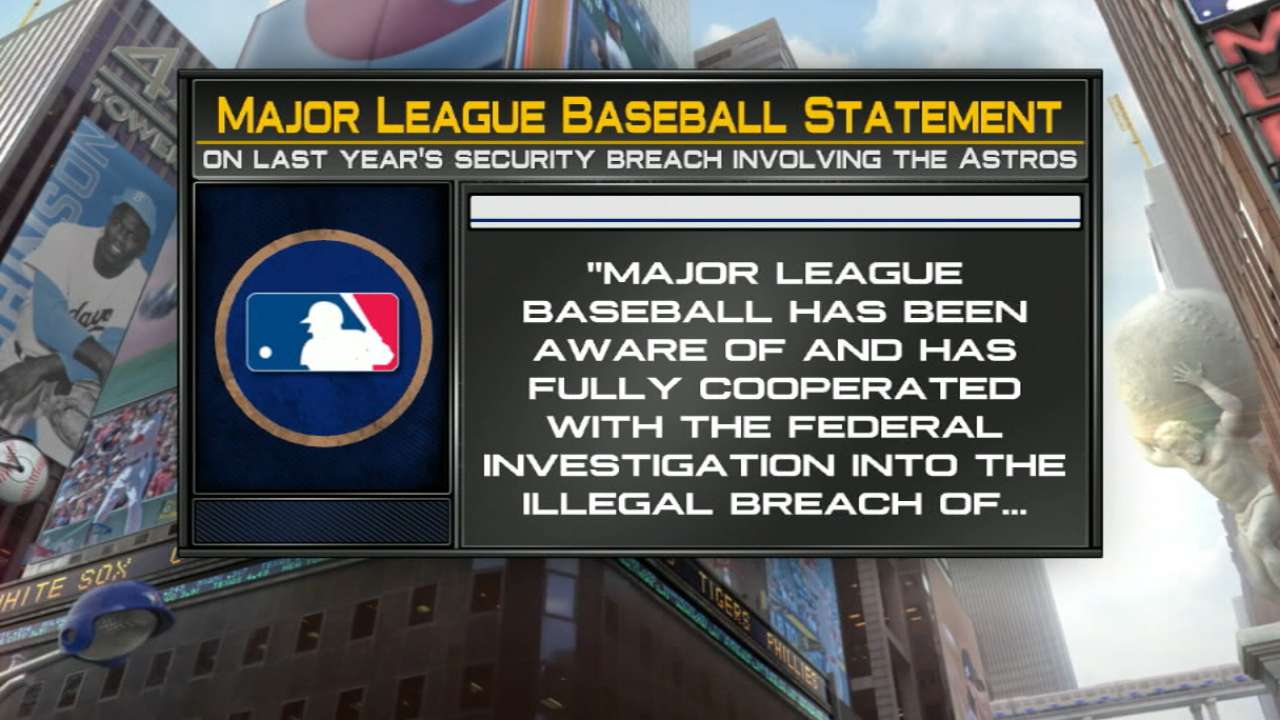 "We routinely make the resources of MLB Advanced Media available to the clubs to make sure they have the type of security arrangements that are necessary," Manfred said. "At the end of the day, however, each club, it's an individual, local undertaking, as to what the security measures are."
Investigators did not say which individuals in the Cardinals organization were involved, according to the report, or if any high-ranking Cardinals officials were aware of the action or had authorized it.
"These are serious allegations that don't reflect who we are as an organization," Cardinals chairman and CEO Bill DeWitt said in a statement issued Wednesday. "We are committed to getting to the bottom of this matter as soon as possible, and if anyone within our organization is determined to be involved in anything inappropriate, they will be held accountable."
The FBI traced the breach to a house in Jupiter, Fla., where the Cardinals hold Spring Training, according to report by Yahoo! Sports that cited an official familiar with the investigation. A number of Cardinals employees used the house, according to the official, which could possibly complicate attempts to specifically identify the alleged culprits.
"Soon enough, I think that we will have full information as to what went on," Manfred said. "I think you can rest assured that we will act appropriately at that point in time. I think people should also not lose sight of the fact that in addition to what happened, there's the question of who did it? Who knew about it? Was the organization responsible? Was the individual responsible? There's a whole set of issues that need to be sorted through."
Before becoming general manager of the Astros, Jeff Luhnow worked for the Cardinals as assistant to present Cardinals GM John Mozeliak. Since being hired by Houston in 2011, Luhnow has orchestrated a complete turnaround of the organization; the Astros entered play on Tuesday leading the American League West by 2 1/2 games.
DeWitt said that several months ago, after the team was made aware of the allegations, he and Mozeliak engaged the law firm of Dowd Bennett to assist the team in providing requested information to the federal government and to conduct an internal inquiry to attempt to identify any employee who may have engaged in the alleged conduct.
"The alleged conduct has no place in our game," Mozeliak said. "We hold ourselves to the highest standards in every facet of our organization. It has been that way forever and is certainly true today. We are committed to finding out what happened. To the extent we can substantiate that these allegations have merit, we will take appropriate action against anyone involved."
The Cardinals also remain successful, entering Tuesday atop the National League Central by six games.
"Where we are right now is we don't know any more than anybody else," said Cardinals manager Mike Matheny, speaking on behalf of his coaching staff and players. "Right now, we just go about our business and realize this is something that is being dealt with."
Matheny said he was unaware the Cardinals were being investigated until a front-office member pulled him out of the workout room on Tuesday morning to alert him of the coming Times report. Matheny, speaking about 90 minutes after the story was published, had still not read the article.
"You guys are more informed than I am, and once again, I'm fine with that," Matheny said. "I'll get the pertinent information when that time comes and when it's appropriate. Right now, we have to prepare for a baseball game. We don't know how to react at all until we have more information, so we don't. The way to react is to prepare for a baseball game."
Both clubs issued statements on Tuesday acknowledging the investigation and declining further comment.
"The Houston Astros are actively cooperating with an ongoing federal investigation. We cannot comment on this matter."
"The St. Louis Cardinals are aware of the investigation into the security breach of the Houston Astros' database. The team has fully cooperated with the investigation and will continue to do so. Given that this is an ongoing federal investigation, it is not appropriate for us to comment further."
Jenifer Langosch is a reporter for MLB.com. Read her blog, By Gosh, It's Langosch, follow her on Twitter @LangoschMLB, like her Facebook page Jenifer Langosch for Cardinals.com and listen to her podcast. This story was not subject to the approval of Major League Baseball or its clubs.