Padres dismiss Black; Roberts takes over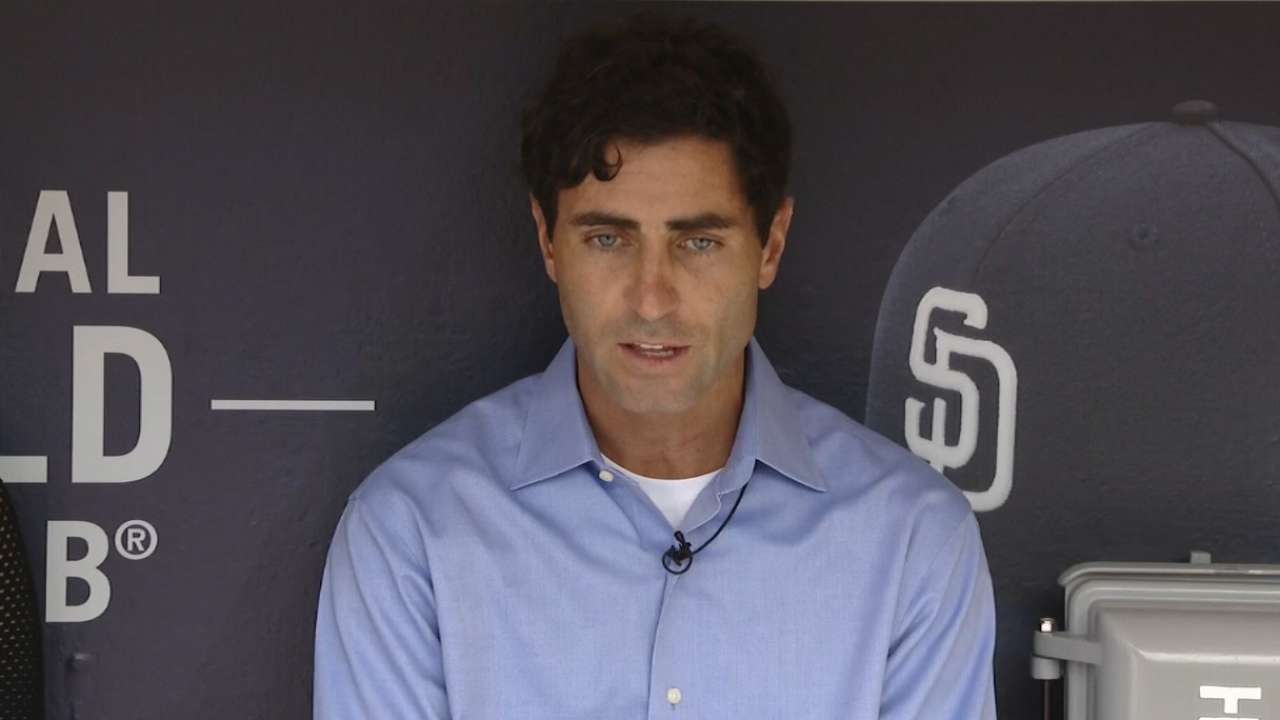 SAN DIEGO -- It's a Petco Park tradition two hours before each game. Assembled ushers shout in unison, "Go Padres!"
Bud Black would always interrupt watching batting practice, turn and tip his cap to the workers.
It happened again on Monday, but this time, interim manager Dave Roberts returned the salutation.
Black, the Padres' manager for eight-plus seasons, was dismissed by the team Monday afternoon, prior to the Padres' 9-1 loss to the A's.
"I've been thinking about this for two weeks,'' Padres general manager A.J. Preller said. "It wasn't one magic thing. But I started to sense that he may not be the guy next year. So why go forward?"
Much was expected from the Padres after Preller's extensive roster overhaul this past offseason. An influx of talent not seen on recent Padres teams was acquired, but improved results didn't follow.
The third-place Padres started a two-game series with the visiting Oakland A's at 32-33, six games behind the National League West-leading Los Angeles Dodgers.
"At the end of the day, this was the direction we want to go,'' Preller said.
Preller said the team's inconsistent play was the reason, as the Padres haven't had a winning streak surpass four games.
"I've seen inconsistencies, ups and downs,'' said Preller, in his first full year as a general manager. "This team is not bottoming out or playing poorly, just too much inconsistency. We have not played to the level we are capable of.''
Still, Preller admitted it was a difficult reaching Monday's verdict.
"It was really a tough call,'' he said. "Buddy is a great baseball guy, and people like him.''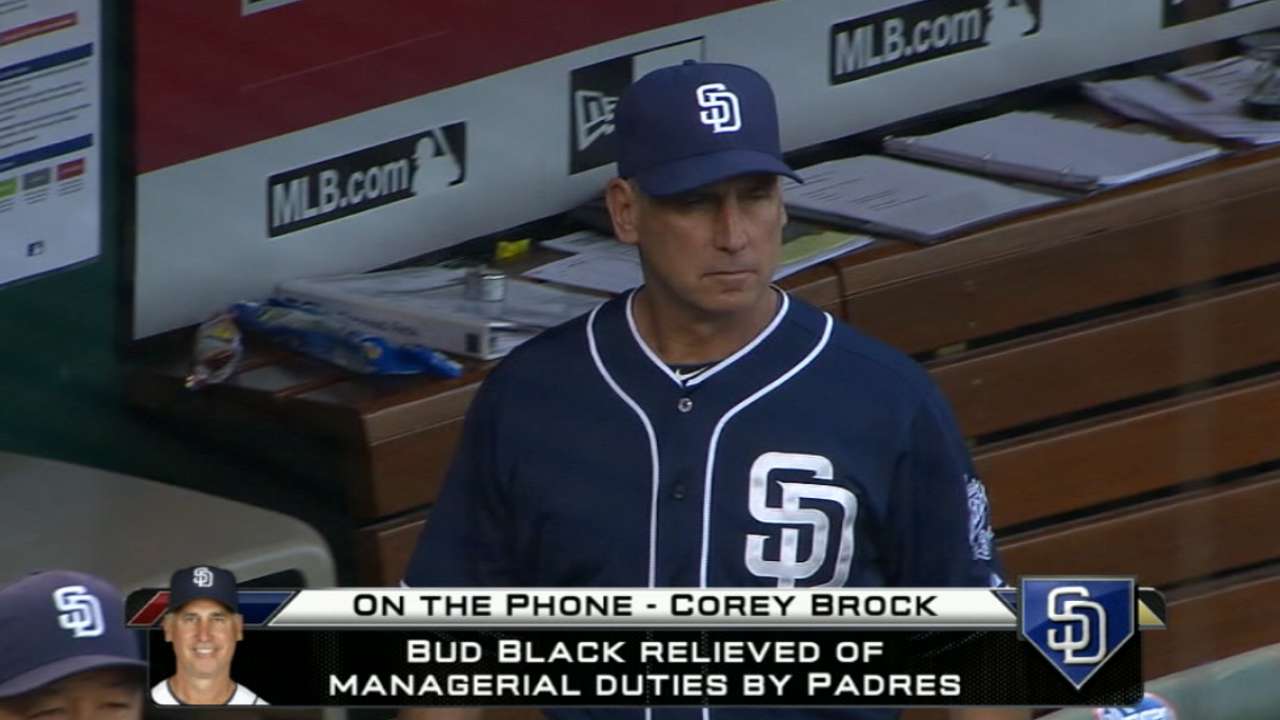 Preller said he'll compile a list over the next 24-48 hours of potential interim managers, which will include Roberts. The interim manager could get the job next season as well, Preller said.
"I let the players know I'm not putting the blame on Buddy or the players,'' Preller said. "We all have to look at ourselves in the mirror. I'm a big part of it. What can I do better? How do we get to where we want to be?
"I hope to see a club that can compete for a playoff spot and play the type of ball that we have seen in spurts.''
Roberts' tryout started Monday.
"It is very emotional; I've never been in this situation,'' said Roberts, who was Black's bench coach. "He's a friend, a mentor. It definitely was a surprise. [Managing] is something I definitely aspire to, but I didn't envision it under these circumstances.''
The timing was odd in that the Padres were 12-9 in their last 21 games, and if the Dodgers' Joc Pederson doesn't make a spectacular, game-saving catch on Sunday, San Diego would have taken two of three from Los Angeles.
"I was disappointed,'' pitcher James Shields said. "Buddy's a great manager.''
But Preller felt the team needed a fresh skipper, which cost Black, the 2010 NL Manager of the Year Award winner, his job.
Black was 649-713 with the Padres and his teams did not reach the postseason.
"One of the things Buddy always asked of our staff -- Major League, Minor League and scouts -- was that they give their greatest advice and strongest loyalties,'' Fred Uhlman Jr., the Padres' assistant general manager, told MLB.com. "For 8 1/2 years, Buddy did exactly that for the Padres organization, fans and the community -- he gave his greatest advice and strongest loyalties.''
Third-base coach Glenn Hoffman was with Black throughout his Padres tenure.
"I worked with him for eight years and enjoyed every minute of it,'' Hoffman said. "He was a man of consistency, ran the game very well, and treated people with the utmost respect. Class act -- Buddy is a good person.''
The Padres have struggled with their starting pitching, slugger Matt Kemp entered play Monday with just two home runs, and injuries have robbed Wil Myers (he returned to the DL on Monday), Yonder Alonso and Brandon Morrow of playing time.
"There are no perfect teams,'' Preller said.
But he noted that a "different voice" might bring better results.
"My message to the club is we're not looking to blame anybody,'' Preller said. "There is a lot of baseball left to be played, and we look at that as a positive.''
Jay Paris is a contributor to MLB.com. This story was not subject to the approval of Major League Baseball or its clubs.