Pirates put on clinic with outstanding defense
Rodriguez's diving play, McCutchen's fearless grab highlight big win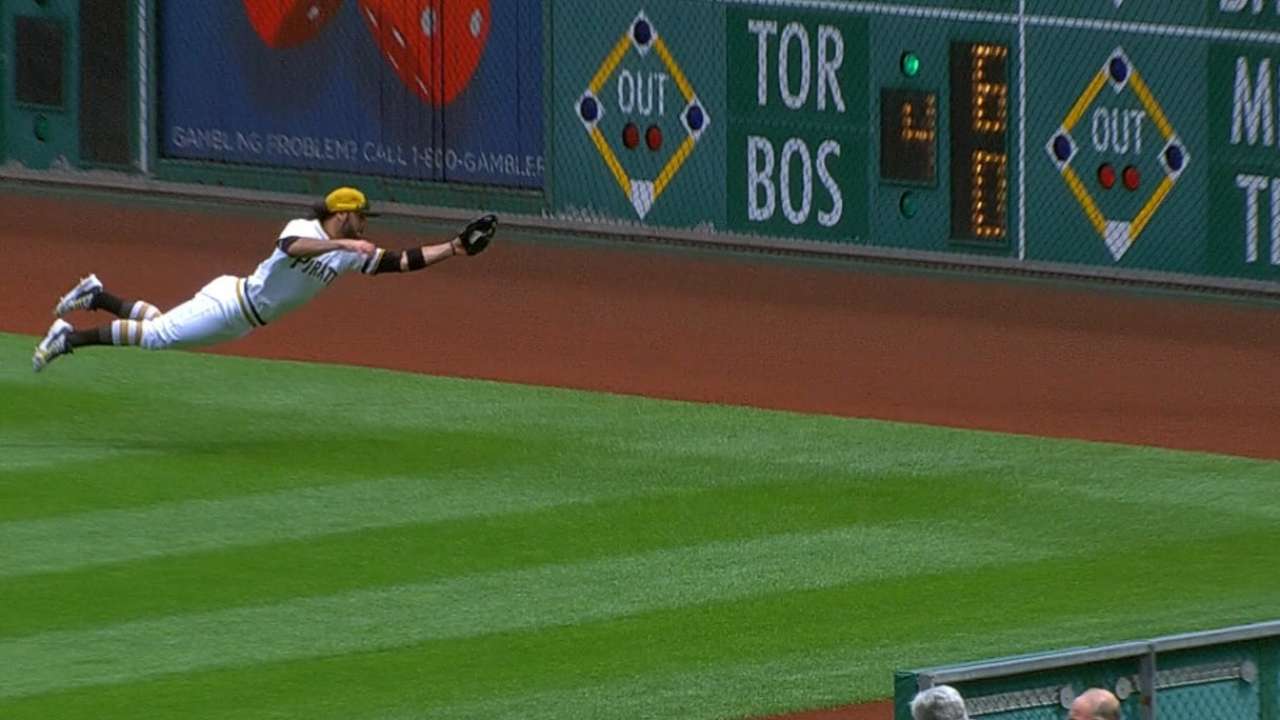 "That's not routine, kid," Pirates manager Clint Hurdle responded. "That's skills."
Occasionally a glaring problem early on this season, the Pirates' defensive skills were on full display during their weekend sweep of the Phillies, especially in Sunday's 11-inning, 1-0 win at PNC Park.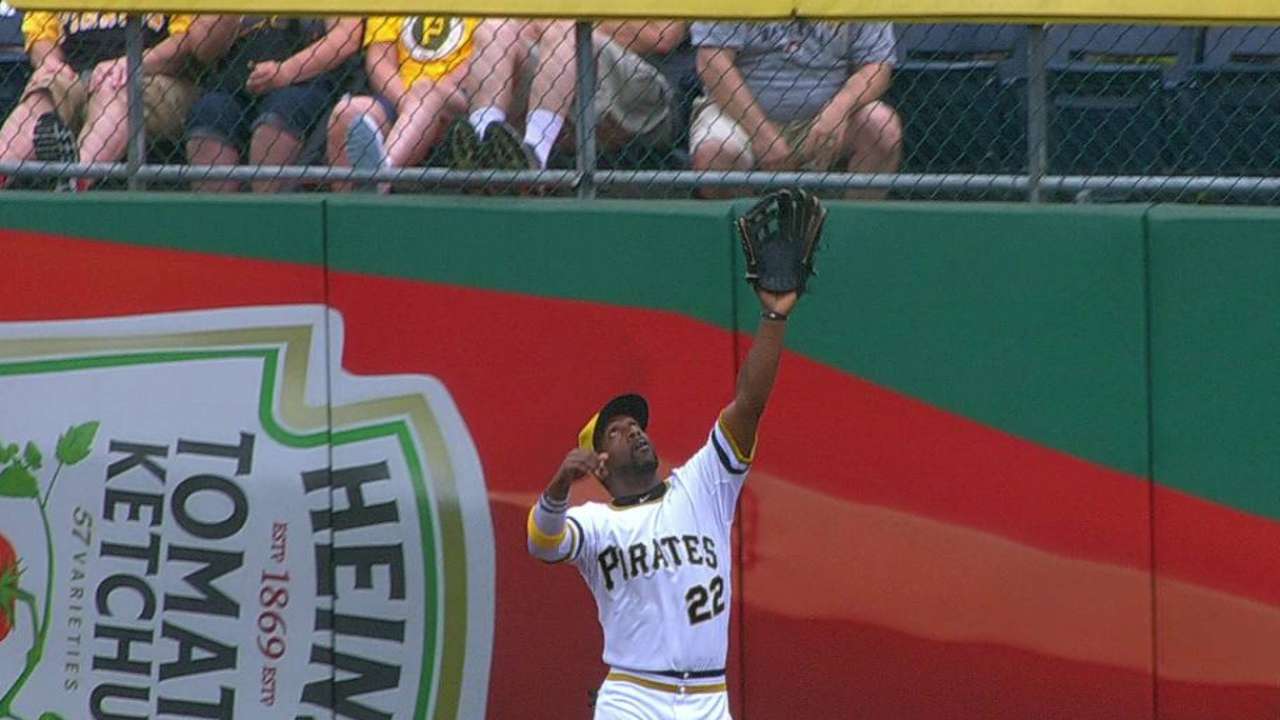 "You try to find the edge any way you can," Josh Harrison said. "When guys come up with plays like that, it can give the team a little boost."
The highlight reel started running on the first play of the game, as Josh Harrison ranged to his right to snag a ground ball and made a quick throw to Corey Hart at first to force out Ben Revere.
The play showed off Harrison's utility as much as his ability, as he made a similar snap-throw while charging in from third base two days earlier.
McCutchen followed up Harrison's play with his leaping grab at the wall three batters later.
The most memorable play of the afternoon came with two outs in the fifth inning, when Phillies shortstop Freddy Galvis sent a fly ball toward the grass in front of the Clemente Wall in right field.
Sean Rodriguez -- another utility man who, like Harrison, wound up manning two positions during Sunday's game -- got a good read on it, made a quick first step and laid out to make the full-extension grab.
Back in the infield, all Harrison could do was raise his arms in the air.
"It's a fantastic play," Pirates manager Clint Hurdle said. "The guy's really, really good."
Jung Ho Kang, who started the game at third base and finished it at shortstop, contributed two big plays of his own. In the seventh, he stabbed Jeff Francoeur's hard-hit ball down the line and made a strong throw for the first out of the inning.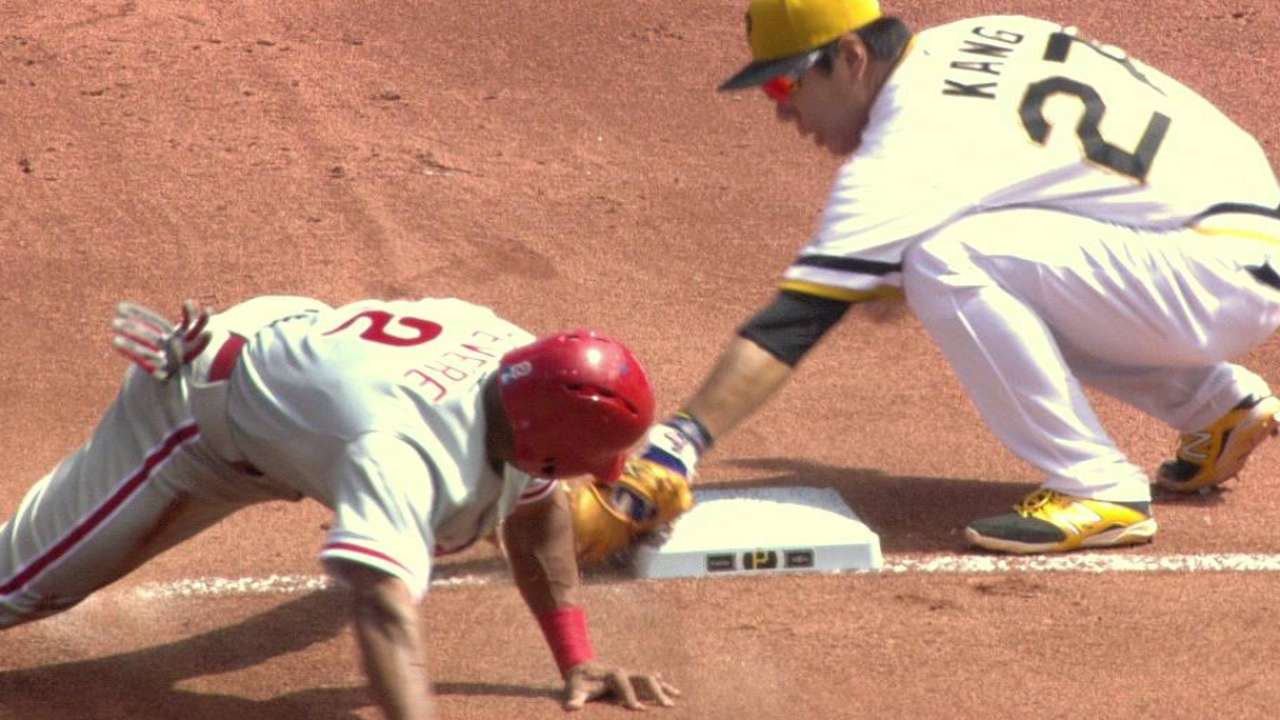 With one out in the ninth, Revere tried to steal third and technically beat Francisco Cervelli's high throw to the bag. But he slid too far, his foot momentarily coming off the bag, and Kang held the tag to erase the baserunner in a critical situation.
While it's easy to focus on the highlight-reel grabs and stops, Hurdle pointed out one defensive performance that may be overlooked -- Cervelli has caught 33 straight scoreless innings behind the plate.
"I feel like the defense has been there all year. Basically, just a matter of opportunities to make plays," Rodriguez said. "Today was a good showcase of that. A lot of guys made a lot of good plays."
Adam Berry is a reporter for MLB.com. Follow him on Twitter at @adamdberry. This story was not subject to the approval of Major League Baseball or its clubs.