Calhoun comes up big on his bobblehead night
'It's kind of surreal,' cleanup hitter says after go-ahead homer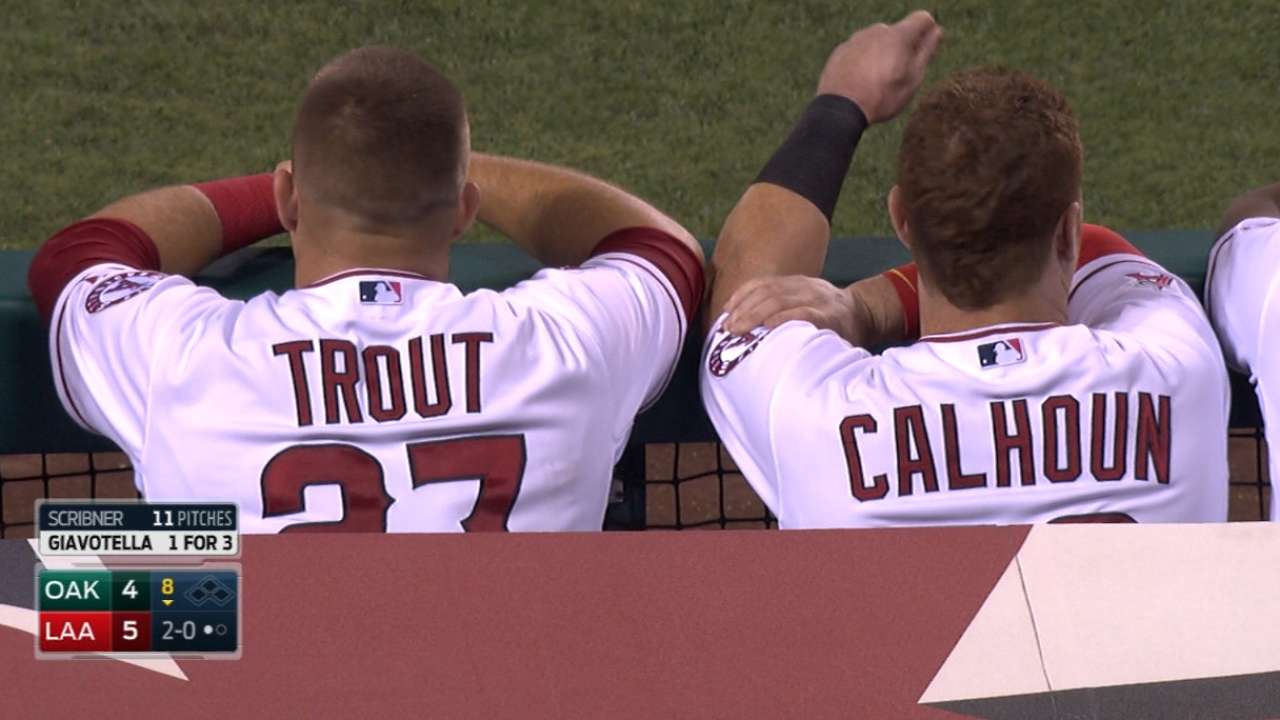 ANAHEIM -- None of this was supposed to happen for Kole Calhoun, the 5-foot-10 outfielder who was passed up in the Draft four separate times before becoming an eighth-round pick after his senior year at Arizona State University.
He wasn't supposed to bat cleanup on a contending team or hear an entire section of fans chant his name, and he definitely wasn't supposed to have his own bobblehead. And yet there he was on Friday night, collecting upwards of 70 bobblehead giveaways for family and friends, soaking in chants from a crowd of 42,000-plus and coming up big in the Angels' 5-4 win.
"It's kind of surreal," Calhoun said. "Just being a fan of the game and coming where I come from, to have some giveaways at your home club, it kind of humbles you, just stepping back and looking at it."
Calhoun moved from leadoff to cleanup -- the place he spent the majority of his collegiate and Minor League career -- out of necessity, because the Angels' lineup was no longer deep enough to sustain keeping his power bat at the top.
Seventeen games into his move behind Mike Trout and Albert Pujols, though, Calhoun was batting .190.
"I tried to do a little too much," Calhoun admitted.
So he got back to basics, collected eight hits over his next 25 at-bats and entered the opener of a weekend series with the same aggressive mindset he carried at the top of the order last year.
Then he smacked a sixth-inning, two-run single up the middle off Jesse Chavez, giving the Angels their first lead. Then he laced a game-winning solo homer over the 20-foot scoreboard in right field off Evan Scribner, two batters after Trout's towering solo shot to straightaway center.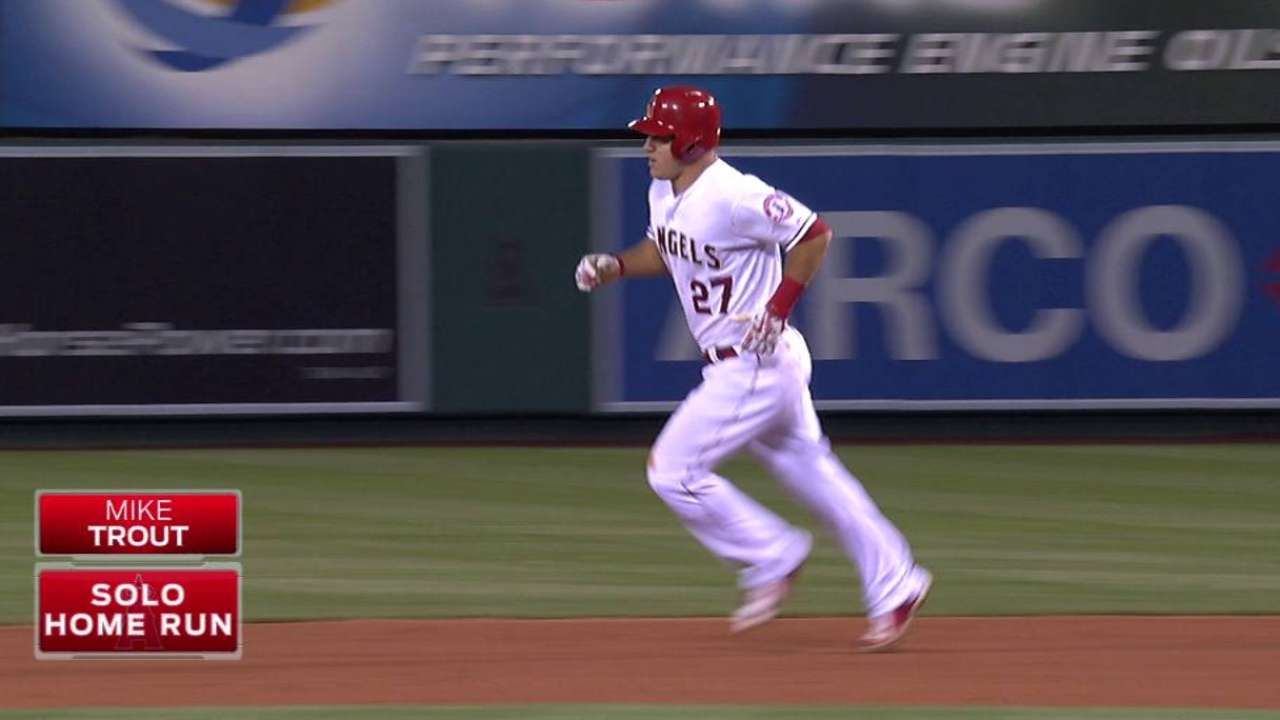 It marked the first time in 28 tries that the Angels had won a game they trailed after seven innings.
"I'm just trying to get back to the roots and go and play baseball, help the team win," said Calhoun, batting .276/.333/.407 with six homers and 32 RBIs on the year. "I'm not trying to think about anything else. You guys can put all the speculation on the four-hole, but I'm going to go out and play."
That's all the scrappy power hitter has ever done, really. And along the way, he's become a fan favorite at Angel Stadium, a ballpark that 13 years ago housed a championship team made up of the same grit Calhoun possesses.
Vote Calhoun: Esurance MLB All-Star ballot
When he jogged to his position on Friday night, Calhoun saw two sets of giant placards with nicknames the fans in right field had bestowed upon him. To the far right were neon green letters that read "CALHOOLIGANS" and to the left, in red, was the word "CALZONE."
"I like them both," Calhoun said, moments after sending the "CALZONE" section a souvenir.
"That right-field corner is getting pretty loud and crazy, and that's what we want as players. We kind of feed off that energy. Having those guys out there tonight and being as loud as they were, you can kind of see the team get going and kind of rally behind that stuff."
Alden Gonzalez is a reporter for MLB.com. Read his blog, Gonzo and "The Show", follow him on Twitter @Alden_Gonzalez and listen to his podcast. This story was not subject to the approval of Major League Baseball or its clubs.