Bumgarner finds positive in tough-luck loss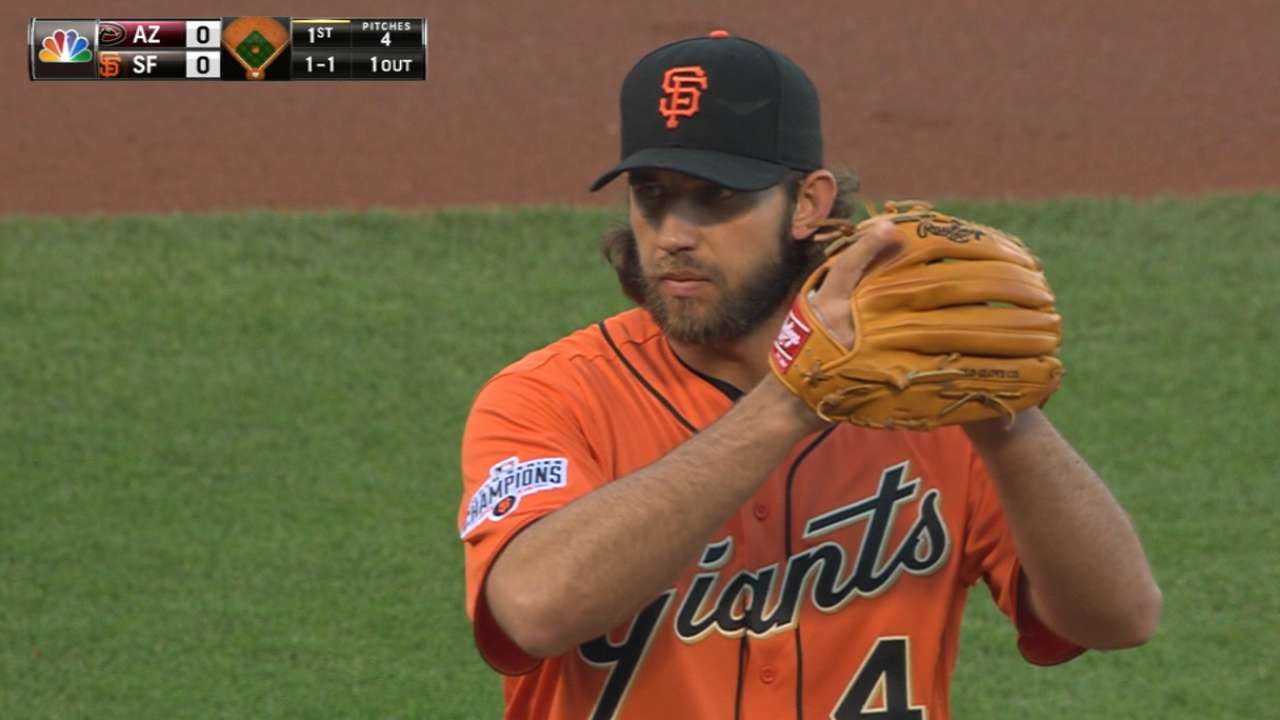 SAN FRANCISCO -- Despite Friday night's outcome, Madison Bumgarner's satisfaction exceeded his frustration.
Though the Giants' 1-0 loss to the Arizona Diamondbacks certainly annoyed him, he derived an almost tangible competitive thrill from his eight-inning effort. He surrendered nine hits, all in the first five innings, which constantly forced him to pitch out of trouble. After stranding eight runners in that span, Bumgarner relished the challenges he overcame.
"Those games are as fun as any," said Bumgarner, the Most Valuable Player in last year's National League Championship Series and World Series. "You can't take a single pitch off because of the way the night's going. You have to be battling the whole time. At the time, it's not the most fun. But that's why you play this game. After it's over with, personal results are what they are, you feel as good about a start like this as you do any of them."
Don't mistake Bumgarner's pleasure for selfishness. If anything, he felt overly bound to his teammates. Given the opportunity to return early from Thursday night's finale in New York and avoid arriving home at approximately 4:30 a.m. PT, Bumgarner elected to stick with the rest of the Giants.
"I don't really want to be 3,000 miles away when the guys are out there battling," said Bumgarner, who insisted that he received plenty of sleep.
Bumgarner was rested enough to work eight innings for the second start in a row, duplicating a feat he most recently accomplished last Aug. 3 and Aug. 8. But his four-decision winning streak, which he built over a five-start span, ended as the Giants' home losing streak grew to six games. Arizona starter Chase Anderson no-hit the Giants for 6 1/3 innings until Buster Posey singled.
This was truly a singular outing for Bumgarner (7-3). Never before had he pitched eight innings, allowed one run and lost. In typical fashion, he finished strong, retiring nine of the last 10 hitters he faced.
"He's a warrior," Giants manager Bruce Bochy said. "He regrouped, starting mixing [pitches] up a little bit more and did a great job, as he normally does."
Bumgarner's confrontations with Paul Goldschmidt were worth the dynamic price of admission. The Arizona first baseman, who's batting .310 (40-for-129) lifetime at AT&T Park, singled twice and walked before Bumgarner struck him out with an 88-mph slider to end the seventh inning.
"He's one of the best hitters in all of baseball, if not the best," Bumgarner said of Goldschmidt, who has reached base safely in 22 consecutive games. "If you don't look forward to facing guys like that, you're probably in the wrong business."