One pitch dents Salazar's line against Tigers
Home run to Miggy the big blow in pitching duel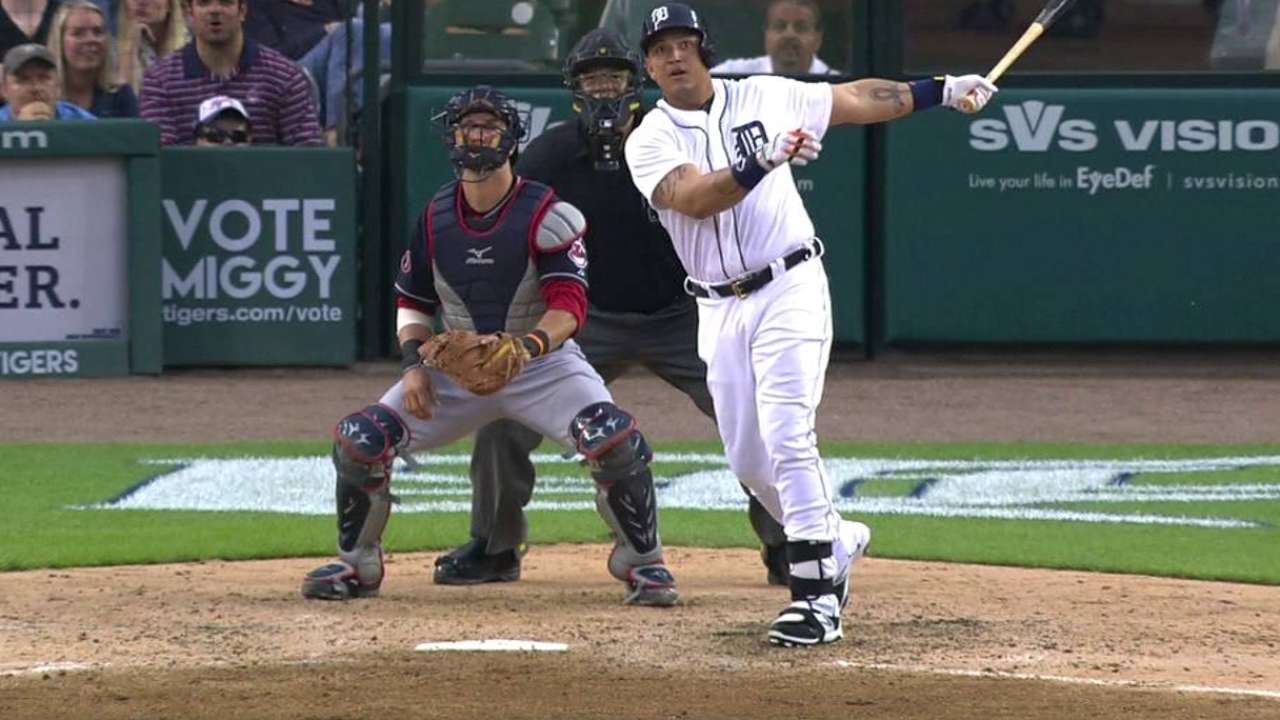 DETROIT -- There is a new dent on the facing of the center-field camera well that juts out from the greenery rising from behind the wall at Comerica Park. It is evidence of the damage that Tigers slugger Miguel Cabrera inflicted on the Tribe on Friday night.
It was also the result of the lone mistake made by Indians starter Danny Salazar.
"You know what it comes down to?" Indians catcher Yan Gomes said following a 4-0 loss to the Tigers. "This is the kind of team that you almost can't make even one mistake to. It cost us."
Cabrera crushed a 93-mph fastball from Salazar in the sixth inning. It caromed off the camera well, bounced high into the air and dropped back into the field of play. The blast was a three-run home run, giving Detroit lefty David Price all the support he needed.
Therein lies the rub.
Price was overpowering in a complete-game gem, needing only 93 pitches to dispose of the Tribe for his sixth victory. The dominant performance by the Tigers ace made any mistake by Salazar all the more glaring. A bloop RBI single would have been up for scrutiny -- let alone a tape-measure blast from Cabrera.
"Danny pitched so good. For five, six innings, he was matching Price," Indians manager Terry Francona said. "Unfortunately, the two guys up before Miggy get hits and he tried to throw him a cutter. It was probably middle-middle and he does with it what he does with mistakes.
"Other than that, Danny really did pitch really well, and was dominant. That's part of why they're good. You see what Miggy does in those situations."
The two guys mentioned by Francona were Tigers No. 9 hitter Anthony Gose and leadoff man Rajai Davis, who opened the sixth inning with consecutive singles. Salazar recovered with a strikeout of Ian Kinsler, setting up the confrontation with Cabrera, who struck out on an elevated, 97-mph fastball with a full count in his previous at-bat in the fourth.
Cleveland could have intentionally walked Cabrera -- the club has done so four times already this season in seven games -- to load the bases. Francona said that was not a consideration with runners on first and second.
"Sometimes you've got to get good hitters out," Francona said. "Danny had really done a pretty good job the first couple times. I know the results weren't good, but you're asking for trouble doing something like that."
Cabrera turned aggressive, swinging at the first pitch and coming away with his 13th home run. Four of those shots have come against the Indians -- against whom Cabrera has hit .654 (17-for-26) with 13 RBIs this season. In his career against Salazar, the two-time Most Valuable Player has hit .368 (7-for-19) with a pair of home runs.
Both of Cabrera's blasts off Salazar have come on the first pitch. Tribe fans probably do not want to be reminded about the other one, which came in the young pitcher's second career start on Aug. 7, 2013. Salazar had struck Cabrera out three times before giving up a towering shot to center in the eighth inning, sending Cleveland on a march to a 14-inning loss.
This time around, Salazar (6-2) didn't hit the showers. He struck out the next two batters, worked one more scoreless inning and ended with six strikeouts in a solid seven-inning showing.
"I was getting a little tired at the end," said Salazar, who struggled to talk after the game and was feeling under the weather on Friday. "The velocity wasn't the same, so you know, it was just one bad pitch."
One bad pitch to the wrong batter.
Salazar is not going to change his approach, though.
"I like to attack him," Salazar said. "If he's going to do damage to you, he'll do it anyways."
Jordan Bastian is a reporter for MLB.com. Read his blog, Major League Bastian, follow him on Twitter @MLBastian and listen to his podcast. This story was not subject to the approval of Major League Baseball or its clubs.