Contenders picked for August NABC tourney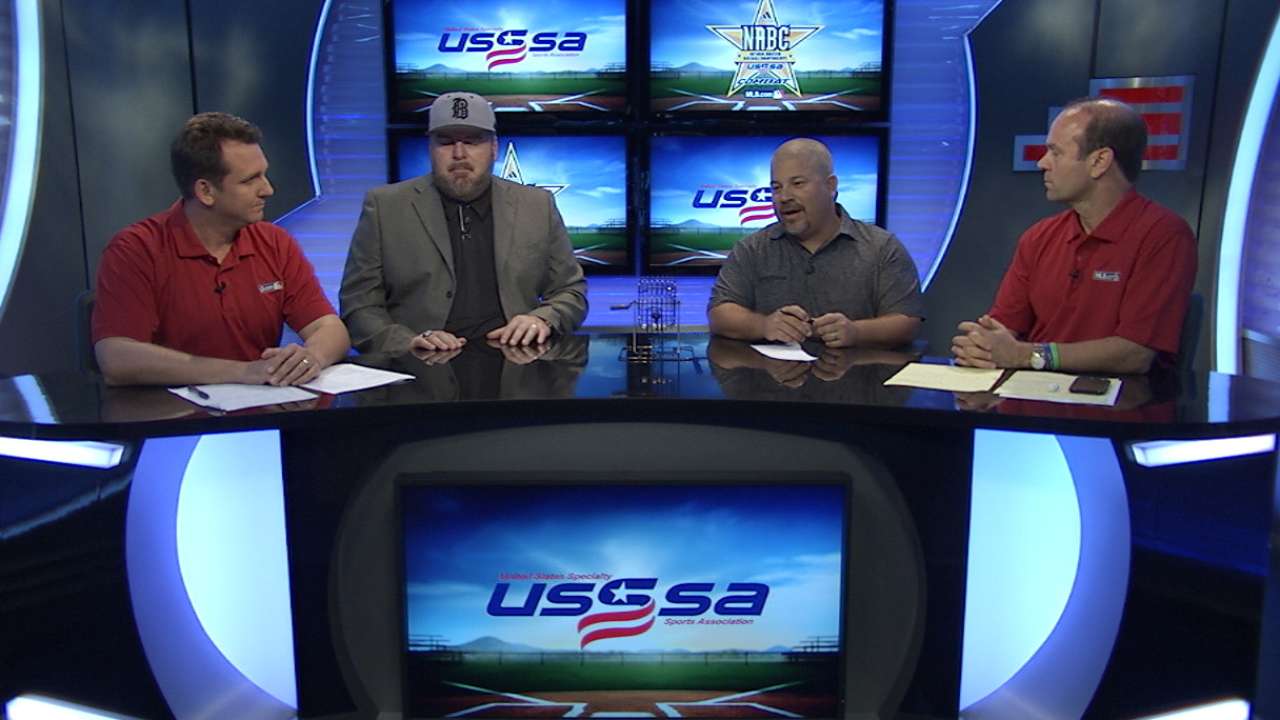 NEW YORK -- Most people know that Dansby Swanson led Vanderbilt into the College World Series earlier this week and was then selected No. 1 overall by the D-backs shortly afterward in the MLB Draft.
But did you know that from 2004-09 -- from ages 10 through 15 -- the shortstop was on the travel ball circuit? Swanson practically grew up on the East Cobb Astros elite team in Marietta, Ga., competing in the U.S. Specialty Sports Association (USSSA).
"Travel baseball has evolved into pretty much the feeder system for the MLB Draft," said Mike Sagaro, coach of the MVP Banditos baseball club in Miami.
Travel ball is about to get even more exposure, so you can watch those future Dansby Swansons as kids. The USSSA Summer Championship Series powered by MLB.com will conclude with the National Amateur Baseball Championship (NABC) this August in Orlando, Fla. The top 12U and 14U teams received their invites during a selection show on Friday night. In addition to the NABC selection, the first 13U Adidas All-American Championship teams were chosen from eight regions across the U.S.
NABC 12U teams will include: Banditos Black of Houston, Team Beast of Commack, N.Y., SBA Canes of Charlotte, N.C., Team Halo of Atlanta; Team Avalanche of Tampa, Fla., Team Phenom of Pitman, N.J., Wilson MVP of Norwalk, Calif., and a wild card to be determined after the USSSA Elite World Series and Louisville Slugger Major Baseball Championship.
NABC 14U teams will include: Banditos Black of Houston, EM Majors of Little Rock, Ark., C.P. Stars of Queens, N.Y., SY Titans of Santa Ynez, Calif., Diamond Jacks of Flemington, N.J., Team Phenom of Moreno Valley, Calif., MVP Banditos of Miami and a wild card.
Both the NABC and the Adidas All-American Championship will have games broadcast live on MLB.com and CBS Sports Network.
"It's just a great experience, and I'm looking forward to the Adidas All-American Championship," said Sagaro's son M.C. Sagaro, selected as second baseman for the 13U South Region team, which is coached by Rey Deleon and just happens to have a general manager named Andy Pettitte.
Scouts typically pick these kids up around their freshman year in high school. Travel ball -- and especially events such as these just announced -- make it far easier for scouts.
"This is the lifeblood of baseball right now," MLB.com analyst and former general manager Jim Duquette said of travel ball.
Because the tournament is so big, the games will take place at ESPN Wide World of Sports and at Osceola County Stadium, the spring home of the Astros. The plan is to grow it further next year, expanding the 13U regional format to all three age groups as well as opening up a division for high schoolers.
"It's an amazing experience for them," Mike Sagaro said. "They're surrounding themselves with the top players around the country, and they get to communicate with each other, now with social media, so they become family. Even though they might be 3,000 miles away, that communication is on every single day."
Mark Newman is enterprise editor of MLB.com. Read and join other baseball fans on his MLB.com community blog. This story was not subject to the approval of Major League Baseball or its clubs.