Butler making most of his chance with Rays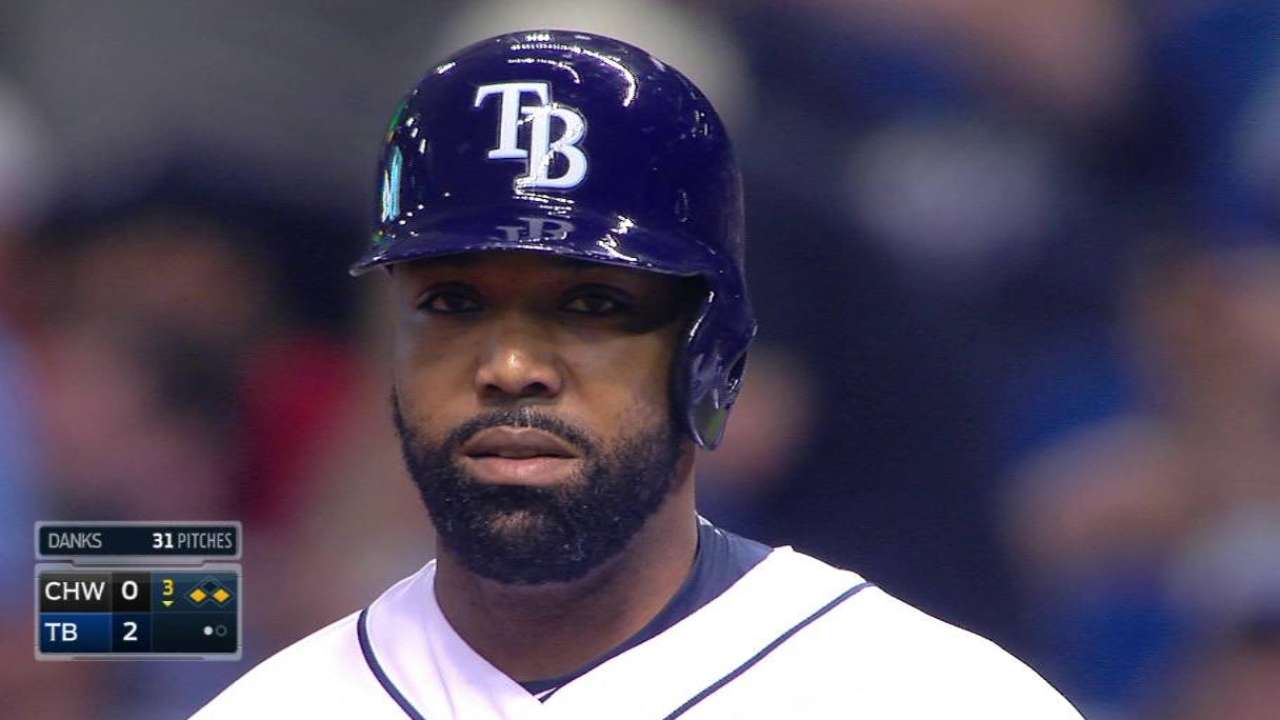 ST. PETERSBURG -- It's a sight the Rays' dugout has grown accustomed to seeing.
With the Rays already in possession of a one-run lead and runners on the corners and one away in the third inning, Joey Butler delivered a single to right-center field to extend the lead to 2-0.
In his next at-bat, the designated hitter lobbed a one-out single over the head of second baseman Carlos Sanchez to ignite a rally that placed Tampa Bay back on top after the White Sox knotted things up at 2 in the fifth. He followed that up with another RBI single in the sixth to cap off a three-hit day in the Rays' 7-5 victory over the White Sox on Friday.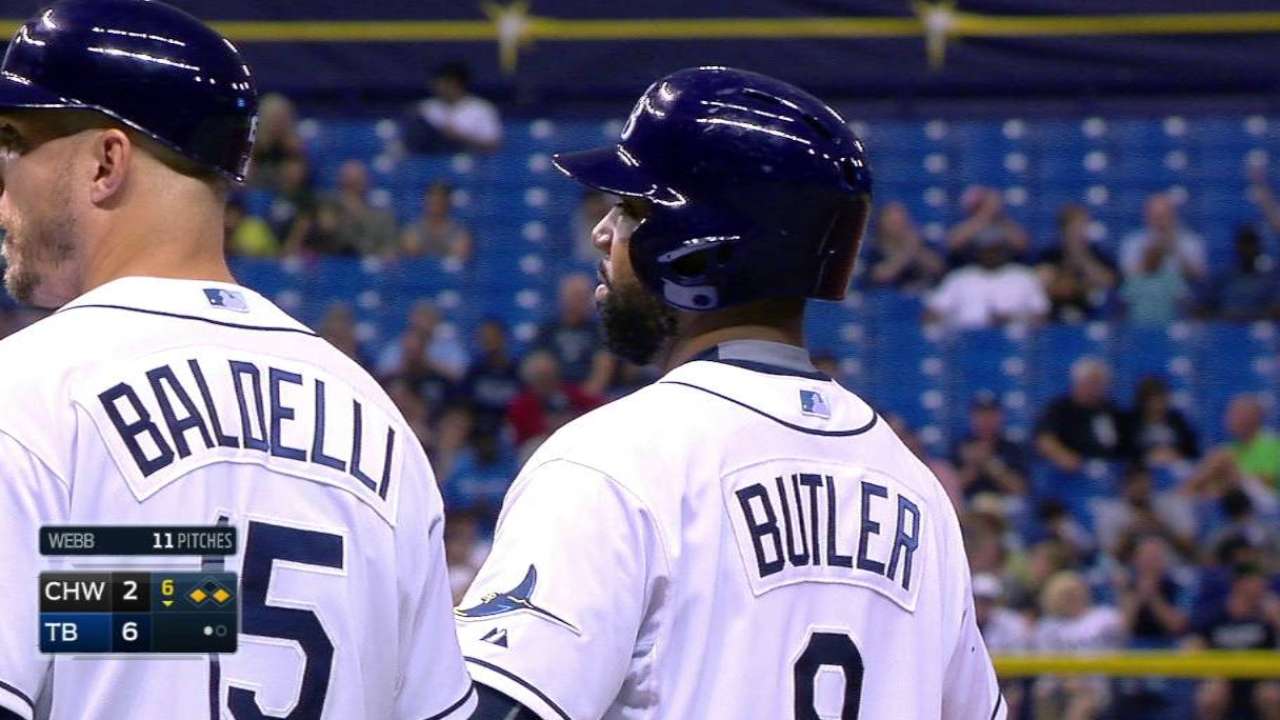 "I think the entire dugout gets excited when he comes to the plate because we know that we're going to see a good at-bat and most likely see a ball get squared up," Rays manager Kevin Cash said.
Cash isn't wrong. The three-hit effort -- part of a 14-hit performance the Rays put together -- is just another stepping stone in what has been a memorable season for Butler.
As of late, he has hit safely in 12 of his last 13 games, and has recorded nine hits in his last five games. On the season, Butler is batting .342 with 13 extra-base hits and 16 RBIs.
"It's like a dream come true," Butler said. "It's been a lot of fun, and it's what I always thought it should be."
Just a year ago, this "dream come true" was nothing more than a mere dream, as Butler continued to spend most of his time in the Minor Leagues. Since being drafted by Texas in the 15th round in 2008, Butler had played in just 14 Major League games prior to this year. Instead of dwelling on that, however, the rookie continued to battle away.
"They didn't tell me much [about why I wasn't being called up], but I never asked much," Butler said. "I never want to be on that side of the game. I'd rather stay on this side and just go out and play my best and if it happens, it happens."
Butler finally caught his break this season when he was called up after outfielder Desmond Jennings was placed on the disabled list, and he hasn't looked back. He currently has the highest batting average of any American League rookie, as well as the all-time highest average for a Rays rookie at the end of play on June 12 (min. 100 plate appearances.)
"He's been playing for a long time and hasn't had many opportunities, but he's getting one and he's making the most of it, for sure," Cash said. "The stuff maybe you guys don't see is what he provides in the clubhouse. I think everybody would say what a great addition, great teammate he's been and how much they enjoy having him around."
Butler hopes that his success continues, but even if it doesn't, he's just grateful for finally having the opportunity.
"Anything is possible, of course," Butler said. "I would like to make it stay this way, but it's a tough league. If it stays that way, I love it. If it doesn't, I still love the game."
Troy Provost-Heron is an associate reporter for MLB.com. This story was not subject to the approval of Major League Baseball or its clubs.