Cano puts together quietly efficient series
Third double against Indians stands out in Mariners' shutout loss
CLEVELAND -- There weren't many positives to take away from the offense in the Mariners' 6-0 loss to the Indians on Thursday afternoon at Progressive Field, but Robinson Cano stood out as perhaps the lone bright spot.
Seattle managed just two hits and was shut out for the fourth time this season, but the second baseman delivered a leadoff double in the seventh inning for his third two-bagger of the series.
Batting just .238 on the season, Cano hasn't quite been the epitome of offensive efficiency the Mariners envisioned from the six-time All-Star, but he quietly pieced together quality at-bats throughout the three-game series in Cleveland. The three doubles represented his only hits among 13 at-bats against the Indians, but he walked once and scored two runs.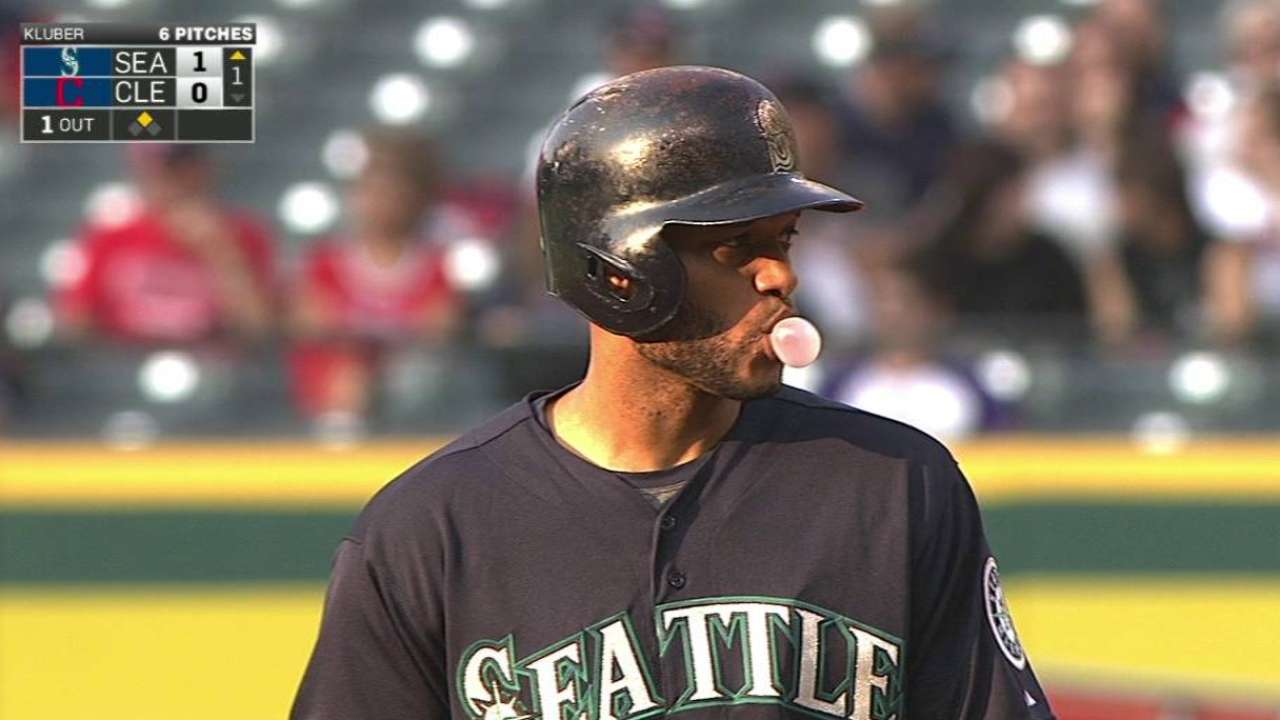 "He's starting to swing better," said Mariners manager Lloyd McClendon. "Hit a couple balls on the nose."
In the first inning Thursday, Cano was called out on strikes after battling right-hander Shaun Marcum for seven pitches. Then, on the sixth offering of his at-bat in the seventh, he drove a fastball into deep center field for a double.
"He really squared that ball up pretty good," McClendon said. "The wind held it in. I think he's starting to come around.
"That's the best way you're going to come out of this funk, is stay in the middle of the field. Pull the ball when you're forced to pull the ball. I think he's doing a nice job of it."
But the Mariners' only other hit of the day was a single off the bat of Mark Trumbo in the fifth. The club struck out seven times and didn't work a walk.
The performance marred what was otherwise an encouraging series from Seattle. It earned what McClendon considered a momentum-changing 3-2 win Tuesday, then heated up for a 9-3 blowout Wednesday.
But on Thursday, the Mariners -- who had scored three runs or fewer in 13 straight games before the previous day's win -- couldn't string together enough baserunners to earn a sweep.
"We didn't do much offensively," McClendon said. "I thought [Marcum] kept himself balanced for the most part. We hit some balls hard. Wind was blowing in. Probably, on a regular day, we probably had three home runs. Credit goes to Marcum; he kept us off balance."
Alejandro Zúñiga is an associate reporter for MLB.com. Follow him on Twitter @ByAZuniga. This story was not subject to the approval of Major League Baseball or its clubs.