Roster of Yankees greats set for Old-Timers' Day
Randolph to be honored at 69th edition of event, scheduled today
It's time for another Old-Timers' Day.
The Yankees are hosting the 69th annual Old-Timers' Day at Yankee Stadium today. This is the seventh edition of Old-Timers' Day at the new stadium, and the game will honor a great Yankee of recent vintage.
The Yankees will unveil a plaque to honor former second baseman Willie Randolph, who played in five All-Star Games and won two World Series during his 13-year tenure with the team. Randolph later came back and spent 11 seasons as a coach with the Yanks, winning four more rings.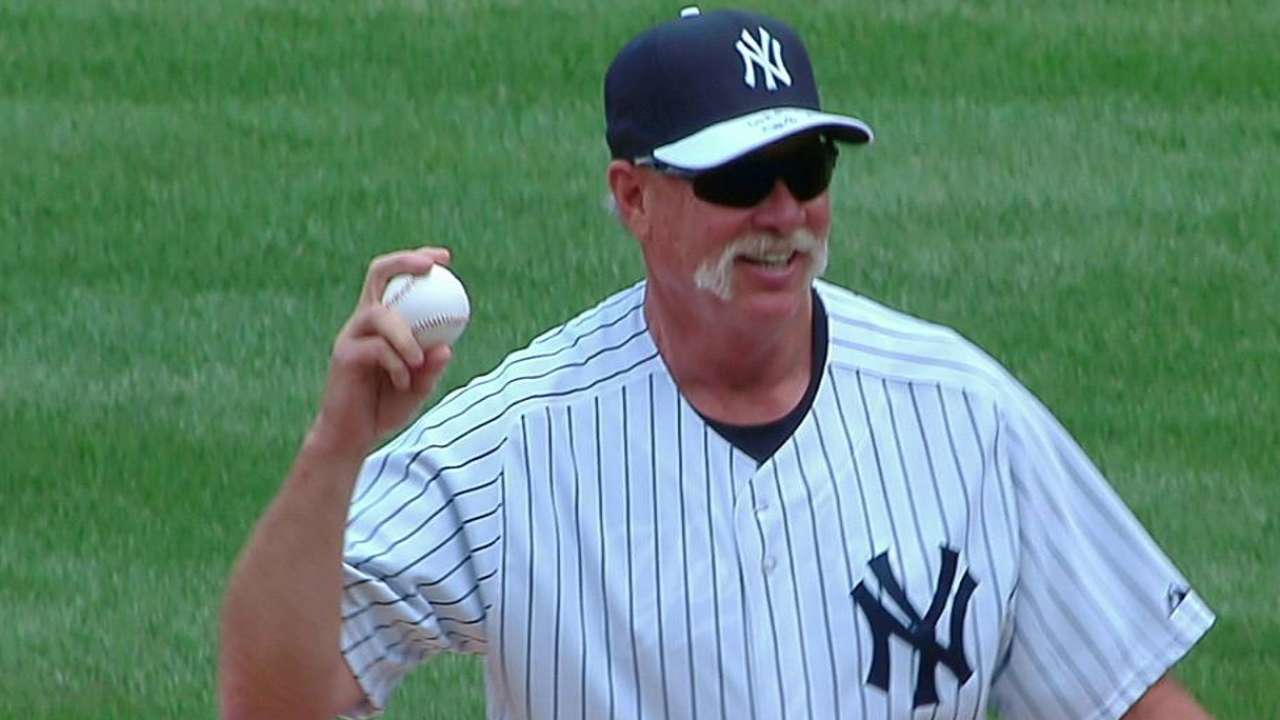 This year's Old-Timers' Day will feature its usual share of former icons and legends. Seven Hall of Famers will be involved, including Yogi Berra, Wade Boggs, Whitey Ford, Rich "Goose" Gossage, Rickey Henderson, Reggie Jackson and Joe Torre. Berra, who celebrated his 90th birthday on May 12, was recently the subject of a petition drive to honor him with the Presidential Medal of Freedom.
In addition to the Hall of Famers, the widows of five legendary Yankees -- Arlene Howard, widow of Elston Howard; Helen Hunter, widow of Jim "Catfish" Hunter; Jill Martin, widow of Billy Martin; Diana Munson, widow of Thurman Munson; and Kay Murcer, widow of Bobby Murcer -- will be invited to participate.
Bucky Dent, author of the famous homer in 1978 that beat the Red Sox, will be back for Old-Timers' Day, and so will Chris Chambliss, who hit the home run that won the 1976 American League Championship Series. Don Larsen, who pitched the only perfect game in World Series history, will also attend.
Here is the list of players expected to attend Old-Timers' Day:
Jesse Barfield
Yogi Berra
Ron Blomberg
Brian Boehringer
Wade Boggs
Scott Bradley
Scott Brosius
Dr. Bobby Brown
Homer Bush
Chris Chambliss
Jim Coates
David Cone
Johnny Damon
Bucky Dent
Al Downing
Brian Doyle
Cecil Fielder
John Flaherty
Whitey Ford
Oscar Gamble
Joe Girardi
Rich "Goose" Gossage
Ken Griffey Sr.
Ron Guidry
Charlie Hayes
Rickey Henderson
Arlene Howard (widow)
Helen Hunter (widow)
Reggie Jackson
Scott Kamieniecki
Pat Kelly
Don Larsen
Jim Leyritz
Graeme Lloyd
Hector Lopez
Jill Martin (widow)
Lee Mazzilli
Stump Merrill
Gene "Stick" Michael
Gene Monahan (trainer)
Diana Munson (widow)
Kay Murcer (widow)
Jeff Nelson
Paul O'Neill
Dan Pasqua
Joe Pepitone
Andy Phillips
Lou Piniella
Randolph
Bobby Richardson
Mickey Rivers
Mel Stottlemyre
Tanyon Sturtze
Joe Torre
Roy White
Bernie Williams
Spencer Fordin is a reporter for MLB.com. This story was not subject to the approval of Major League Baseball or its clubs.