MLB.com Columnist
Phil Rogers
Astros work to get rotation locked and loaded
Velasquez latest potential cog on starting staff for push towards postseason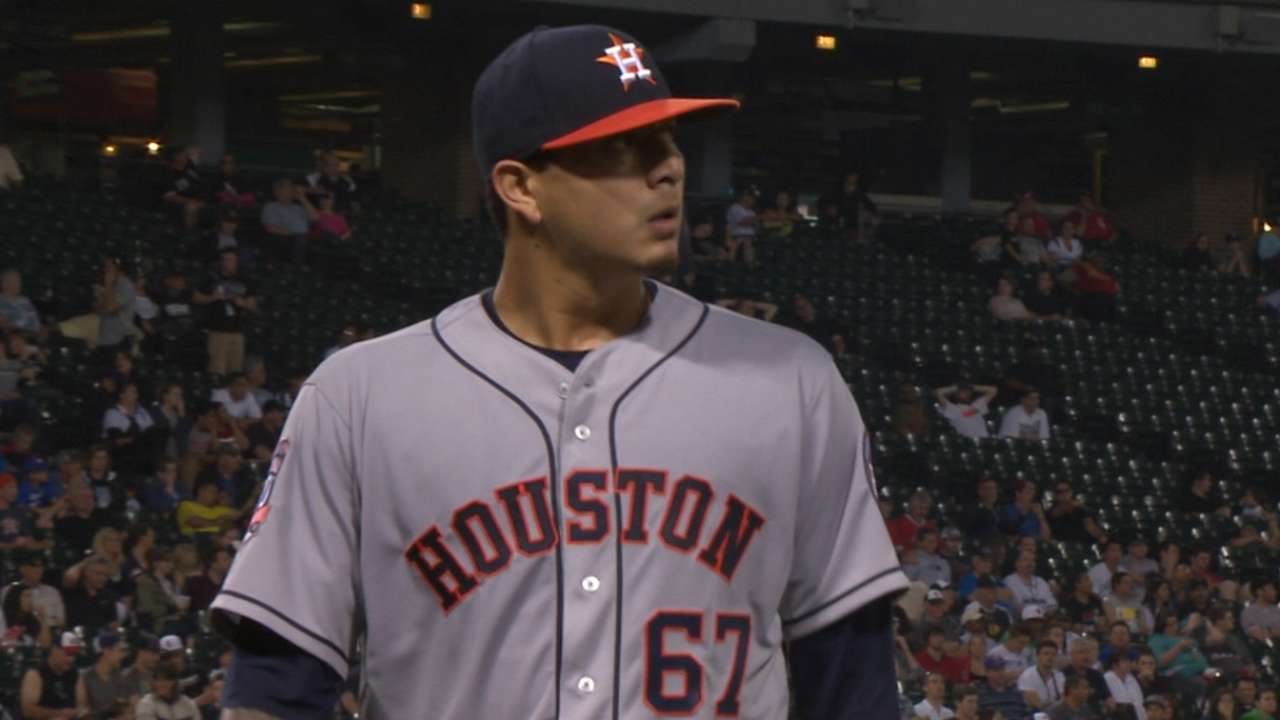 CHICAGO -- Another day, another new power arm for the Houston Astros' starting rotation.
Vincent Velasquez made his debut on Wednesday at U.S. Cellular in a 4-1 loss to the White Sox, two nights after Lance McCullers Jr. had held his own for seven innings against Chris Sale. It didn't take long to reach one conclusion.
Oh, so this is why general manager Jeff Luhnow felt he had enough pitching to trade talented 23-year-old Mike Foltynewicz to the Braves for Evan Gattis. We get it now.
Velasquez, who entered the season ranked as the Astros' No. 4 prospect by MLB.com -- behind Mark Appel but ahead of McCullers, who has compiled a 2.32 ERA and a 0.90 WHIP in his five starts -- might not have looked as comfortable as baby shortstop Carlos Correa, but you sure wouldn't have known it was the first time he was on a big league mound.
Velasquez throws easy heat, with his fastball frequently in the 96-98 mph range. But he was arguably at his best carving up Adam LaRoche with his secondary pitches.
With two on and two outs in the third inning, Velasquez had LaRoche so far out in front of an 84-mph changeup that he flung the bat over the first-base dugout trying to adjust. That was only the second strike on LaRoche though. Velasquez finished him off with a tight little curveball that broke under his hands.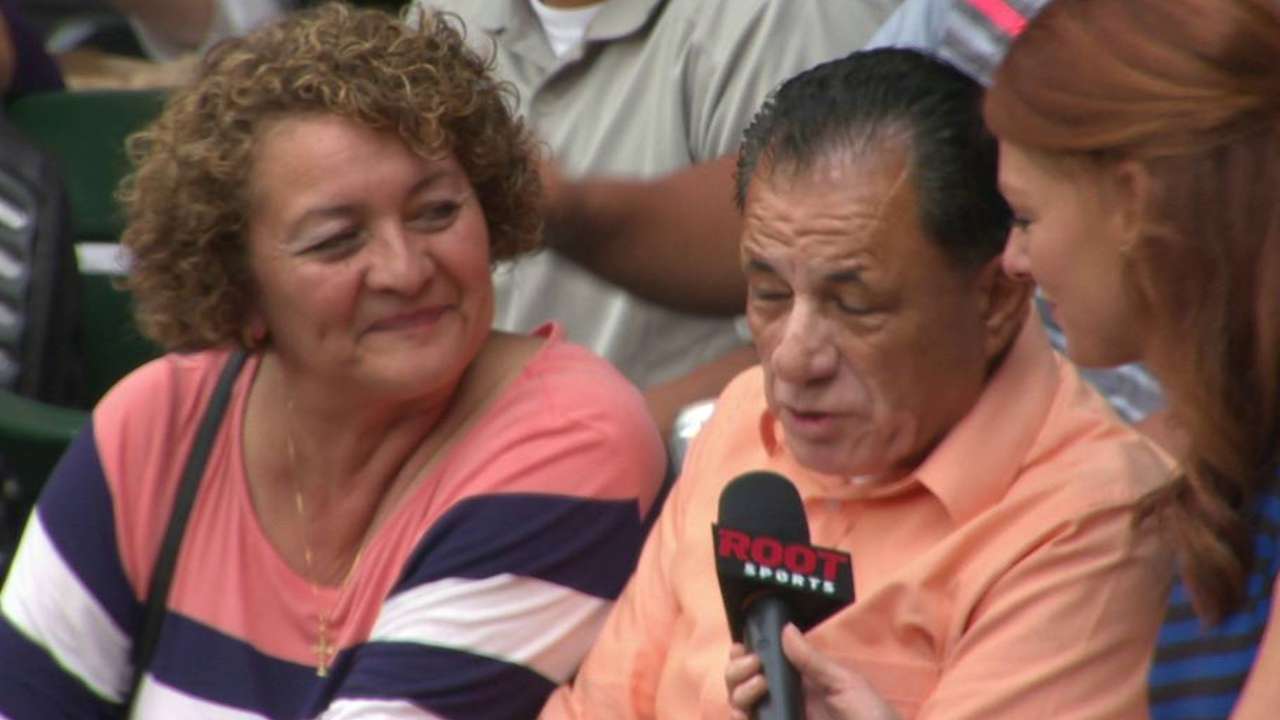 Velasquez had the jitters, sure. They showed with three leadoff walks, but not so much that they got in the way of him delivering five scoreless innings worthy of a team with a short-term future.
"He has stuff,'' manager A.J. Hinch said. "He has a lot of competitiveness. He has some intensity with how he goes about his business. We want to see how he responds to the Major Leagues. His stuff will play here. A lot of young pitchers, if they can handle the moment, handle the anxiety of pitching against some of the best hitters in the league, their stuff will play here.''
A Stanford product who played seven years in the Major Leagues and has worked in player development, Hinch has seen a lot of talented players who couldn't get comfortable at the highest level. He knows the success of Houston's ongoing youth movement depends heavily on some qualities that aren't easily measured.
"There are few guys in the world that have the kind of arm strength that pitchers like [Carlos] Rodon across the way, Sale, McCullers, Velasquez, the [Aaron] Sanchez kid in Toronto, [Roberto] Osuna have,'' Hinch said. "What separates these guys is whether they can handle it emotionally. We feel like our guys can, and that's why we brought them here.''
That's not the only reason, of course.
You knew the Astros would be fascinating this season. You didn't know they would be serious contenders in the American League West.
They've led the division since April 19 -- by a margin of seven games at one point, but not nearly as many now after losing seven in a row -- yet have been forced to audition starting pitchers. Scott Feldman underwent knee surgery in May and Roberto Hernandez and Asher Wojciechowski couldn't hold onto jobs they won in Spring Training.
No team in the Majors has hit more home runs than Houston, which has five players (Gattis, Luis Valbuena, Chris Carter, George Springer and Colby Rasmus) on pace to hit 20-plus. But the Astros haven't been as successful preventing runs as they have scoring them.
Houston's bullpen entered Wednesday with a 2.70 ERA, second only to Kansas City in the AL, but Hinch has had to use 10 starting pitchers already. Despite an All-Star-worthy performance from lefty Dallas Keuchel, the Astros rank ninth in the league in starters' ERA.
Don't they have to improve the rotation if they're going to hang onto what's left of their lead?
"I see it a touch differently,'' Hinch said. "I'd like to end in first place. Staying in first place? There's no telling how the next 100 games go. But obviously [with] successful teams, there's some stability in the rotation and some innings absorbed by the rotation. That needs to happen. We've got a couple of young pitchers with electric stuff who are going to get an opportunity to be a part of that.''
Feldman is playing catch but still taking it easy on his knee. He's expected to be out until late July or even into August, and it's worth noting he had a 4.80 ERA when he was sidelined. The performance of McCullers and Velasquez, as much as Feldman's health, will determine whether Luhnow is forced to dip into his large inventory of prospects to add a proven starter at the non-waiver Trade Deadline.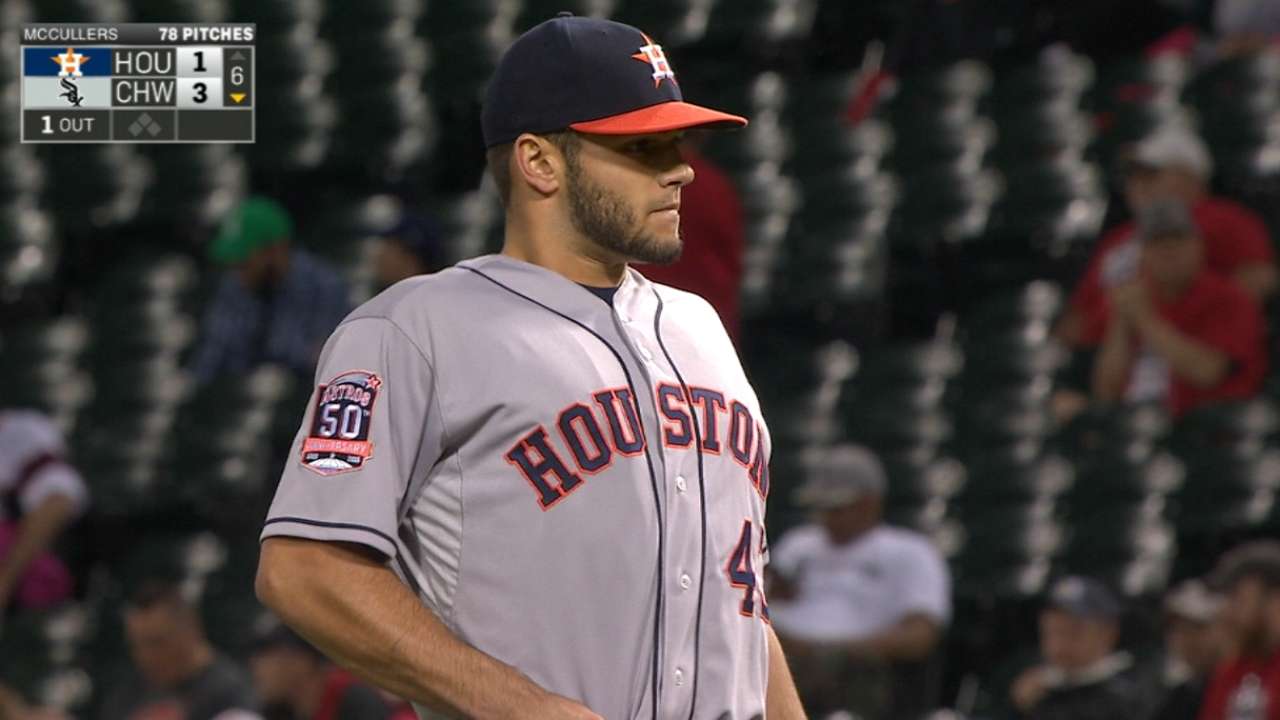 Cole Hamels is a favorite topic of discussion for Astros fans, as the franchise has the prospects to meet the Phillies' high demands. It's not as clear if the franchise has the willingness to take on such a high salary at this point.
Appel, the former Stanford ace who was the first overall pick in 2013, was supposed to have been in Houston long ago. He has stalled in his development, with a 5.04 ERA in 11 Double-A starts this season. Appel could enter the equation at any time, but at some point the Astros' unexpected success will work against him, making it tougher to get to the Major Leagues.
These are storylines that will develop in due time. The only thing Hinch knows for sure is he's going to enjoy the ride, wherever it takes him and whoever fills out the rotation.
"We have a good group of veterans that are having a good time,'' Hinch said. "Combine that with some energy and some youth, and we're going to take this for a spin and see how the rest of the summer plays out. We believe we can win on a nightly basis if we do things we're capable of.''
They did it in April and May. We'll see about June and July. Then come the months that matter the most.
Phil Rogers is a columnist for MLB.com. This story was not subject to the approval of Major League Baseball or its clubs.