Hahn: 'A lot of optimism' with White Sox Draft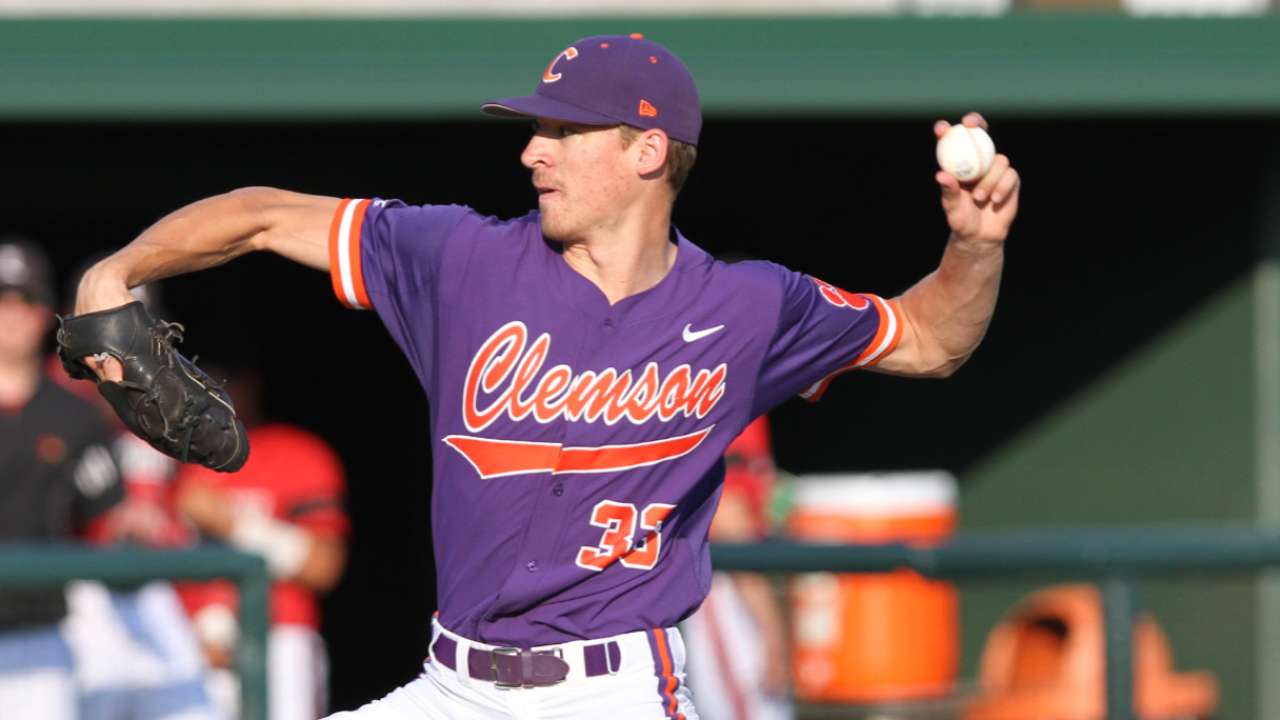 CHICAGO -- Rick Hahn would like the 2015 MLB Draft to be the last one for many years that the White Sox held a Top 10 pick.
"We are hoping this is the last protected pick for a little while here," said the White Sox general manager after his team completed its 40th round on Wednesday evening.
But in a year in which the White Sox had the eighth overall pick and then not another pick until No. 112, in the fourth round, they were more than satisfied with what they accomplished. Their picks included 18 pitchers -- beginning with Vanderbilt right-handed hurler Carson Fulmer on Monday night -- and four catchers.
• White Sox select Fulmer with No. 8 pick
• White Sox open Day 2 with Erwin
• White Sox draft Reinsdorf's grandson
"Obviously being able to add a talent like Fulmer at the top is a very good result for us," Hahn said. "Being able to get what we feel is the best college arm for two consecutive Drafts is certainly a nice boost to the system and already paying dividends here in Chicago [with Carlos Rodon]."
"We are happy with this," White Sox director of amateur scouting Doug Laumann said. "We got some ceiling guys, baseball players and left-handed pitching. You get those three things and you are pretty happy."
Here is a closer look at the 2015 White Sox Draft.
First-round musings: With Fulmer and Chris Sale both being from Lakeland, Fla., the White Sox already are scouring that city for the next draft-eligible player.
• Fulmer, Sale share more than just fastball
"I don't know what else we can say about Carson that hasn't been already said," White Sox assistant scouting director Nick Hostetler said. "If you turn on the television Sunday night and watch him against Fullerton [in the College World Series], you will see exactly why we took him."
"I've heard several things, I've read several things, and I've talked to our guys," Laumann said. "We feel that the last two years we've got, if not the two best arms in each Draft, real close to it."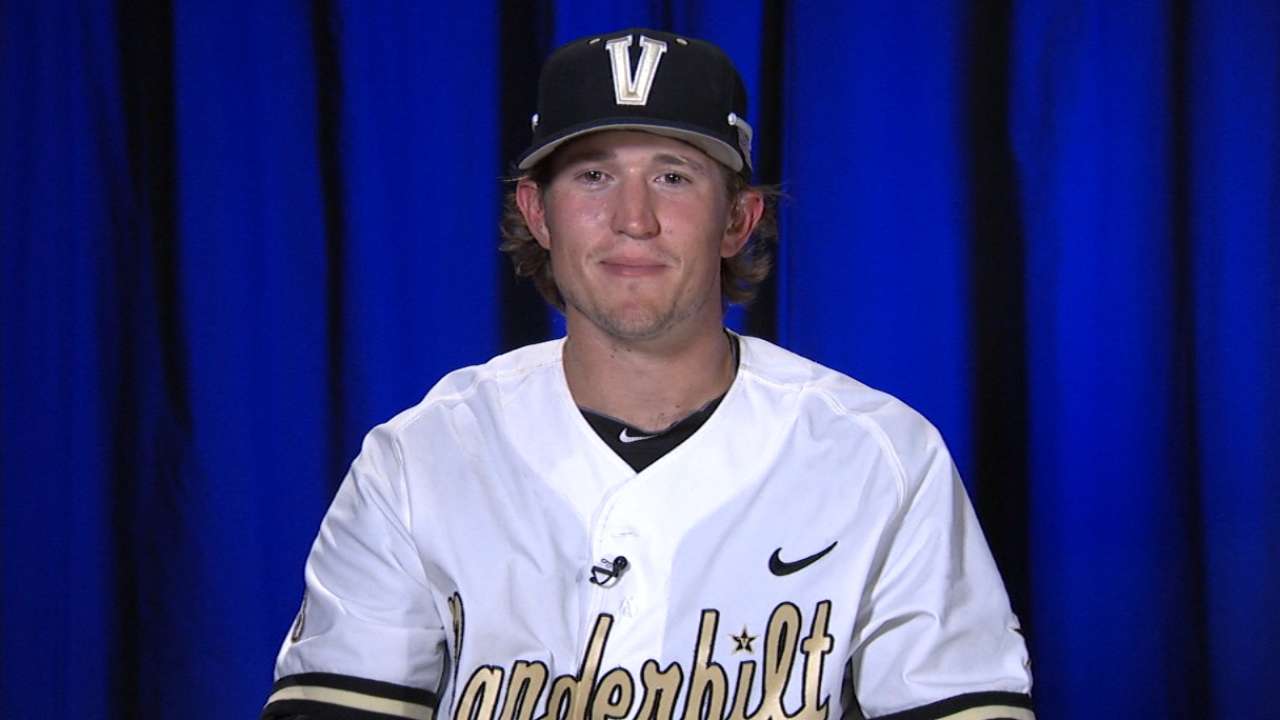 Favorite pick: Blake Hickman absolutely was taken for his merit in the seventh round, as a right-handed pitcher with tremendous upside out of Iowa. His association with the White Sox Amateur City Elite youth baseball program became an added bonus.
• White Sox take ACE alum Hickman
"Where his ability and his commitment are concerned, and we project that to translate into a pro career, is why he was taken where he was taken," said Hahn of Hickman. "Having the benefit of knowing this kid for the last eight, nine, 10 years and seeing how he has developed as a person on and off the field, it's a great result for us. We are thrilled to have him."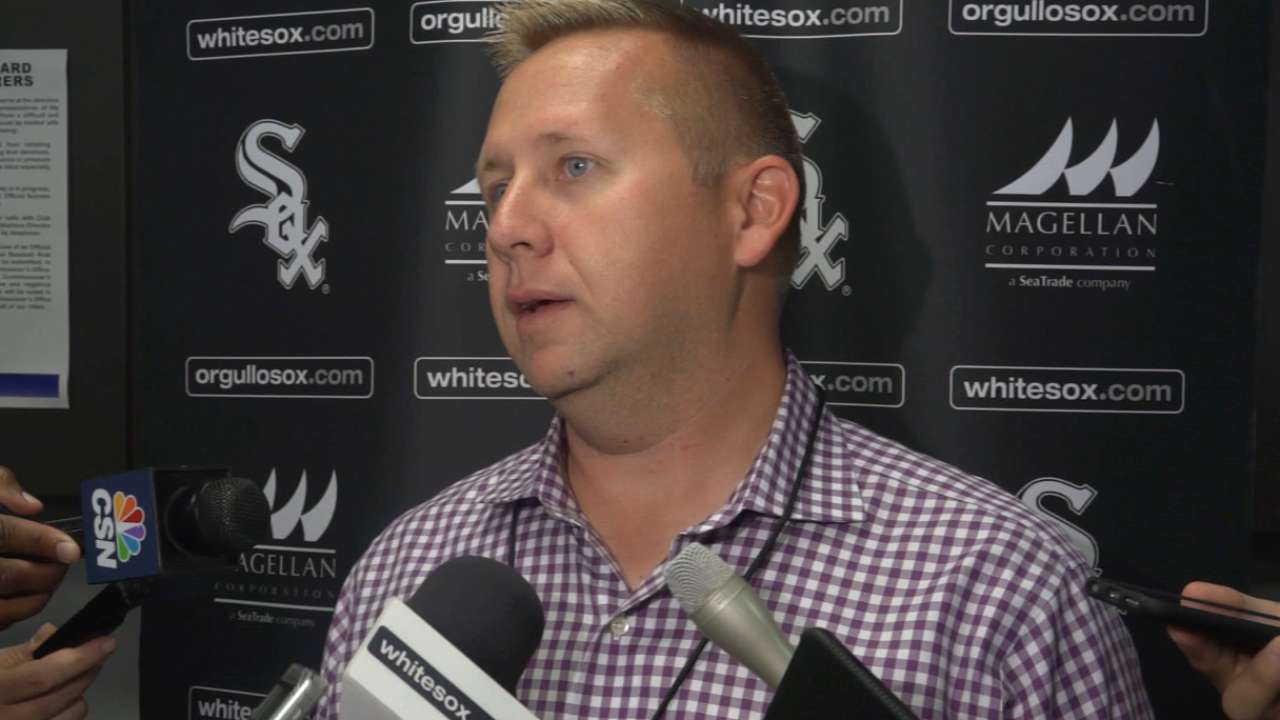 Availability surprise: Corey Zangari, with his right-handed power and ability to pitch, was a bit of surprise in the sixth round. Hostetler also pointed to Tyler Sullivan, an outfielder out of Pacific who worked out for the White Sox, as a pleasant surprise in the 14th round Wednesday.
"He's a really good player," said Hostetler of Sullivan. "He has tools and can hit. He's an interesting guy to watch. He's one I'm pretty excited about."
Late round to watch: Taylore Cherry stands 6-foot-9, 270 pounds and could have been a high Draft pick coming out of high school. He's more of a project for the White Sox, taken out of North Carolina after not pitching this past season.
"Just a massive human being with big arm strength who can get up to 99 [mph]," Hostetler said. "If we can get his arm back in shape and everything working, he has a chance to be pretty interesting."
Overall theme: College pitching and good baseball players.
"It takes a few years on most of the guys to find out where you sit," Hahn said. "As we sit here today, there's a lot of optimism as this comes to a close."
Scott Merkin is a reporter for MLB.com. Read his blog, Merk's Works, and follow him on Twitter @scottmerkin. This story was not subject to the approval of Major League Baseball or its clubs.