Calling card: Big moments part of Posey's trade
Giants backstop teams with Topps as ambassador after catching 3rd no-no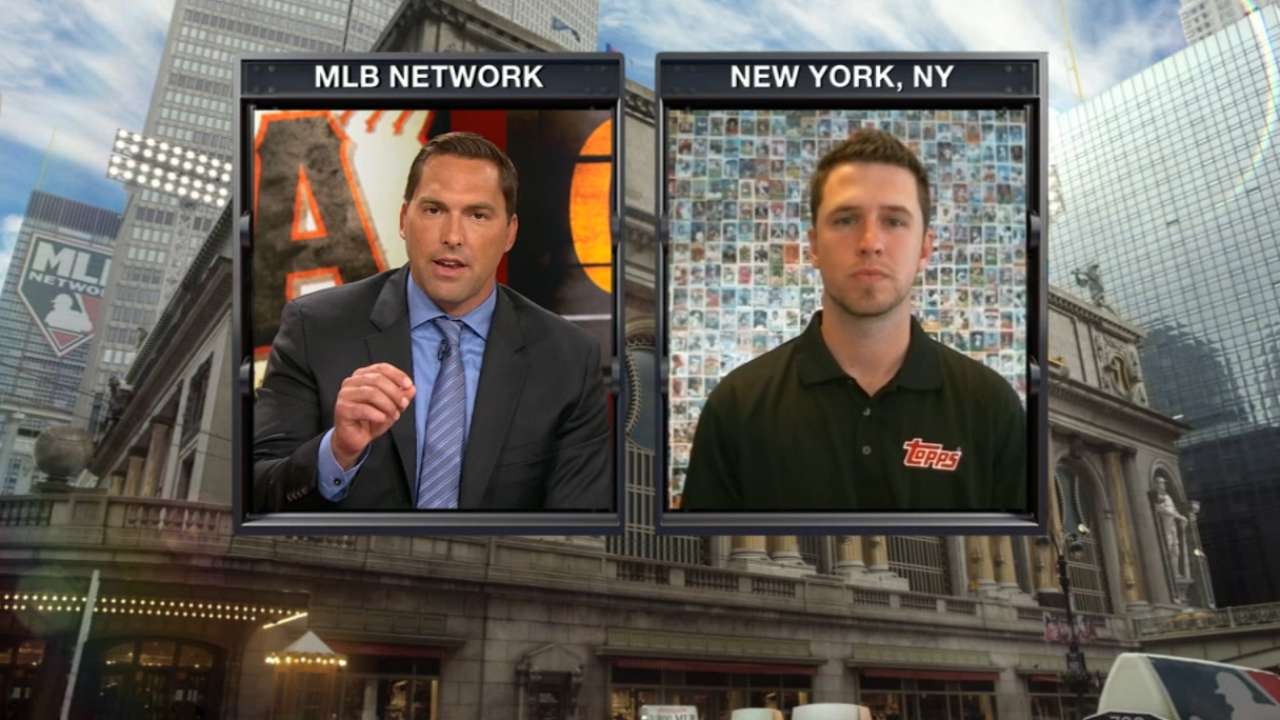 NEW YORK -- Buster Posey's rookie card gets a little more valuable every time he catches a no-hitter, like he just did for the third time on Tuesday, or collects another World Series ring or individual honor.
You don't have to tell the Giants' catcher that, of course. Posey has been into trading cards since he was a kid, and on Wednesday morning, in the afterglow of Chris Heston's no-hitter and another carefully considered #BusterHug, he was downtown at the Topps offices for his announcement as official ambassador of the Topps 2015 Series Two Set that will be released next Wednesday.
"I collected cards with my brother and siblings when I was growing up," said Posey. "My granddad still collects cards pretty adamantly. With having a couple of small kids myself, I think it's a neat way to get excited about certain players."
People certainly get excited about Posey. He is seemingly always celebrating a magical moment. The first no-hitter was Matt Cain's perfect game in 2012, followed by Tim Lincecum's first no-hitter in '13. Hector Sanchez caught Lincecum's second no-no last season, but don't forget that Posey made the final putout then, as the first baseman.
Only Jason Varitek has caught more no-hitters, four. Are they still as special?
"Yes. Definitely," Posey said. "A no-hitter or a perfect game is a rare feat in baseball, and each one that I've been a part of has been unique in its own way. The common theme is the pitchers are just extremely dominant on that night. I couldn't be happier for Chris Heston. A 27-year-old rookie isn't that young, and he seems to have really found his groove, and hopefully he can continue and have a nice long career.
"I know from my experience, and [from the] infielders' and outfielders' experience that were part of the perfect game, there is a little bit less stress during a no-hitter, just because you can make a mistake. But at the same time, you realize, for me and I'm sure the rest of the team feels it as well, you get late in the game and the guy's pitch count is getting up, you don't want him to have to throw extra pitches. So that's a thought that goes into a no-hitter, trying to be as efficient as possible."
When reminded that he might have caught four had he been behind the plate for Lincecum's second, Posey said, "I'm going to enjoy this one right now. Sanchy -- who's to say that Timmy and I would have been on the same rhythm and wavelength that those two were when they did that?"
"Rhythm" was the operative word, as Posey continued to use it the morning after. Heston had paid Posey an ultimate compliment after the game by saying he simply threw whatever pitch Posey called for, and by crediting Posey for "keeping me in check" every time they walked into the dugout between innings.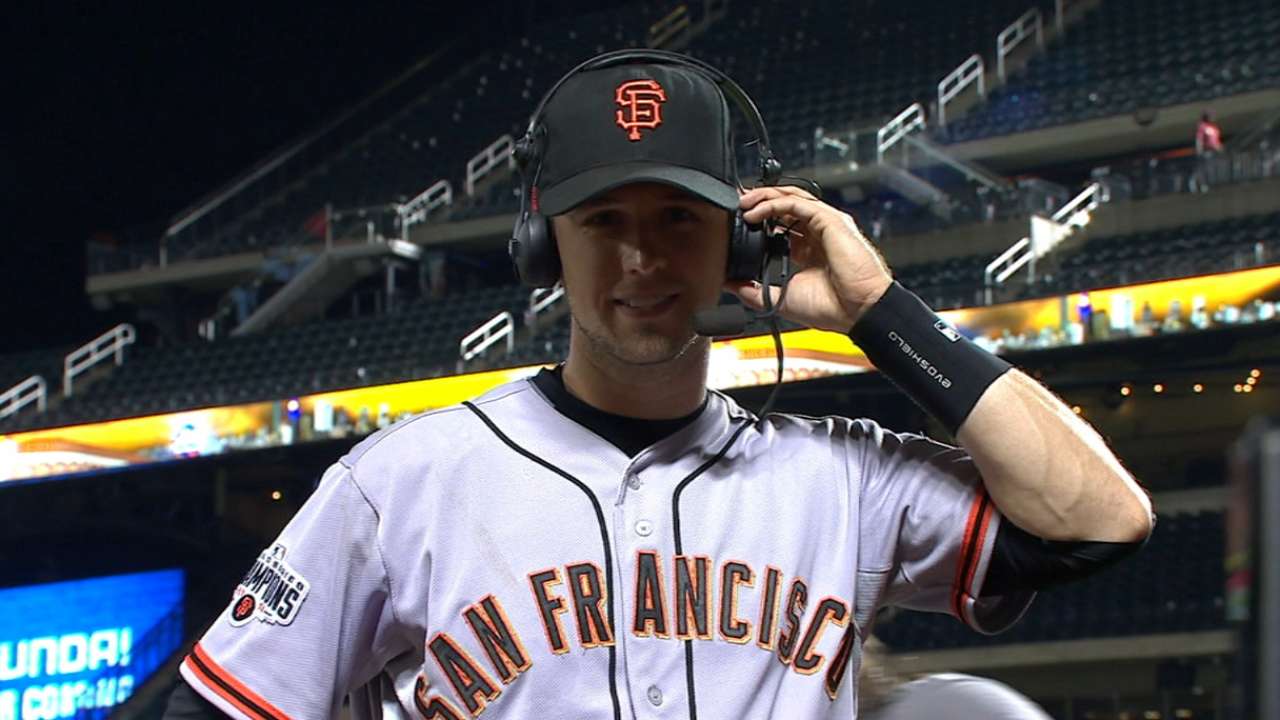 "That's another commonality, I guess," Posey said. "The ones I've been a part of, you're able to get on the same page. The rhythm, the tempo of the game is really smooth. The main job I feel like for me is just to keep that rhythm and not allow the other team to feel any difference throughout the game."
Posey said one of the thrills of any Major League career is seeing that first trading card.
"It's a cool moment," Posey said. "As a fan of baseball myself as a kid, seeing all the different cards come out and then to see your face on a card is a little bit surreal. It's something when I saw that first one, I'll always remember that."
What do Lee and Addison Posey think when they see their father's baseball card?
"They're only three now, boy and girl twins," Posey said, "but my son will pick one up every now and then and say, 'Dad, that's you!' I don't think he really understands what it is yet, but he's not too far off."
Posey said Topps' "Rediscover" campaign has a goal of making it easier for the younger generation to identify with parents who grew up collecting cards. It fits within MLB's mission of appealing to more youth.
"Hopefully some of the parents will pull out some of their old cards and show them to the kids," he said. "And the kids can have their new cards, with the new type of cards Topps is coming out with -- some with the jersey attached to the card or the pre-autographed cards. It's something where the younger generation can and should be excited about it."
"There are few people, let alone athletes, who are better role models than he is, not just in the way he plays, but in his dedication to off-field activities such as family and community service," said Clay Luraschi, Topps' vice president of product development. "We are looking forward to working with him to help us continue to grow and engage our brand."
Posey's granddad will be happy in knowing that Topps is equipping its new ambassador with a set of his entire collection of Topps cards -- the original cardboard versions.
"He likes to go out and find them himself," Posey said. "Sometimes if he has a hard time finding them, he'll ask me if I can get them for him."
Mark Newman is enterprise editor of MLB.com. Read and join other baseball fans on his MLB.com community blog. This story was not subject to the approval of Major League Baseball or its clubs.