Moya among top prospects in Minors on Tuesday
Tigers No. 1 prospect hits home run and walk-off double for Mud Hens in opening game of twin bill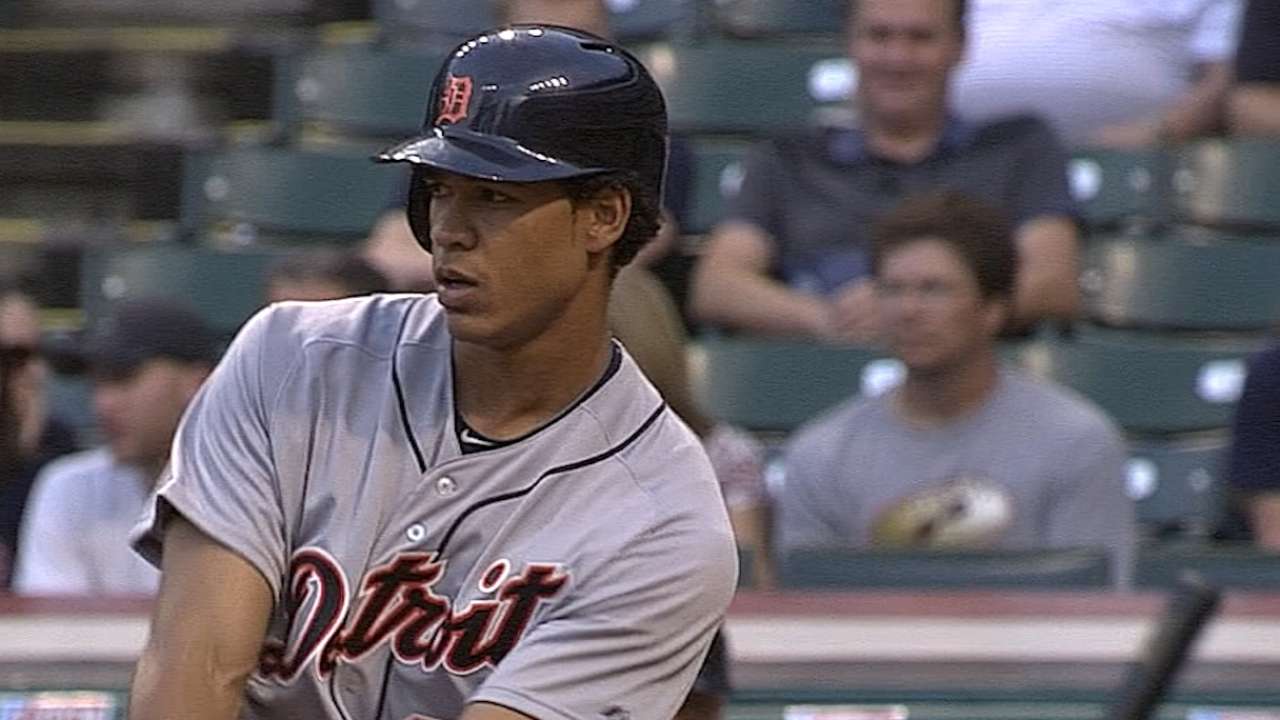 Tigers No. 1 prospect (No. 87 overall) Steven Moya smacked a two-run homer for Triple-A Toledo on Tuesday evening, but that wasn't enough to win it for the Mud Hens.
So the right fielder came up again in the seventh -- and final -- inning with Toledo trailing by one run. Just one out away from defeat, Moya hit a walk-off double that scored two runners and gave the Mud Hens a 6-5 victory over Syracuse.
He went 2-for-3 with four RBIs in the first game of the doubleheader and then added a 1-for-3, one-RBI performance in the second game. The homer was his fifth of the year and he has 27 RBIs.
Signed by Detroit out of Puerto Rico in 2008, Moya hit 35 homers and 105 RBIs for Double-A Erie last season and has a .251/.295/.444 line in his Minor League career.
More standout performances from Top 100 prospects on Tuesday
• Reds No. 1 prospect (No. 20 overall) Robert Stephenson continues to sizzle for Double-A Pensacola. Tuesday, he lost for the first time since May 6, but turned in a stellar performance that included eight strikeouts, three hits and two earned runs in seven innings of work. Stephenson's record dropped to 3-5, but he cut his ERA to 3.67 in the process (down from 8.31 on May 1).
• Cubs No. 2 prospect (No. 42 overall) Kyle Schwarber went 2-for-4 with a homer for Double-A Tennessee, helping the Smokies defeat Birmingham, 7-5, in the second game of a twin bill. Schwarber has 13 bombs -- second in the Southern League behind Chattanooga's Adam Brett Walker (16) -- and 39 RBIs on the year.
• White Sox No. 2 prospect (No. 79 overall) Frank Montas picked up his first win of the season in outstanding fashion, tossing a no-hitter for Double-A Birmingham. Montas was spectacular against Tennessee, allowing just three walks in seven shutout innings as he pulled off the first no-no of his professional career. In addition, he struck out three Smokies hitters, and stands at 1-1 with a 2.50 ERA this season.
Other notable performances from around the Minor Leagues
• Blue Jays No. 19 prospect Matt Boyd picked up his sixth win of the year for Double-A New Hampshire and has not lost since April 15, his second start of the season. The southpaw gave up two hits and one earned run while striking out four in seven innings and stands at 6-1 with a 1.10 ERA.
• Brewers No. 2 prospect Tyrone Taylor hit his first home run of the year for Double-A Biloxi, a solo shot that helped the Shuckers to a 7-5 win over Mobile. The center fielder was 2-for-4 with a double and two RBIs Tuesday and has 11 two-baggers with 21 RBIs this year.
• Cardinals No. 19 prospect Tommy Pham made the most out of his third game of the year for Triple-A Memphis. Starting for just the second time in 2015, the center fielder went 2-for-4 with two homers and five RBIs on Tuesday. The five runs he knocked in are a career-high mark and the most by a Redbirds player in a game this year. Pham suffered a quad injury in Spring Training, which hurt his chances of landing on the big league squad and forced him to start the season on the disabled list.
• Giants No. 2 prospect Kuery Mella held the opposing team to no more than one run for the fourth straight start, striking out eight in 5 1/3 innings of work for Class A Advanced San Jose on Tuesday night. The 21-year-old gave up three hits and one earned run and has only given up 11 hits and three runs over his past four starts. On the year, he stands at 3-1 with a 2.76 ERA in 10 starts.
• Giants No. 15 prospect Aramis Garcia and No. 28 prospect Samuel Coonrod led Class A Augusta to a 5-4 win over Greenville. Garcia went 2-for-5 with a triple, home run and two RBIs, while Coonrod surrendered just two hits and one earned run while striking out 10 in seven innings. The hurler moved to 3-1 with a 2.63 on the year and hasn't allowed more than two earned runs in a start since May 2.
• Indians No. 5 prospect Tyler Naquin went yard in his debut for Triple-A Columbus. The center fielder was 3-for-5 with a solo shot in the Clippers' 7-4 loss to Louisville. Naquin was promoted after posting a scorching .338/.408/.453 line in 33 games for Double-A Akron.
• Marlins No. 6 prospect Trevor Williams outdueled top Reds prospect Robert Stephenson, leading Double-A Jacksonville to a 2-1 win over Pensacola. The 6-foot-3 right fanned six while giving up five hits and one run in 6 2/3 innings of work and is 3-0 in four starts since he started the season 0-6.
• Mets No. 17 prospect Casey Meisner and No. 29 prospect Eudor Garcia teamed up to aid Class A Savannah in its 9-1 blowout win over West Virginia. Meisner (now 6-1) contributed seven innings of work, striking out six while giving up six hits and one run. Garcia swatted two home runs and knocked in four runs on the night.
• Orioles No. 29 prospect John Means is trending in the right direction for Class A Delmarva. The southpaw had a tough start to the season, going 2-2 with a 4.58 ERA through his first eight outings, but has improved in a big way. Tuesday, he tossed six shutout innings while striking out five and is 3-0 with a 2.00 ERA over his past three starts.
• Pirates No. 18 prospect Barrett Barnes smashed two solo homers for Class A Advanced Bradenton in the team's 13-inning win against Clearwater. The blasts were only his second and third of the year, but he's hitting a solid .282/.356/.470 in 28 games.
• Rangers No. 10 prospect Luis Ortiz and No. 30 prospect Jose Trevino powered Class A Hickory to a 5-2 win over Charleston. Ortiz dominated from the mound, giving up four hits in six shutout innings, while Trevino provided a three-run home run that proved to be the difference in the final score. While the 'W' was only Ortiz's third of the year, he cut his ERA down to 1.71.
• Rays No. 30 prospect Yoel Araujo went 2-for-5 and smacked his first homer of the year for Class A Advanced Charlotte. The right fielder upped his RBI total from 12 to 16 in the process and has at least one RBI in four of his past six contests.
• Red Sox No. 12 prospect Trey Ball tossed a career-high nine strikeouts in 5 2/3 shutout innings for Class A Advanced Salem. Holding the opposing team to a goose egg is nothing new for the 6-foot-6 southpaw as he's done it in three of his past four starts. On the season, Ball is 5-5 with a 3.99 ERA.
• Reds No. 6 prospect Nick Travieso was solid for Class A Advanced Daytona, lowering his ERA for the fourth straight start. The 22-year-old gave up three hits and one run while striking out six in six innings. Travieso got a no-decision Tuesday and his line stands at 3-5 with a 3.02 ERA.
• Twins No. 13 prospect Adam Brett Walker is the Minor League home run leader through the first two months. Double-A Chattanooga's slugger hit his 16th homer run on Tuesday night. He also has 50 RBIs, tied for fourth in the Minors, along with a .263/.317/.585 line.
• White Sox No. 25 prospect Kevan Smith went 3-for-4 with a three-run homer for Triple-A Charlotte. The blast was his fourth of the year and he's hitting .261/.346/.403 with 17 RBIs.
Alex M. Smith is a reporter for MLB.com. This story was not subject to the approval of Major League Baseball or its clubs.