Cam Gibson shares intensity with dad Kirk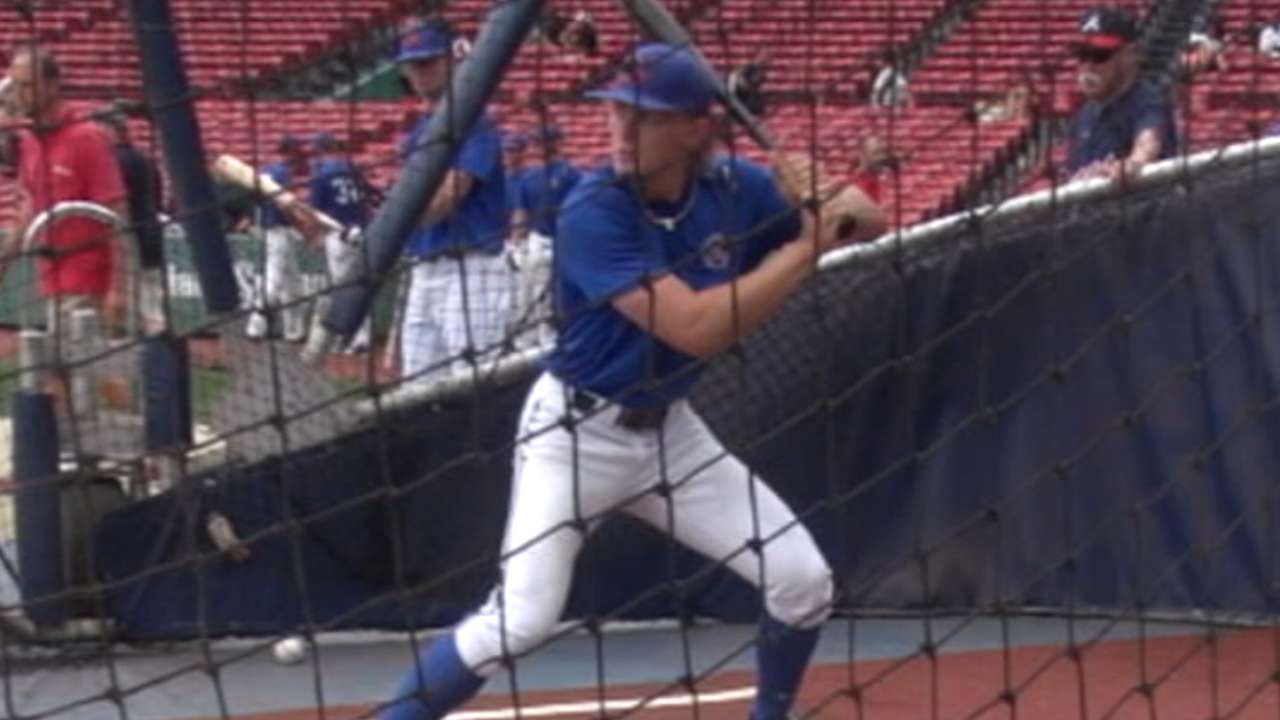 DETROIT -- The celebration was relatively quiet for Cam Gibson and his family, which is funny when one considers the family. Cam has much of the same intensity as his father, former Tigers great Kirk Gibson.
That intensity helped him get to this point, where a career in baseball is a reality. He just never quite fathomed it being in the same uniform as his dad. He knew it could happen, but as he sat at home on Tuesday afternoon with his parents and his girlfriend in Grosse Pointe, Mich., as the Tigers' fifth-round Draft pick, the reality was hitting him.
"It's surreal," the younger Gibson, 21, said. "It's like a dream. You kind of think this is too good to be true."
• Sons of Mariano, Gibson selected on Day 2
That was the Gibson emotion coming through. His father eventually joined in.
"He just stood up. He was all smiles," Cam said. "He came in for a handshake, and I said, 'No, you give me a big hug.'"
It was a nice moment for a family that has had an emotional spring. Kirk Gibson went from the D-backs' dugout back to the Tigers' broadcast booth in part so that he could stay close to home and follow his son's junior season at Michigan State. But the spring took a turn when Kirk was diagnosed with Parkinson's disease last month.
"It just puts that much more intensity into me to get to the bigs," Cam said.
What better place to play than my own backyard!!! LOVE YOU DETROIT! GO TIGERS!!!!

— Cam Gibson (@GibNasty_23) June 9, 2015
This intensity would not come as a surprise to David Chadd, the Tigers' vice president of amateur scouting, who saw it quickly when Gibson worked out for the Tigers with other Draft prospects last Friday at Comerica Park.
"He couldn't throw because he banged up his arm in the conference tournament or somewhere," Chadd recalled. "So he said, 'Is it OK if I shag balls in center field?' I said, 'Cam, I want you running those balls down just like it's a game situation, and I want to watch you react.'
"And he got right here," Chadd said, putting his hand inches from his face, "and said, 'You don't have to tell me that.' And then he ran off. I'm like, 'Holy cow.'"
The emotion sounds familiar, not to mention the work ethic. The game, however, is all Cam's own. He does not have his father's raw power, but he boasts similar athleticism, including some of the top speed in the Draft pool.
"One of the best athletes I've ever coached," Michigan State coach Jake Boss said.
Gibson ranked as the second-best prospect in Michigan, behind first-rounder Nick Plummer. He hit .294 with 10 doubles, four triples, five home runs and 32 RBIs in 57 games, drawing 30 walks against 35 strikeouts and stealing 17 bases in 21 attempts. His 52 runs scored ranked fourth in the Big Ten Conference.
"Cam made it on his own merit," scouting director Scott Pleis said. "He's a good ballplayer. He's got great makeup. He's his own player. We like his ability. We like his tools. We like his makeup and intensity and the way he goes about his game.
"Certainly it's nice to have those bloodlines and all that, but it's all him."
Gibson primarily played left field at Michigan State but will be a center fielder in the Tigers' system. He spent this past season trying to hit for more power, to show he can be more than a slap hitter who reaches base.
The Tigers aren't overly concerned about it. They see average power as he develops. The willpower, on the other hand, is off the charts.
"I think Cam Gibson is going to will his way and work his way to be an everyday Major League player," Chadd said.
Jason Beck is a reporter for MLB.com. Read Beck's Blog, follow him on Twitter @beckjason and listen to his podcast. This story was not subject to the approval of Major League Baseball or its clubs.