D-backs sticking with collegiate players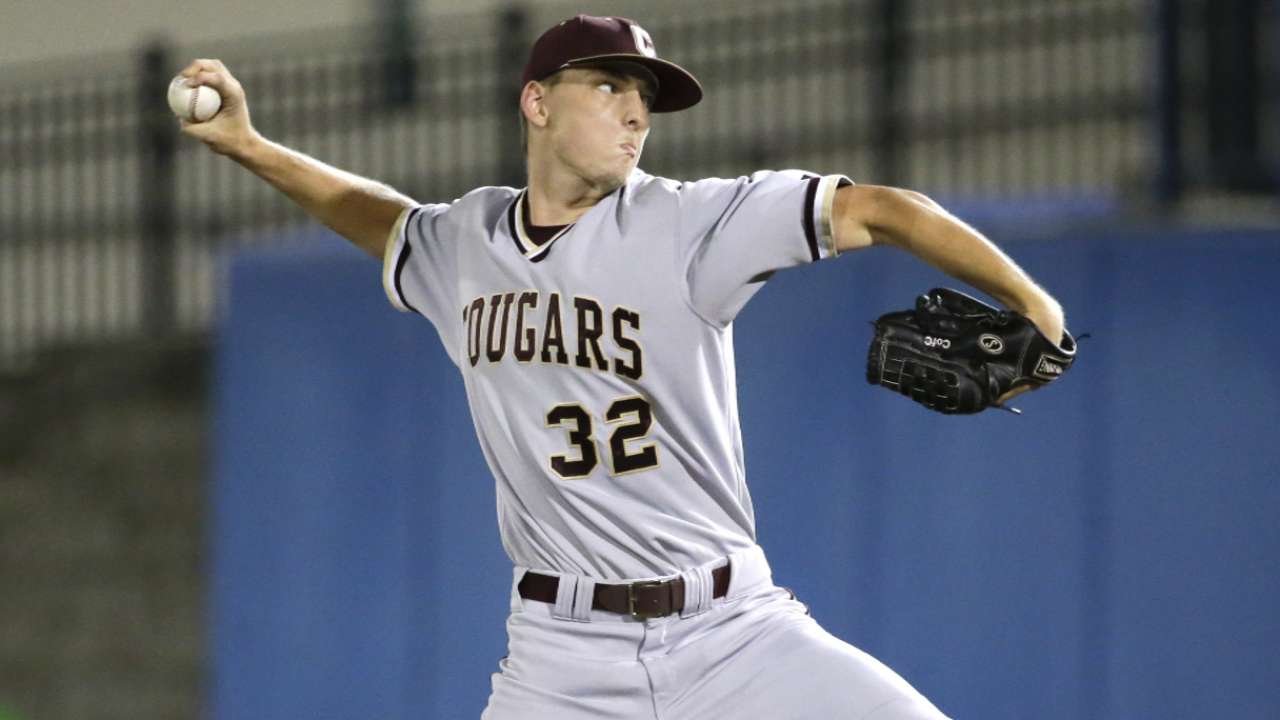 PHOENIX -- The D-backs opted to pick more experienced collegiate players on the second day of the 2015 Draft, with all eight selections coming from college as the club has still not drafted a high school player.
The D-backs selected four straight right-handed pitchers on Tuesday. Six of their first 10 picks were pitchers.
"We just got guys that we feel like we can get through the system quickly that can help us sooner than later," D-backs scouting director Deric Ladnier said in a conference call with reporters.
Round 6: RHP Tyler Mark, Concordia University
Mark was 5-1 with a 1.24 ERA in 38 relief appearances for the Eagles this season, earning first team NAIA All-American honors. The junior set a single-season NAIA record with 24 saves. He played two seasons at Cal State Dominguez Hills before transferring prior to this year. Mark was ranked by MLBPipeline.com as the No. 159 Draft prospect.
Round 7: C Francis Christy, Palomar College
Christy batted .326 with 11 home runs and 52 RBIs in 45 games for the Comets this season. The sophomore was named the ABCA/Rawlings Gold Bat Award National Co-Player of the Year. He was previously drafted out of high school in the 37th round of the 2013 Draft by the Athletics.
"He's got big power, hits home runs," Ladnier said. "High-character guy, leadership ability. He comes to play every day."
Round 8: SS Kal Simmons, Kennesaw State
Simmons hit .269 with a team-best 10 home runs and 35 RBIs in 55 games for the Owls this season. The junior was an Atlantic Sun Conference All-Second Team selection the past two years and an All-First Team pick after his freshman season in 2013.
Round 9: RHP Pierce Romero, Santa Barbara CC
Romero was 1-2 with a 5.50 ERA in 11 relief appearances for the Vaqueros this season. The sophomore is committed to play at the University of Nebraska.
"More of a project than a finished product," Ladnier said. "He has some things he has to work on with his breaking ball, but he's got the body, has the size, got the fastball velocity. … I'm extremely confident he's going to sign."
Round 10: CF Joey Armstrong, UNLV
Armstrong batted .277 and drove in 26 runs for the Runnin' Rebels this season. He has a career .301 average in three seasons at UNLV. The junior also had a nice season defensively, making just one error and accumulating 15 outfield assists in 2015.
The Draft concludes on Wednesday, with exclusive coverage of Rounds 11-40 beginning on MLB.com at 9 a.m. MST.
Jake Rill is an associate reporter for MLB.com. This story was not subject to the approval of Major League Baseball or its clubs.