Mariners not ready to name Rodney closer again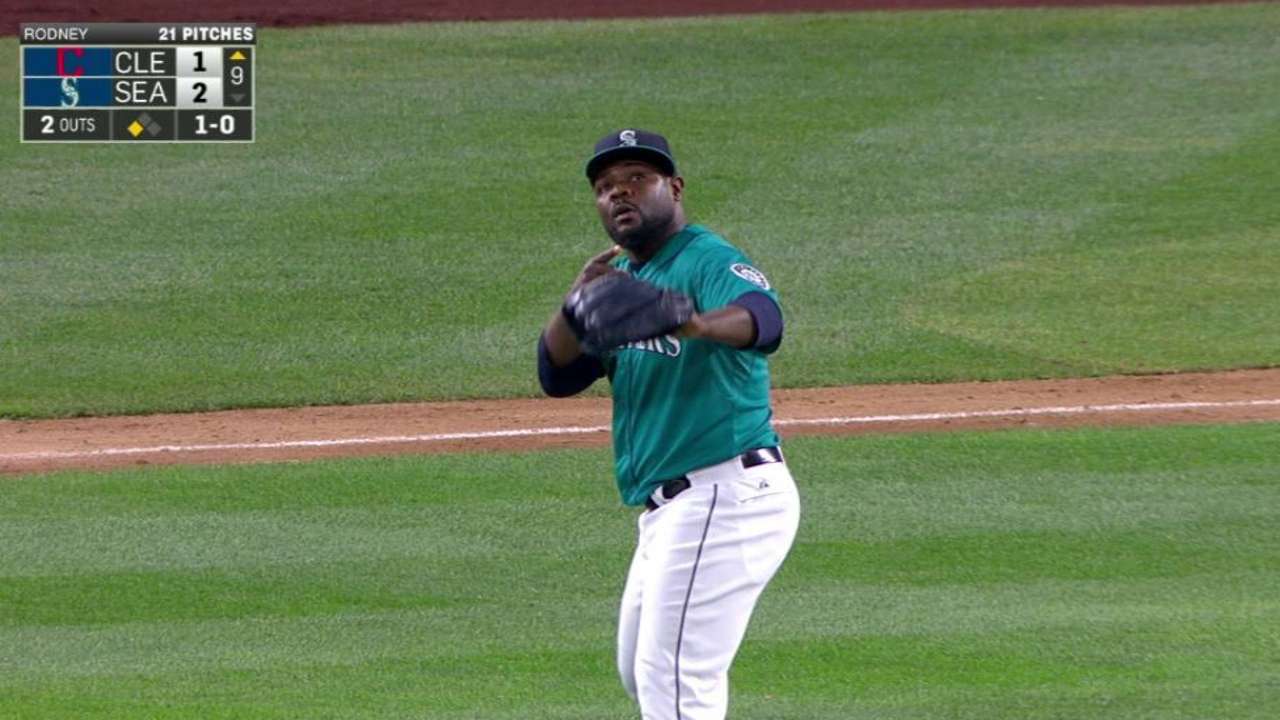 CLEVELAND -- Fernando Rodney's return to being a trusted member of the Mariners' bullpen hinges on the recommendation of pitching coach Rick Waits.
"When the pitching coach comes back to me and says, 'We think we got this mechanical stuff straightened out,' he'll pitch [the] eighth and sometimes ninth inning," manager Lloyd McClendon said Tuesday afternoon.
The right-hander was removed from closer duties on Saturday in Seattle's 2-1 win, when rookie Carson Smith filled in by tossing a 1-2-3 ninth for his first career save. The switch was a long time coming: Rodney has surrendered a run in nine of his last 13 appearances since May 4, raising his ERA to 6.94, while Smith's ERA has dropped to 1.08.
The final straw for Rodney came on Friday, when the veteran entered a scoreless game in the ninth inning and yielded a leadoff home run, the only tally in a 1-0 Mariners loss.
But, while Smith may receive more opportunities to finish games in the near future, McClendon doesn't think the righty is ready to become the club's full-time closer, leaving the door open for Rodney or another member of the bullpen to assume that responsibility.
The manager had previously mentioned Charlie Furbush and Mark Lowe as other possibilities for save situations.
"[Smith] has greatness written all over him, but if we're thinking we can run him out there three or four days in a row, it's just not going to happen," McClendon said.
While Rodney continues to tweak his mechanics with Waits and bullpen coach Mike Rojas, McClendon said the pitcher would be available to make appearances against lefties, who are hitting .256 against him as opposed to a .346 clip from right-handed batters.
"Anything to try to jump-start him," McClendon said. "Listen, we need him. If we're going to make a run at this and be as successful as we think we're going to be, we gotta have him."
Rodney hasn't pitched since taking the loss on Friday, and the reliever said he has been given time off to rest. He hopes maintaining his usual routine will prompt a return to an elite form.
"It's important to keep your head held high, because you know you have the talent, the conditioning," he said.
Alejandro Zúñiga is an associate reporter for MLB.com. This story was not subject to the approval of Major League Baseball or its clubs.