Phillies complete infield with Day 2 picks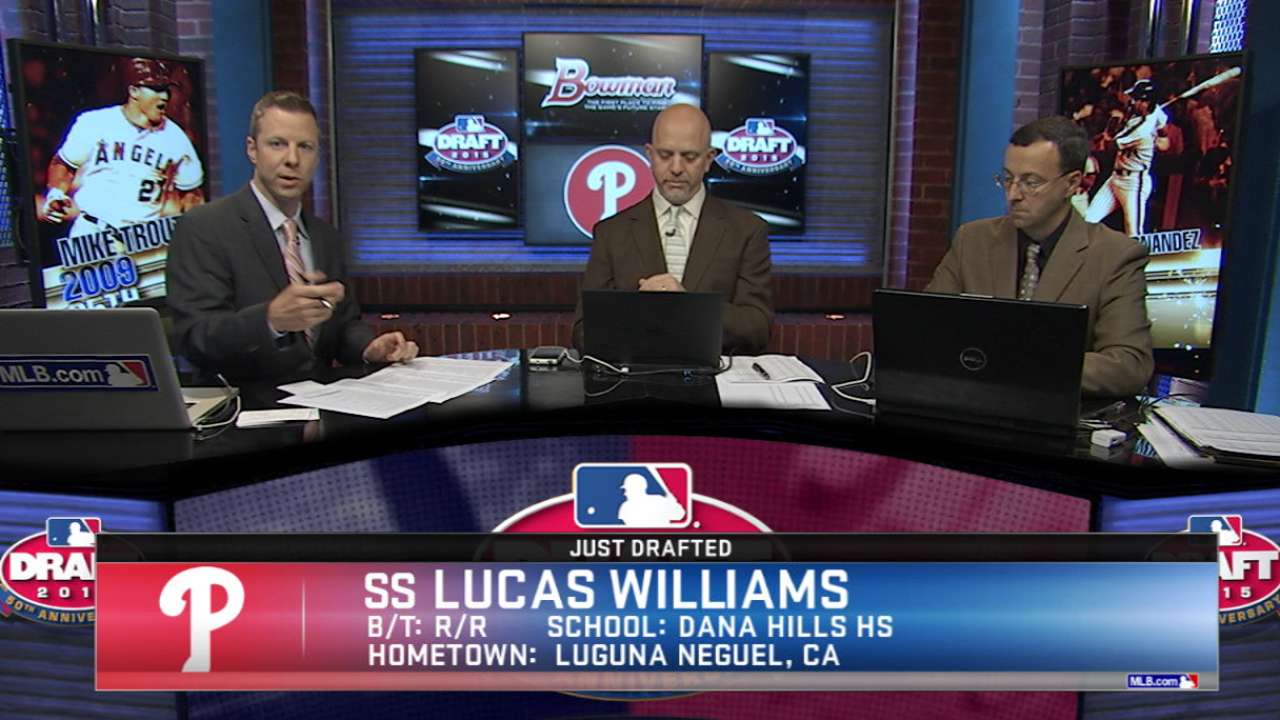 PHILADELPHIA -- The Phillies took a high school shortstop and a college second baseman on Monday night in the first two rounds of the 2015 MLB Draft.
The Phillies took a high school shortstop, a college first baseman and a high school pitcher with their first three picks Tuesday.
• Phillies confident they can sign Day 2 picks
"We're very excited overall," Phillies amateur scouting director Johnny Almaraz said. "Extremely confident that everyone is going to be reporting here pretty soon."
Here is a look at the Phillies' selections in Rounds 3-5 on Day 2. The Draft concludes Wednesday, with exclusive coverage of Rounds 11-40 on MLB.com beginning at noon ET.
Round 3 (83rd pick overall): SS Lucas Williams, Dana Hills (Calif.) HS
Williams (6-foot-1, 180 pounds) has committed to Cal Poly San Luis Obispo. The right-handed hitter, who goes by Luke, posted a .315 batting average in 32 games, and he has good speed. Williams set the school's career stolen-base record this year.
"This is somebody who we feel is a really good athlete with the ability to hit," Almaraz said. "He can run. He can throw. We see him more as a third baseman with some type of power. We were really pleased to draft him. He's somebody we believe has a high ceiling, along with the fact he knows how to play the game."
Round 4 (114th pick): 1B Kyle Martin, South Carolina
Martin earned second-team All-America honors during his senior season with the South Carolina Gamecocks. He hit .350, with 12 doubles, two triples, 14 home runs, 56 RBIs, a .455 on-base percentage and a .635 slugging percentage.
Martin (6-foot-2, 240 pounds) walked 39 times, and he struck out just 27 times.
The Angels selected Martin in the 20th round of the 2014 Draft, but he returned for his senior season.
"We believe he's a very good prospect," Almaraz said. "He's got above-average power. He's got the ability to go the other way. He came to our workout and answered some questions, as far as his athleticism is considered."
Round 5 (144th pick) LHP Bailey Falter, Chino Hills (Calif.) HS
Falter is 6-foot-4 and 175 pounds. He throws in the mid-to-high 80-mph range, but scouts believe his velocity will build in time. The southpaw has committed to UC-Santa Barbara.
"He's a projection," Almaraz said. "I felt he was one of the top pitchers in the country, whether it be college or high school. The ability to pitch and command his pitches. That is something you cannot teach, and he possesses that. He's got a bright future and a chance to be a frontline starter."
Todd Zolecki is a reporter for MLB.com. Read his Phillies blog The Zo Zone, follow him on Twitter and listen to his podcast. This story was not subject to the approval of Major League Baseball or its clubs.