Rays select Maryland 2B Lowe at No. 87
Prospect hits for average, draws walks; fourth-rounder Koch club's first pitcher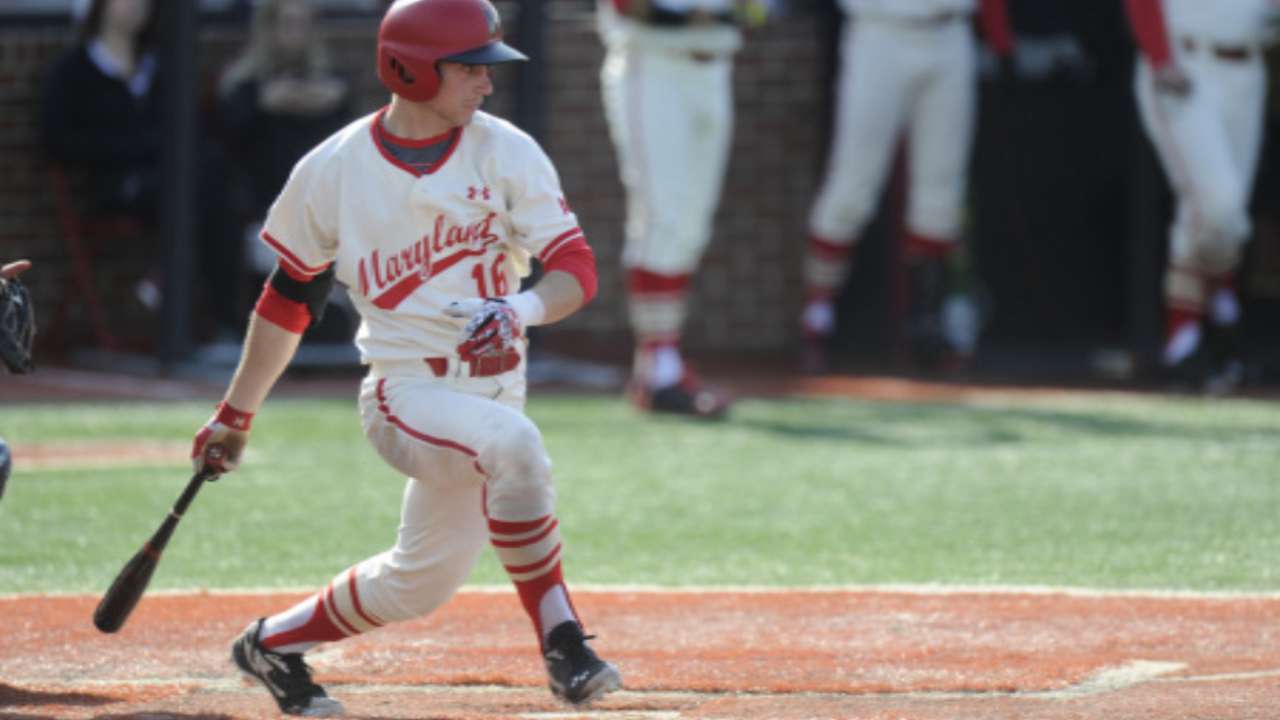 ST. PETERSBURG -- The Rays' early picks on the second day of the 2015 Draft came with an element of risk, as the club selected two players overcoming injuries.
Maryland second baseman Brandon Lowe was the Rays' third-round selection, taken with the 87th overall pick. Lowe's season ended on a down note on Saturday, when he broke his left leg in a game against Virginia. According to reports, as Lowe turned to head back to the bag after rounding first on a single, he twisted awkwardly, causing the break.
"The medical people think it's a straightforward broken bone," Rays scouting director R.J. Harrison said. "They think he should come back as good as he was before."
Follow the Rays' selections through every round
Lowe is best known for his hitting. He has terrific strike-zone discipline, as well as the ability to hit for average and get on base at a high clip. He hit .331 for the Terrapins this spring, a season after being named a freshman All-American by Baseball America, and he helped lead the school to consecutive Super Regional appearances, the first two in school history.
A redshirt sophomore, Lowe missed his freshman season while recovering from a torn ACL. He does not have great speed and is not a flashy fielder, but he is reliable on balls he can get to.
The Draft concludes on Wednesday, with exclusive coverage of Rounds 11-40 beginning on MLB.com at noon ET.
Round 4: RHP Brandon Koch, Dallas Baptist
Koch, 21, became the first pitcher selected in this year's Draft by the Rays. He is a closer with a power arm, and he had one of the best fastball-slider combinations heading into the Draft.
While Koch can touch 98 mph with his fastball, his best pitch is a tight 84- to 87-mph slider, which many consider to be one of the best breaking balls in the Draft.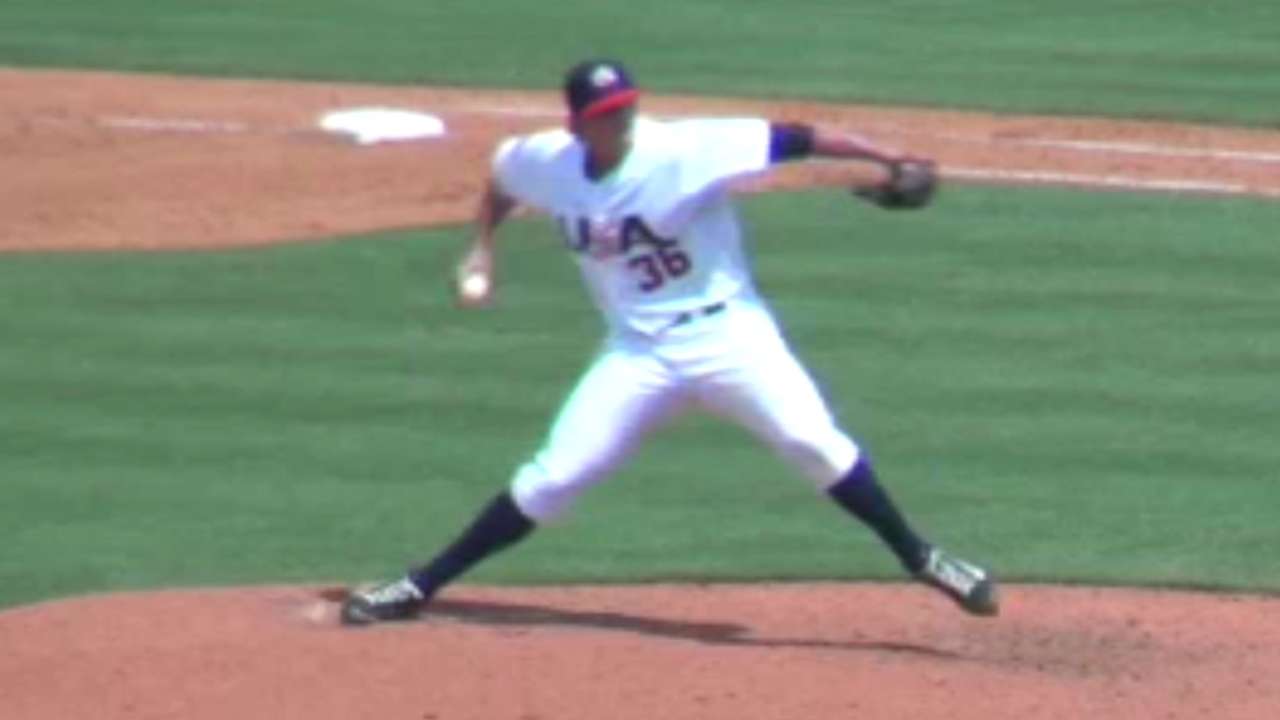 The downside of Koch's slider is his reliance on the pitch. There are also concerns about him being a "maximum effort" pitcher with a violent delivery.
Round 5: OF Joe McCarthy, University of Virginia
McCarthy, 21, bats and throws left-handed and was projected to be the Cavaliers' top returning hitter in 2015, but he underwent back surgery in late January that forced him out of action for a few months.
"We have our medical process," Harrison said. "We felt that he was fine and has come back pretty good to this point. Early on, when he came back, it looked like he was a little tentative. Between being rusty and coming off the back surgery, he got off to a slow start, but he seems to be back to full speed now, and we didn't think the risk was great enough to not go ahead and take him."
When healthy, McCarthy is a pure hitter who controls the strike zone well and excels at getting on base. At 6-foot-3 and 215 pounds, he has the strength and leverage to produce above-average power. McCarthy moves well for his size, and he uses that speed to his advantage on defense and running the bases. His only below-average tool in his arm, which likely means a move to left field is in his future.
Bill Chastain is a reporter for MLB.com. This story was not subject to the approval of Major League Baseball or its clubs.