Proven college lefty Hall taken in sixth round
Tigers add prep shortstop Shumpert, son of Terry, in seventh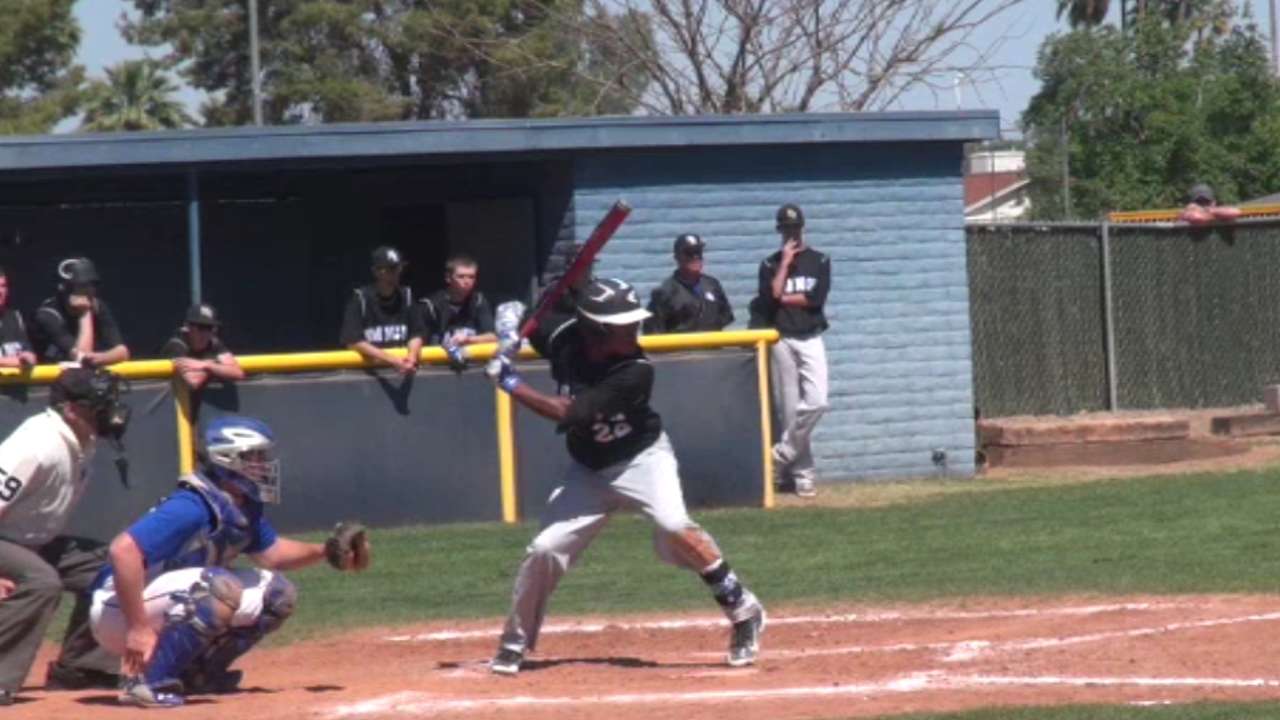 Two days after Missouri State's season ended in the NCAA Super Regionals, the Tigers selected star lefty Matt Hall with the 190th overall pick in the sixth round.
Hall's fastball hovers in the mid-80s, but his strength is his curveball, which was among the best in this year's Draft class. That breaking ball helped him tally a Division I-leading 171 strikeouts; Vanderbilt's Carson Fulmer, the No. 8 overall pick, was second, with 152 whiffs. Hall led the Bears with a 2.02 ERA and a 12-2 record in 19 games (17 starts).
"His stats are incredible," said Scott Pleis, Detroit's director of amateur scouting. "It just verifies what our eyes are seeing."
David Chadd, the Tigers' vice president of amateur scouting, said the team was pleased to find Hall available in the sixth round.
"Left-handers are hard to get in the Draft, let alone with that kind of ability, and where we got him," Chadd said. "So we're pretty happy about that."
Hall tossed a 125-pitch one-hitter on Saturday against Arkansas, a game Detroit scouts noticed.
"To see that right at the end, in those type of settings, that's when you want to see guys shine, and he certainly shined in that setting," Chadd said. "To say that pushed us over the top, it surely didn't push us back."
Missouri State has become a pitching pipeline, producing nine big leaguers in the last 10 years, as well as righty Jon Harris, whom the Blue Jays took with the 29th overall pick this year.
Round 7: SS Nicholas Shumpert, Highlands Ranch (Colo.) High School
The son of former Major Leaguer Terry Shumpert, Nicholas excites scouts with his bat and speed. The 18-year-old, who is committed to Kentucky, hit .600 with eight doubles and five home runs last year.
Some scouts project Shumpert -- who ranks No. 200 among MLB.com's Top 200 Draft prospects -- as a second baseman, and the right-handed batter will have to reduce his strikeouts as he continues to mature as a player.
Round 8: RHP Dominic Moreno, Texas Tech
The Tigers continued to target pitching by selecting Moreno, a reliever with a low-90s fastball, with the 250th overall pick.
Moreno recorded a 1.85 ERA in 24 appearances for the Red Raiders this year, his best output in three years at the school, earning second-team All-Big 12 honors. The 5-foot-11, 190-pound righty finished his college career with 183 strikeouts to 66 walks.
Moreno becomes just the fifth player in Red Raiders history to be selected in back-to-back Drafts. The Cardinals picked him in the 33rd round last year. According to the Lubbock Avalanche-Journal, the right-hander's fastball occasionally hit 97 mph during his senior year.
Round 9: RHP Trey Teakell, Texas Christian University
Two-hundred and fifty-eight picks after choosing Beau Burrows with their first selection of the Draft, the Tigers nabbed another right-hander who attended Weatherford (Texas) High School.
Teakell's Horned Frogs advanced to the College World Series with a walk-off win early Tuesday morning, and he fanned four of the six batters he faced in a game that lasted 16 innings.
"It just solidifies what you've seen all year and what you think he's going to be," Pleis said, "and then in the biggest stage they can be in at this point, they do it."
The 6-foot-5 Teakell has a 1.51 ERA in 28 relief appearances and has struck out 44 while walking just eight. Per Baseball Draft Report, his fastball hovers in the low 90s, and he has an impressive array of complementary pitches, including a cutter, curveball and splitter.
"We're looking at tools, and if those tools are going to project and if those tools are going to be good enough to play in the Major Leagues," Pleis said. "To see him perform this time of year just reassures what we're seeing, that we think that's what they're going to be able to do."
Round 10: CF Cole Bauml, Northern Kentucky
Bauml enjoyed a breakout 2015 season with the Norse, leading the team in a slew of offensive categories, including batting average (.350), slugging percentage (.663) and total bases (108). He accomplished that despite missing two weeks with a broken thumb.
Northern Kentucky was the only Division I school to offer Bauml a scholarship, according to The Star Phoenix, and the outfielder's selection by the Tigers makes him the first player from Saskatchewan drafted in seven years.
The Draft concludes on Wednesday, with exclusive coverage of Rounds 11-40 beginning on MLB.com at noon ET.
Alejandro Zuniga is an associate reporter for MLB.com. This story was not subject to the approval of Major League Baseball or its clubs.