Aardsma joins Braves to give 'pen a boost
Veteran right-hander added to roster; Martin optioned to Triple-A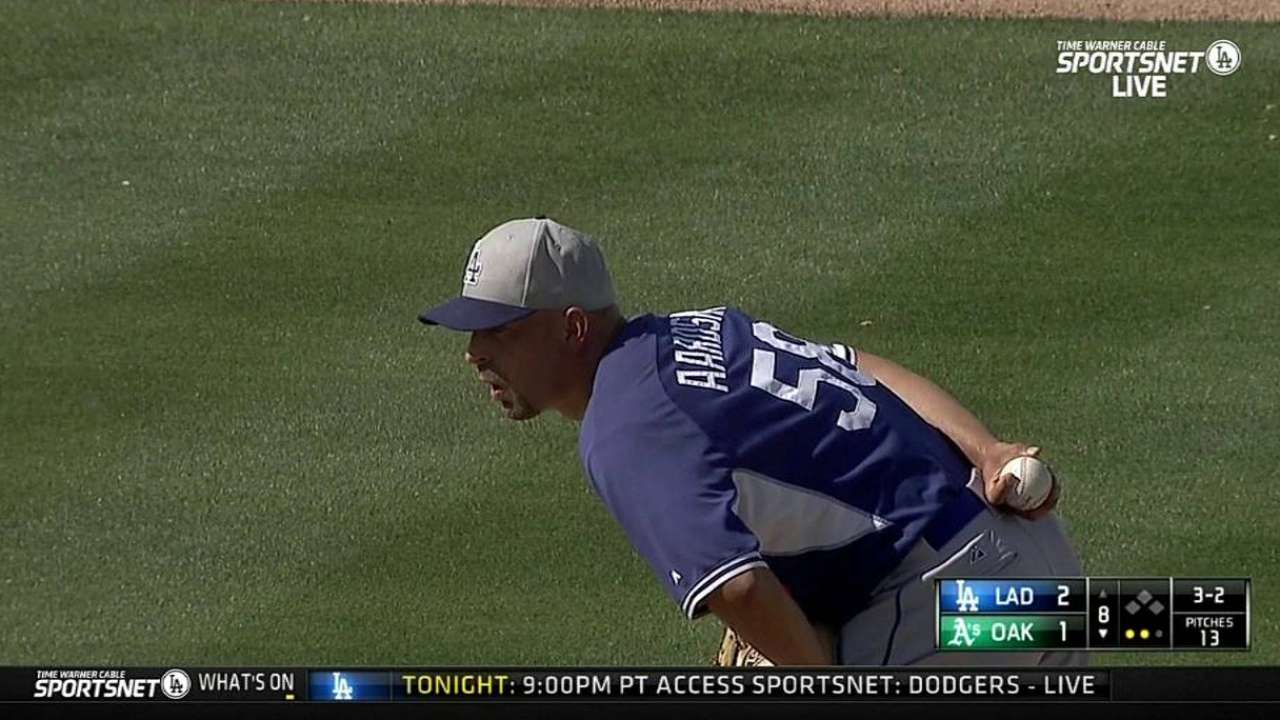 ATLANTA -- Three days after signing a Minor League contract, veteran right-hander David Aardsma joined the Braves clubhouse Tuesday, in time for the second matchup of a four-game series with the Padres -- just one night after a blown save from the bullpen.
He made his Braves debut in relief of starter Mike Foltynewicz, recording the final out of the sixth inning of Tuesday's 6-5 win over the Padres.
"I'm really excited to be here," Aardsma said in the Braves clubhouse before Tuesday's game. "It's been a while, been a lot of hard work. Just really happy to be here."
Cody Martin was optioned to Triple-A Gwinnett after surrendering a pair of 11th-inning runs in Monday night's 5-3 loss to the Padres.
Before opting out of his Minor League deal with the Dodgers last week, Aardsma had posted a 2.41 ERA and limited opponents to a .176 batting average in 18 2/3 innings for Triple-A Oklahoma City. Right-handers batted .220 (9-for-41) against him and left-handers produced a .111 (3-for-27) batting average.
Aardsma said that after getting injured last season, he changed a lot in his routine and adjusted his mechanics, which included driving off the mound differently.
"I felt like I had a great Spring Training [with the Dodgers], continued that in [Triple-A] Oklahoma City, got in position to be successful," Aardsma said. "[My] stuff's definitely better this year. … There's definitely room to grow there though.
"I know sometimes now when I'm doing things right, when I'm doing them wrong, and it's definitely a good feeling."
Braves manager Fredi Gonzalez acknowledged that it's been a while since Aardsma has pitched in the Majors (2013) but praised the big league experience that he brings, as well as the success he's had this year in the Minors.
"Here's a guy that, you put him in the right situation and I think he can help us," Gonzalez said.
Aardsma has not pitched in the Majors since 2013. The 33-year-old reliever has a 4.23 ERA over 298 appearances.
The Braves' bullpen entered Tuesday with a Major League-high 4.90 ERA this season. Most of the damage has been incurred over the past two weeks. Atlanta's relievers have compiled a 7.82 ERA over the past 14 games.
Carlos Collazo is an associate reporter for MLB.com. This story was not subject to the approval of Major League Baseball or its clubs.