Angels 'elated' to get catcher Ward in Draft
Fresno State product is first backstop drafted in 1st round by Halos since 2006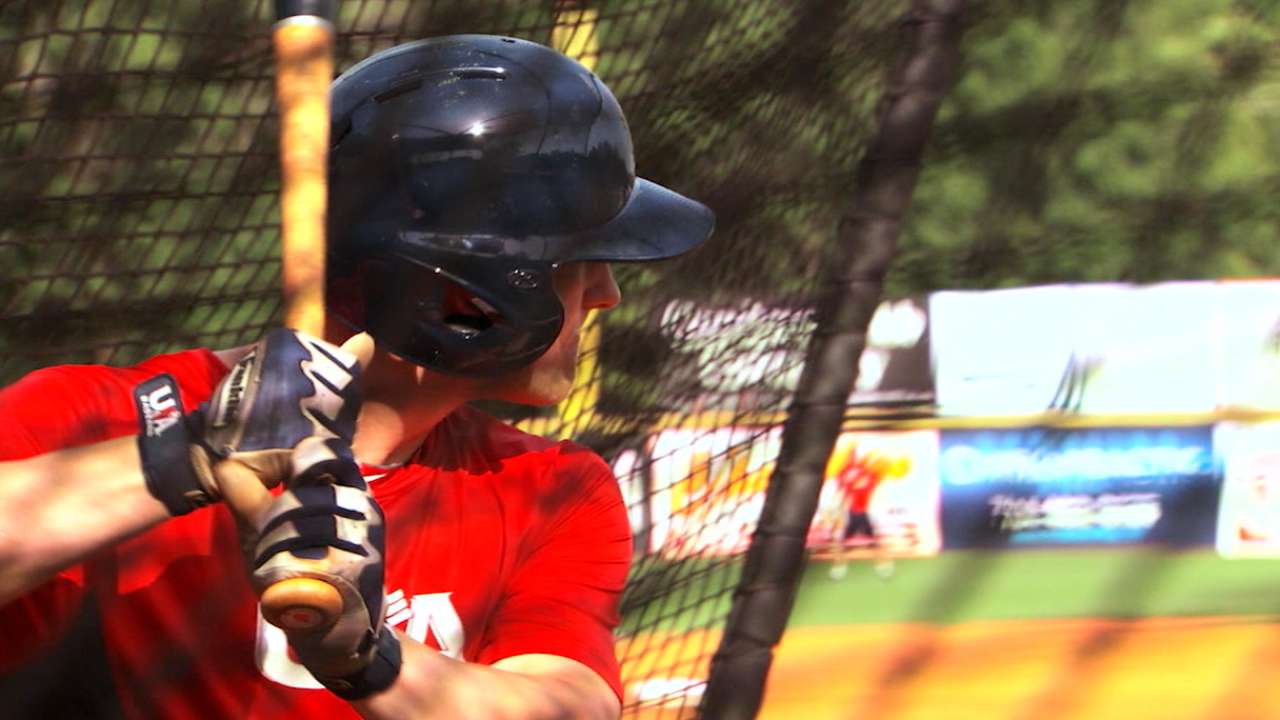 ANAHEIM -- The Orioles had just announced the 25th overall pick Monday and the MLB Network cameras immediately cut to a large gathering of Angels executives and scouts who were suddenly on the clock. Jubilation quickly filled the room. Arms were thrust in the air, high-fives were dispersed and a smattering of applause could be heard because one of the Angels' prime targets, Fresno State catcher Taylor Ward, had fallen into their laps.
"As the day unwound, we were getting indications that he might go a few picks in front of us to a few teams," Angels scouting director Ric Wilson said on a conference call. "When Baltimore took their pick, obviously we had ours, and that's what you saw. What we were trying to do was coming to light."
The Angels wanted Ward, so they took him 26th overall, higher than any catcher they've selected in nine years and higher than any Draft experts expected. MLB.com ranked Ward 99th overall and fifth among catchers heading into the Draft, but the Angels were a lot higher on him than that.
"It doesn't bother me where other people have him," Wilson said of Ward, a junior who previously attended Shadow Hills High School in Indio, Calif. "They have no idea what our dynamics are, and everybody sees people differently. Without being inside and knowing what we're trying to do, it's easy to say things like that. But we're more than happy, actually elated, to have Taylor."
Later in the day, the Angels took speedy, athletic high school outfielder Jahmai Jones with their second-round pick, 70th overall. The Draft continues with Rounds 3-10 on Tuesday, with the MLB.com preview show starting at 9:30 a.m. PT and exclusive coverage of Rounds 3-10 beginning at 10 a.m.
Ward is the seventh catcher the Angels have taken in the first round, joining Hank Conger (25th overall in 2006), Jeff Mathis (33rd, '01), John Orton (25th, 1987), Erik Pappas (sixth, '84), Danny Godwin (first, '75) and Mike Nunn (ninth, '67).
The slot value for the Angels' first-round pick is $2,034,500, and Ward said he's "very motivated to get going" with the Angels.
"I am surprised," Ward said of getting picked so high. "There were indications that it was going to be right in that area. Teams were in need of a catcher and the Angels were a team for me. I'm glad that they took me."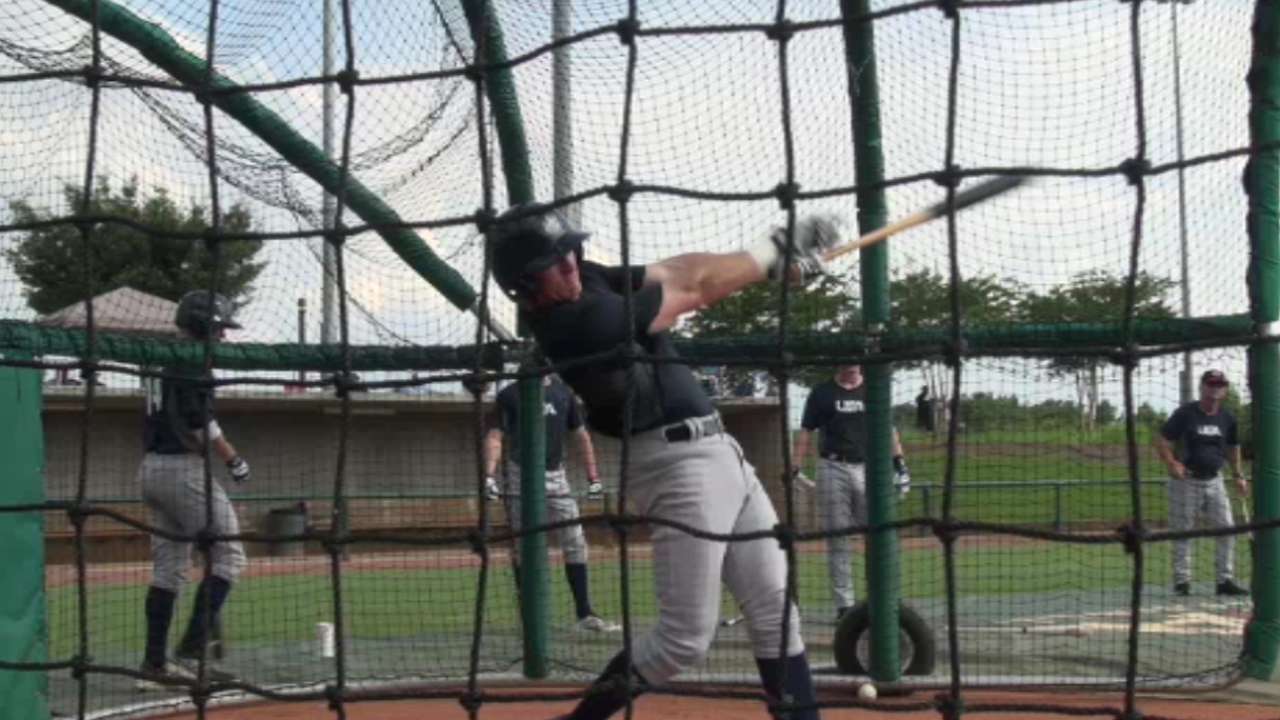 Wilson projects Ward to be ready by 2018 and believes he can be "a .250, .255 hitter, maybe 12- to 15-homer type."
Defense is his biggest strength, offense is his greatest question.
"He's got good size to him, he's durable, he's a got a well-above-average arm," Wilson said. "He can really, really throw. When it's all said and done, he's going to be a premium defender; he's going to be able to shut down the running game. He controls the staff, and he's got some strength in his swing and controls the strike zone."
Ward, 21, batted .304/.413/.486 with seven homers and 42 RBIs while throwing out 56.6 percent of would-be basestealers (13 of 23) and starting all 59 games this past season. For his three-year career at Fresno State, the 6-foot-1, 190-pound right-handed hitter batted .288 with 16 homers and 98 RBIs in 162 games, while throwing out 60 percent of would-be basestealers.
Ward was born in Dayton, Ohio, and resides in Oviedo, Fla. He led his high school team to a 20-5 record as a senior, was named the De Anza League's Most Valuable Player as a junior and became the first athlete in Shadow Hills history to receive a Division I scholarship.
The Rays initially drafted Ward in the 31st round in 2012.
Catchers projected ahead of Ward by MLB.com this year were Tyler Stephenson of Kennesaw Mountain High School (ranked 18th), Chris Betts of Wilson High School (25th), Lucas Herbert of San Clemente High School (69th) and Austin Rei from the University of Washington (87th). Stephenson was taken 11th overall by the Reds, but Betts, Herbert and Rei were still on the board when the Angels drafted.
MLB.com's Draft experts describe Ward as "primarily a catch-and-throw guy" with "tremendous arm strength," though his other defensive skills are still lagging behind. Ward "has the tools to be a quality all-around receiver," MLB.com's Draft experts say, but the question is whether he'll hit enough.
The Angels seemingly believe so.
Alden Gonzalez is a reporter for MLB.com. Read his blog, Gonzo and "The Show", follow him on Twitter @Alden_Gonzalez and listen to his podcast. This story was not subject to the approval of Major League Baseball or its clubs.