Indians select McKenzie with 42nd overall pick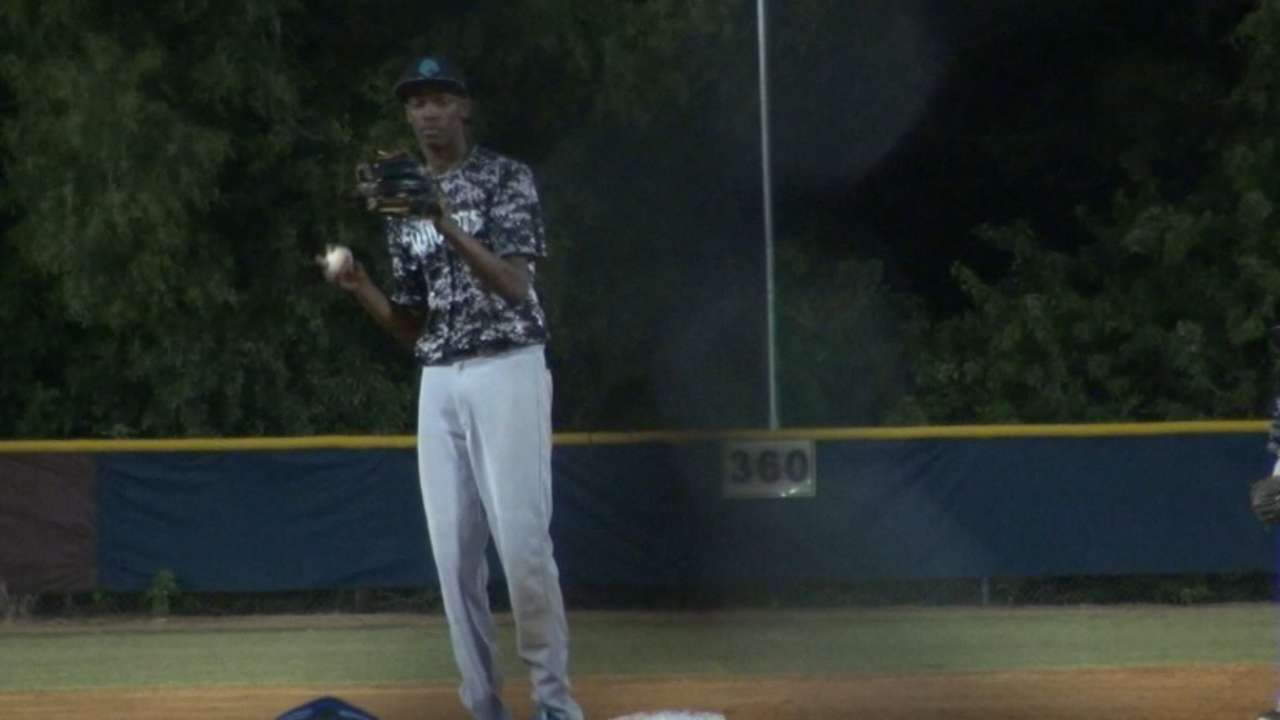 CLEVELAND -- The Indians selected right-handed starter Triston McKenzie with the 42nd overall pick of the Draft on Monday night, the final selection of the Competitive Balance A round.
McKenzie was ranked as the 53rd overall prospect in this year's Draft, according to MLB Pipeline, and had committed to pitch for Vanderbilt.
Standing at 6-foot-5 and just 160 pounds, McKenzie has a very thin frame, but he is also one of the youngest players in the Draft at just 17 years old. His fastball currently sits between 89-92 mph, though scouts believe he can add velocity once his frame fills out.
"We see potential definitely in Triston's frame," said Brad Grant, the Indians' director of amateur scouting. "We feel he has a chance to get stronger. We did a lot of work on him and went through a lot to try to get to know him and learn about him as much as we possibly can. We do feel we have the opportunity to get him stronger and have him throw harder."
Prior to picking McKenzie in the Completive Balance A round, Cleveland selected lefty Brady Aiken with the 17th overall pick in the first round. With the 59th overall pick (second round), the Indians selected left-hander Juan Hillman from Olympia High School in Florida.
The Draft will continue on Tuesday with Rounds 3-10. The MLB.com preview show begins at 12:30 p.m. ET, with exclusive coverage of those rounds beginning at 1 p.m.
As a senior at Royal Palm Beach High School in Florida, McKenzie compiled a 9-5 record with a 0.79 ERA, striking out 157 batters in 91 innings and walking just 16. He led his school to the Class 7A state tournament for the first time since 2000, throwing five complete games in the tournament and allowing just four runs.
Scouts say McKenzie has "easy arm action" and "advanced feel" for a high school pitcher and contains considerable upside. He flashes a plus breaking ball with good depth and has a changeup that can serve as an effective third pitch, with good enough command to stick as a starter.
"He's got a lot of upside to him," Grant said. "It's a tall, thin-framed -- 6-foot-5, 160 pounds -- but what we like with Triston is it's a fastball that's up to 93. He's another one who can spin a curveball. A guy with a good feel for a change. And Triston, as well, throws a lot of strikes and has a very good delivery."
August Fagerstrom is an associate reporter for MLB.com. This story was not subject to the approval of Major League Baseball or its clubs.