Dodgers host future talents in Pitch, Hit & Run competition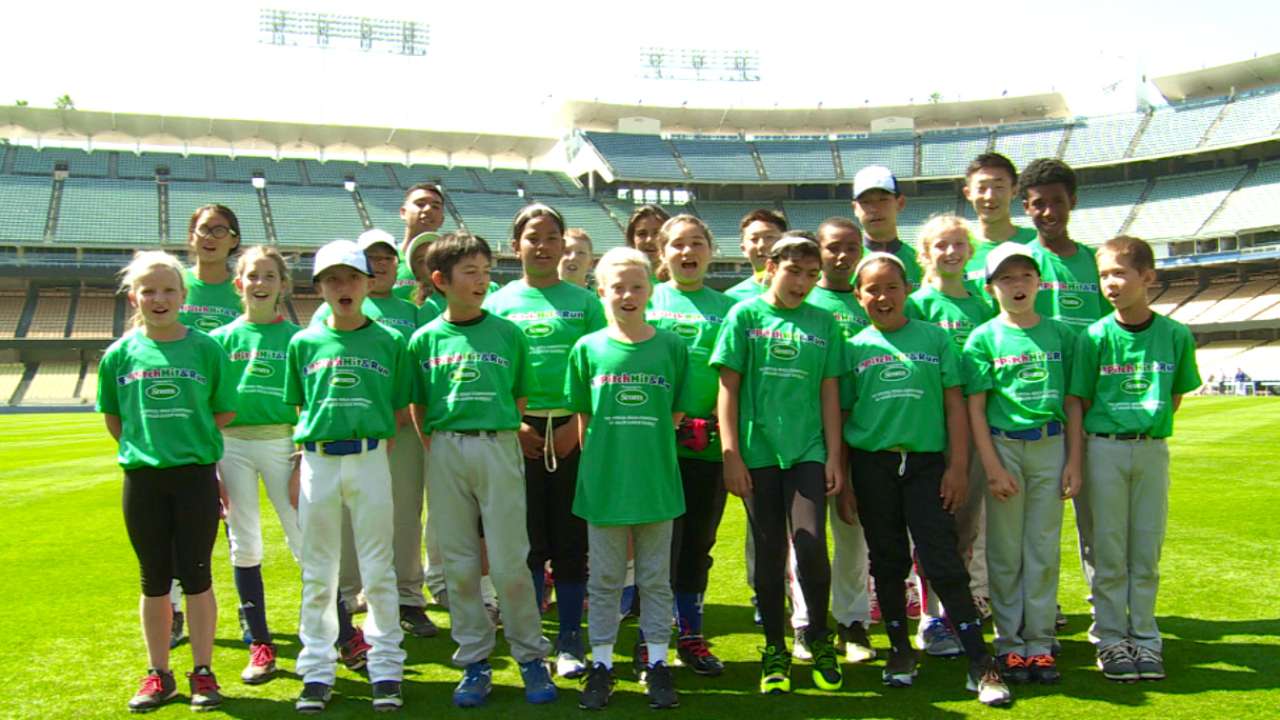 LOS ANGELES -- For the third straight year, Jaden Lyburtus was the cream of the crop at Major League Baseball's Pitch, Hit & Run Presented by Scotts on Sunday morning at Dodger Stadium.
Lyburtus, already 6-foot-1, was the champion of the 13-14 year old division for the third straight year and he made it to the National Finals as a 12-year-old two years ago.
"It's awesome," Lyburtus said of the event. "Just to think all the work they put into this field, all the people that have been on this field, it's really cool."
The Pitch, Hit & Run competition is a free one-day event for kids ages 7-14. Throughout the month of June, all 30 teams will host one-day competitions. Participants who are in the top three of their age and gender groups will advance to the National Finals, which is hosted in Cincinnati and held during the MLB All-Star Week.
The national finalists will be announced on MLB Network on June 28.
The event gave 24 kids the chance to be on the same field as the pros, and for Dodgers fan Samantha Noriega, coming to the games as a fan doesn't compare to actually being on the field.
"It's really big," she said.
The PHR is an individual competition, but that didn't stop some friendly rivalry between siblings. Brendan and Jordan Kang, from Porter Ranch, California, are in their second straight year in the competition. Brendan bested Jordan last year in the 11-12 year-old division, but the two were in different age groups this year.
"We motivated each other and there's always competition in trying to get better," Brendan said.
There's friendly competition but the brothers are each other's biggest fans. After Jordan launched a deep fly ball that elicited "oohs" and "aahs" from some of his peers, the two had matched toothy grins and exchanged a quick high-five. Scoring is based on three categories: accuracy in hitting the strike zone with six pitches, hitting off a tee to center field -- measured for distance and accuracy -- and a timed sprint from second base to home plate.
To get this far, competitors had to advance through local and sectional competitions.
While it's symbolic to say these athletes have made it far in the event, one athlete literally came from far away. Myra Langrine traveled all the way from Wahiawa, Hawaii, to compete.
Here's the full list of winners from Sunday's competition:
7-8 boys: Derek Hughes
7-8 girls: Summer Melena
9-10 boys: Anthony Eyanson
9-10 girls: Jenna Mulligan
11-12 boys: Jordan Kang
11-12 girls: Holly Misley
13-14 boys: Jaden Lyburtus
13-14 girls: Samantha Noriega
Steve Bourbon is an associate reporter for MLB.com. This story was not subject to the approval of Major League Baseball or its clubs.