Montgomery fills in admirably for ailing rotation
Mariners rookie turns in quality starts in his first two outings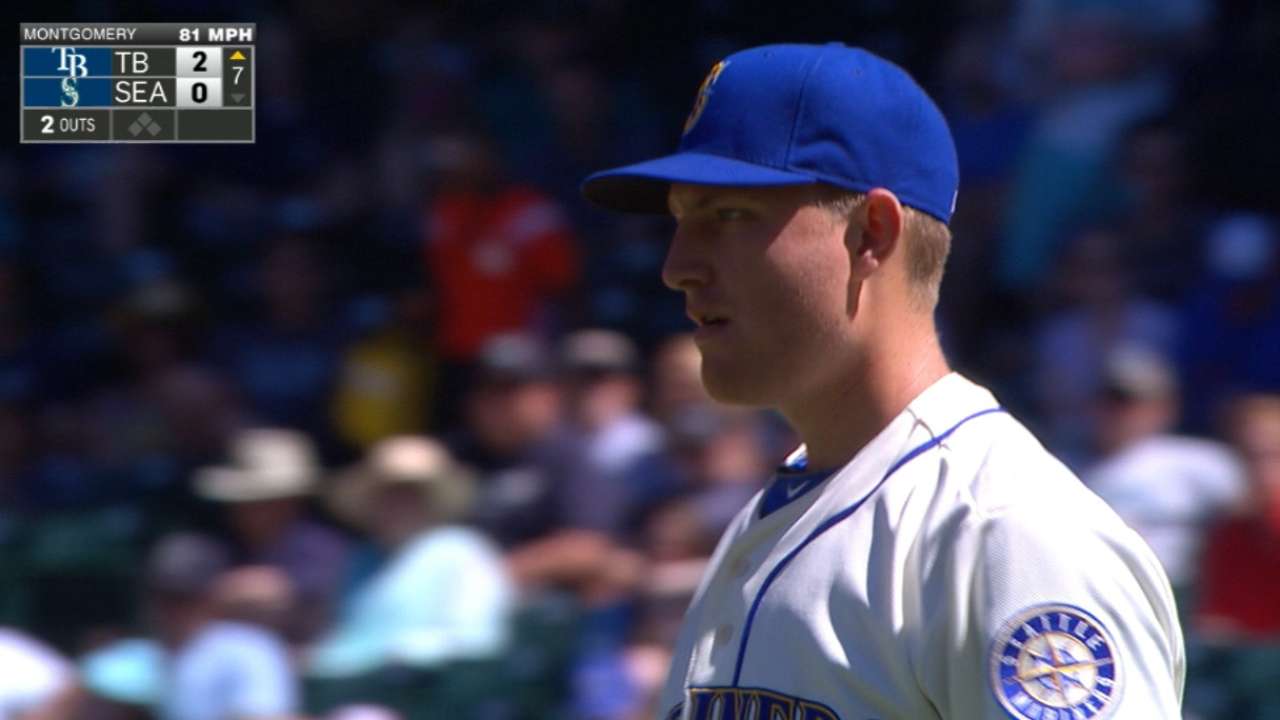 SEATTLE -- When left-hander James Paxton was placed on the 15-day disabled list in late May with a strained tendon in the middle finger of his throwing hand, the Mariners starting rotation -- an expected strength -- appeared in trouble.
Paxton had emerged as a top starter behind Felix Hernandez. Right-hander Hisashi Iwakuma was out with a strained right lat. There wasn't a starter in Triple-A Tacoma that appeared ready to make an abrupt jump to the Major Leagues. Yet, left-hander Mike Montgomery again pitched well Sunday, allowing two runs on five hits and a walk over a career-high seven innings in a 3-1 loss to the Tampa Bay Rays at Safeco Field.
Making his second big league start in place of Paxton, only an RBI single from Logan Forsythe in the first inning and a solo home run from Mikie Mahtook in the seventh sullied his final line.
"I'm not sure if he was overhyped or what, but the fastball command just wasn't there in that first inning," manager Lloyd McClendon said afterward. "I think once he got his juices flowing he started throwing the ball a lot better."
He retired 11 straight batters at one point.
"I thought he settled down and threw the ball pretty good," McClendon said. "The changeup came around, the breaking ball came around. He was in and out with the fastball. I was very pleased with his outing."
Montgomery, a former prospect with the Rays, admitted he didn't have his best stuff Sunday. There was also the added pressure of facing the organization that traded him to the Mariners on March 31, in exchange for right-hander Erasmo Ramirez. Montgomery pitched for the Triple-A Durham Bulls in 2013-14, posting a 17-13 mark, then spent this past Spring Training with the Rays before the deal.
"Maybe a little bit," he said if he was overhyped to face Tampa Bay. "It was more I was just rushing a little bit. I knew I had to battle to find the zone and get ahead of hitters. It was kind of a battle the whole game and I just wanted to go out there and get ahead of guys and give up the least amount of runs as possible."
The loss dropped Montgomery to 0-1 (2.08 ERA) after he allowed one run in six innings against the Yankees earlier this week. Granted, he was in line to pick up the win in that one before Fernando Rodney surrendered a lead in the ninth, and the Mariners went on to lose in 11 innings. But Montgomery, 25, is the sixth Mariners rookie to start his career with two starts of six innings or more while giving up two runs or fewer. Both outings qualified as quality starts.
He's also a big reason why Seattle's pitching staff continued to perform well after Paxton was lost to injury. Mariners' starters own a 1.88 ERA in six starts since June 2.
Adam Lewis is a contributor to MLB.com. This story was not subject to the approval of Major League Baseball or its clubs.