Archer sets record for three-start stretch
Rays pitcher has struck out 10-plus with no walks in trio of outings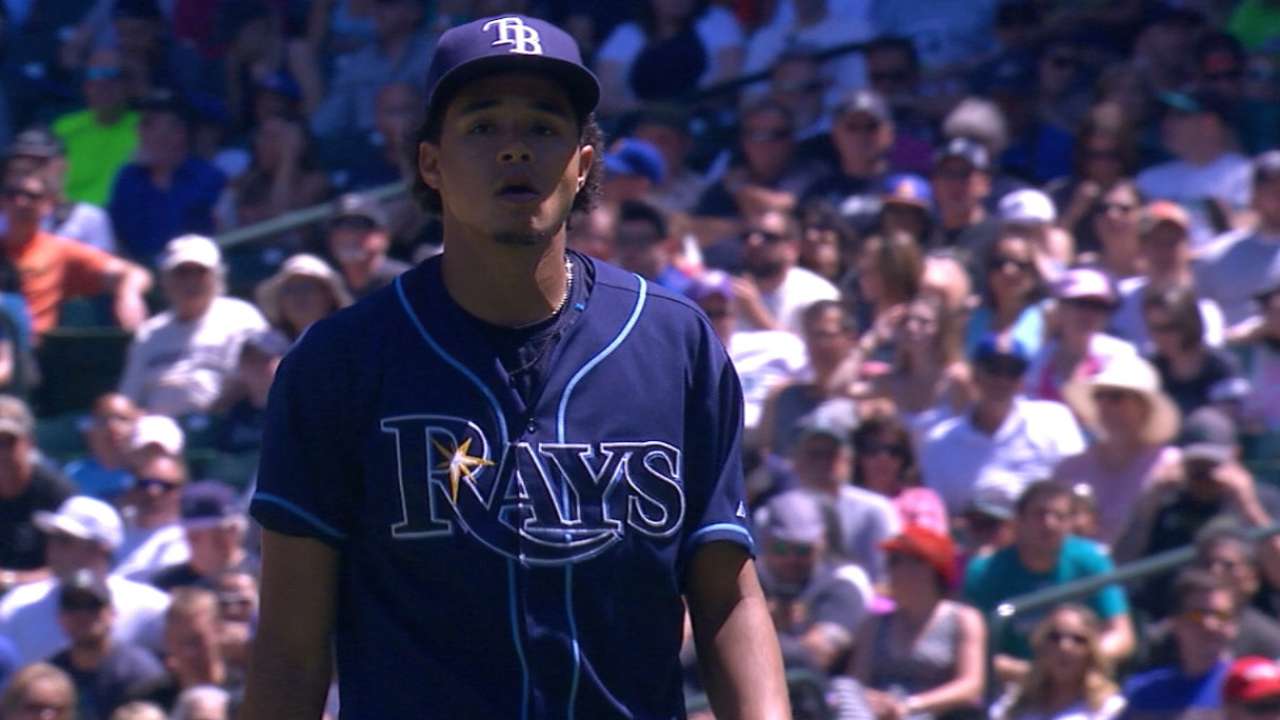 SEATTLE -- Chris Archer wore a T-shirt after Sunday's latest masterpiece. It said, "Make History." And he had just done that. Literally.
In the midst of a 3-1 victory over the Mariners -- in which the Rays closed out a 10-game road trip with seven wins, including three out of four in the weekend series -- Archer put up numbers never seen before and solidified a growing Cy Young Award bid.
The right-hander had come into the afternoon's gorgeous matinee at Safeco Field on a serious tear, having struck out 15 Angels in his previous start and 12 Mariners in the one before that, all without issuing a walk.
With 11 more strikeouts and no walks Sunday, Archer has become the first pitcher to record nine or more strikeouts without issuing a walk in three consecutive games in the modern era (1910). Another nugget: The 38 strikeouts is the most ever in a three-start stretch without a walk.
He also reached 100 strikeouts in a season faster than any pitcher in Rays history, doing it in 58 games and beating David Price's 100 in 60 games last year.
"I guess he's putting himself in his own class now," Rays manager Kevin Cash said. "Pretty impressive. Very impressive. He keeps giving us opportunities to win over and over again."
But Archer had to toil a bit for the spoils Sunday. Things might have looked effortless in the early stages of the game, with Archer retiring the first seven hitters, three via the strikeout, and briefly being interrupted by an infield single off the bat of Willie Bloomquist in the second, but he responded to any sign of adversity when he had to.
In the fourth inning, Seth Smith led off with a double and Nelson Cruz's infield hit pushed Smith to third. No problem for Archer, who struck out Kyle Seager and Mark Trumbo before helping orchestrate an inning-ending rundown pickoff of Cruz, who was trying to steal second base.
Archer went into grind-it-out mode after that, giving up a run in an extended seventh inning on a bloop single by Brad Miller, but finishing off his season-high 113-pitch effort by blowing away Bloomquist for his 11th strikeout.
"I think it's always impressive when you're basically forced to battle and grind it out," Cash said. "Not that pitching's ever easy, but when you're coasting and everything's clicking, that's one thing. When you have to suck it up a little bit and really make some pitches in tough situations in a tight ballgame, that's the most impressive part."
So where does he go from here? The Rays can't wait to find out. Archer can't either.
"It really shows you the power of your mind," Archer said. "The less you focus on things you can't control, a lot of time, the better the outcome is. I'm out there and I'm not thinking about strikeouts, even whenever I need a strikeout. I'm just trying to execute every pitch, and if you do that, then you simplify it to that, you start to do great things."
Doug Miller is a reporter for MLB.com. Follow him on Twitter @DougMillerMLB. This story was not subject to the approval of Major League Baseball or its clubs.