Tigers simplify approach for 2nd straight win
J.D. heeds Miggy's advice, slugs pivotal homer in Chicago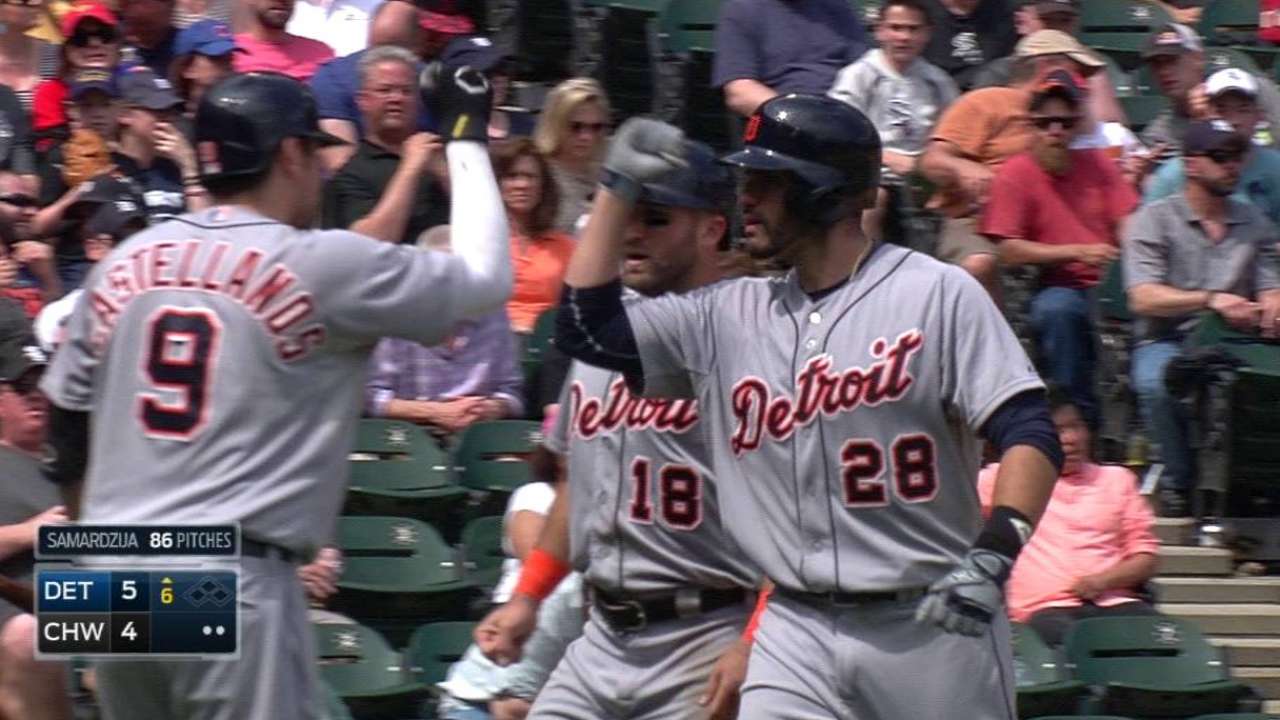 CHICAGO -- As strange as it may sound, part of the secret to the Tigers winning two straight following an eight-game losing streak was not thinking -- or more specifically, not overthinking.
That certainly seemed to be the case for one of the team's hitting stars in the 6-4 win over the White Sox on Sunday at U.S. Cellular Field. Right fielder J.D. Martinez shrugged off his recent struggles to go 2-for-4 with a home run and three RBIs.
"The last couple of days," manager Brad Ausmus said of Martinez, "he looked like he was taking the thought process out of it and just seeing it and hitting it."
Martinez, who has 10 homers this season, said he was helped by some simple advice from Tigers slugger Miguel Cabrera.
"Miggy kind of just told me, gave me a little tip, he said, 'Just have a little more rhythm,'" Martinez said. "Just something as small as that, as far as just try and think about the rhythm instead of my mechanics.
"I just let my body do what it does."
Not thinking certainly was a winning strategy for starter Alfredo Simon (6-3, 2.76 ERA), who didn't let a three-run homer in the first inning ruin his day.
With the Tigers holding a 1-0 lead, Simon appeared to get out of the first inning when he got Adam LaRoche to ground out to first base. The ball, though, bounced off Cabrera's glove for an error and put runners on first and second.
Avisail Garcia then made the error pay -- for Chicago, at least -- by cracking a three-run homer over the right-field fence for a 3-1 White Sox lead.
Instead of blaming his bad luck -- or Cabrera -- Simon put it out of his mind and continued to pitch.
"After that, I know it's early in the game and I just try to put us through in the game," Simon said. "I just tried to be aggressive. Everything worked well today."
It certainly did. Despite the rough beginning -- he also gave up a run in the second -- Simon completed eight innings, allowing just five hits. Only one of the four runs was earned.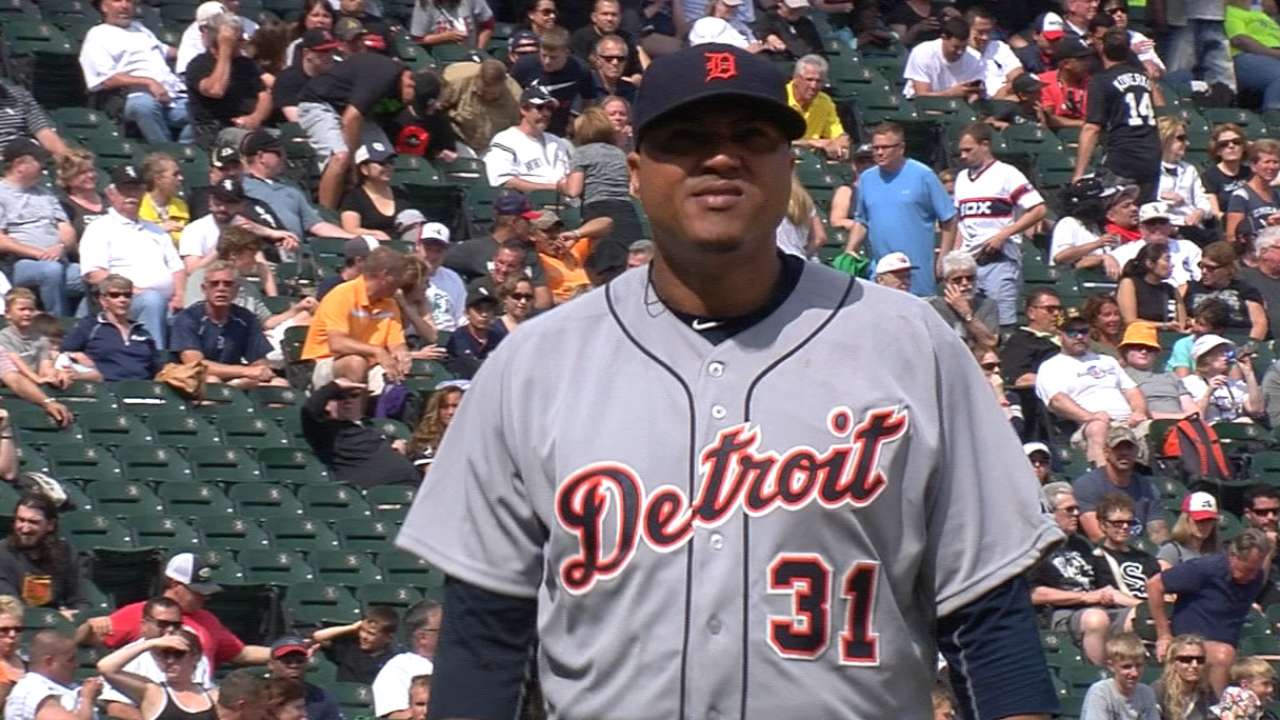 "You certainly don't want to see an error lead to a three-run home run," Ausmus said, "but it's a team game and, despite the fact that Simon gave up that home run, he hung around for eight innings after that and kept them scoring only one run the rest of the way."
Trailing, 4-2, the offense turned around the game in the sixth inning -- following what could have been a spirit-busting double play. Ian Kinsler led off with a single, but Cabrera followed with a grounder to short that became an easy double play.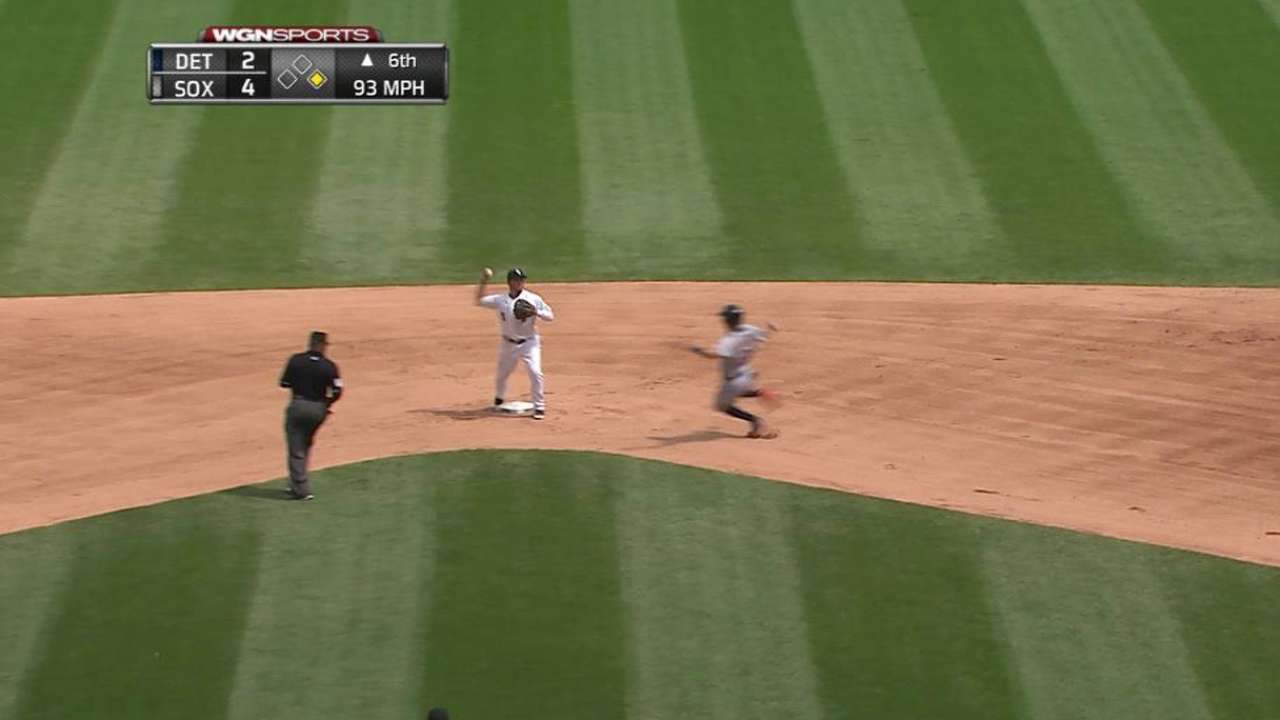 Instead of focusing on the negative, Yoenis Cespedes started a new rally with a solo homer to cut the deficit to one run. Tyler Collins kept the inning going with a single and Martinez followed with a two-run blast to center field to put the Tigers on top, 5-4.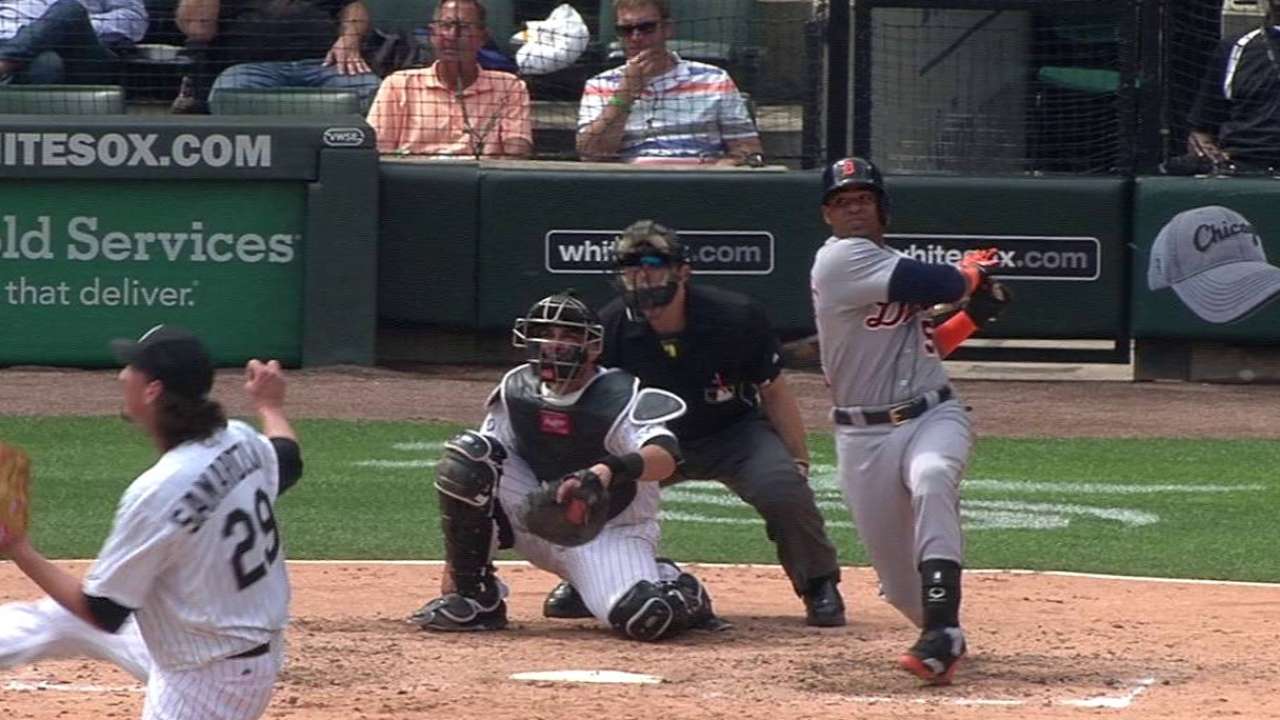 "I don't know if we're over the hump, but it feels a lot better than it did a few days ago," Ausmus said. "We had some two-out RBIs. The last two days we've scored runs with two outs, which we haven't done in recent times."
At 30-28, the Tigers sit in third place in the American League Central, but the players are confident they won't be there for long.
"It's one of those things that right now I think there's too much talent in this clubhouse for this to be our team," Martinez said. "We're just going to ride through it. I think this series was a good sign for us. We were able to have fun and play loose.
"Unfortunately, we have an off-day [Monday]. I kind of wish we were playing."
John Jackson is a contributor to MLB.com. This story was not subject to the approval of Major League Baseball or its clubs.