MLB.com Columnist
Lyle Spencer
Cards are most complete team in baseball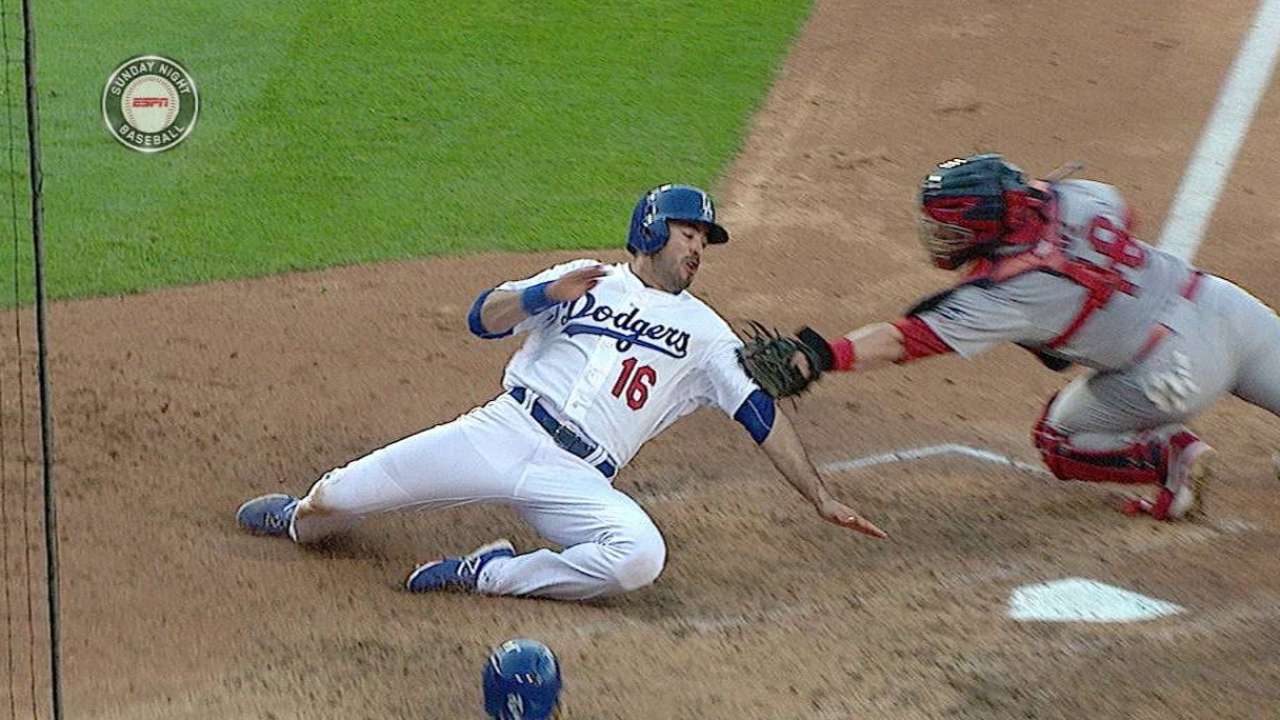 LOS ANGELES -- The Cardinals were the best team in baseball when they arrived at Dodger Stadium on Thursday, and they were the best by an even more substantial margin late Sunday as they headed for Coors Field in Denver, a mile high.
Taking three of four games from the Dodgers, culminating in Sunday's rousing 4-2 decision with a three-run eighth inning, the Redbirds put it all on display, the whole, impressive package of goods.
Dynamic pitching performances were aided by airtight defense, and the offense came alive when it mattered. It's a formula that has carried the Cards to eight postseason appearances in the past 11 seasons, and it seems destined to work seamlessly again in 2015.
There is no LeBron James on this team, no Tom Brady. No superstar is needed to grab the wheel. The machine just hums right along. The Cards, who lead the National League Central by 6 1/2 games with their 38-19 record and .667 winning percentage, acknowledge that Yadier Molina is their indispensable leader. But they will tell you that it's a democracy here; every player, like every vote, counts.
"They're all content to do their part," Cards manager Mike Matheny said.
Seemingly each day brings forward a new candidate to make a difference. Sunday's headliner was shortstop Jhonny Peralta, who banged a homer, double and single in yet another All-Star performance.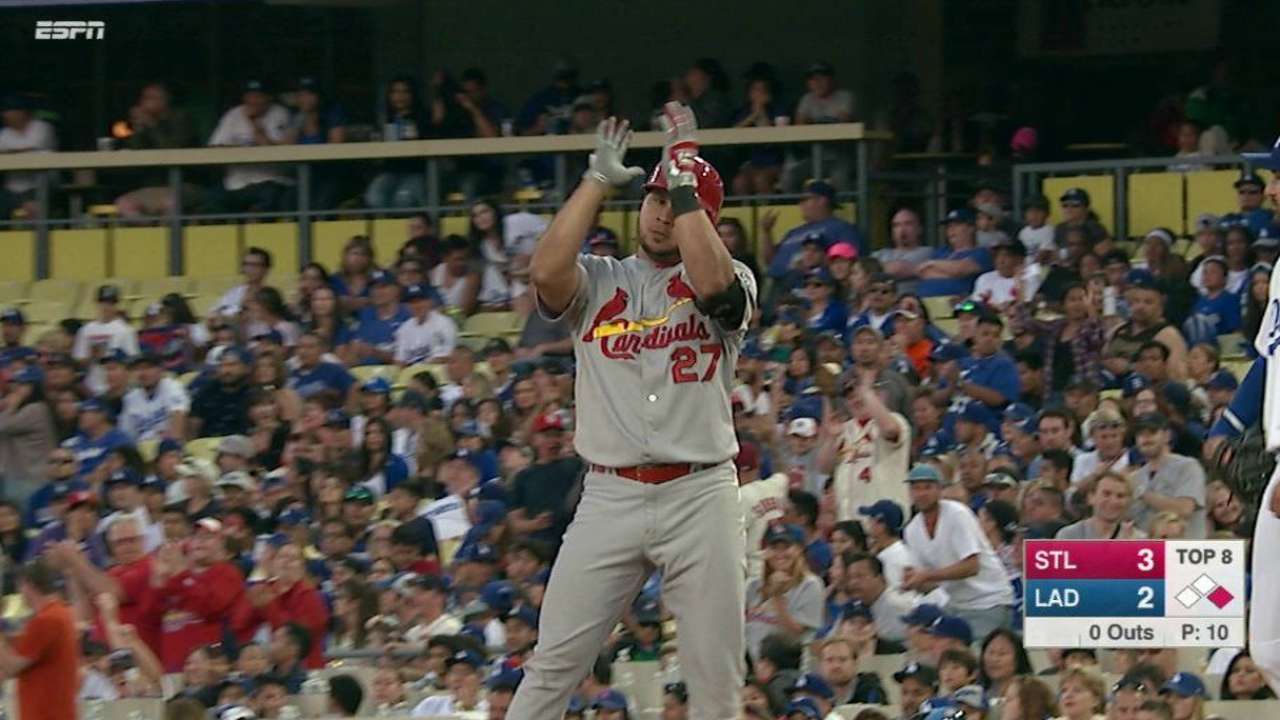 Starter Lance Lynn kept his team in the game for five innings against a brilliant Zack Greinke before turning it over to a lights-out bullpen. Matt Holliday and Mark Reynolds delivered clutch doubles in the eighth against the Dodgers' bullpen. And then there was The Throw.
Jason Heyward, widely considered the sport's premier right fielder, stunned a crowd of 41,500 in the sixth inning. The Dodgers, clinging to a 2-1 lead after Peralta's homer in the top half ended Greinke's shutout bid, were poised to add a big insurance run when Jimmy Rollins whistled a two-out single to right with Andre Ethier at second.
On the move, Heyward unleashed a laser -- it looked like a 95 mph fastball -- that backup catcher Tony Cruz gloved, whirling to apply a sweeping tag on Ethier.
"I still haven't seen anything," said Heyward, whose view was the worst in the house. "I felt like I had some good momentum and got a good throw off. After I released it, I was down on the ground."
Teammates were happy to supply the details.
Heyward, who came to the Cardinals from the Braves over the winter in exchange for young starter Shelby Miller, knew his new team was good. He's finding out how good on a regular basis.
"It's just complete -- a complete team," Heyward said. "It's a team of different guys who can do different things, very flexible. We have a similar mindset for our at-bats. We grind it out and come up with the big hit, a single, walk, whatever is needed.
"We don't have time to pout or feel bad about an at-bat. Until that last out is made, you feel you have a chance to win here. It definitely takes a team effort -- especially in a game that was close, like this one. Everybody's got to do their thing and stay in tune in the dugout to what's going on."
The Dodgers won't see the Cards again unless they meet in a third consecutive October showdown, hoping to end the St. Louis chokehold. The Cards claimed the season series for the first time since 2010 by taking five of seven.
It took a vintage Clayton Kershaw effort on Saturday night for the NL West leaders to avoid a four-game sweep. Greinke was almost as good as his co-ace in the finale, but the Cards put together enough of those grinding at-bats to send him off with 99 pitches after 6 2/3 innings.
"I looked up in the third inning and he already had close to 50 pitches," said center fielder Peter Bourjos, whose sensational running catch in deep right-center robbed Rollins for the final out. "I never feel like we panic -- even when we're down four or five runs. We just put together good at-bats and grind it out.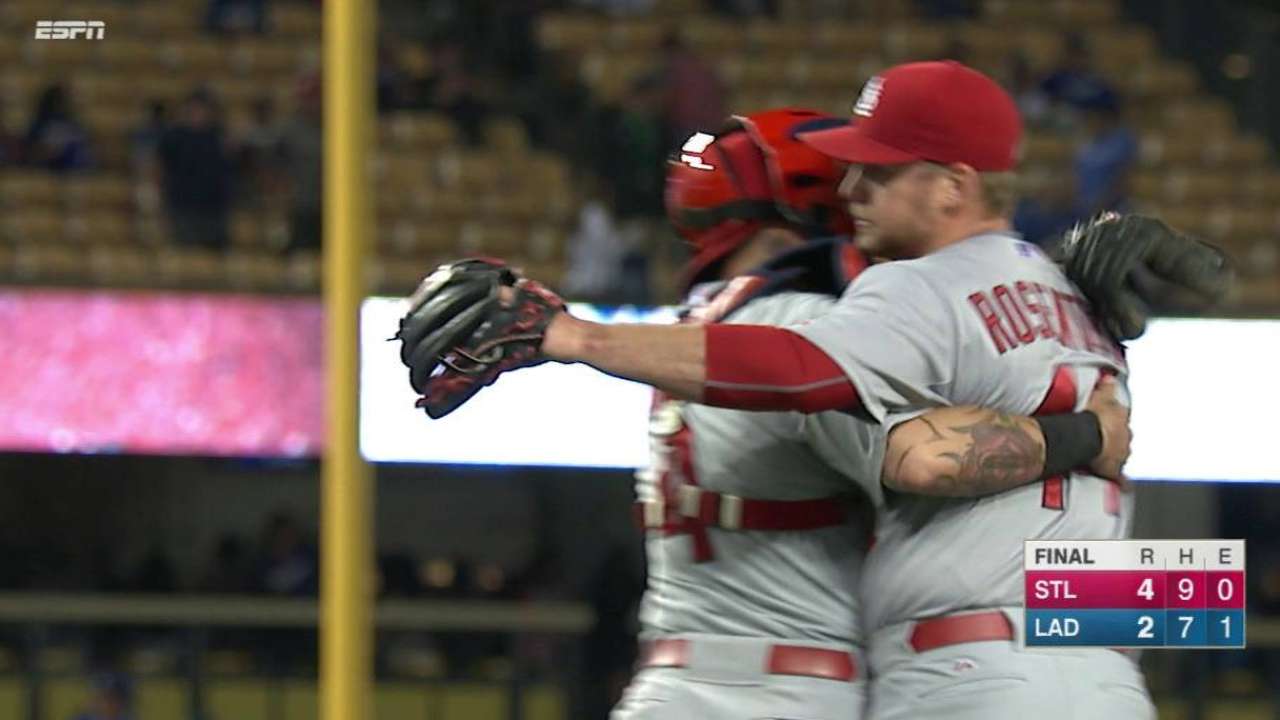 "Kershaw was unbelievable. Anytime you face Kershaw and Greinke and you can split, you feel pretty good about it."
A duel of bullpens belonged to Matheny's Redbirds, with Trevor Rosenthal notching his 19th save in 20 chances and lefty Kevin Siegrist seizing the win after striking out the side in the seventh.
Having already lost ace Adam Wainwright and stout first baseman Matt Adams, the resilient Redbirds forge ahead, sustaining their winning habit by doing the right thing at the right moment more often than anybody else.
"When somebody goes down -- and it's almost inevitable in this game -- somebody else has to step up," Matheny said. "Just keep doing your part. Don't think this is an irreplaceable piece, or that is. Guys have stayed the course. Just keep playing the game."
Superstars are nice to have. But in this sport, you can celebrate without them.
Lyle Spencer is a national reporter and columnist for MLB.com. Follow him on Twitter @LyleMSpencer. This story was not subject to the approval of Major League Baseball or its clubs.