Cards' offense again strikes late for win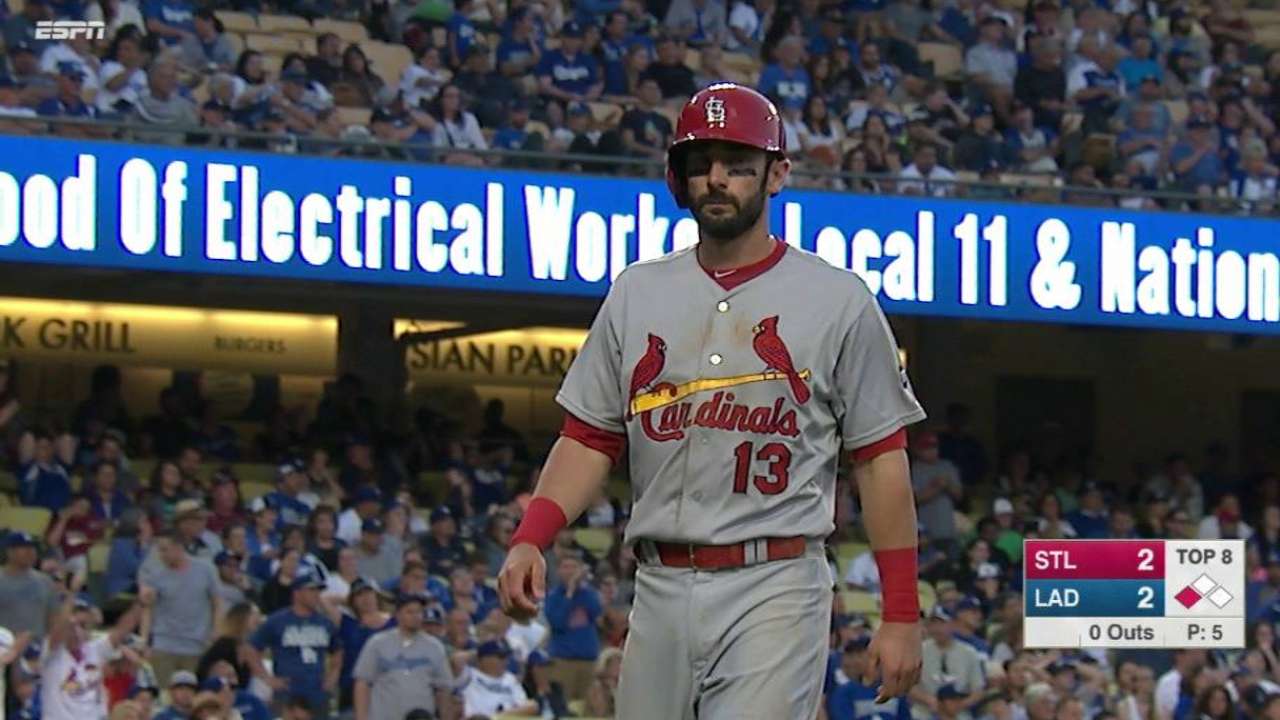 LOS ANGELES -- Two days after manufacturing an eighth-inning rally with sacrifices and infield hits, the Cardinals struck in the same inning Sunday, but with a little more oomph this time around.
Limited to one run over Zack Greinke's 6 2/3-inning start, the Cardinals found some traction -- and extra-base hits -- during a three-run eighth. The burst of offense lifted the club to a 4-2 win over the Dodgers, who dropped five of seven games to the Cardinals over the last 10 days.
"We did a good job of coming in, staying patient and playing every game through to the end," outfielder Jason Heyward said afterward. "That's kind of how the series went -- just wait on which pitchers would crack first. I felt like until tonight, there weren't a whole lot of hard-hit balls in the series. Not to say we had a whole lot today -- they came from one person, [Jhonny Peralta]."
The eighth inning continues to be one of the most productive for the Cardinals, who have scored 33 runs in the frame this year. Their only higher-yield frame has been the first, in which they've scored 38. That ability to score late has helped the Cardinals to five wins when trailing after seven innings. Last season, the club had just three such victories.
In this case, the Cardinals were aided by their ability to elevate Greinke's pitch count early so they could get into the bullpen.
"It's what we talk about with those relentless at-bats," manager Mike Matheny said. "If they keep going about it like that, I don't think we're ever going to be out of a game."
While Yasiel Puig's misplay in the right-field corner helped expedite the Cardinals' go-ahead rally, an offense that has been recently stagnant did plenty on its own end. Matt Holliday followed a leadoff walk with a double that rolled around the right-field corner as Puig gave chase. An RBI single by Peralta then gave St. Louis its first lead, and a run-scoring double from Mark Reynolds padded it.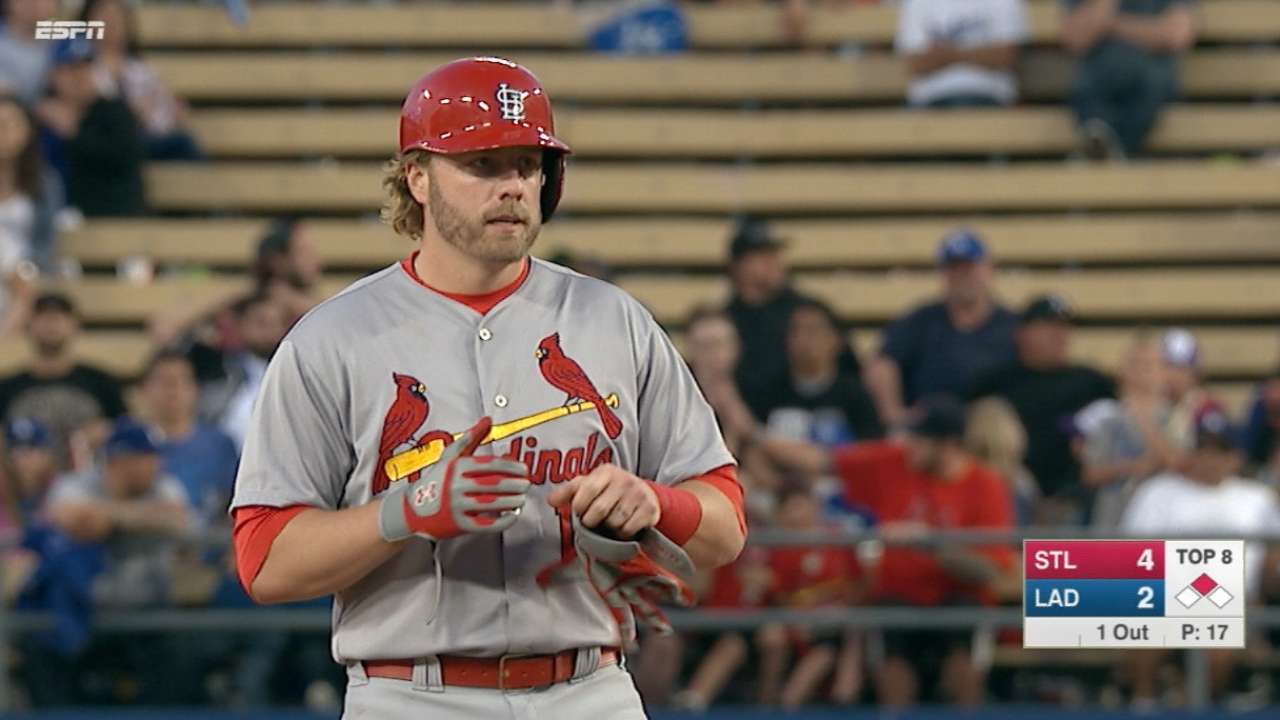 Reynolds' extra-base hit was the team's fifth of the night, equaling the Cardinals' total from the first six games of the month. In fact, until Peralta's solo homer in the sixth, the club hadn't had a home run since May. A run of 225 at-bats passed between those blasts, both from Peralta, who leads the team with nine home runs.
"I think what I'm doing right now is helping us win a lot of games," Peralta said. "I know that they have been looking for a shortstop to contribute for a long time. I'm here for that."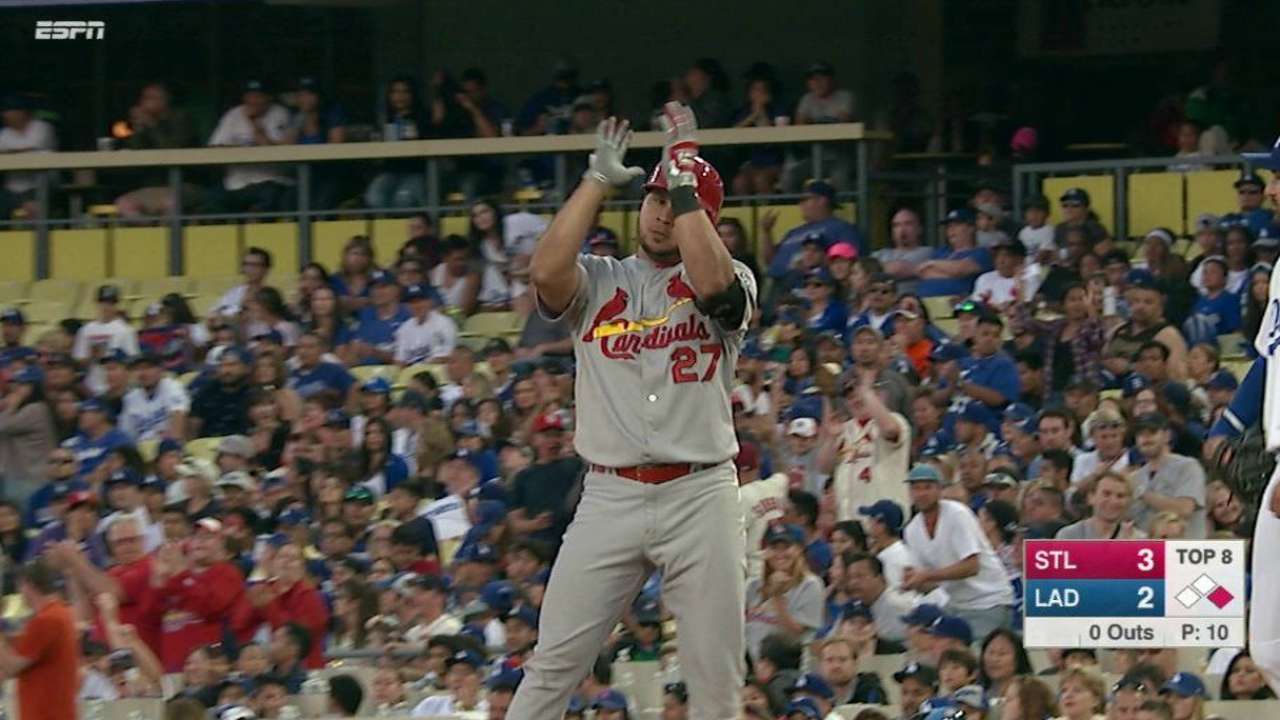 In the seven-game season series against the Dodgers, Peralta finished 11-for-25 with three doubles, two homers and eight RBIs.
"I think he's doing everything really well," Matheny said. "Last year, I think he blew us away with the consistency of his defense. But just the ability to get the big hit this year. We've been firing him into the cleanup spot, and he's been there, he's been third, and he's fit wherever we have put him."
Jenifer Langosch is a reporter for MLB.com. Read her blog, By Gosh, It's Langosch, follow her on Twitter @LangoschMLB and like her Facebook page Jenifer Langosch for Cardinals.com. This story was not subject to the approval of Major League Baseball or its clubs.