Carpenter: Kershaw didn't hit me on purpose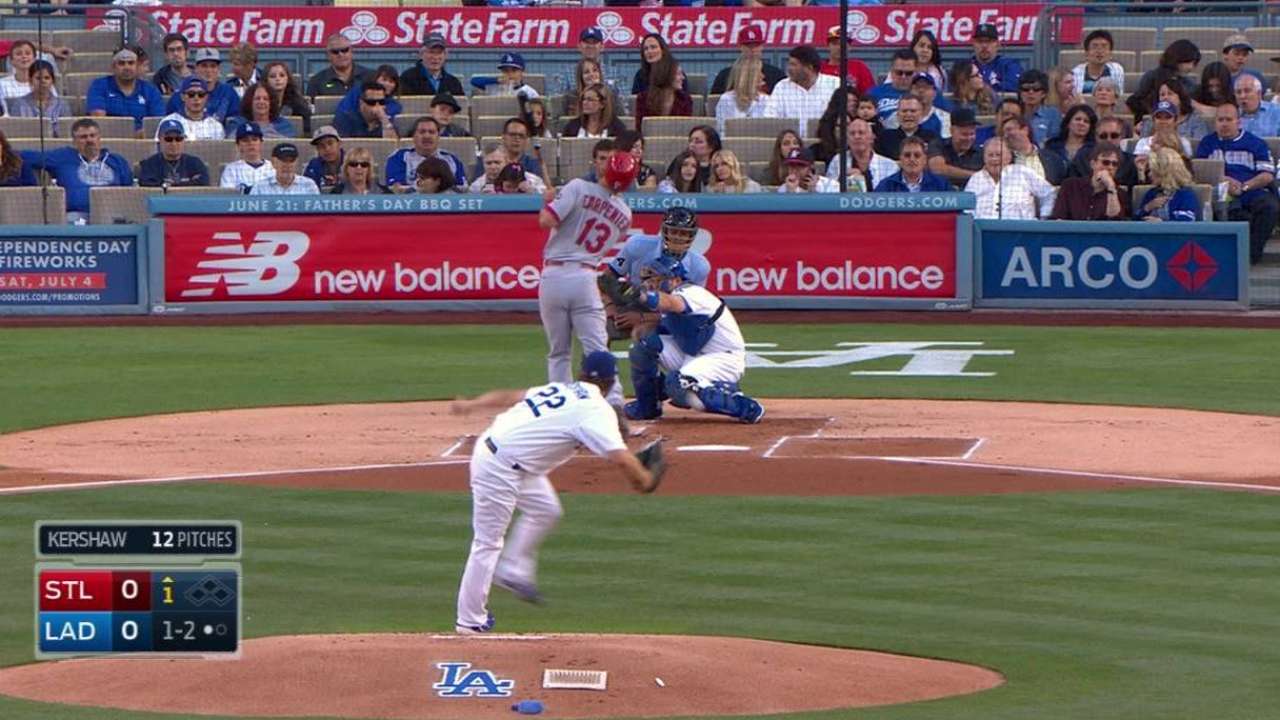 LOS ANGELES -- Matt Carpenter became the third batter Clayton Kershaw hit this year when he took a fastball off his right arm in Saturday night's game, an injury that ultimately forced the Cardinals third baseman from the game with a triceps contusion.
Carpenter, who returned to action Sunday, does not believe there was intent behind the pitch -- even though the two have had several memorable showdowns that have gone Carpenter's way.
Carpenter worked Kershaw in a key 13-pitch at-bat of Game 6 in the National League Championship Series two years ago that ended with Carpenter lining a double to spark a series-clinching rally.
Last October, Carpenter homered off Kershaw in Game 1 of the NL Division Series and then punctuated the team's eight-run seventh by tagging Kershaw for a bases-loaded double. His first plate appearance on Saturday went eight pitches deep before it ended with him being plunked.
"I was thinking about that [Saturday], but I don't think he's the kind of guy that would hit me on purpose," Carpenter said when asked about any perceived malice. "He had already come inside once during the at-bat and then threw slider, curveball, one after another, away, and I was fouling them off. I think he was just trying to come back in and it hit me."
Carpenter credited anti-inflammatory medication and PolyMem, a pad that accelerates a decrease in swelling, for his quick recovery.
"It's way better," Carpenter said on his way to go take his pregame swings Sunday. "It's stiff, but [Saturday] I couldn't do anything effectively. Today, it is not bothering me."
WORTH NOTING
• Several players passed time on Sunday afternoon watching NCAA Super Regional baseball games inside the visitor's clubhouse at Dodger Stadium. Among the most interested were Carpenter and Michael Wacha, whose alma maters, Texas Christian University (Carpenter) and Texas A&M (Wacha), were playing against each other for a berth in the College World Series. The two have made what Carpenter describes as a "friendly wager" on the best-of-three series.
"Someone is going to end up wearing the other's team gear somewhere," he added.
With a walk-off win on Sunday, Texas A&M forced a winner-take-all game on Monday.
• Manager Mike Matheny's interest early in the afternoon was on the game between Missouri State University and the University of Arkansas. MSU fell, 3-2, in the elimination game, ending their season and Tate Matheny's college career. Tate is the oldest of Matheny's five children.
"What a great run they've had," Matheny said. "This one was a team thing. Guys came out of nowhere to make a really strong run. … I think they opened a lot of peoples' eyes, [as a] small program that really played well."
Jenifer Langosch is a reporter for MLB.com. Read her blog, By Gosh, It's Langosch, follow her on Twitter @LangoschMLB and like her Facebook page Jenifer Langosch for Cardinals.com. This story was not subject to the approval of Major League Baseball or its clubs.