Brewers pile up hits, but no runs to show for it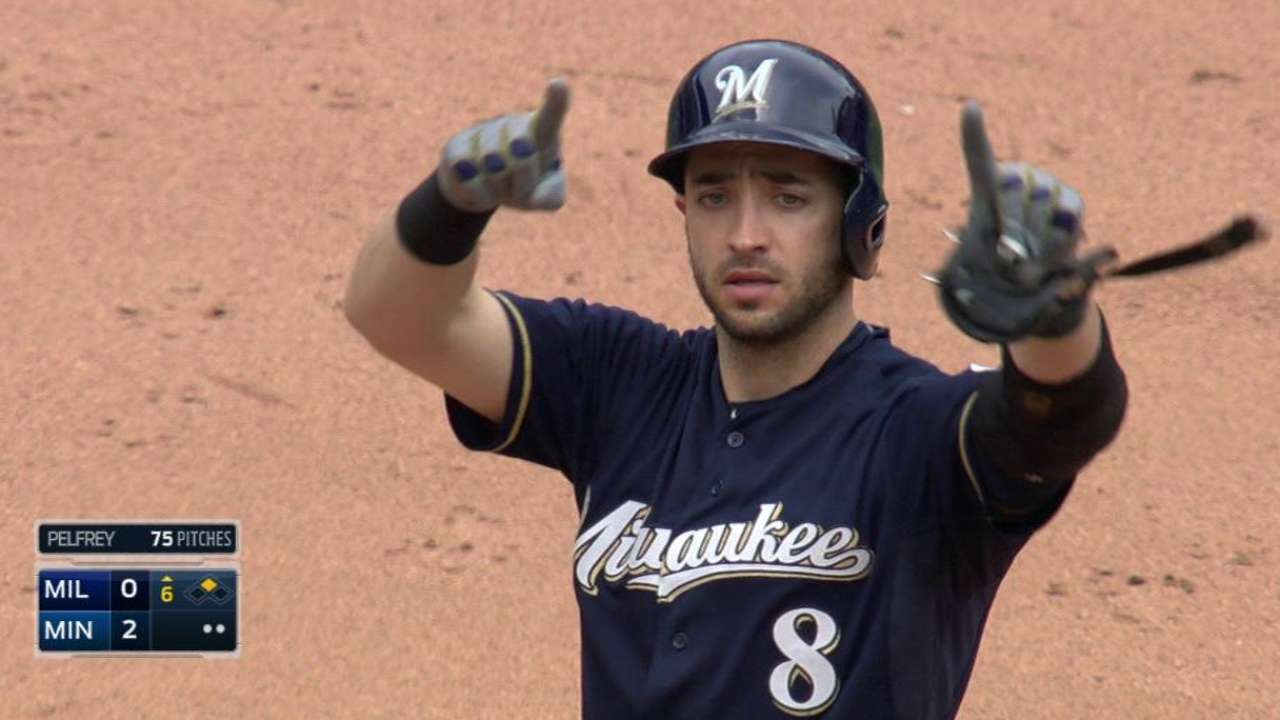 MINNEAPOLIS -- Sunday was somewhat like Groundhog Day for the Brewers.
For each of the first eight innings, they had a hit. They had a baserunner on and the beginning of a rally. And each inning, Twins starter Mike Pelfrey would find a way to strand them. In the end, the Brewers had nothing to show for their eight hits,losing 2-0 to cap off their three-game series.
The Brewers scored 14 runs in the past two games against the Twins in two victories. But Sunday, they couldn't advance a runner from first base. Four times, the Brewers had a leadoff single and couldn't do anything with it.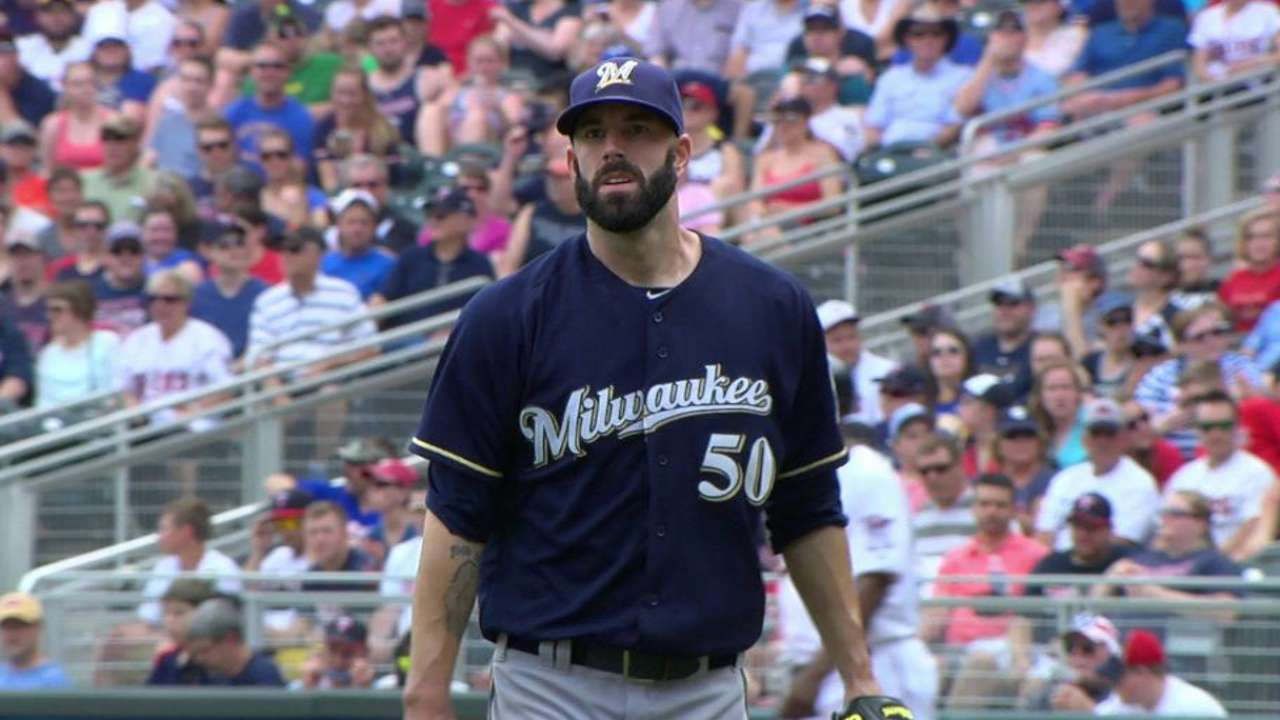 Only one Brewers baserunner reached second the whole game. And the player who did that, Ryan Braun, did so without the help of his teammates.
Braun doubled with two outs in the sixth and advanced to third on a wild pitch. First baseman Adam Lind walked after him, giving the Brewers perhaps their best opportunity of the game.
And yet, nothing.
Aramis Ramirez grounded out, ending the rally.
"I thought we had good at-bats all day and then [Pelfrey] just, he made good pitches all day, too," Brewers manager Craig Counsell said. "He did a nice job today. I was happy with our at-bats."
Pelfrey pitched eight innings of shutout ball, lowering his ERA to 2.28.
"He made pitches. He pounded the strike zone and [was] consistent and keeping the ball low," center fielder Carlos Gomez said.
The Brewers hit into three double plays and Pelfrey's one wild pitch was the only time the Brewers advanced a runner.
Pelfrey was hittable -- the Brewers often hit the ball hard -- but they were unable to string anything together against him.
"All the balls that we hit hard [were] right at somebody. We hit like three hard line drives to straight center field. Hard line drives to second base. Hard line drives to third base," Gomez said.
Brewers starter Mike Fiers struggled, but he kept the team in the game, giving up two runs in 4 1/3 innings.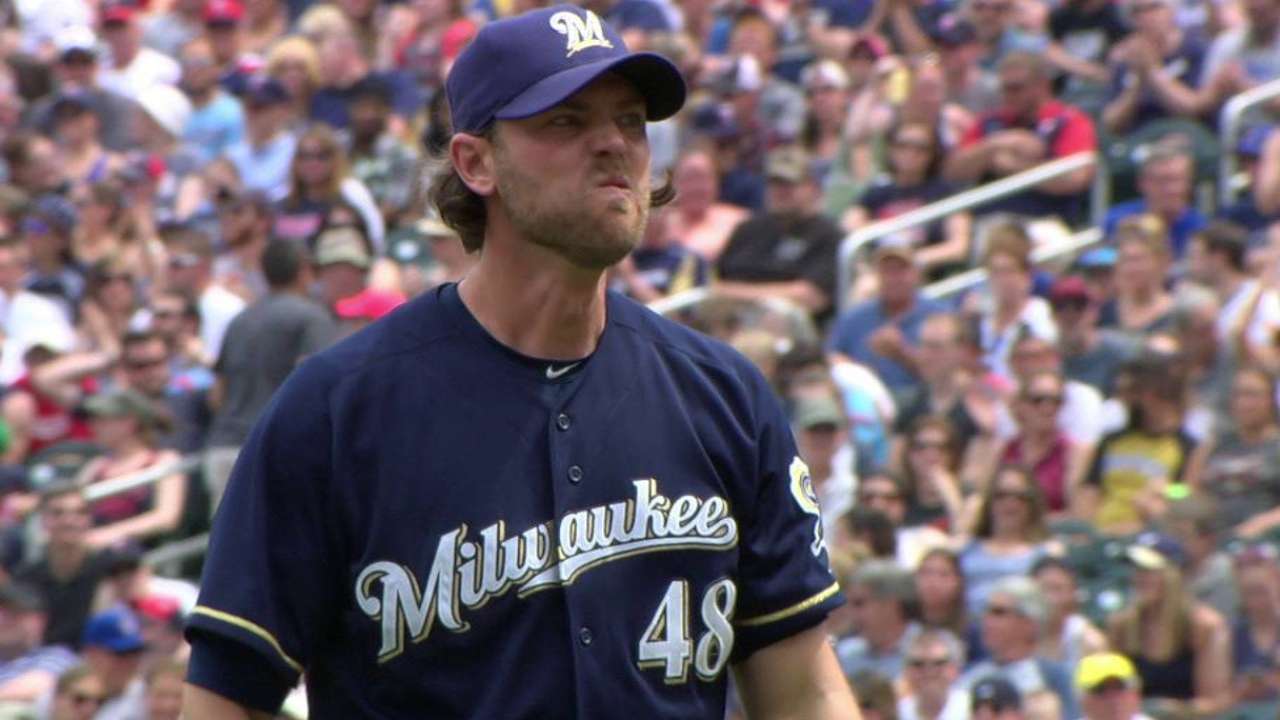 He left with the bases loaded, but lefty Neal Cotts pitched out of the jam. The next inning, Michael Blazek pitched out of Cotts' jam.
Corey Knebel also pitched a scoreless inning.
"They're performing and they give you a chance," Counsell said of his bullpen.
With the bullpen holding the Twins scoreless and the Brewers having a runner on base every inning, they were always within in striking distance. But though they hung around, that didn't help them much against Pelfrey.
"It's his day today. When the guy [has] it like that, there's nothing you can do," Gomez said. "You just continue to try and make the situation happen, but he [threw] a great game today."
Betsy Helfand is an associate reporter for MLB.com. This story was not subject to the approval of Major League Baseball or its clubs.