Angels seeking answers after 5th straight loss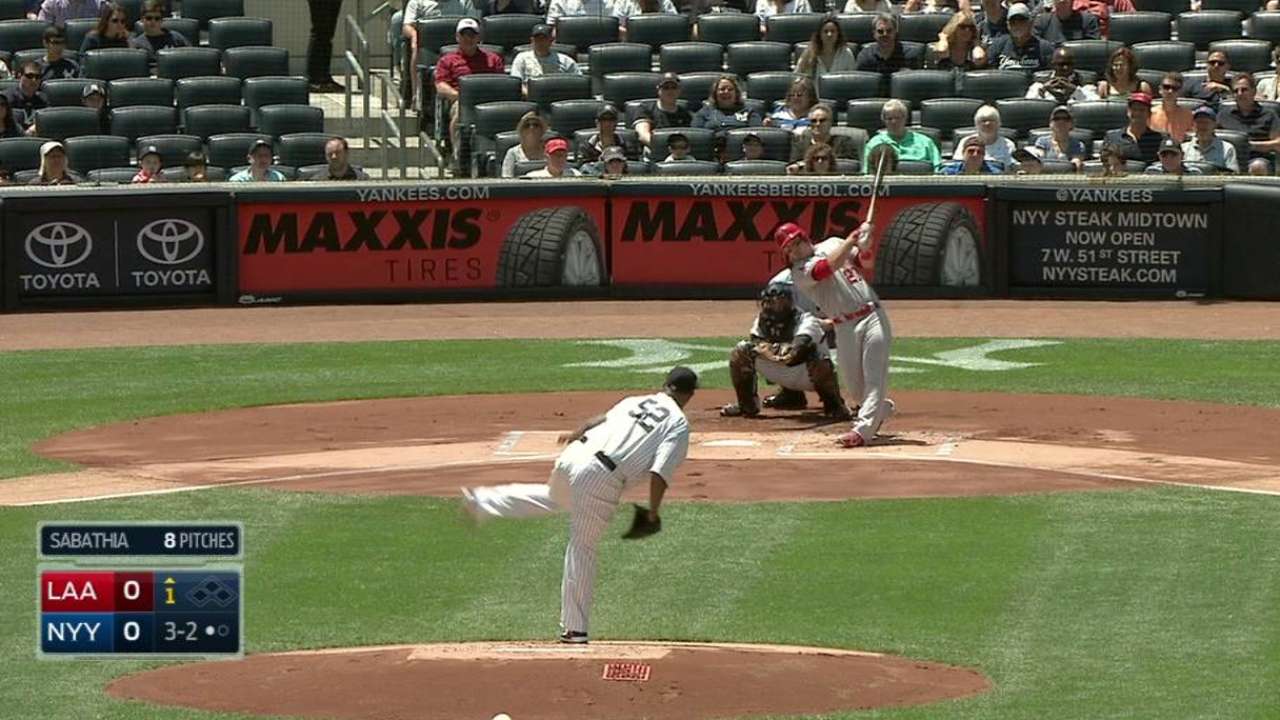 NEW YORK -- A five-game winning streak has been followed immediately by a five-game losing streak for the Angels. Nine weeks of this season have passed, and they're a game below .500, only two games behind where they were last year after 57 games, but way back with regards to run-differential. Early on, it was their rotation that kept them afloat. And now that the starters are struggling, the Angels can't win.
"We need to step up our game," Angels manager Mike Scioscia after Sunday's 6-2 loss, which marked the first time his team has been swept at the new Yankee Stadium. "We need to play more consistent baseball if we're going to reach our goal. It's in this team. We feel it's in this team. But we're making a turn now through a couple months of the season and some guys just haven't hit stride, and that's something we need to pay a lot of attention to."
Over the last five games, the Angels' starters have combined to give up 29 runs in 24 1/3 innings, increasing their ERA from 3.56 (eighth in the Majors) to 4.07 (15th). Jered Weaver gave up three wall-scrapers on Friday, Garrett Richards was charged with six runs in the very first inning on Saturday and C.J. Wilson let the Yankees pull away with a four-run fifth on Sunday, giving up a leadoff homer to Chris Young and a three-run shot to Brett Gardner.
The Angels began the series finale with first-inning back-to-back homers from Mike Trout and Albert Pujols, who moved past Jimmie Foxx for sole possession of 17th place on the all-time list with No. 535. But then CC Sabathia and his 5.70 ERA began to carve up an Angels offense that still can't produce consistently, retiring 15 of his next 20 batters before getting ejected to end the sixth.
By then, the Angels were pretty much done.
"It's a missed opportunity," Chris Iannetta said of following five straight wins with five straight losses, with the first two coming at home against the Rays.
"The guys on the mound have been doing a really great job, just this week has been a little bit off. You're going to have that over the course of the season, but we need to put it together on the offensive side."
The Angels went 3-for-23 with runners in scoring position in the three-game series, which should come as no surprise. The top five hitters in their lineup -- Trout, Pujols, Erick Aybar, Kole Calhoun, David Freese -- have had their individual hot streaks, but they haven't really bunched them together. Johnny Giavotella has been a revelation, but he can't carry this offense.
Matt Joyce is still batting .188, Iannetta is at .171 and Scioscia doesn't really know where to turn for that ninth bat. He tried Kirk Nieuwenhuis for a little while, and now he's giving C.J. Cron a second chance. When the Yankees brought in a lefty to pitch to the left-handed-hitting Joyce in Sunday's seventh inning, Scioscia had to pinch-hit with Taylor Featherston, a rookie with two hits in 30 at-bats.
"We've been facing some great pitchers the last couple of days, weeks, and had some tough matchups," Trout said. "But we can't make excuses. We have to perform, win games."
Trout's Angels are 28-29 now, 5 1/2 games back of the Astros and two games back of the Rangers in the American League West. They weren't much better by this time last year, at 30-27. But they sported a run-differential of plus-30, an indication that they were a lot more talented than their record showed through the first 57 games of 2014, a year in which they went on to win 98 games.
Through 57 games in 2015, the Angels' run-differential is minus-5.
"We have to just dig deep and execute the fundamentals," Wilson said. "I know that sounds cheesy, but that's the one thing I feel like we haven't done as well as we can. We have a lot of guys that have amazing physical talent, but we have to execute the fundamentals like moving the runners over and stuff like that. You're going to get your homers from an offense like that, but you can't just rely on homers."
Alden Gonzalez is a reporter for MLB.com. Read his blog, Gonzo and "The Show", follow him on Twitter @Alden_Gonzalez and listen to his podcast. This story was not subject to the approval of Major League Baseball or its clubs.