All hands on deck for Red Sox in stirring rally
BOSTON -- The elusive late-inning rally -- the one the Red Sox had been waiting for all year -- finally came on Sunday afternoon. And when it did, it was fast, furious and satisfying.
With an eighth-inning surge that had the Fenway faithful rolling, Boston got big hits up and down the batting order to turn the tables on the Athletics en route to a 7-4 victory.
The Red Sox had no offense in the first seven innings and trailed, 4-0. Given that they were 1-26 when trailing after seven this season, this was a day to savor.
Rusney Castillo created the first surge, belting a solo shot over the Green Monster against Athletics starter Kendall Graveman, who had been dominant to that point.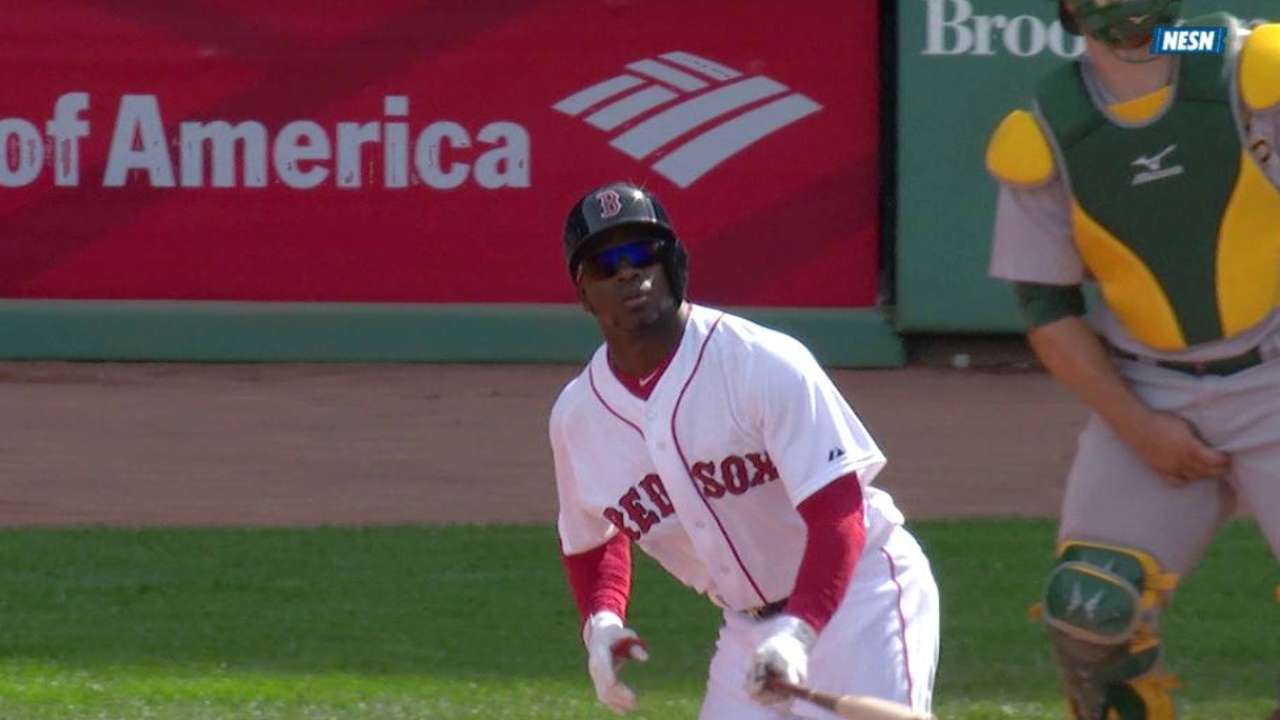 "The solo home run by Rusney kind of jump-starts us," said Red Sox manager John Farrell.
The A's then went to their bullpen, and more good things started happening for the Red Sox.
Dustin Pedroia, who has been red-hot of late, smashed a single down the third-base line against Evan Scribner. Brock Holt followed with a single to right-center.
Up came Hanley Ramirez, and he spun one through the hole and into left, and it was 4-2.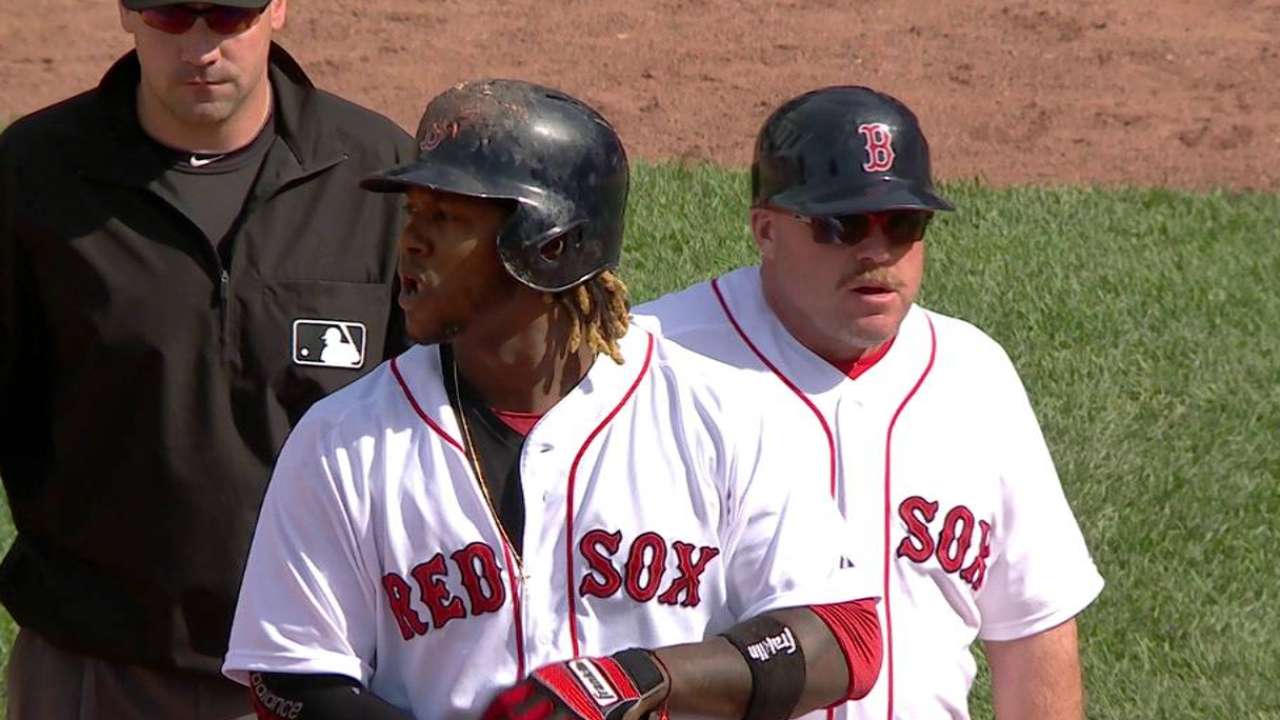 "It was time to do that," Ramirez said of the all-hands-on-deck rally. "That was great."
The Athletics then went to a matchup that seemed to be heavily in their favor, bringing in lefty Drew Pomeranz to face David Ortiz. Ortiz, who has slumped all season, was 0-for-6 with five strikeouts lifetime against Pomeranz.
This time, however, Ortiz found a way to get something done, lacing a fly to left that was deep enough to be a sacrifice fly and make it a one-run game.
"The ball that I hit to left field, that's been my whole season this year," said Ortiz. "It's been an inches thing. As long as we win, everything will be OK."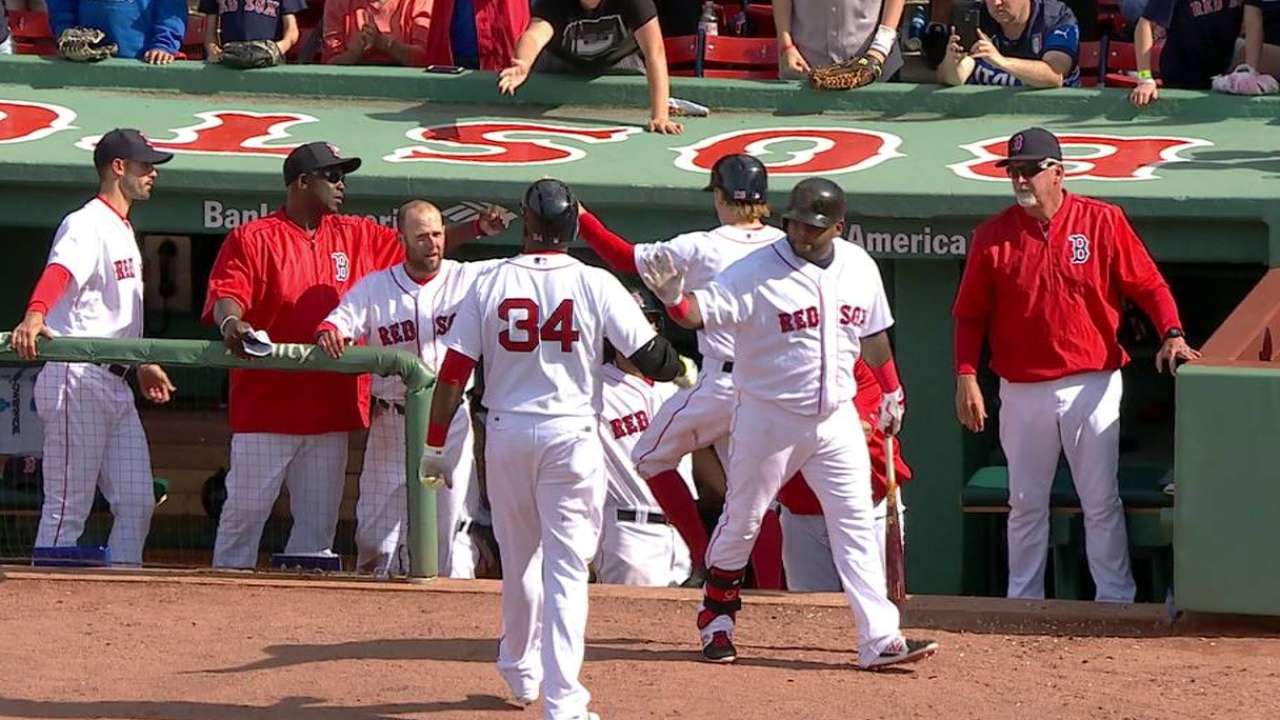 When Mike Napoli struck out for the second out against closer Tyler Clippard, it seemed like the rally might fall just short.
Pablo Sandoval had been off the previous two games due to offensive and defensive struggles. Perhaps the time off did him some good. He lined one over the head of left fielder Mark Canha for a long single, and runners were at the corners.
Xander Bogaerts came up against Clippard looking for just one pitch -- a changeup. But on the first five pitches, Bogaerts got four fastballs and a splitter and was still in the battle at 2-2. Then Bogaerts got his changeup and rifled it off the Monster for a two-run double that put the Red Sox in front.
"If he throws me a high fastball there, I strike out," said Bogaerts. "He has a good changeup, and he tends to throw it at least once in every at-bat. I had a 1-2 count or 2-2 and I fouled one off right next to the dugout.
"[Hitting coach] Chili [Davis] looked at me, like, 'Yes.' We always talk about it -- it doesn't matter if you foul off a ball, you've got to try to pull the next one, just stay on it, and he threw me what I was looking for. It was actually a really good pitch by him. I just was waiting on it and put a good swing on it."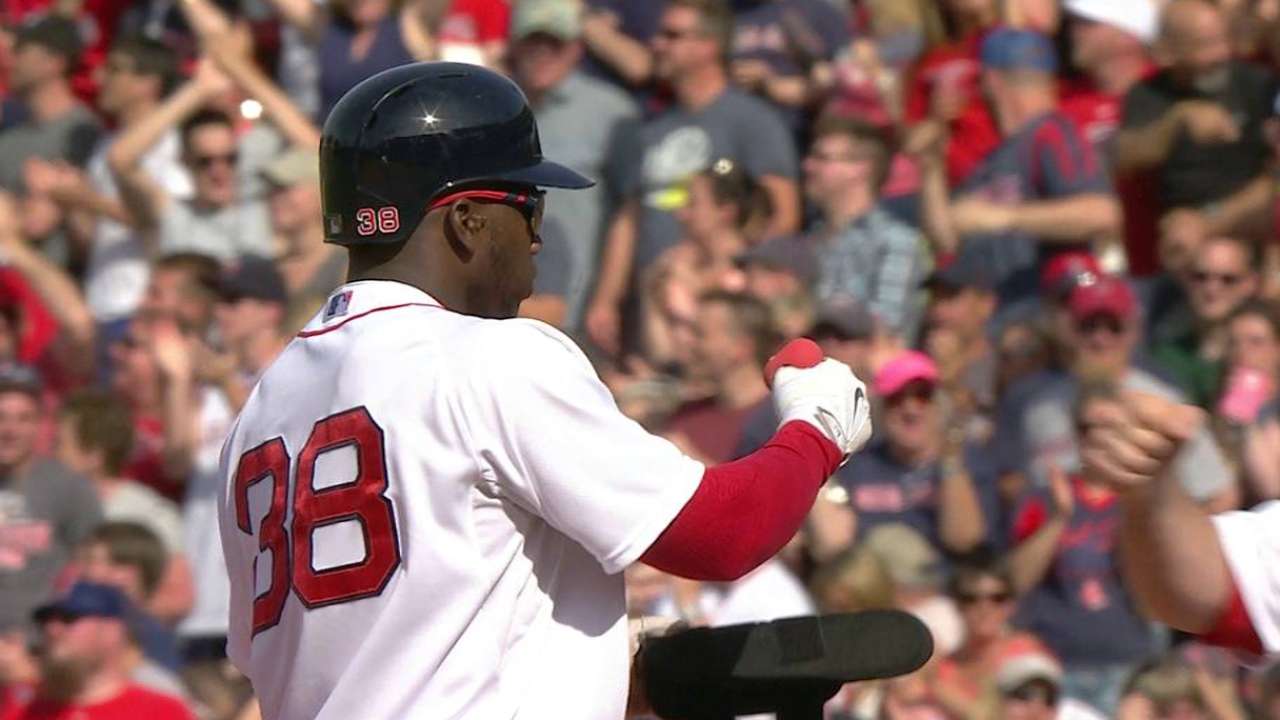 Even with the lead, the Red Sox kept coming. Alejandro De Aza had a pinch-hit, RBI single to make it 6-4. Fittingly, Castillo, who started the whole thing, finished the scoring with an RBI single.
Now, the Red Sox have a comeback to build on. It was the first time they've overcome a deficit of more than three runs all season. The seven-run inning was their biggest of 2015. The sweep was also their first of the season.
"I remember looking at the scoreboard in the bottom of the eighth, 4-0, just trying to think how we can get some runs," said Bogaerts. "It was probably the biggest win for us this year, for sure."
Ian Browne is a reporter for MLB.com. Read his blog, Brownie Points, and follow him on Twitter @IanMBrowne. This story was not subject to the approval of Major League Baseball or its clubs.