Panda shakes off recent woes with clutch hit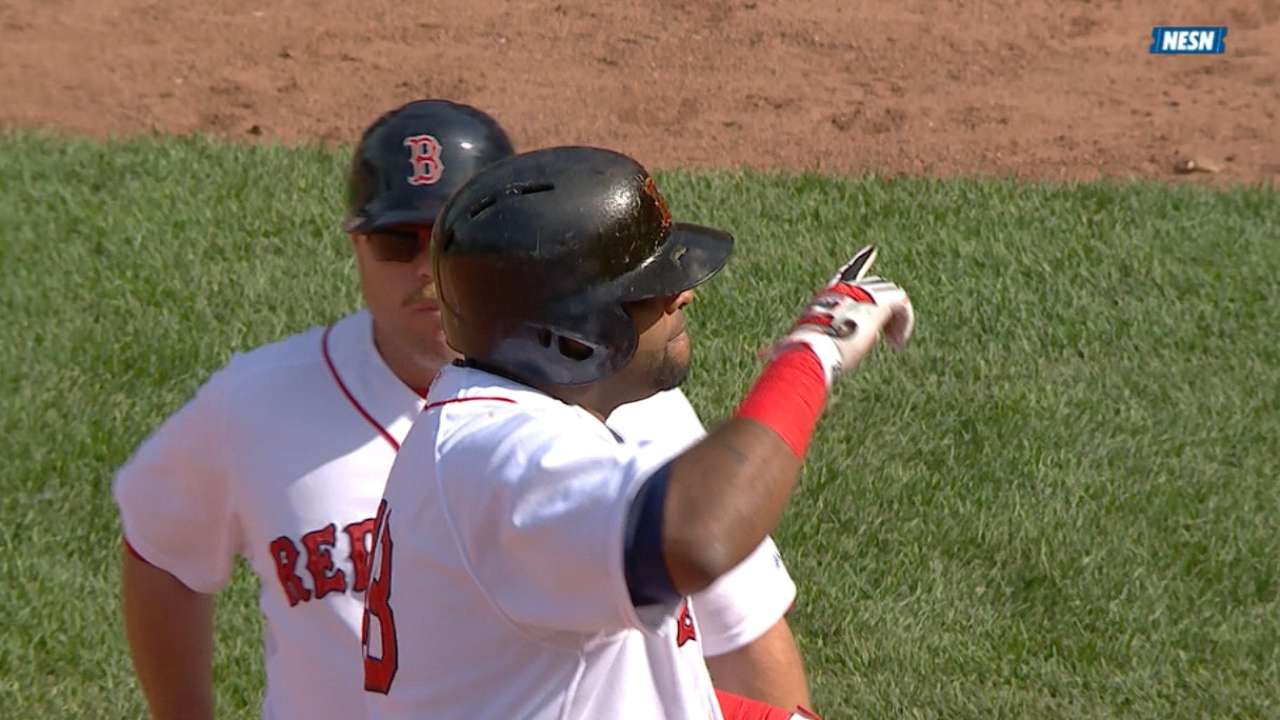 BOSTON -- Leading up to Sunday's game against the A's, Red Sox third baseman Pablo Sandoval could not help but banter with manager John Farrell after seeing his name in the lineup.
"He said, 'Hey, I'm glad you didn't forget about me,'" Farrell said.
"We're having fun together," Sandoval said, cracking a smile.
The fun would only continue for Sandoval -- playing for the first time since Thursday -- once he provided a crucial hit that helped fuel Boston's dramatic 7-4 comeback win at Fenway Park.
Facing A's reliever Tyler Clippard with the Red Sox trailing, 4-3, during the game-defining eighth inning, Sandoval smacked a two-out single off the base of the Green Monster to keep his team's seven-run comeback rally afloat. He finished 2-for-4, snapping an 0-for-12 skid at the plate, and improved to 2-for-7 lifetime against Clippard.
"Yeah, he swung the bat good today," Farrell said. "Base hit in his first at-bat and then stays on a pitch to Clippard. He's faced him a few times in the National League but you've got to protect against that slow changeup he has, so you're almost looking to let the ball travel deep. He was able to use the wall in this case."
Sandoval came into the game hitting .123 with a .389 OPS since May 11. The Red Sox had held him out of the previous two games in hopes that some rest would refresh him, physically and mentally, and that move seemed to pay off based on Sunday's performance.
"It helped a little bit, you know," Sandoval said. "Kept me feeling fresh. Didn't think too much out there about the things you know how to do. That's what I tried to do today."
"I'd like to think that's a benefit of giving a couple days down to a guy," Farrell said before the game. "Pablo's certainly not the first -- nor will he be the last -- to maybe take a step back and regroup."
After the game, starter Clay Buchholz stopped to give Sandoval a fist bump and a couple of words of encouragement on his way through the Red Sox's clubhouse. He knows as much as anybody what the team can accomplish when its veteran third baseman is productive.
"He's a guy that we need out there more days than not," Buchholz said. "Just the presence he brings in the box defensively. He's a grinder and a really good baseball player. That's why they brought him here. Everybody's got all the confidence in the world behind Pablo."
And on the back end of Boston's first sweep of the season, Sandoval saw no reason why the Sox can't keep playing like they did on Sunday.
"We have faith in everyone here. It's just a great team. We try to do our jobs," Sandoval said. "We had a tough series [of games], so we came back and pulled ourselves together to win the series."
Alec Shirkey is an associate reporter for MLB.com. This story was not subject to the approval of Major League Baseball or its clubs.