Bruce ends power drought with 2 key blasts
Reds right fielder hits solo shot for first homer since May 17, then adds three-run HR
CINCINNATI -- The last time Jay Bruce had seen a ball off his bat go over the outfield wall was May 17. That 16-game home run drought ended on Sunday.
Bruce came through with two home runs, his eighth and ninth of the season, to help lead the Reds to a 4-0 victory over the Padres at Great American Ball Park. Bruce knocked in all of the Reds' runs with a solo shot in the second inning and a three-run homer in the sixth.
"It feels great," Bruce said. "I don't want to discount or take anything away from what Cueto and the other pitchers did today, but it was good to help the team win a game."
His first home run came on an 0-1 pitch from Odrisamer Despaigne that Bruce sent well into the seats in right field, snapping a streak of 55 at-bats without a home run.
His second home run again went out to right field. Joey Votto led off the sixth inning with a single off Despaigne, and Todd Frazier followed with a double to put runners on second and third. Bruce then delivered to give him his first multihomer game of the season and the 16th of his career.
"With Joey and Todd getting on base there, and Todd hitting that double, it's a situation where it's pretty important to get those runs and create that separation, so I was able to do that today," said Bruce, who is hitting .223 on the season.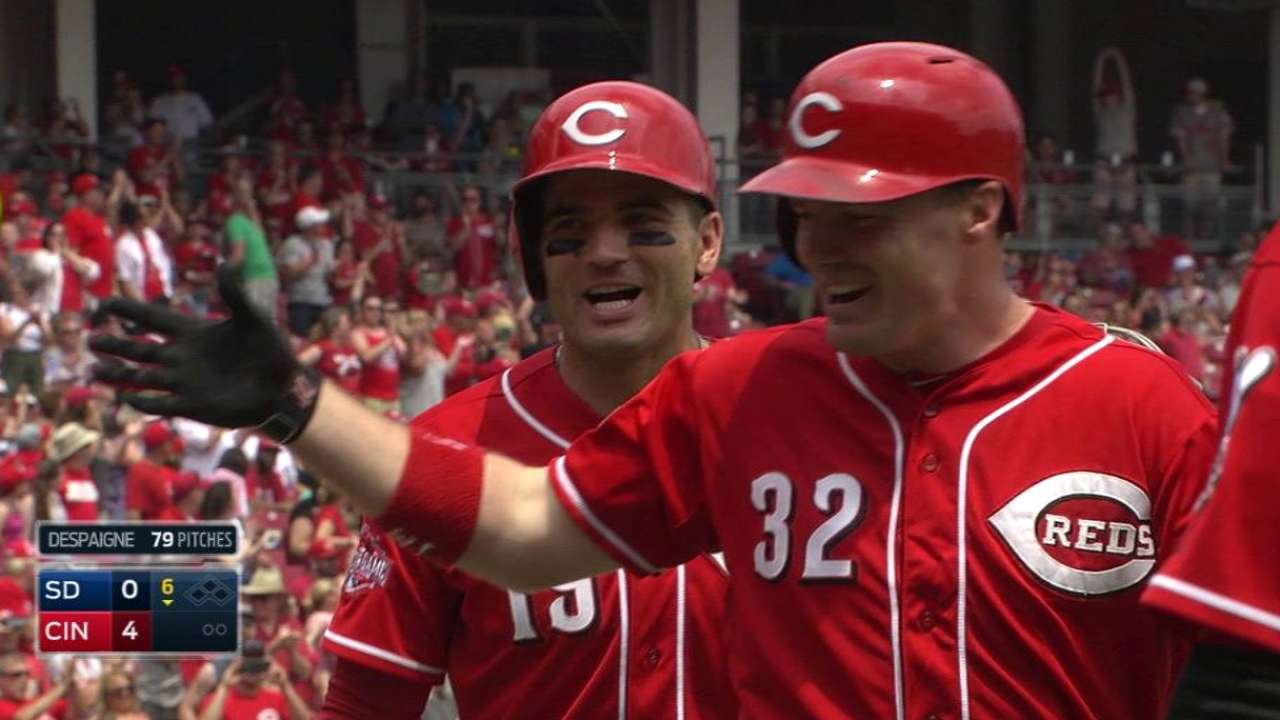 With the recent bullpen struggles, Reds manager Bryan Price said he was relieved after Bruce gave the Reds some insurance in the sixth inning.
"That's so big in that situation," Price said. "You're thinking about all the different ways you can score in that environment, and after Joey's hit and then Frazier lines a ball down the line, you go, 'OK, nobody out. Infield is halfway.' He ends up getting a pitch he cannot just lift for maybe a sacrifice fly but it gets out of the ballpark. It's a huge relief to create that type of separation and give the bullpen a little more wiggle room in the back end."
Robert Bondy is an associate reporter for MLB.com. This story was not subject to the approval of Major League Baseball or its clubs.